2022 Grand Prix Cycliste de Montréal – Preview
By @EchelonsHub
The second and final round of the Canadian classics, the peloton will this Sunday travel to Montréal where they will find a tough hilly classic which will feature 18 laps of a circuit with a notable hilltop within it.
The Route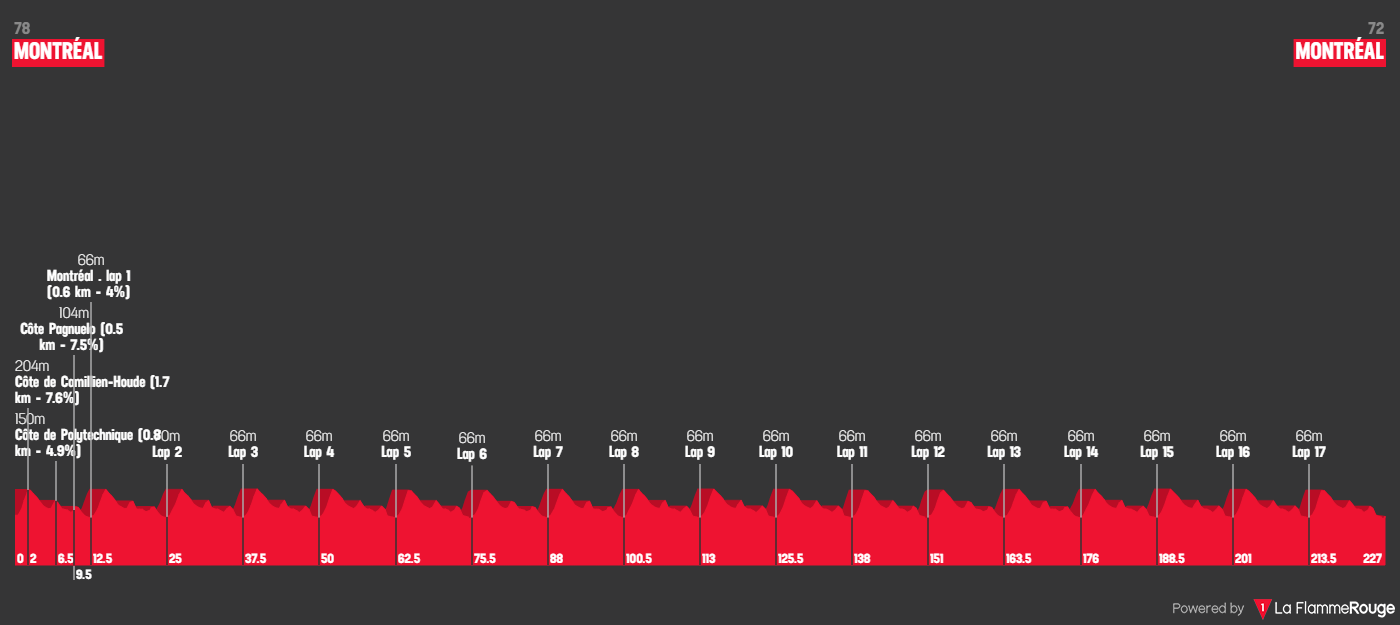 A total of 18 laps will be ridden in Montréal, all based around the Mont-Royal park, where the riders will spend the afternoon, however not only enjoying the scenery, but also having to go into a brutal race that will see plenty attacks and aggressive racing. There are over 4000 meters of climbing and 224 kilometers on the menu, making it harder and longer than Québec.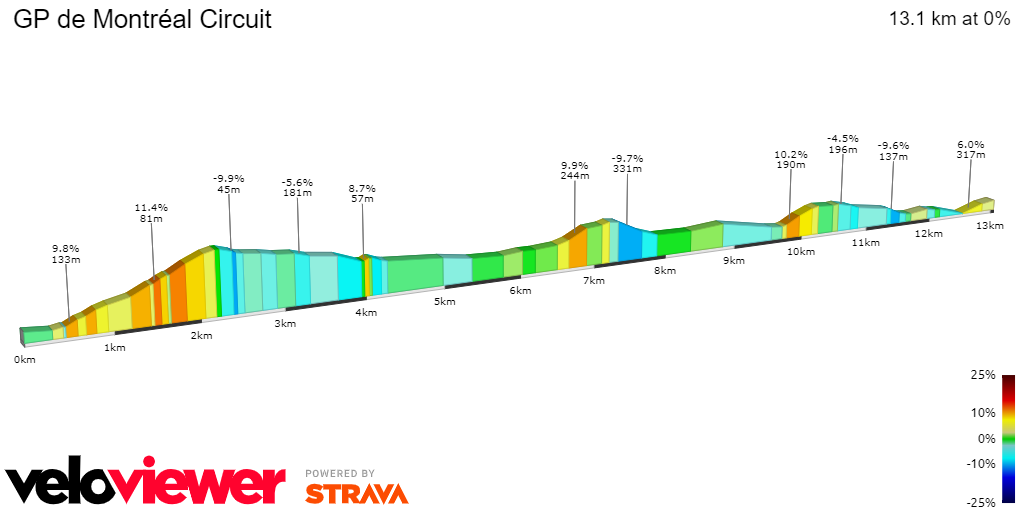 There will also be more laps due to the shorter circuit, which is very explosive with three clear uphill sections and the rest of the circuit mostly downhill. The lap opens up immediately with it's major feature, the Côte de Camilien-Houde, 1.7 kilometers at 7.6%. This will be the hardest section of the circuit and likely the one that will be attacked the hardest, finishing with 10.5 kilometers to go.
A very fast descent follows, with the Côte de Polytechnique coming after summiting with 6 kilometers to go, it is 800 meters long at 4.9% average gradient but goes up to 10%. And with 3 kilometers will be the Côte Pognuelo with 500 meters at 7.5%.
All three are very explosive climbs, where damage can be made. The riders will then very quickly travel back into the Avenue where the race is to finishing, going down it before turning back in the roundabout and within sight of the line. This won't be a regular sprint however, with the final 600 meters featuring 4% of gradient which can alter the result of the sprints that will happen.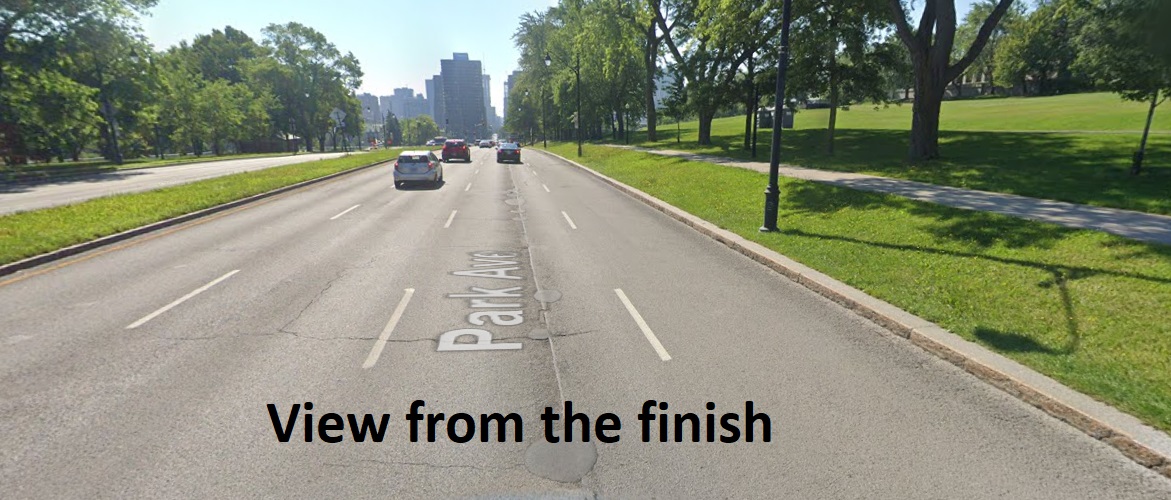 The Weather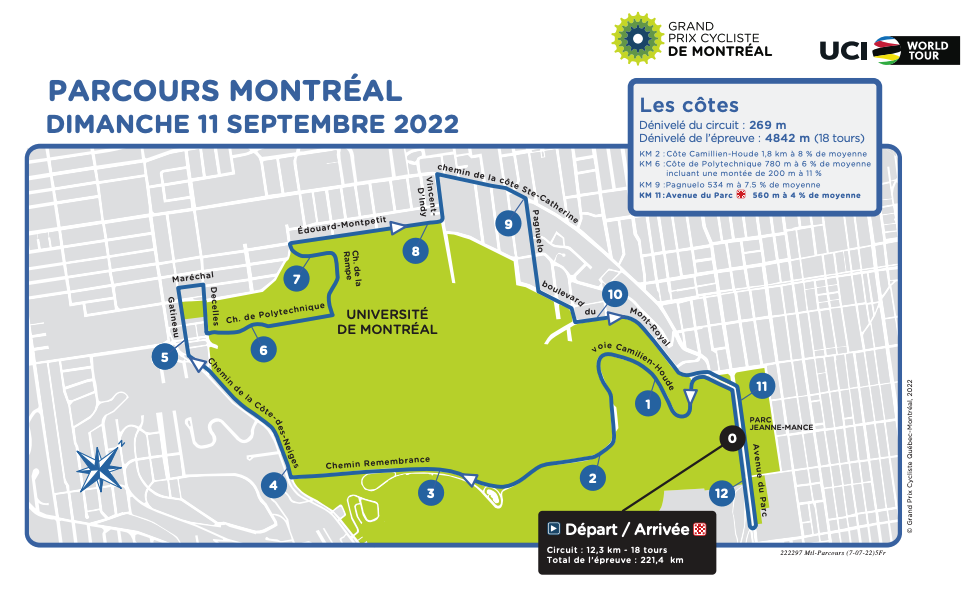 As in Quebec it'll be moderate weather with no notable wind and temperatures around 25 degrees.
Tactics
Unlike Quebec, this is a race where attacks from far can succeed. This will essentially be a race with several very sharp efforts in the uphills, and false-flat descents where in a group no-one will want to spend energy when there are few teammates.
This is exactly the type of terrain where early attacks can succeed, however the roads are wide, several teams are interested in a possible sprint, and the quality of the field is very high – besides being a one-day race so unlike the stage-races, here there will be more intent to chase. However I expect modern classics-style races in which the main teams will look to attack and counter-attack each other until as late as possible, and the race can be decided with a surprise solo move.
The Favourites
There will be riders that will be eyed. In Quebec the race was decided because as expected, many looked at the likes of Wout van Aert and Michael Matthews. The route here isn't the same, it favours the climbers more, but the duo climbs extremely well specially in this terrain so I expect this sort of tactical dispute. The presence of these two, Biniam Girmay and Movistar duo of Alex Aranburu and Iván García Cortina can see a big alliance to control the race until as late as possible. All these can climb, with Christophe Laporte also being an option, and these teams will be the ones most interested in a sprint.
There will be some puncheurs looking to succeed here, and they feature good chances. Benoit Cosnefroy has proved that in Quebec, and he will be one of the main contenders here once again. There are some riders such as Diego Ulissi, Alessandro Covi, Mikkel Honoré and Alberto Bettiol who will be very dangerous in direct confrontation, carrying form and with a very sharp ability to ride these small efforts, alongside a strong sprint.
On the other side, many of the classics riders will be specifically dangerous in late attacks or solo moves. Many will be riding under the radar and may have the freedom to sneak off into the win. The likes of Alexander Kamp, Andrea Bagioli and Jasper Stuyven may also be dangerous in a sprint. But you will find an interesting mix of riders in Rui Costa, Jan Tratnik, Mauro Schmid, Sylvain Moniquet, Neilson Powless, Warren Barguil and Pierre Latour who will all be dangerous riders that must be taken into consideration.
This, of the two classics, is the one that suits the climbers best aswell. Not precisely the pure climbers, but many present are very explosive and capable of fighting for this type of races. The likes of Tadej Pogacar and Pello Bilbao on their best day would be perhaps the main favourites as they have some of the best sprints within the climber field.
In the opposite side there are others who can't sprint, who are hence most likely to attack on the uphill sections. Adam Yates, Guillaume Martin and Jakob Fuglsang are examples of riders who will almost exclusively depend on the longer ascent to make their difference in the race.
You will also find a mix of climbers who are inbetween the two categories above, such as David Gaudu, Romain Bardet and Ruben Guerreiro who also feature a very good set of attributes for such a race, and will further expand the list of possible winners.
Prediction Time
⭐⭐⭐WV.Aert, Matthews
⭐⭐Girmay, Cosnefroy, Bettiol, A.Yates, Pogacar, Bilbao
⭐Aranburu, Cortina, Honoré, Schmid, Stuyven, Powless, Barguil, Gaudu, G.Martin, Bardet, Guerreiro, Fuglsang
I will go for Alberto Bettiol to take the win. He's shown great form this year, but somehow hasn't taken a win yet. His performance in Québec was convincing, and this route will suit him perfectly, seeing also as he shouldn't be a marked man.
Zweeler is a fantasy sports game that includes many sports and cycling is no exception. I ask that you check it out, if you register with the link below you will not only be joining an exciting game but will also be personally supporting me and my work, and allow me to make more content for you!
Tomorrow's race has prizes of at least €300 and an entry fee of only €5. Make good use of your knowledge! https://zweeler.com/game/cycling/FantasyGrandPrixCyclistedeMontreal2022/main.php?ref=790
Rúben Silva
¿Te gusta lo que hacemos? Seguínos en Instagram y Twitter
Sumate en facebook: Ciclismo Internacional
Copyright © 2012-2022 Ciclismo Internacional. All Rights Reserved