Strade Bianche 2022 – Preview
By @EchelonsHub
The World Tour calendar moves forward with Strade Bianche coming this weekend, one of the most unique races in the calendar that deliver a lot of show every single year.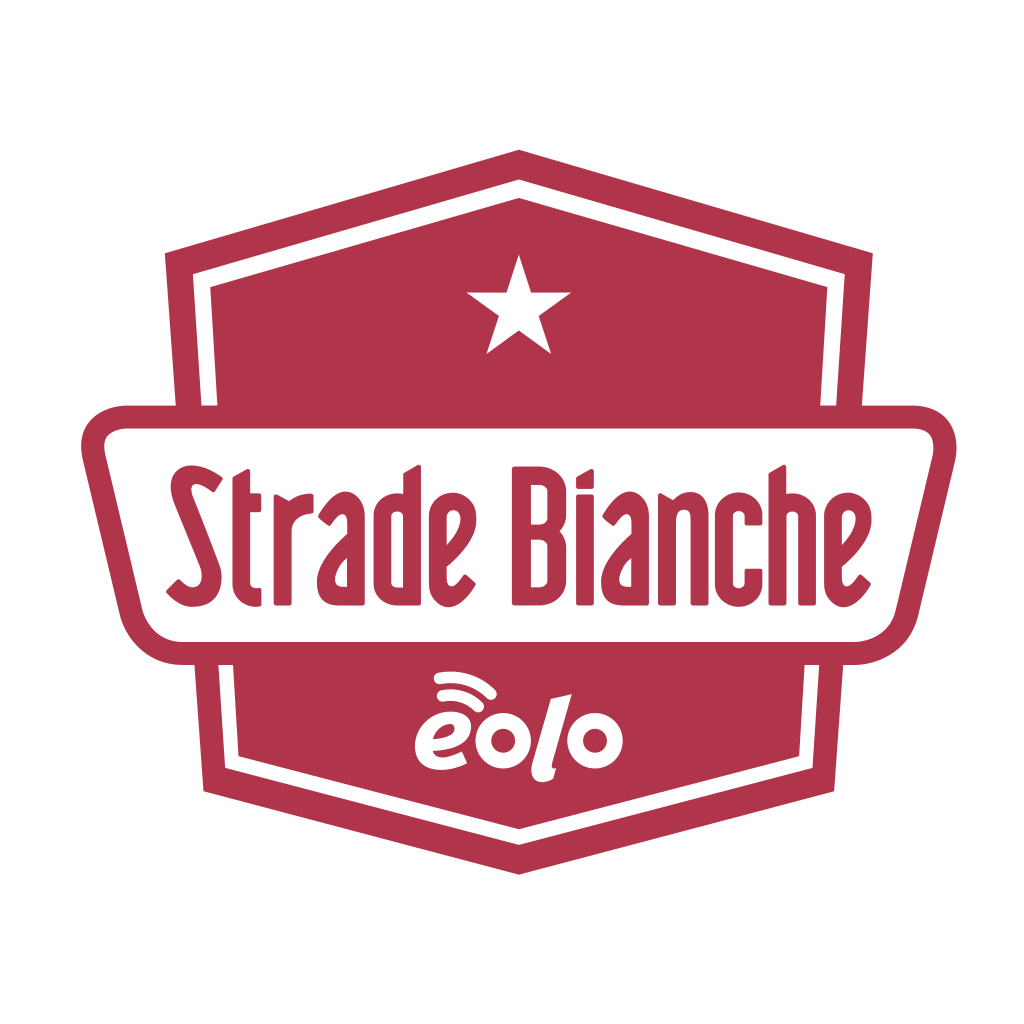 The Route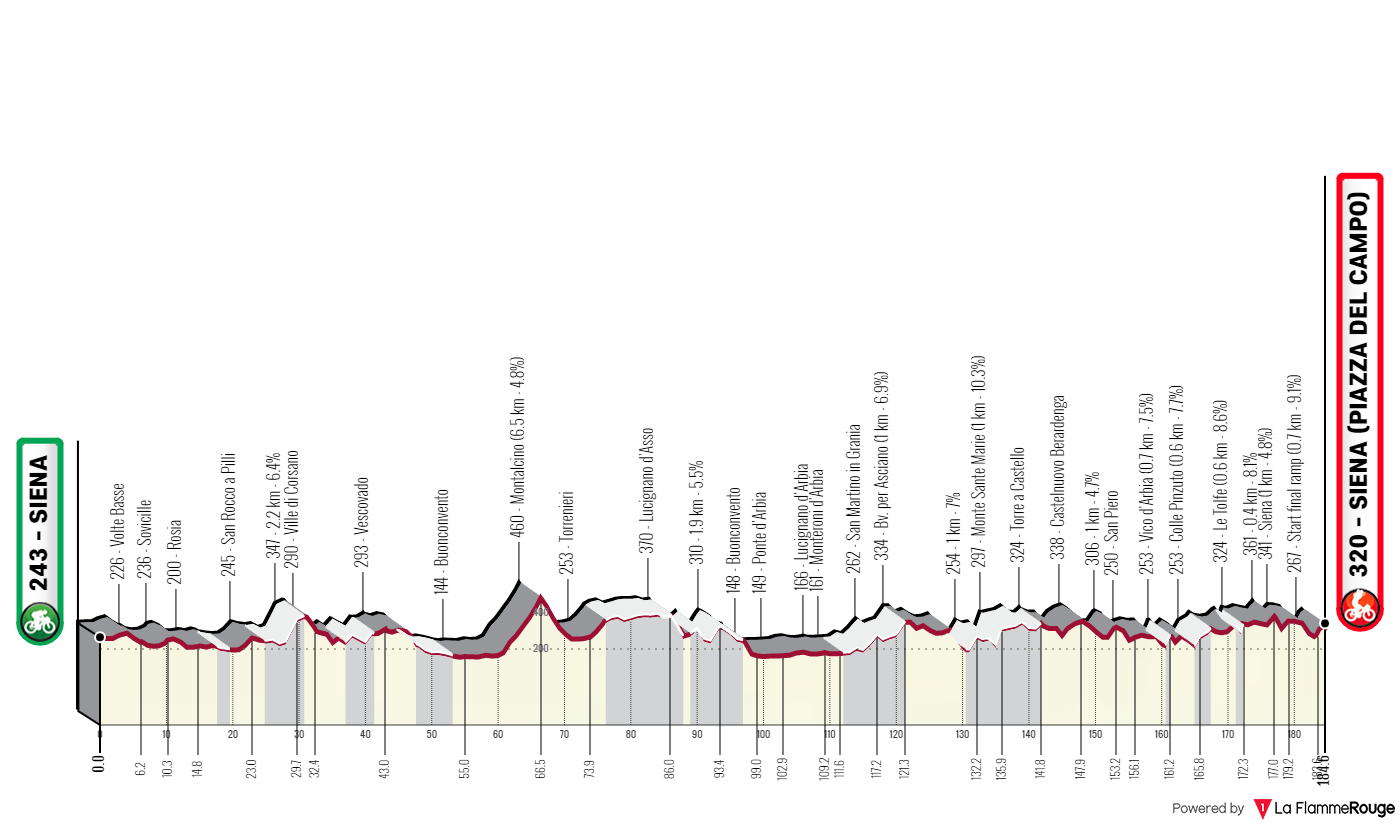 The big route we all know. Well maybe big isn't the right word, after all of the big classics this is one of the shortest with a "mere" 184 Kilometers in lenght, but damn if these aren't some of the most exciting of the whole year! There are 61.9Km of gravel divided into 11 sectors, as short as 800 meters long and as big as 11.9Km in lenght, and they aren't concentrated in any specific area of the route but rather spread evenly throughout the race, it's one of attrition, where tactics, positioning and let's admit, a tad bit of luck all have to be ticked off the box. The route starts off in some rolling roads and just a bit before the halfway point of the race the first major challenge comes.
Lucignano d'Asso sector, the 5th and biggest of the race and finishes with 96Km to go, it's a fairly hard sector that has a lot of room for crashes, punctures, splits, etc… Every sector (and well every Kilometer) is a chance for something to go wrong, and like in the cobbles it's a matter of having the least possible energy spent unnecessary, this is where the real race starts!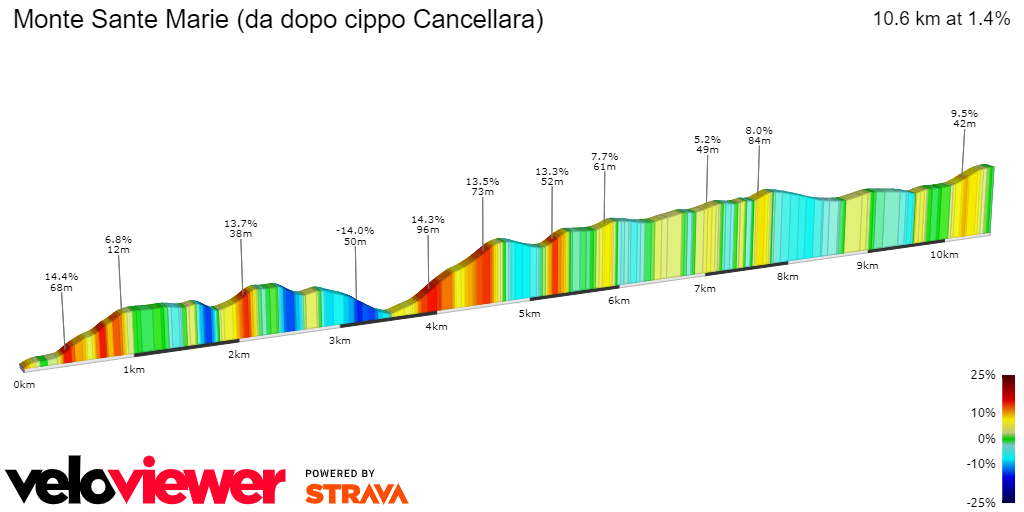 Monte Sante Marie aka Settore Cancellara is perhaps the most iconic sector, the ramps get very very steep right at the start that go up to 18%, and the funny thing with these sectors is that not only do they include hard gradients, but sketchy and technical descents which just make it a constant excitement. This sector is the 8th and the 2nd biggest and is many times very crucial into the race's outcome, it finishes with around 43 Kilometers to go.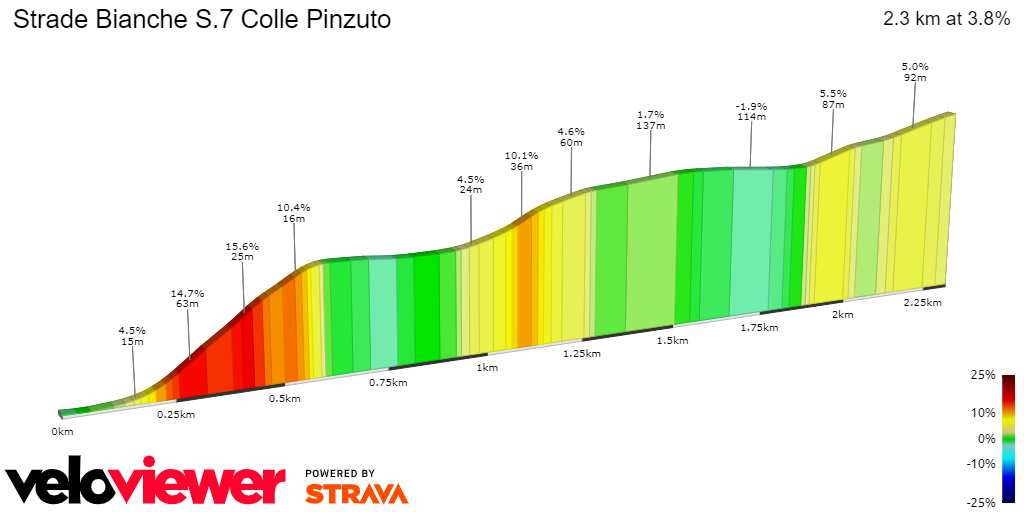 Colle Pinzuto finishes with 17Km to go and is one of the last pieces of brutal roads where gaps can be made out of power and not opportunity, it's one that doesn't include descents so it's quite a brute.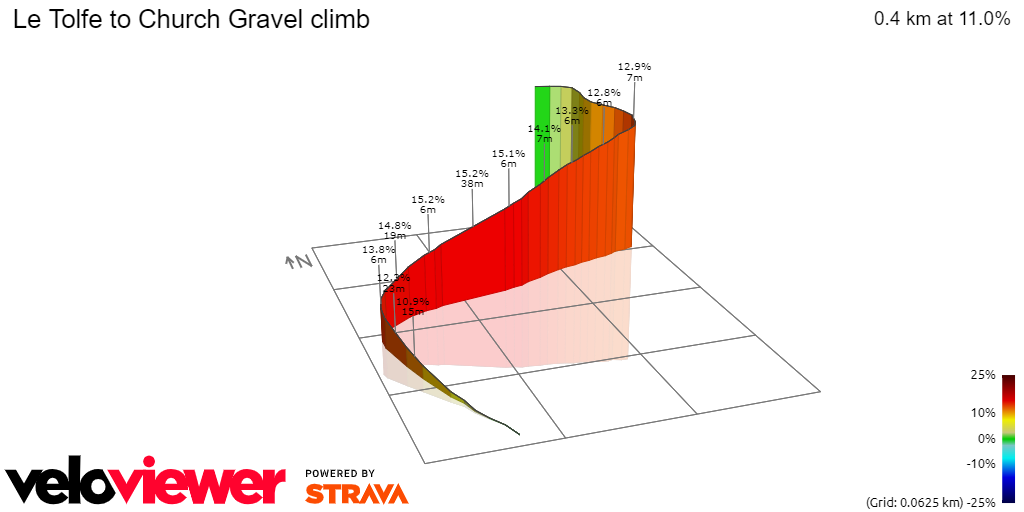 Le Tolfe is the final sector of the race, it summits with 11Km to go and is a U shaped sector, you enter it full speed in a descent and then have a nasty ramp in the gravel, the last white road of the race and for sure at this race we can have the rider, or the group of riders who will fight for the win.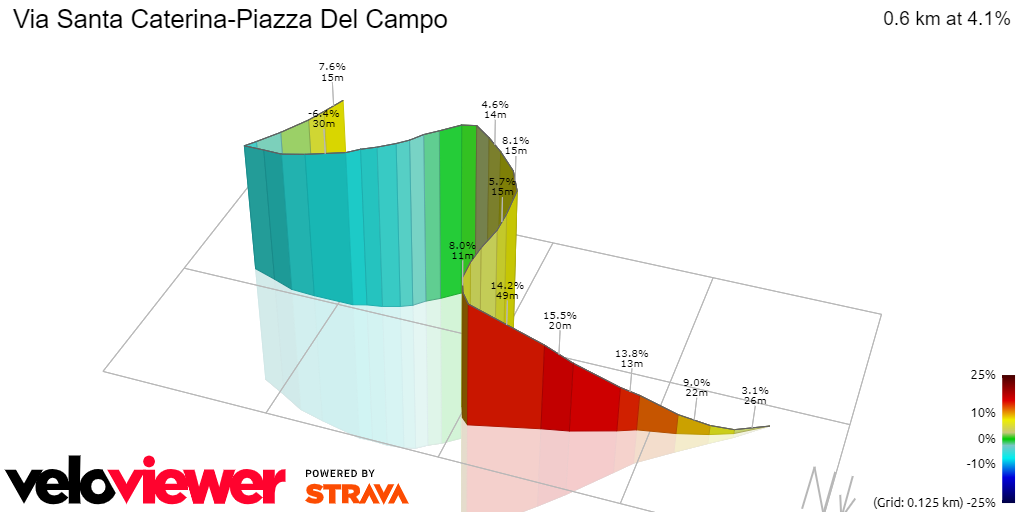 If a group, it will all be decided in the narrow streets of Siena, Via Santa Caterina is one of the most iconic places in cycling and you're sure to get some awesome images even with the current situation.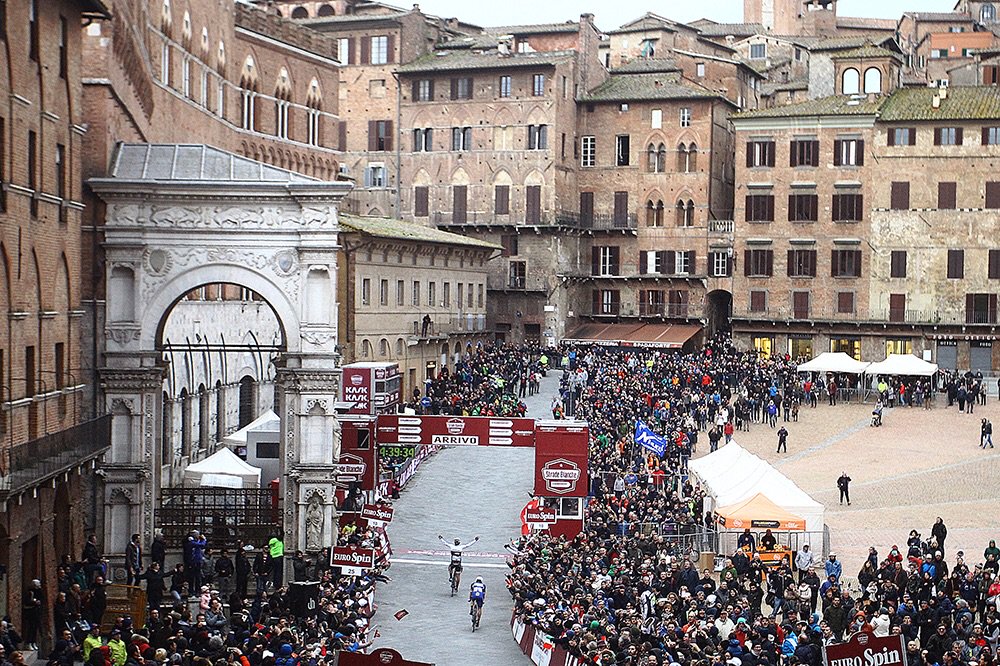 The Weather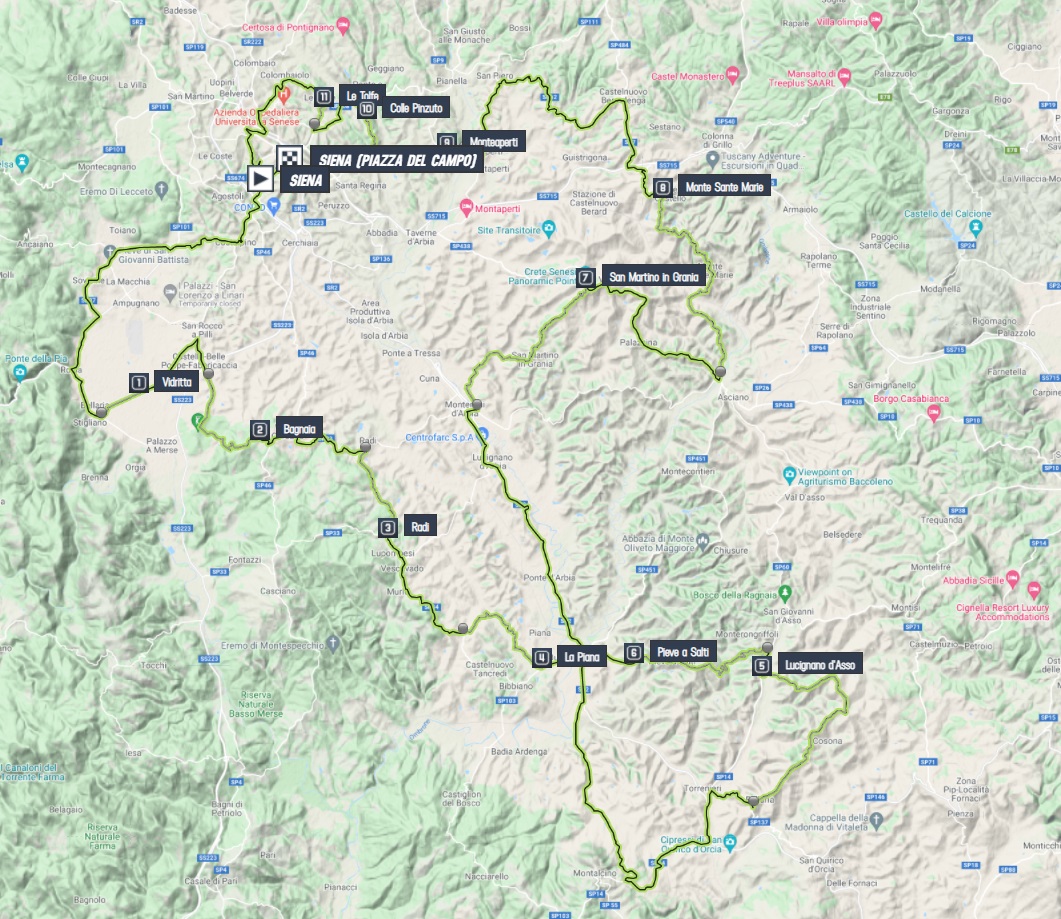 Not ideal weather, there won't be sunny conditions and there will be some wind coming from the northeast. There will be a lot of wind variations and in the steep ascents this won't make a difference, so it's not as crucial as in a normal race. Rain has hit the area recently and there are puddles on some sectors, may inforce the technical aspect in some descents.
The Favourites
Julian Alaphilippe – The strongest of pure puncheurs and the rider who on paper is best suited to this race. With an off-road background, the perfect explosivity for the steep hills that will be faced and a strong and experienced team behind, the World Champion will be eyeing a second Strade Bianche win.
Tadej Pogacar – UAE have had a brilliant start to the season and they have the opportunity to keep the ball rolling here. Tadej Pogacar is in theory the leader here, but the team has more cards specially in Alessandro Covi who can thrive here. With Diego Ulissi and Marc Soler also in the team, they can play their strength in numbers.
Benoît Cosnefroy – How well will he fare in the gravel roads is a bit of a mistery, however there is no doubt that when it comes to the short and sharp efforts the Frenchman will be able to match the best. With Greg van Avermaet behind him he'll be learning a lot, and if he's in the right positions at the right times he can very well take the win too.
Alejandro Valverde – One of the few high-profile classics he hasn't yet won. Gravel roads aren't exactly his type, but he is indeed carrying good form over from Gran Camiño and is a specialist in steep ascents. There's few as experienced as him, so he can surprise.
Tim Wellens – Off-road lover, premier rouleur and in great form. Tim Wellens is a big outsider, he absolutely has what it takes to win here if he's on a good day and avoids the crashes, as he shouldn't be heavily marked and has the skillset to attack and stay away from virtually everyone.
Tiesj Benoot – 2018's winner is coming in with great form onto Strade after a very impressive looking set of performances on the opening weekend, he will be a man to watch, with new motivation.
Israel – Jakob Fuglsang is a fan of this race and will definitely be eyeing a strong result, and the team also has an in-form Simon Clarke which makes for a very interesting team who can surely aim high.
The list does expand though, despite a very modest startlist in comparison to last year, which was hampered even further by last-minute DNS'. The likes of Michael Gogl and Quinn Simmons have performed very well here in the past and can punch above their weight if they find themselves on a good day, other riders like Sergio Higuita, Michael Matthews, Warren Barguil and Lorenzo Rota add to a very diverse list of leaders who will surely be within the fight for the Top10.
There are a couple more teams that count on collective force as something to use, like Bahrain who have the combination of Pello Bilbao and Matej Mohoric, or INEOS who've lost Tom Pidcock last minute but have Jhonatan Narváez and Richard Carapaz as leaders for this race.
Inside The Bus
This morning I talk to…
#2 Lilian Calmejane – We have Benoit in a good position here, Lilian. You're a good rider for these kind of races, we don't have the responsibility to work so it's all about staying in front well positioned in the gravel sectors, and making sure he is safe and protected, and if he punctures you immediately give him a wheel or bike depending on what happens.
#111 Quinten Hermans– Quinten how are you feeling? If you were in top form we would have the guys protect you, but we'll have the spring classics later on for you, here you don't have to work but the priority is to have an eye on Lorenzo. We can pile on some nice points here, we also must protect our World Tour spot so have that into attention, every point matters.
#195 Leon Heinschke– We've lost Romain before the race so we're going into the wild really. We have no leader, but yeah you try to be in front with the guys, one of them will stand out from the crowd, get in the experience.
Prediction Time
⭐⭐⭐Alaphilippe, Pogacar
⭐⭐Cosnefroy, Covi, Wellens, Benoot
⭐Valverde, Mohoric, Higuita, Fuglsang, Narvaez, Simmons, Gogl, Clarke, Rota, Matthews, Barguil, Honoré
A brilliant race is to be expected as always. Will Alaphilippe destroy the competition? It may happen, but on the other side is Pogacar and a stacked UAE Team. I have faith in Pogacar, he'll take the win.
Zweeler is a fantasy sports game that includes many sports and cycling is no exception. I ask that you check it out, if you register with the link below you will not only be joining an exciting game but will also be personally supporting me and my work, and allow me to make more content for you!
Tomorrow's race has prizes of at least €2500 and an entry fee of only €7. Make good use of your knowledge! https://zweeler.com/game/cycling/FantasyStradeBianche2022/main.php?ref=790
Rúben Silva
Follow us on Twitter and Instagram
Join us on facebook: Ciclismo Internacional
Copyright © 2012-2022 Ciclismo Internacional. All Rights Reserved