La Vuelta 2015 – Stage 2 Preview
By David Hunter
Alhaurin de la Torre – Caminito del Rey 165km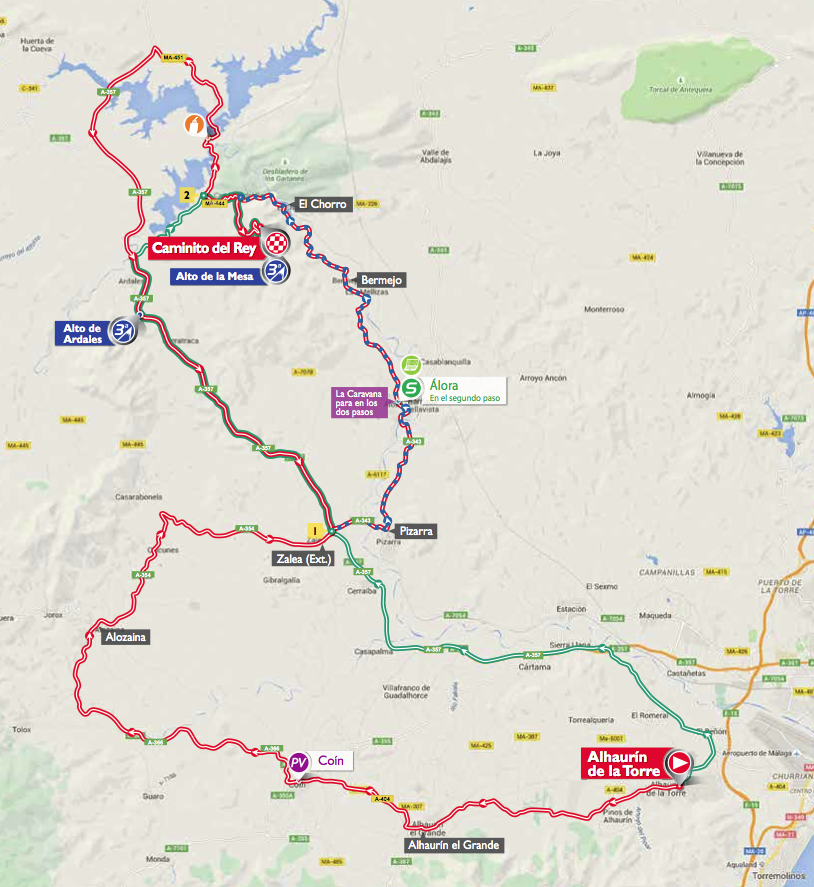 After a nice little roll round the beach, the race can really get started. There is no messing around in the Vuelta, we are straight into a very hard finish.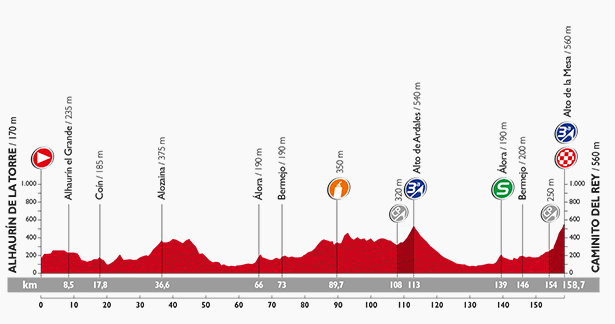 You might look at this and think if I've lost my mind, but remember what cat 3 means in Spanish! The other thing I need to remember is that the Vuelta road book is not always accurate. They have the two climbs categorised as 5km at 4.4% and 4.7km at 6.5%. They are more like 2.9km at 5.8% and 4km at 8%. Always take what the organisers say with a pinch of salt.
Caminito del Rey has never been in the Vuelta before. It was a pathway up a step cliff but had to be closed as it was getting too dangerous to walk, thanks to bits falling down the cliff. It's now been turned into a road, but the steepness remains.
Just near the top of the climb the riders are faced with a 22% ramp. This is where the stage is going to be won. Immediately you will be thinking of 2 riders: Joaquim Rodriguez and Alejandro Valverde. This stage looks handmade for them as they specialise on exactly this type of finish. Valverde won Flèche Wallone, this year, and Rodriguez took the Mur de Huy stage in the Tour de France. They will start the race as heavy favourites and the break doesn't stand a chance.
Thanks to the beach stage, there are no time gaps on GC. The break will be small and easy to control. They will be brought back around the 140km mark, as the GC teams start to increase the pace of the peloton. The climb gets steep very quickly, so road position is vital. Just like in Flèche Wallone, you need to start the climb in the first 30 riders. If you don't, you have to waste too much energy getting back into the right position. You need a team who is fast enough to get to the front of the peloton and maintain that speed.
The best at this is Orica. They are packed full of fast men and riders with huge engines. They don't have to waste any energy trying to control the stage, they just arrive late and dominate. A couple of kilometres before the climb, they will take to the front of the peloton, delivering their riders into the ideal position. Unfortunately, Simon Gerrans is unlikely to be near the form needed to challenge on this stage. He crashed out of the Tour, on stage 3(Mur de Huy), and hasn't raced since. For me, that's too long without competitive racing and he'll be hoping to come good later in the race. This stage is all about protecting Esteban Chaves, the brilliant Colombian. He's not had a great season but this has been his big focus. The team fancy his chances of making the top 10 and this starts here. He won't win this stage, but he should finish high up.
Dan Martin is another rider who should go well. The Irishman(he's really English!) is well suited to the steep slopes and he's better here than on the longer climbs. He finished the Tour with two 2nd places to his name and also rode well in San Sebastian. He's leaving Cannondale at the end of the year and wants to go out on a high. A rider who usually suffers from allergies, he loves this particular race. He was 13th here in 2011 and 7th in 2014. He will be hoping that a good early result can spur him onto a top overall finish.
Tom Dumoulin would have been a rider I would have recommended for this stage, but like Gerrans, he hasn't raced since crashing out of the Tour. He was another involved in the horror crash, on the way to Huy, so won't be ready for this stage. Such a shame, as he can really haul himself up the steep slopes.
Of course, the Colombians will be challenging, but not Quintana. Finishes like this aren't really for him, but they are great for Sergio Henao. He's had a great season and was looking very good in Poland, winning the Queen stage. Whilst everyone looks at Froome, Sergio, will get some freedom. Remember he dropped Rodriguez climbing up to Aia, in Pais Vasco. The steeper the slope, the better he is. Henao is a serious contender for this stage.
A certain Mikel Landa won the stage to Aia. I have to be honest, I have seen a recent picture of him and he doesn't look like the same rider who stormed the Giro. He isn't as lean as he was then and I would be seriously surprised to see him contending. He didn't perform well in the Tour of Burgos, a good indication of Vuelta form.
I'm not in the habit of naming every rider in the start list, other websites do that better! Only a few other riders could win this stage:- Sami Sanchez, Pozzovivo, Vanendert and Dani Moreno.
The tiny Pozzovivo is well suited to his type of finish. However, his lack of a sprint, always goes against him. Katusha will probably use Moreno to soften up the opposition. This is a tactic they use a lot and now that Moreno has hit some form, it will work well. He looked great in Burgos, taking a stage and finishing 3rd overall. The others know they have to chase him, as he's capable of just riding away into the sunset.
One other thing to watch out for is wind. You don't always associate it with Spain, but we will have a strong wind coming from the south-west. That means a cross/tail wind, as the riders head east to the finish. It's only stage 2 and the first real stage, some sleepy riders could be caught out. Watch out for Movistar trying something, the others need to be attentive.
Prediction Time
Movistar and Katusha will control the race, get set for an almighty battle. But when Henao attacks, Valverde and Rodriguez will look at each other and the Colombian will win. Team Sky to get off to a great start!
David Hunter
Follow us on @CiclismoInter
Join us on facebook: Ciclismo Internacional
Copyright © 2015 Ciclismo Internacional. All Rights Reserved