2022 Vuelta a España – Stage 1 Preview
By @EchelonsHub
The Route

The Vuelta a Espana starts in Utrecht. It will be a team time-trial to kick things off, 23.4 kilometers in distance and completely flat. It will not be an easy day however, with teams having to manage and plan how to conduct the course in the fastest way possible, knowing they have several technical sections ahead.
Early in the route there are also some narrow sections, and so it will be critical for teams to be able to take risks but stay upright in order to keep the momentum and save as much energy as possible.
In 23 kilometers there will be enough space to put in some time between teams, and things will open up in the second half where it will be possible to put the power down in a more organized way. It is rare nowadays to see a team time-trial, so this should be a good spectacle with the GC riders also urging to put in as strong times as possible.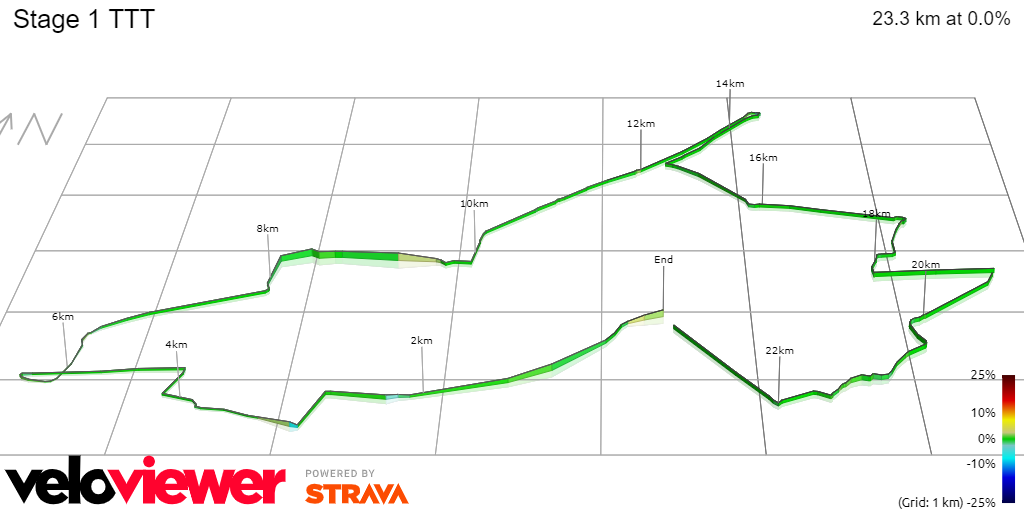 The Weather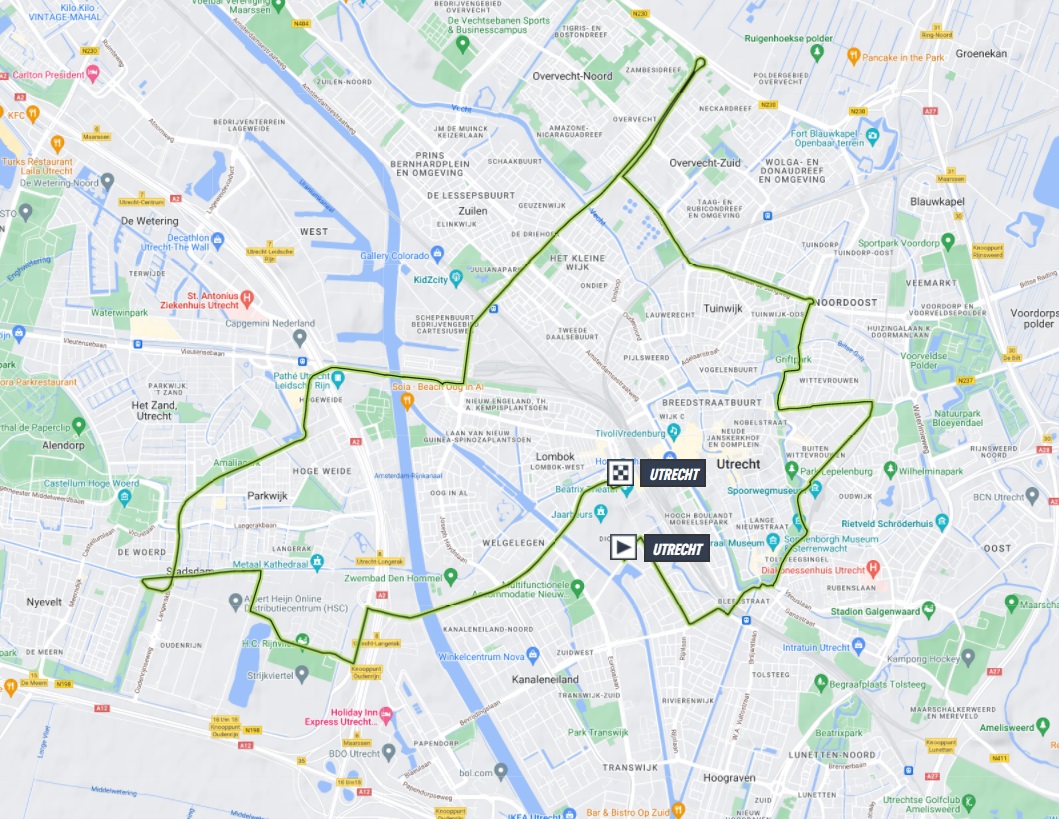 Small breeze from the west, but most importantly there is forecast of rain. Not heavy, but light rain is expected throughout the afternoon which can make things very dangerous.
The Favourites
Jumbo-Visma – Jumbo don't have their A-Game here, however they come with some strong figures that can really boost the team's result. Primoz Roglic is an obvious presence, but the team will not want to take crazy risks so as to protect him. The engines that are Edoardo Affini and Rohan Dennis will be crucial for this effort, as only Mike Teunissen remains as a powerhouse outside of the specialists.
QuickStep – Perhaps the team that over the last few years has performed the best on TTT's. Remco Evenepoel and Rémi Cavagna will be the key pieces of the effort, but with Ilan van Wilder and Juian Alaphilippe present there are more options. It's a team that wants another opening day win, and doesn't feature a specific weak link.
INEOS – INEOS will want to stay safe, but they have true firepower in their team. Dylan van Baarle, Ethan Hayter and Luke Plapp are all incredibly powerful riders, and with the likes of Richard Carapaz, Tao Geoghegan Hart, Pavel Sivakov and Carlos Rodríguez, there are good arguments for the British team's win.
BikeExchange – BikeExhange have some brilliant background TT work done, having won both TT's at the Giro unexpectedly as an example. It's a day that suits them, with the likes of Lawson Craddock, Luke Dubridge and Michael hepburn being very experienced riders in the discipline, a team that will likely want to push it hard in the corners.
UAE – Not a specialist team, but João Almeida and Brandon McNulty are great time-trialists, Ivo Oliveira is a track expert and the likes of Pascal Ackermann and Juan Sebastián Molano will be able to give a good early kick to boost the team in it's first section.
There will be other teams in contention, but no team can say they have had more warm-up and/or mileage this years when it comes to these efforts. These will mostly be GC-oriented teams trying to stay safe and not loose time on rivals, and so other teams may pop in in the first places if they take the right risks.
Prediction Time
⭐⭐⭐Quick-Step, Jumbo-Visma, INEOS
⭐⭐BikeExchange
⭐UAE Team Emirates, BORA, Trek, DSM
There are other teams at the level of Quick-Step, but I believe that this is a very specific effort, to which these riders will be more familiar with, and will be more willing to take risks in the many corners throughout the route that will make a big difference.
Zweeler is a fantasy sports game that includes many sports and cycling is no exception. I ask that you check it out, if you register with the link below you will not only be joining an exciting game but will also be personally supporting me and my work, and allow me to make more content for you!
Tomorrow's race has prizes of at least €600 and an entry fee of only €5. Make good use of your knowledge! https://zweeler.com/game/cycling/FantasyVueltaaEspana2022stage1/main.php?ref=790
Rúben Silva
Follow us on Twitter and Instagram
Join us on facebook: Ciclismo Internacional
Copyright © 2012-2022 Ciclismo Internacional. All Rights Reserved