2022 Vuelta a España – Stage 17 Preview
By @EchelonsHub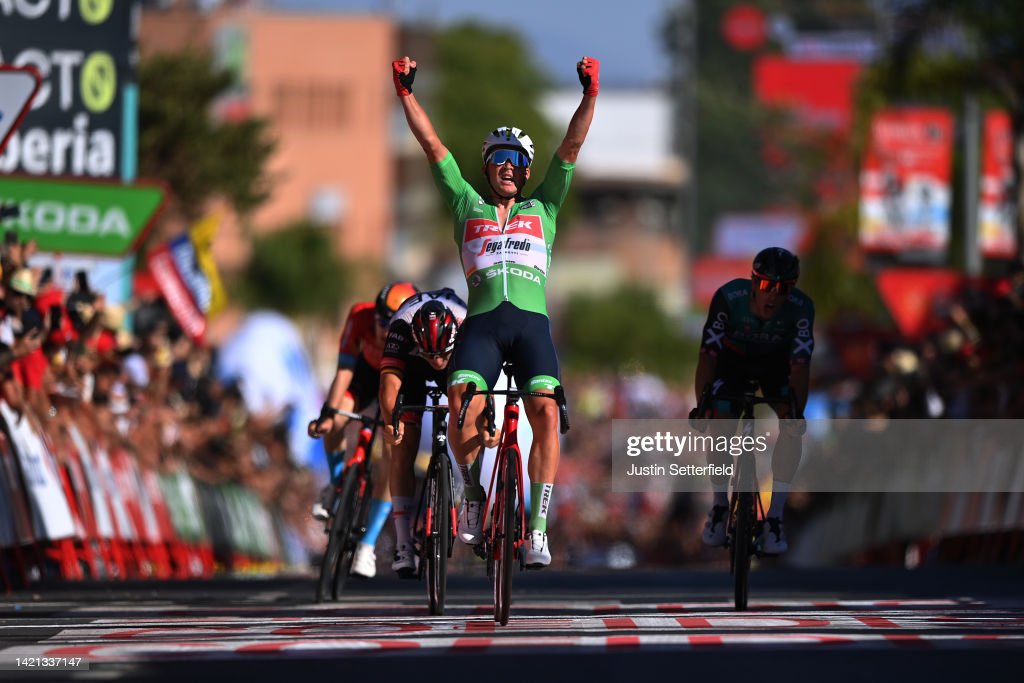 Stage 16 was a calm day in the peloton, with a very explosive finale into Tomares. What looked to be terrain for a sprint saw Primoz Roglic on the attack in the final hilltop, followed by four of the race's sprinters on his wheel who managed to control the move. Things took a turn for the worst for the Slovenian however, as he crashed in sight of the line hard and had deep wounds. Mads Pedersen sprinted to the win, beating Pascal Ackermann and Danny van Poppel to the line.
Positive: Pedersen managing to control and take a second stage win.
Negative: Despite his great attack, I fear the injuries from his crash will negatively affect his following days.
The Route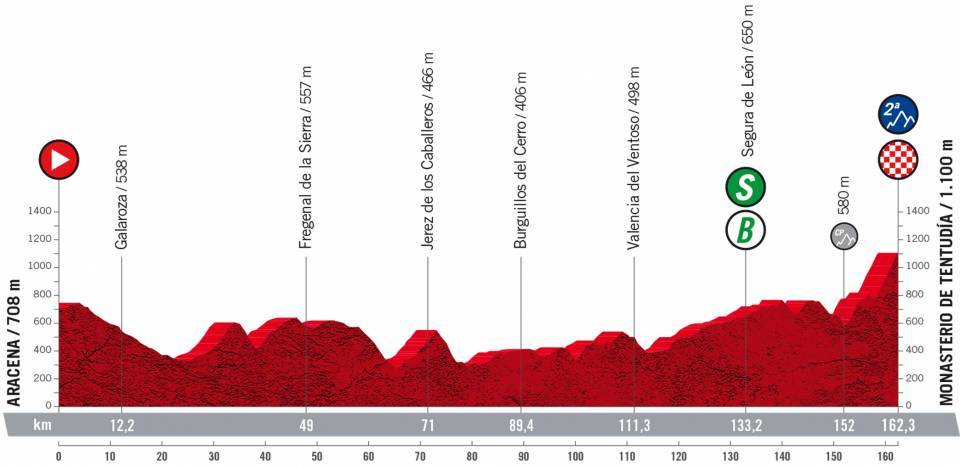 The peloton will travel further north into Extremadura for an interesting day. It will be a very hot and dry day certainly as the peloton will ride through a rather unpopulated part of Spain, however the competition will remain fierce as the riders will tackle a hilly profile.
Starting in Aracena, the riders will not find pan-flat terrain, instead a slight tilt either uphill or downhill for the first half of the day where the breakaway will be settled. The second half won't be too different, however most will be eying a specific point of the day as the riders arrive near Tentudía.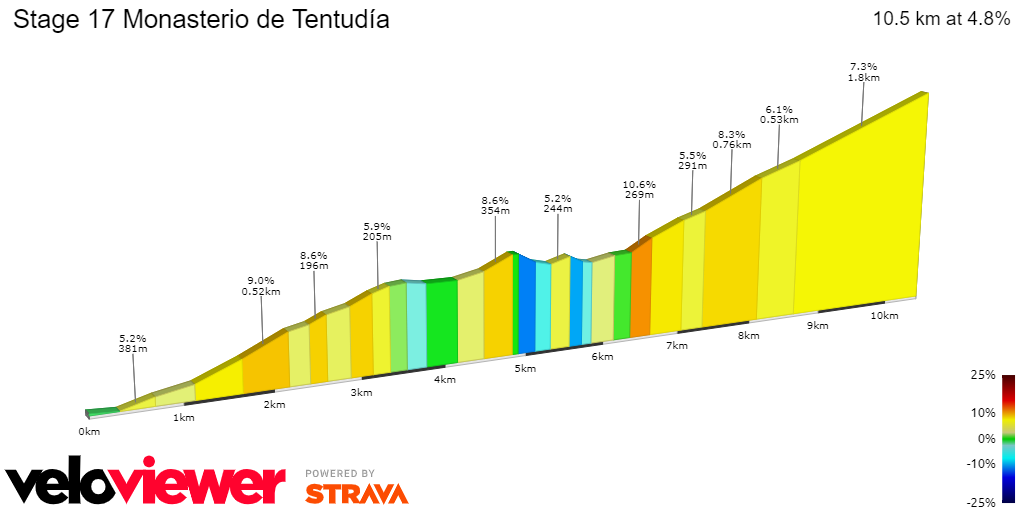 The run-in will feature many small hilltops, however the final climb should decide the stage. Into the Monasterio de Tentudía, the riders will find a very inconsistent climb. The first 2.3 kilometers are at 7.1%, whilst the last 4.1Km are at 7.5%. Officially however, the climb is 9.4 kilometers at 5.2%, meaning the middle section features a bit of false-flat terrain, both up and downhill.
However it is a climb for those with a big engine. The only switchback comes in sight of the line, and it is in those final four kilometers that the differences can be made. It will be a scenic finale no doubt, but for there to be gaps the race has to be attacked hard in those kilometers.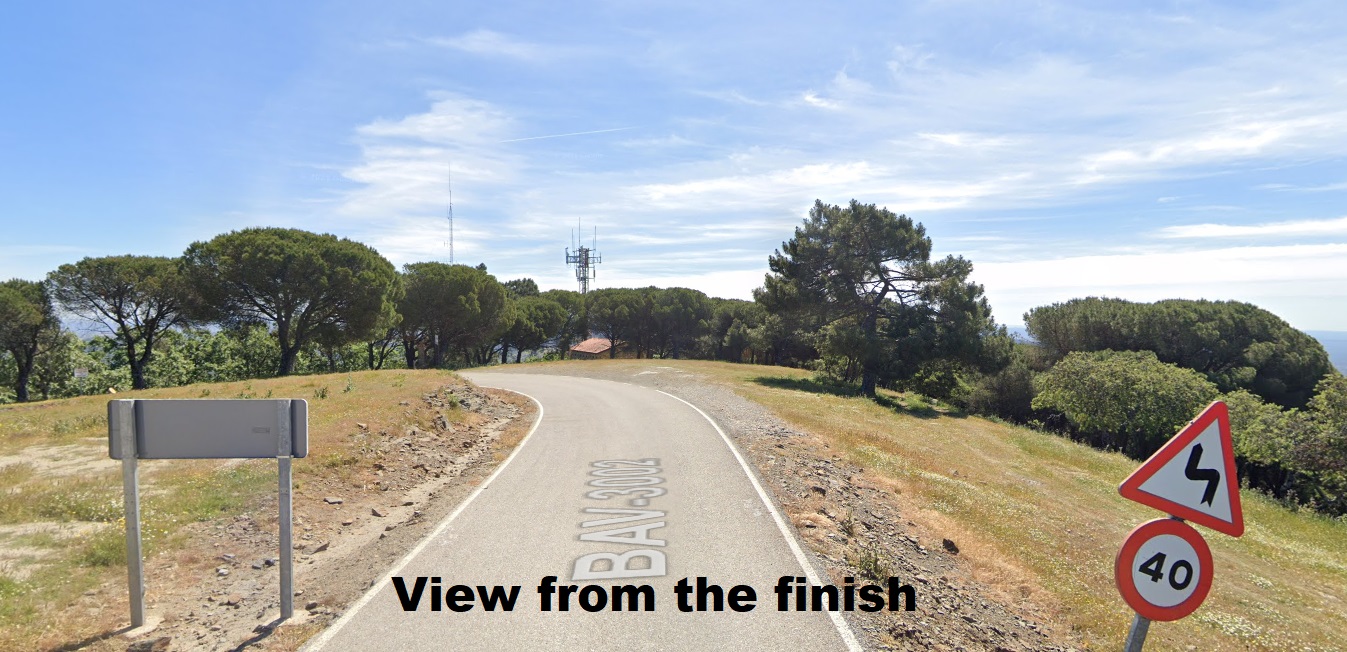 The Weather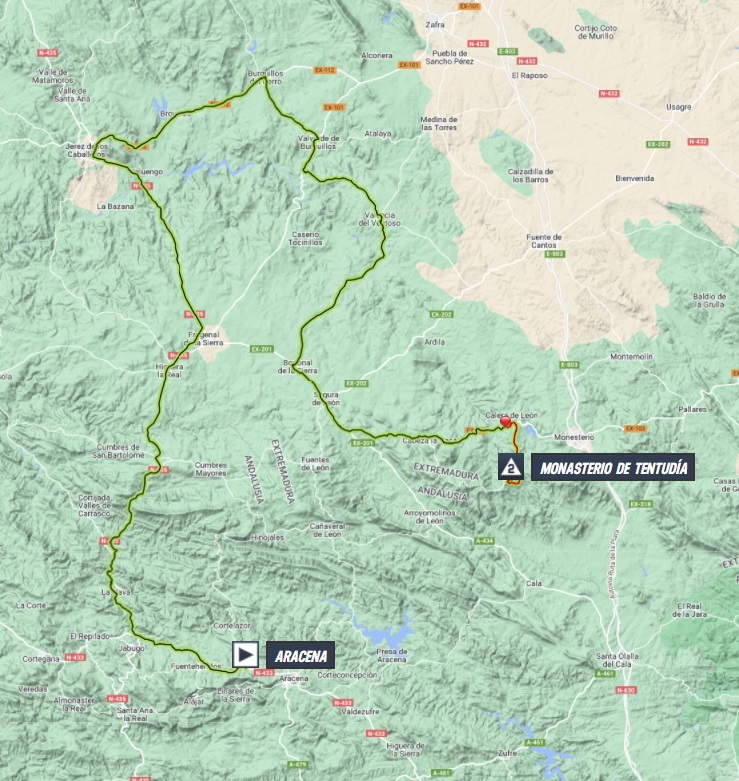 Some high temperatures and some northwestern wind. Not favourable at the start of the day, but later on it'll come as a tailwind mostly in the run-up to the final climb. There it should also be exposed, however mostly with crosswinds and no particular direction which the riders will face.
Breakaway chances: 90%
Although I believe in the possibility of Evenepoel being attacked, this stage has no clear favourite, and the lack of a hard ascent will mean that little gaps can be made even if they're possible. It's a breakaway day on the certain. The long rolling roads will no see any team wanting to chase a breakaway down, besides the fact that it would be mighty hard in either case.
The Favourites
The win is surely in whoever manages to go up the road. This will be an interesting one however, not a finale that only suits the climbers, puncheurs and rouleurs will also have their opportunity. The rolling roads suit early attackers, and as some will look to save their legs for the final 4 kilometers – with good reason – some may attack the first half of the climb hard and take a gap into those. In the early attacker scenario you could sure see the likes of Luis León Sanchez, Fred Wright and Quentin Pacher for example thrive on. The ascent is also not too complicated, so they may be favourites in both cases.
In the puncheur field you also find Clément Champoussin, and climbers who do better in those explosive efforts such as Sergio Higuita, Élie Gesbert and Marco Brenner. However the climbers are still likely to have their way. David de la Cruz, Thibaut Pinot, Tao Geoghegan Hart, Richard Carapaz, Rein Taaramae, Marc Soler and Jay Vine are all riders in form and capable of winning atop Tentudía.
GC fight – Will it happen? In modern cycling the logic thing would be that this stage will see a controlled final climb, unlikely to see attacks as the following day features an important mountain stage, and the average speeds will be high enough that slipstreaming will be meaningful thus not suited to attacks. However… One particular exciting (in my opinion) factor in this Vuelta is that the 3 main riders do not have a strong support team, hence are incapable of having it control the race or set a high pace to prevent attacks. And with the likes of Evenepoel and Rodríguez showing relative weakness last weekend, and Primoz Roglic crashing today, there will be riders looking to take up every opportunity to explore a possible bad day. Hence, it may be an explosive final ascent with some attacks I reckon, but the stage will be fought for in the breakaway surely.
After today's crash, how will Primoz Roglic be is the main question. If superficial wounds then he may be able to retain a good performance, but he will surely have a tough night and some soreness which may make it very complicated to have a good day tomorrow. This will make him vulnerable to attacks from both Evenepoel and Mas who may wanna benefit from the situation. That will surely be the main plot. The fight for 4th place will also continue with Juan Ayuso, Carlos Rodríguez and Miguel Ángel López to bump heads, the trio of João Almeida, Thymen Arensman and Ben O'Connor sit right behind and have seemingly been having better form throughout the race.
Inside The Bus
This morning I talk to…
#213 Ibai Azurmendi – Let's try to join the break, not the best of days for our guys but if we have enough riders join the front and try to surprise early on we may be able to surprise and do some strong tactical play.
#105 Chris Froome – Just roll through Chris, not a day for you. Maybe you can feel better in the upcoming ones and try to join a breakaway.
#28 Harold Tejada – This won't be a tough summit finish, however the gaps are small and every second counts in the current fight for 4th place. We'll try to have some guys join the break, however you stay with Miguel, and hit the ground running when the guys enter the final climb. We don't know who else will be present at the time, but if De la Cruz is in the group, then your job is to set a pace as high as possible until 4Km to go, we'll try to set up an attack.
Prediction Time
⭐⭐⭐Pinot, Soler, Vine
⭐⭐Pacher, Hart, De la Cruz, Carapaz, Taaramae
⭐Evenepoel, Mas, MA.Lopez, Wright, LL.Sanchez, Higuita, Gesbert
A difficult day to predict, where tactics and feelings on the day will matter more than anything. With a lot of focus on a win, team depth and climbing details, I will go for Thibaut Pinot to take his third win of the year via the same method.
Zweeler is a fantasy sports game that includes many sports and cycling is no exception. I ask that you check it out, if you register with the link below you will not only be joining an exciting game but will also be personally supporting me and my work, and allow me to make more content for you!
Tomorrow's race has prizes of at least €500 and an entry fee of only €5. Make good use of your knowledge! https://zweeler.com/game/cycling/FantasyVueltaaEspana2022stage17/main.php?ref=790
Rúben Silva
¿Te gusta lo que hacemos? Seguínos en Instagram y Twitter
Sumate en facebook: Ciclismo Internacional
Copyright © 2012-2022 Ciclismo Internacional. All Rights Reserved