Analysis: MTN Qhubeka – Chasing the Dream
By David Hunter
There isn't a single person in cycling that doesn't respect what the South African team have done. The first professional African team and founded by a charitable organisation. There aim is to provide as many bikes as possible, to the needy in South Africa. In this country, 8 million children walk all the way to school, 2 million of them walk more than 30 minutes, each way. It is a tremendous cause and one I fully back.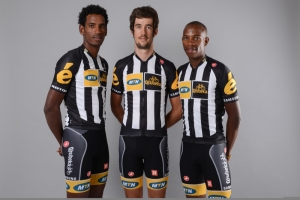 They were invited to their first Grand Tour in August, the Vuelta Espana, but found the going tough. A 5th place by Louis Meintjes was a rare high point. They shouldn't be overly criticised for this as they had a young team, many making their GT debut.
Brian Smith was brought in as their new General Manager. He was given clear guidance on what he was expected to bring….big name stars!
This provided the team with a problem. What big stars would be willing to take a step down to Pro Continental level?
The simple answer is, not many!
The issue with stepping down, is losing your automatic pick to the biggest races in the calendar. The team found it very difficult to attract the big names they demanded. The obvious move would have been to lure Daryl Impey from Orica-Greenedge. Impey is under contract until 2016, cyclists rarely move whilst in contract. This move was never going to happen.
The team might have hoped that Smith's link with Leo Konig would have resulted in him joining the team, but the Czech rider was going to the World Tour, with Team Sky.
Very quickly, the dash to sign big names started to resemble the Christmas sales in Harrods! Who's left? How much will they cost? Will they take the step down?
A rash of signings were announced:-
Natnael Berhane joined from Europcar,
Edvald Boasson Hagen from Team Sky,
Theo Bos from Belkin,
Stephen Cummings from BMC,
Tyler Farrar from Garmin,
Matthew Goss from Orica,
Reinardt Janse van Rensburg from Giant,
Serge Pauwels from OPQS.
Did they achieve their objective of big name signings?
Edvald Boasson Hagen
Team Sky had been nurturing the talented Norwegian for 5 years. Often seen as a Classics expert, he had a shocker in 2014. Geraint Thomas had replaced him as Sky's classics man, Ben Swift had replaced him as their hard man sprinter and there was no where for him to go. Once the blue eyed boy of Team Sky, he quickly fell from grace. Can MTN turn him around? This is a very hard task. Will they get invited to all the Classic races? I doubt it. After investing so much money in him, Team Sky would have held on to him, if they thought he still had potential. It seems that his career is on the downward spiral.
Theo Bos
One of the most frustrating and disappointing sprinters around. Is capable of a very fast finish but is very erratic. Usually gets 1 good win in a whole year. He's never been regarded as a top sprinter, and needs an excellent pilot. Not a big name, in my opinion.
Stephen Cummings
Yes he's won a stage in the Vuelta and the 2014 Med Tour, but he's a domestique not a big name star. He'll be expecting team leadership in shorter, stage races.
Tyler Farrar
Another sprinter who rarely wins races. Took a surprise win in the Tour of Beijing, but you won't find many people willing to bet money on him taking a win in 2014. Wants to turn himself into a Classics rider, but this will compromise the role of EBH.
Matthew Goss
Yet another sprinter who doesn't win. Goss has been on the slide, since his surprise win in Milano-San Remo. Things got so bad for him at Orica, they barely put him into any decent race in 2015. His days of being a sprinter are gone. Will they convince him to lead-out Bos?…..I doubt it!
The big recruitment drive netted 3 sprinters who don't win, a domestique and Boasson Hagen. Not exactly the big name stars they were hoping for. They also have riders with very similar attributes, who will compromise each other in big races. This is not a well thought out signing policy. It looks like they took what the others didn't want.
That might be a bit harsh on Boasson Hagen, who is a rider with class. He is their one hope, but Team Sky let him go for a reason.
Harmony of the Squad
Another issue is their current crop of talented young African riders. They have two potential superstars in Louis Meintjes and Merhawi Kudus. Both are very talented climbers and might have expected more resources to help them take the next step up. Meintjes was 5th in Giro del Trentino and Kudus was 2nd in Le Tour de Langkawi. They will hopefully get Berhane and Pauwels to help, but not the top level rider they would have liked. The young stars will quickly get pushed out the way by these more established and demanding riders. The support staff will have a very hard time to ensure the group maintains happy.
Money
Another issue will be the green eyed monster….jealousy! With the wage budget going through the roof, the younger riders will start to wonder what the big names are getting paid. This will add to the tension within the group and cause divisions that didn't used to be there. The new signings do not represent value for money and they are hoping to try to turn these riders around, after some poor years. This rarely happens in cycling. Once a rider starts to decline, the writing is on the wall.
What Does it All Mean
MTN Qhubeka are taking a massive risk. They are spending a lot of money on riders that are passed their best and risk alienating their young stars. The signing policy looks all wrong to me. They have left themselves with Bos, Goss, Farrar and Ciolek. All of these guys are sprinters that struggle to win races. Why on Earth do they have 4 of them?
They have also managed to lose a hold of two very talented riders in Sergio Pardilla and Tsgabu Grmay. I have my concerns.
They should have tried to sign very experienced riders, capable of naturing their young talent. It looks like they are sacrificing their long-term plan for short-term goals. I don't think it's going to end well.