Analysis: MTN Qhubeka – To Infinity and Beyond
By David Hunter
Having no opinion is not something I get accused of! I hate bland cycling articles that only seek to talk-up a brand or team. I like to think that I speak honestly, something that can get me into trouble.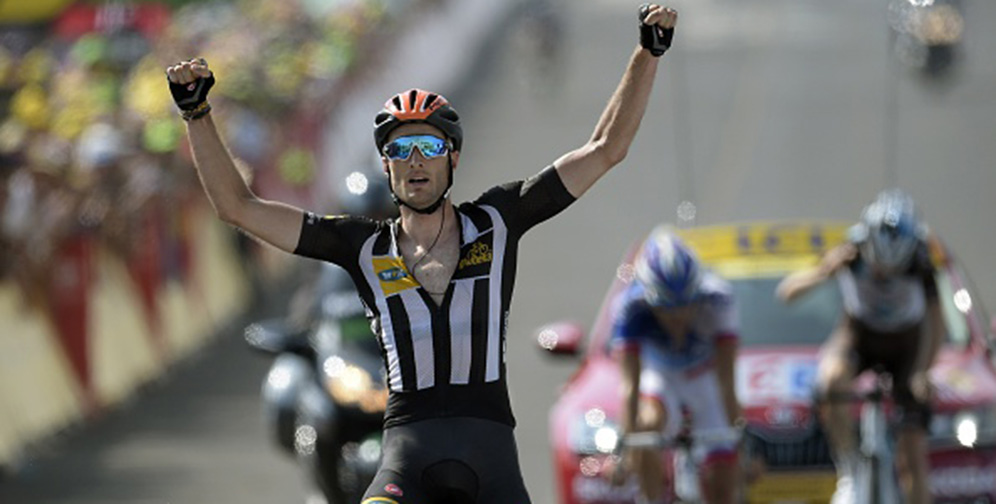 At the end of 2014 I wrote an article about MTN-Qhubeka and their signing policy. Let's just say I wasn't blown away by their strategy of focusing on big-name riders, that appeared to be past their best.
2015 was an unbelievable success for the Africans. Taking stage wins in the Tour de France and Vuelta is something that many World Tour teams would envy. They gambled on turning some riders around and boy, they hit the jackpot.
Edvald Boasson Hagen looked like a rider heading towards the scrap heep. Having lost his way at Sky, Brian Smith took a big risk by signing him. It was a risk worth taking. Back in a leadership role, the Norwegian has delivered a big season. He reminded everyone what a talented rider he really is. He started the season in okay form, claiming 10th in Milan-SanRemo. He only got the opportunity to sprint after a late crash for Gerald Ciolek. His season really started to come to life in May. Racing on home soil, he finished 2nd in the Tour of Norway but was denied a stage win by Alexander Kristoff. He continued that form into Tour des Fjords, winning the final stage. That first win in the black and white of MTN was a big moment. Full of confidence he finished 3rd, 4th and 4th in the three sprint finishes in the Dauphine. Not a "pure" sprinter, these results were positive and a great sign that he was getting back to his best.
Back on home soil, the wins stated to flow. EBH managed to claim the Norwegian ITT and RR titles. This was a clear indication that he had found his mojo and more was to come.
He hauled his ass around the Tour de France, being competitive in the bunch sprints. His best finish was a very respectable 4th in Paris. Like so many riders, he left the Tour with amazing legs. He won a stage in the Tour of Denmark and finished 6th overall and then he was 4th in the Arctic Race of Norway. A good season was about to get great! He claimed his 3rd Tour of Britain title, despite a demanding hill top finish. This is the rider we remember: fast sprinter, good on cobbles and solid on moderate hills. MTN had managed to get him back to his very best and he set off for Canada and the Worlds. If he had worked with GVA, I might have been talking about the World Champion, but he didn't, so I'm not.
I thought his best days were behind him, but I was wrong. EBH is back to his very best and Brian Smith deserves a massive pat on the back for taking a risk and signing him.
Smith 1 v 0 Hunter.
MTN's first win of the season arrived in January, thanks to Steve Cummings. The Englishman beat Alejandro Valverde, in Mallorca, not an easy thing to do. That win settled the team down and took a lot of early pressure off their shoulders. Always a talented rider, Cummings has never been more than a domestique. When he signed for MTN, all that changed. Riding for the African team he was a protected rider. Yes, he won a stage in the 2012 Vuelta, but you can't really say he had the best CV. Smith saw something in Cummings that not many did. He was given the chance to target particular stages in races and not have to work for others. His win in Mallorca wasn't easy to follow up, as he targeted stages in big races. 6th in Tirreno was a significant achievement, but nothing compared to that day in July.
Imagine the scene…It's Mandela Day, a day of huge significance for all Africans. At the team meeting, Cummings is told that he is the rider for the break. It's stage 14 of the Tour de France and a demanding stage finishes in Mende. It looks like a good day for the break and a huge break does get away. Cummings makes the break, but so does Pinot, Bardet, Plaza, Uran, Sagan, Jungels and Simon Yates. At the start of the final climb, a brutal 3km at 10%, Cummings gets into trouble. The camera pans away to focus on the battle between the two big French stars and we forget about the man from Liverpool. Near the top of the climb, as the French riders battle against each other, Cummings goes flying past them. He chucks his bike into the last corner, distancing Pinot, and takes an unbelievable, unreal stage win. Mandela Day and MTN Qhubeka win a stage in the Tour de France. Emotions were high and tears followed, Cummings had just become an African legend. What a day, what a win.
Smith 2 v 0 Hunter.
Sprinters win stages, lots of them. To get into position, they need a good train. This is something that MTN surprised us with in 2015. The big problem was a lack of a top sprinter. They went big and splashed the cash on Tyler Farrar, but his sprinting days are over. His signing bought them a lot of attention in America, something that was very important for the charity, but he didn't bring wins. Their train was good but Bos had a terrible season. Goss was a risk and it didn't work as he couldn't regain his form of old. Stepping out of the shadows was Kristian Sbaragli. Getting his chance to shine after the team decided not to take some big names to the Vuelta, he took out the win on stage 10 into Castellon. This was their only sprint win of the season and not enough to make up for the Goss/Bos show.
Smith 2 v 1 Hunter.
Serge Pauwels was bought in a similar vain to Steve Cummings. Not usually a GC rider, he was one of the surprises of the Tour de France. His 13th place ensured that we would see a MTN top in the later stages of the demanding stages. I really didn't see that one coming!
Smith 3 v 1 Hunter.
In terms of new signings, they took a big risk and it paid off. It is unrealistic to think that all of their risky signings would pay off, getting big results from EBH, Cummings and Pauwels should be viewed as an overwhelming success. To put it another way, Smith was right and I was wrong.
What About 2016?
As the new season looms, big changes are happening. Some like the new direction of the team, but others are concerned about them losing their African roots. Considering the team are looking to move into the World Tour, it's naive to think that they would continue to be an African dominated team. In order to attract big sponsors, they need to look further afield.
Signing Cavendish is a master stroke. Yes, his days of winning 4 stages of the TDF are behind him, but he brings wins and lots of press coverage. They already had a good sprint train, adding Eisel and Renshaw makes it a great sprint train. Cavendish is still capable of 20 wins a season and big results in big races. They needed a big rider to help attract a top sponsor and they got the biggest. Now sponsored by Dimension Data, expect many more wins in 2016. They have also added attacking riders in Nathan Haas, Cam Meyer and Omar Fraile. I'm fascinated to see how the non-English speaking, Omar Fraile, copes with Dimension Data. A firm, fan's favourite, he guarantees TV time as he looks to join breakaways. Meyer and Haas are experience pros, they bring wisdom, something that they will try to share with Merhawi Kudus.
Also joining the team is Kanstantsin Siutsou. If you watched Giro del Trentino, you know the damage this man can do to a peloton. Another experienced rider, I like the direction they are going in. These signings would have been great for Louis Meintjes. He did lack support in 2015, but this wouldn't have been a problem in 2016. After verbally agreeing a deal with MTN, Meintjes surprised everyone by signing for Lampre-Merida. It was a very strange signing, as they looked to build a team around him. Lampre are World Tour but Dimension Data will be there soon. It looks like Meintjes had his head turned by the promise of a big contract. A real shame, but they still have Kudus and they need to hold onto him.
It's harsh to claim they have lost their roots as 10 of their 25 riders are still African. Teams demand continuous improvement and to deliver this, they needed to look towards Europe and beyond. None of these signings are risky, they are very good riders, who will deliver wins. The team delivered 9 wins in 2015, this will be dwarfed in 2016. If you doubt this, learn from my mistake and don't disagree with Brian Smith, he knows what he's talking about!
David Hunter
Follow us on @CiclismoInter
Join us on facebook: Ciclismo Internacional
Copyright © 2015 Ciclismo Internacional. All Rights Reserved