Analysis: The Art of the Sprint Train
By David Hunter
Cycling is currently cool. Each race and stage enjoys a lot of media coverage, with the focus on the riders standing on the podium. That means sprinters get a large share of the stardom. Most fans will easily identify Cavendish, Greipel, Kittel, Sagan and Kristoff, regulars to the top step of the podium. In recent years, the man before them, has also started to gain notoriety. We have seen plenty of articles about the merits of Henderson, Renshaw and De Kort, as cycling fans begin to realise that their is much more to a stage win than the final 200metres.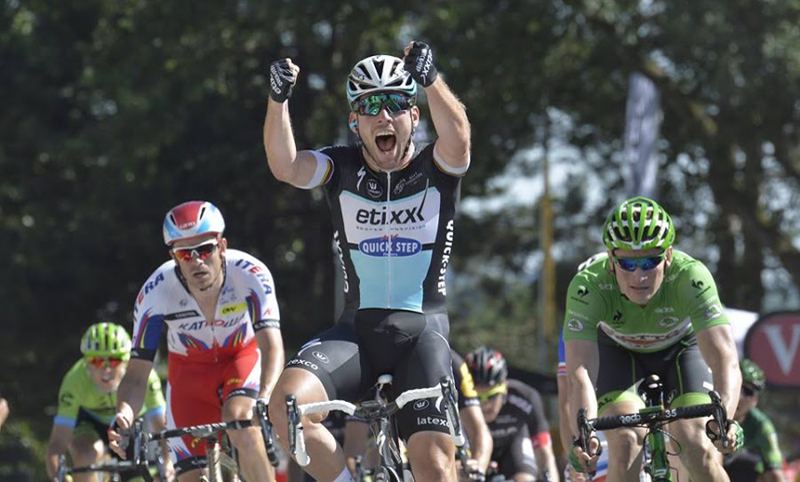 Forget about your mountain stages, this is where the real action is. Individuals, no matter how fast, cannot compete against a well drilled team. For me, this is what cycling is all about. Watching a group of 6 riders, trying to stay together, at 60km/h, is a thing of beauty. Throw in corners and other teams trying to do the same thing and we have the sprint finish. If you are anything like me, you'll love the adrenaline, the shouting, the pushing, the elbowing, the crashes, the drafting and the craziness that is the final 5km of a stage.
In order to better understand this art form, I thought it would be best to start at the very beginning.
Positions
Number 1 – The sprinter. Hides all day in the bunch, trying to waste as little energy as possible. They are the most protected riders, they even get help going to the toilet! It's all about the final 250metres for the star man, that is their only focus in 5 hours of racing. Power is vital but a racing brain is a huge advantage.
Number 2 – The pilot fish. Also enjoys a certain about of protection. This rider is given the task of delivering the sprinter to 250metres to go. In an ideal world, they would start the final lead-out at 500metres, but cycling is full of surprises. The importance of this role cannot be underestimated and it's no surprise to see sprinters take these men with them, when they change team. We have many great double acts in cycling: Greipel/Henderson, Cavendish/Renshaw, Kristoff/Guarnieri, Bouhanni/Soupe. Once a sprinter finds a great number 2, they hold onto them for dear life. Most number 2s started life as a sprinter but have moved back a position. Speed and power is important, but a racing brain is vital.
Number 3 – The battering-ram. This rider is not protected. They have to work in the peloton, getting bottles and chasing breaks. When it comes down to the final 5km they must come alive. Their role is all about positioning. They have to ensure that number 1 and 2 are delivered to the front at exactly the right time. Get the move wrong and it's game over. If they get it right, it doesn't guarantee success, as there's still much to do. Ideally, they move to the front with the flamme rouge in sight. Around 1.1km is about perfect and they would like to remain at the very front of the field until 500metres. Of course, only 1 rider can lead the bunch, so the other number 3s have to change tactic, if they miss out. In that case, they look to put their men nice and high in the bunch and hope that the number 2 can steal a march. This is not a "fashionable position" and rarely gets any credit at all. Despite that, the teams know how important it is. To fill this position you need to be able to produce a lot of power for quite a long time. Start to slow and your team gets swamped and the chance is gone.
Number 4 – The positioner. This is a luxury role, as some teams don't have one. GC and smaller teams are happy with 3, but the big sprint teams always have a number 4. Again, this is not a protected role as the rider has to complete team duties during the stage and also play an important part in the finale. Inside the final 6km, teams start to fight for control of the bunch. Those who have been working all day, tend to drift back for a little while. They get in team formation, with this rider at the head of the line. They will be fully briefed on the technicality of the finish and will know when to move. That could be at 5km, 3km or 2km, it depends on the type of finish. They have to constantly ride with one eye behind them, as they cannot break the chain of riders. This is a challenge, when you are riding at 65km/h! The role is usually filled by a wise, old head. Over excited youngsters, need not apply!
Number 5 – The powerhouse. This particular role is usually only seen in Grand Tours, when we have teams of 9. The rider has to go to the front and hopefully stay there for a kilometre. TT riders are best suited to this thanks to their love of pain. This isn't a specialist position, you just need lots of horsepower.
The Perfect Lead-Out
This is when a team hits the front at around 2km remaining. Number 4 does his job before 3 takes over, then it's over to 2, before the sprinter takes a comprehensive victory. At no point, is another team able to pass them and take control. That means each rider is faster and better than their opposing number. This is not something that happens very often, but I have found a great example from the 2015 Eneco Tour.

Watch Sieberg(15:49) as he constantly looks behind him, before making the killer move.
Due to the speed of the sprinter teams, it's rare to see a team dominate like this, especially in a World Tour event. Lotto did something similar to this in the Tour of Luxembourg, but that was against slower riders.
I have been lucky enough to rope in the services of Greg Henderson for this article. Here's what he thought of this sprint:-
"We made a few mistakes the day before, into a headwind, so it was important to use other teams correctly and move to the front at the correct time. When we did take off with Tiesj and Tim, it was pretty much single file all the way home."
The Reduced Lead-Out
This is when a team only commits 3 riders to the sprint. Lampre are one of the best at this. The team will do very little work, on the front of the peloton, but sneak to the front at the end of the race. This is not popular with the big teams, but something that must be done by some of the smaller teams. Only having 2 riders in front of the sprinter means that timing is everything.

This is a perfect example from the Giro. Watch as Ferrari(1:49:40) times his run to perfection.
For this tactic to be successful, the riders at numbers 2 and 3 must be very fast. Lampre have succeeded by placing a sprinter at 3. This is very clever but doesn't always work. The lack of a positioner can lead to them starting too far back in the bunch.
The Uphill Lead-Out
An uphill finish plays havoc with the riders's usual markers. They know where they are expected to ride to, but a slope changes all of that. The pilot fish requires a huge amount of power, much more than usual. Marco Haller is one of the best in the business.

Here is a great example of him setting up an Alexander Kristoff victory. His move to the front(28:20) is around the 350metres mark, much later than usual. Due to the slope, it's impossible to do a 300m turn, it's more like 150metres. This role really is a specialist position in a team. Katusha are fully aware of this, they have Guarnieri for flat finishes and Haller for the hills.
Technical Finishes
Some organisers like to have many corners in the closing kilometres. This plays havoc with the normal lead-out, needing a different plan of attack. It's almost impossible to keep a long line of riders together, it's much better to arrive with less riders and hit the front a little early. The best example of this is from the Giro, again it's Lotto!

As we hit 3km to go(7:44), they go to the front. With only 3 riders ahead of Greipel, it would look like a mistake, but it's not. The technical finish is not usually Greipel's style, so Lotto hit the front and dictate the speed through the corners. You hear Henderson barking the orders to Hansen and Bak, telling them where to go and how fast. They lose control of the peloton at 1.7km remaining, but this is good news. Their lack of riders makes it impossible to dominate for 3km. They don't panic, but wait! Hansen goes back to the front with 1km to go and the rest is history. This is how you control a technical finish.
Here's what Greg had to say:-
"The Giro stage was a well thought out plan that involved using two 90 degree corners to slow the whole peloton and give Lars Bak some extra distance on his pull. I asked a few times on the radio to double check the wind direction on the final long straight. Tail wind. Right, I can go long and fast. 600metres. Let's go Gringo!"
The Long Lead-Out
Sometimes the pilot fish feels strong, really strong! Instead of their normal distance, they decide to start further out. This makes their sprinter a little nervous and can sometimes lead to failure. I'm talking about a distance of 300/400metres. That means starting at 600m and finishing at 200m. Only a rider with amazing legs will be able to hold off the whole peloton, to set up a victory. A perfect example of this is from Paris Nice. It's stage 2 and Lotto are at it again. Watch as Henderson(2:01:33) delivers the long lead-out!

In honesty, I could also have used the Giro clip of Henderson too. He really did have a brilliant season.
Over to Greg:-
"Paris-Nice was one of my best ever. Again we had some communication errors, day 1, so we made sure we got it right. It was a strong breakaway, we had to gamble it would come back, so we didn't burn too many matches for the lead out. We launched at 2km with Sibi and then Orica came past with Impey, Docker and Bling. I accelerated past Sibi onto Matthews' wheel and checked once to see if Gringo was on my wheel. I looked back again and saw FDJ coming, so I took off just outside the 500m. I went past Orica, with Greipel down the right hand barrier and got him to 200m, into a slight headwind."
The Dream Team
All that's left for me to do is pick my lead-out of 2015.
Greipel
Henderson
Boonen
Sieberg
Tony Martin
That's what you call a lead-out train! Some might be surprised by Boonen at 3 but he really impressed me in Qatar, working well in this position. As he starts to get a little older, he really should look towards beefing up the Etixx train. I know a German that would really be pleased to see him help out.
2016
What a year we are in for. Greipel, Cavendish and Kittel look set to battle out the Grand Tours. Lotto and Dimension Data are going for the tried and tested, with Kittel finding himself with a new train. Etixx shouldn't be underestimated, as they are masters at this, but it will take a lot to shift Greipel off the top step.
I will watch with the interest how Cofidis and Bora continue to progress. Bouhanni looks like he's ready to join the big 3 sprinters, especially with a fully fit Soupe. Bora are on the verge of something great, with Sam Bennett. His lead out man is Shane Archbold, one of the emerging stars of sprint trains. The Kiwi just happens to be trained by Greg Henderson and I think the Bennett/Archbold partnership will continue to flourish in 2016.
David Hunter
Follow us on @CiclismoInter
Join us on facebook: Ciclismo Internacional
Copyright © 2015 Ciclismo Internacional. All Rights Reserved