BinckBank Tour 2017 – Stage 5 Preview
By David Hunter
Sittard – Sittard 167km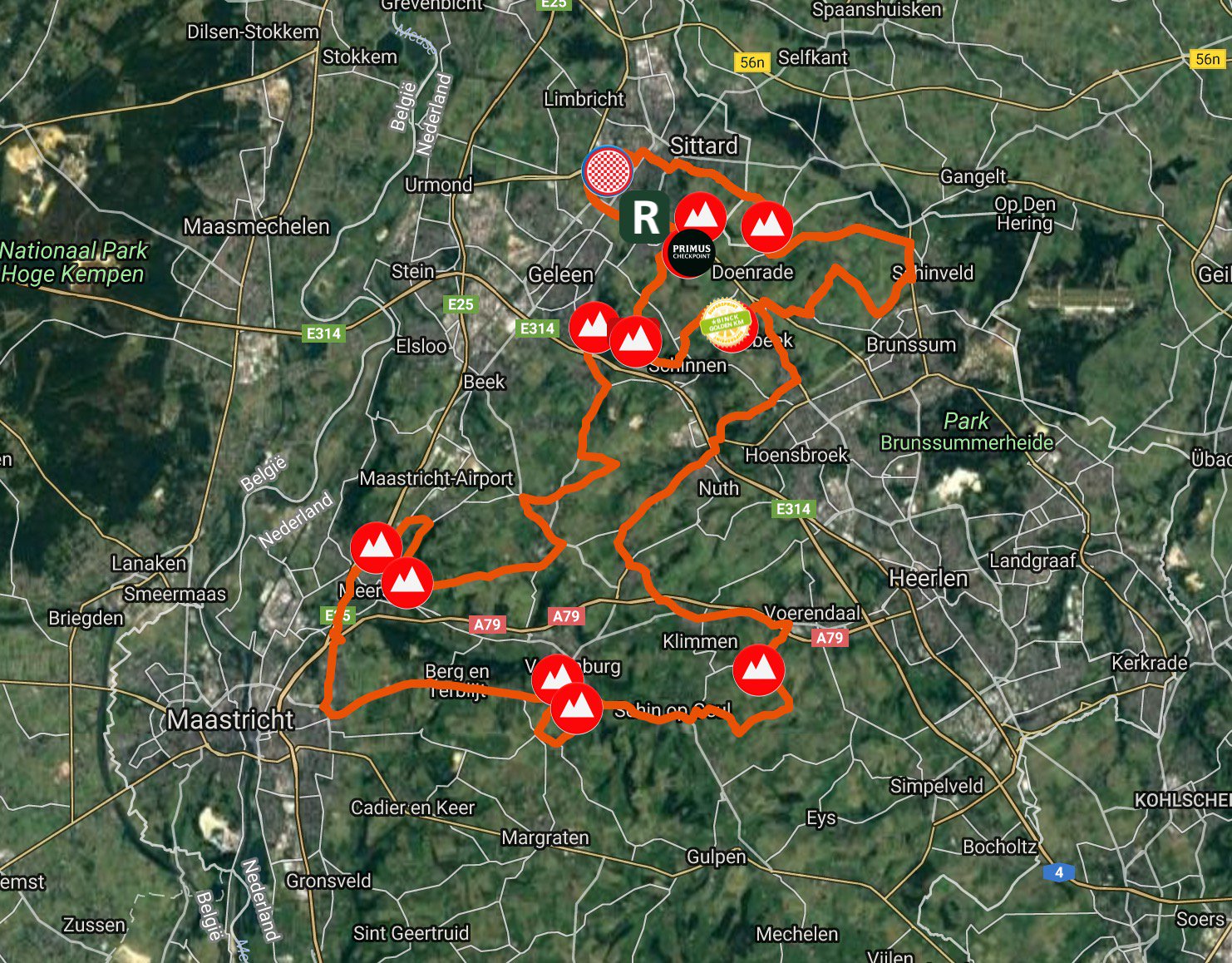 Time for the GC battle to start.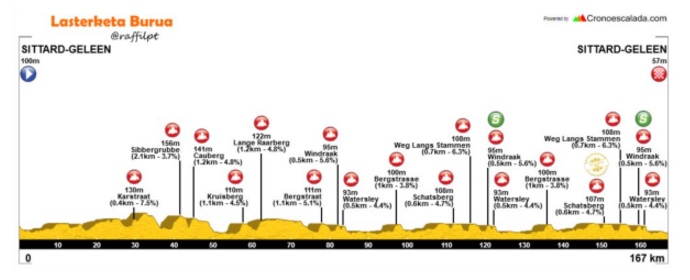 The riders head to the hills, in a water downed version of Amstel Gold. It is nowhere near as difficult as the classic, but still provides riders with a chance of putting others into difficulty.
Breakaway Hopes
Unlike the early stages, we will start to see a battle to join the morning move, as there is a realistic chance of success. With some big gaps on GC, expect to see a strong break move clear of the BMC controlled bunch. Their success, as ever, depends on the composition of the break and the attitude of the bunch. It is likely that some of the big teams will put a rider on high GC in the break, forcing BMC to chase and reduce their resources.
The Climbs
Early in the race, we climb the Cauberg and Kruisberg, but these are far too early in the race to have any sort of impact. The peloton then enter a lap circuit of 38.8km, which is covered twice.
In the circuit, the riders have to cover 5 climbs, but none of them are as hard as I would like. What I do like is the how close the climbs are to each other, the bunch must climb Schatsberg, Weg Langs Stammen, Windraak and Watersley within a period of 10km, making this a day for the puncheurs.
Another interesting point is the positioning of the golden kilometre, just after the Schatsberg climb. This means that riders will attack on the climb, hoping to continue and claim the bonus seconds. In a close race, these time bonuses are hugely significant, particularly if a rider can take all 9 seconds.
The final climb crests with just over 6km remaining, that will interest attacking riders. It will be possible to hold a small gap until the finishing line. Teams need to think creatively, due to the form of Sagan. Clearly the fastest rider here, his rivals need to attack early, do not take him to the line!
Weather
It will be another cloudy day, with some rain in the air. The forecast suggest that there will be less rain than today, but any rain will make the stage a little harder.
Finale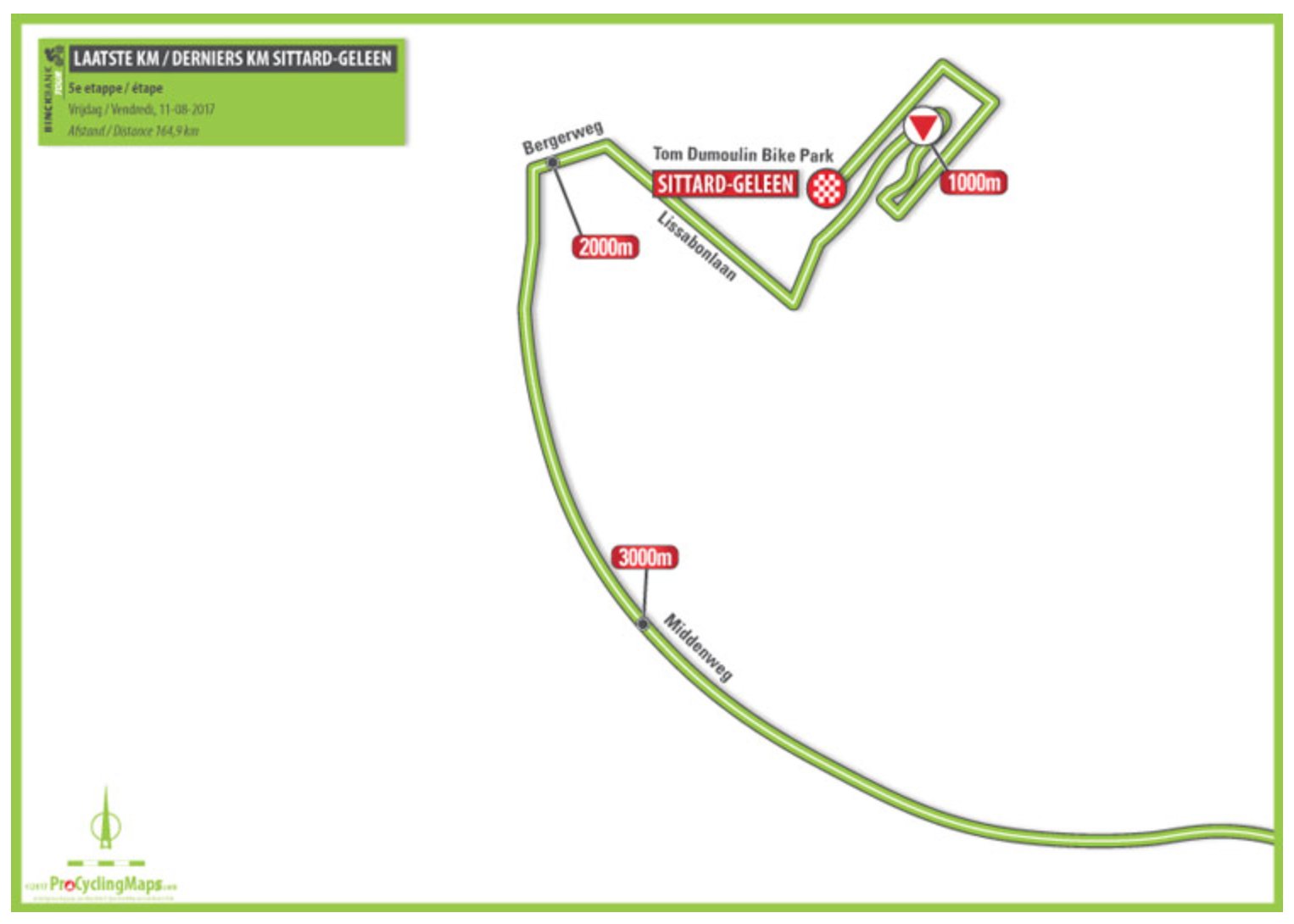 The end of the stage looks like something my 4 year old would draw! What a silly end to the race, far too many corners.
It seems like the organisers have seen sense and removed a lot of the 90 degree corners, although, this has yet to be confirmed.
Team Power
In order to attack your rivals, it helps to have teammates high on GC, and with a realistic chance of challenging for the title.
QuickStep – Gilbert, Terpstra, Lampaert.
Lotto – Wellens.
BMC – Kung, Van Avermaet.
Lotto Jumbo – Boom, Van Emden.
Sunweb – Dumoulin, Andersen.
Bora – Sagan.
Trek – Van Poppel, Theuns.
Cannondale – Vanmarcke, Van Baarle.
Orica – Keukeleire.
Astana – Valgren.
Movistar – Sutterlin.
AG2R – Naesen, Gougeard.
Verandas – Van Aert.
Clearly, some teams are stronger than others. Expect to see a battle between the usual teams, with QuickStep and BMC looking very strong. As BMC have the lead through Kung, it means that Van Avermaet will be looking to cover attacks, making it hard for anyone to get free from the bunch. However, if the situation is good for BMC, you might just see Van Avermaet work to take the stage win.
Given the parcours and the strength of some teams, this is going to be a very tactical day.
Contenders
Peter Sagan – the world champion is left with a similar dilemma, attack or wait for the sprint? This will depend on the race situation and the strength of his team. He missed out on bonus seconds today, but this stage does look great for him. A lot will depend on the strength of his team, but Bora have supported him well this year. He will have a big decision to make, if a rival attacks on the climbs. Trust his team or chase himself? I think he'll chase himself.
Philippe Gilbert – is he fit? After some ill health, I think Gilbert has now recovered to challenge in this race. His Spring campaign was simply outstanding, with brilliant performances in De Panne, Amstel Gold and Flanders. He would have been slightly disappointed with his Tour de France and he looked far from competitive in San Sebastian. Riding for QuickStep is a huge positive, especially with Terpstra and Lampaert also in contention. They will have a big say in the outcome of this stage.
Greg Van Avermaet – the best rider in the world, according to WT points. It seems this is now a real target for GVA, no wonder, it's a tremendous accolade for a rider to win. He sits in a good position in this race, as BMC also have Stefan Kung riding for GC. It's been two months since his last win, that's the longest he's gone without success for over a season, he really is an incredible rider. He was another that was sick towards the end of the tour, but that illness will be long gone. It will be interesting to see what he does against Sagan, he cannot let the world champion take more bonus seconds.
Oli Naesen – the Belgian champion is looking forward to these stages. This race is a big target for him, he is hoping for a top 5 finish. A rider who excels in tough races, he will want his team to set a fast pace for the bunch. His sprint is impressive, remember he outsprinted Stuyven and Vanmarcke to win the Belgian title. He is another rider that loves to be aggressive and I think we'll see him try something in this stage, he needs to make up some time after having to TT in the rain.
Jasper Stuyven – this is a big weekend for the Belgian rider. He arrived here with high hopes of challenging for GC, and despite TTing in the rain, he is still in a good position. A rider that continues to improve, I expect him to be challenging over the next few days. He is a very attacking rider and one that is blessed with a fast sprint, that makes him very dangerous.
Sep Vanmarcke – Cannondale have the double option of Vanmarcke and Van Baarle, putting them in a strong position. Sep is a rider I admire, such a shame he always seems to be plagued by bad luck. He is riding well just now and sprinting faster than I can remember. I think we'll see him attack near the finish.
Tom Dumoulin – with all the attention on Sagan, it seems that some people have forgotten about Dumoulin. Sitting in a very strong position on GC, he will hope this continues. He's another that needs to think carefully about tactics, due to the presence of Sagan. Due to his huge power, it is possible for him to escape the bunch in the closing kilometres, but he will be heavily marked.
Edward Theuns – flying at the moment. Took a brilliant win today, I'm so pleased for him. This stage suits him well, particularly as he is climbing better than ever. As much as he would love to go for the stage, if it turns into a GC day, he will ride for Jasper Stuyven. Today was his first world tour win, can he make it two in a row?
Danny Van Poppel – his form was very impressive in the Tour of Poland, he will not be scared of this stage! One of the fastest sprinters in the bunch, he can also cope well with short climbs. As a Dutch rider, he will have that extra motivation that can help a rider give that little bit extra. He is a rider Sagan will be concerned about.
Tim Wellens – comes into this race looking for some form. I've been impressed with what I've seen in the recent stages and he looks to be over his ill health. The two time winner of this race will be eager to take a stage win, he's won three times in 2017, but his last success was in February. That is too long a wait for a rider of his quality.
Prediction Time
I think we're going to see a frantic day. With so many teams wanting to attack, and isolate Sagan, we should be in for some fantastic racing.
In terms of the winner, rain + climbs = Tim Wellens.
David Hunter
Follow us on @CiclismoInter
Join us on facebook: Ciclismo Internacional
Copyright © 2012-2017 Ciclismo Internacional. All Rights Reserved