Critérium du Dauphiné 2014 – Stage 3 Preview
By David Hunter
Stage 2 Recap
As predicted both De Marchi and Damaseau made the break, but the KOM jersey was taken by Kevin Reza of Europcar. This is not the last we've seen of these riders in the breaks this week. Team Sky controlled the break well and the riders were swallowed up on the final climb. In a surprising turn of events, Richie Porte, had to leave the side of Froome very early. The main pulling on the climb was done by Thomas and Nieve. When the Spaniard was finished Froome attacked from 5km. It was an enormous attack, but Contador wasn't for quitting. He remained glued to his rival's wheel. Froome tried again, but still couldn't shake Contador. Eventually Nibali, Kelderman and Van den Broeck, made it back and it was Kelderman who started attacking. Froome wasn't letting anyone away and constantly chased down the attacks. Inside the final kilometre, Froome launched another blistering attack. Yet again, he couldn't shake Contador, but the Spaniard didn't have the power to attack. This left Froome to take a very impressive victory, with Contador 2nd and Kelderman 3rd. Froome now leads Contador by 12 seconds.
Stage 3 Ambert – Le Teil 194km
A day for the sprinters.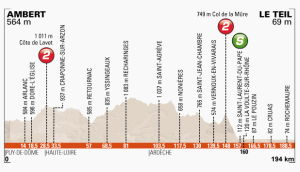 There aren't many stages for the sprinters in the race, so they will try and take advantage of this stage. We have 2 climbs in the stage, the first one is 8.7km at 4.4% and the second one is 3.8km at 6.3%. The final climb crests with 46km remaining and there should be enough teams willing to work for a sprint.
We aren't blessed with the top level sprinters but we do have Arnaud Demare, Giacomo Nizzolo and Gianni Meersman.
Demare has been in brilliant form this season, winning a stage in Qatar and claiming stages and overall victory in the 4 days of Dunkirk and Tour de Picardie.
Nizzolo comes off the back of a consistent Giro, but not a winning Giro. He was 2nd on 4 occasions and also took a 3rd place. Can he final get on the top step of the podium?
Meersman was in sensational form in 2013, before a disappointing Vuelta. Despite an early win in Majorca, 2014 hasn't been good. No wins and not too much racing must be a concern for the Belgian.
Looking further down the list of sprinters, we have Arndt, Hushovd, Howard. After that we get into the fast, tough men: Boeckmans, Tsatevich, Martinez, Impey, Simon, Cimolai, Gallopin, Navardauskas, …. The list really does go on forever!
Howard is very inconsistent and if he doesn't make it over the climb, they have Impey. If he does make it, Impey is a wonderful lead-out man.
Arndt had a very promising 2013 but has so far struggled to regain that kind of form. If he isn't feeling great, Giant have Van Rensburg.
Julien Simon has good form, he recently won GP de Plumelec-Morbihan.
If Meersman isn't feeling good, OPQS also have the young Frenchman, Julian Alaphilippe.
Thor Hushovd can never be discounted. Remember he won a bunch sprint in Bejing in 2013 and was 2nd in a recent stage in the Tour of California.
Lotto have a struggle picking their sprinter! They have Gallopin, Boeckmans and Roelandts.
We also have to consider the chance the break could make it. We now have a lot of riders far down on GC. Team Sky don't care about the stage, so everyone will look towards FDJ to chase all day. Having lost Boucher today, they might not be best pleased with this. Some potential breakaway riders are: Wackermann, Boom, Meier, Kadri, Stybar, Voigt and David Millar. The profile isn't ideal for a break, especially the final 45km of flat road, it would take a total breakdown in the peloton to make this happen. Maybe FDJ will send Fedrigo in the break and see if anyone else wants to work!
With the opening climb being very early in the stage, it would make sense for Reza, De Marchi and Damaseau to try and take the points. Then return to the peloton for the rest of the stage, or continue in the break.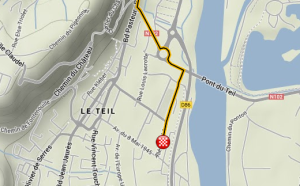 The end of the stage has a 90 degree right hand turn, leading onto the finishing straight. Demare will have Delage as his final lead-out man.
Prediction time…
If we get a sprint, I can't see anyone getting close to Arnaud Demare. It will be fun for Nizzolo to see a different FDJ rider beat him!
If the break stays away, I go for Lars Boom.
David Hunter
Follow us in facebook https://www.facebook.com/CiclismoInternacionalLatinoamerica?fref=ts … or Twitter @CiclismoInter