Criterium du Dauphine 2015 – Stage 3 Preview
By David Hunter
Roanne – Montagny 24.5km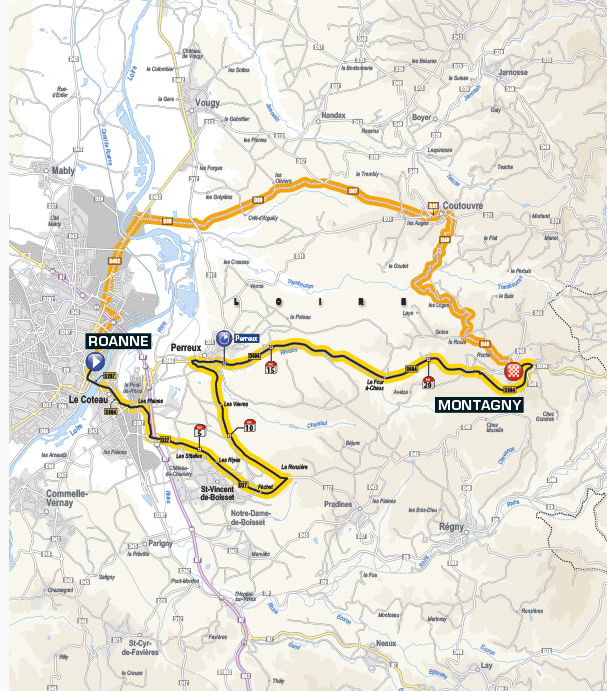 I'll start with a weather update. There is a good chance of rain and thunderstorms, between 11am and 1pm. The wind is coming from the North, so will be a crosswind for most of the stage. It slightly strengthens throughout the day, so favours the earlier starters. Given the weather predictions, this stage could be decided by teams riding on dry roads and other teams on wet roads.
BMC are the world champions and should be considered as the race favourites. They have 4 of the 6 men that won gold: Van Garderen, Dennis, Oss and Quinziato. They have Rosskopf, Sanchez, Schar and Teuns completing the team. Having 4 of the World Championship squad is huge and a massive factor in them being favourites.
Orica are normally favourites for a TTT, but their squad isn't very strong: Gerrans, Howson, Keukeleire, Meier, Cort, Santaromita, A Yates and S Yates. Damien Howson is their only member of their 2nd place team from the Worlds and he was only drafted in to replace Daryl Impey. The team have reconed the stage and shot video footage, so they still have a chance, but they really miss their normal big engines. That being said, Gerrans and Santaromita have played a big part in TTT wins before.
Etixx are next in the firing line. They have Tony Martin, Alaphilippe, Bouet, De La Cruz, Serry, Terpstra, Vandenbergh and Velits. That means 3 of their World squad are here: Martin, Terpstra and Serry. They finished 3rd that day. The difference with Orica, is that they replace riders with quality, in Alaphilippe, Vandenbergh and De La Cruz. This team looks like a major contender for the stage.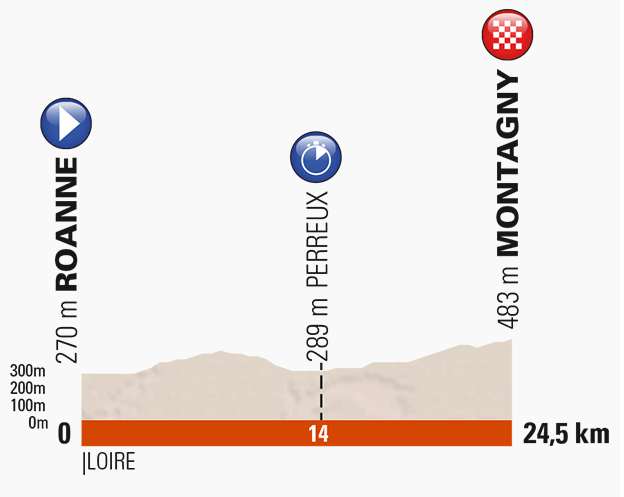 In any TTT, a slight rise really hurts the legs. These hills don't look much and their gradient is very low, but they will tire the riders. Looking at the map, I've seen courses with more corners, this doesn't seem overly technical, but the corners must be handled correctly.
Looking at the other squads, it strikes me that most teams will not be able to challenge the big 3. The only teams who might be capable are: Team Sky, Movistar, Astana and Bora.
Sky – Froome, Boswell, Deignan, Kennaugh, Poels, Roche, Rowe and Stannard.
Movistar – Valverde, Castroviejo, Dowsett, Gadret, Jose Herrada, Intxausti, G Izagirre and Sutherland.
Astana – Nibali, Boom, Grivko, Gruzdev, Scarponi, Taaramae, Vanotti and Westra.
Bora include 6 of the team that won the Trentino TTT, with Barta being one of the editions. That was a surprise result, but they cannot be ruled out, especially with their current squad. However, the difference between Trentino and the World Tour, is huge, so don't expect too much from them. A place in the top 7 teams is within reach and would be a good result for the German team.
Movistar look very strong, but don't travel well. If this TTT was in Spain, they would be overwhelming favourites. Having Dowsett and Castroviejo, ensures that they should post a good time and keep Valverde high on GC. Winning might be hard, but they should certainly finish in the top 5 and maybe the top 3. Since being sponsored by Movistar, in 2011, the team have never won a TTT, outside of Spain.
Sky and Astana seem evenly matched. They won't be too bothered if they miss out on the stage but will want to take time on each other. Heading into the mountains with a lead is very important and we should see both teams going close. Similar to Movistar, a top 5 is a possibility.
If the weather is equal for all teams, this looks like a battle between BMC and Etixx. With 4 members of their World Championship squad, BMC look stronger, but their 4 other riders are weaker than their opposite numbers, in the Etixx squad. As usual, Tony Martin, counts the same as 2 men, in these races! This is going to be close.
Prediction Time
With just 3 minutes between each team, the first and last team are separated by 1 hour. A lot of the big teams go out early: BMC, Astana, Movistar and Etixx are in the first 8 teams. Orica are in the middle of the starters, with Team Sky, going out last. In any type of TT, starting last is a big advantage. You know the time checks of all the other teams and have a carefully thought out plan. This is a big advantage for Team Sky, but they are lacking the strength of Porte and Wiggins.
If the weather is equal for everyone, I would expect a battle between BMC and Etixx, with BMC coming out on top. Do not underestimate Orica, even if their team is weaker than usual. They pride themselves on a good TTT and might just surprise everyone.
David Hunter
Follow us on @CiclismoInter
Join us on facebook: Ciclismo Internacional
Copyright © 2015 Ciclismo Internacional. All Rights Reserved