CX Hoogerheide 2022 ME – Preview
By @EchelonsHub
The Course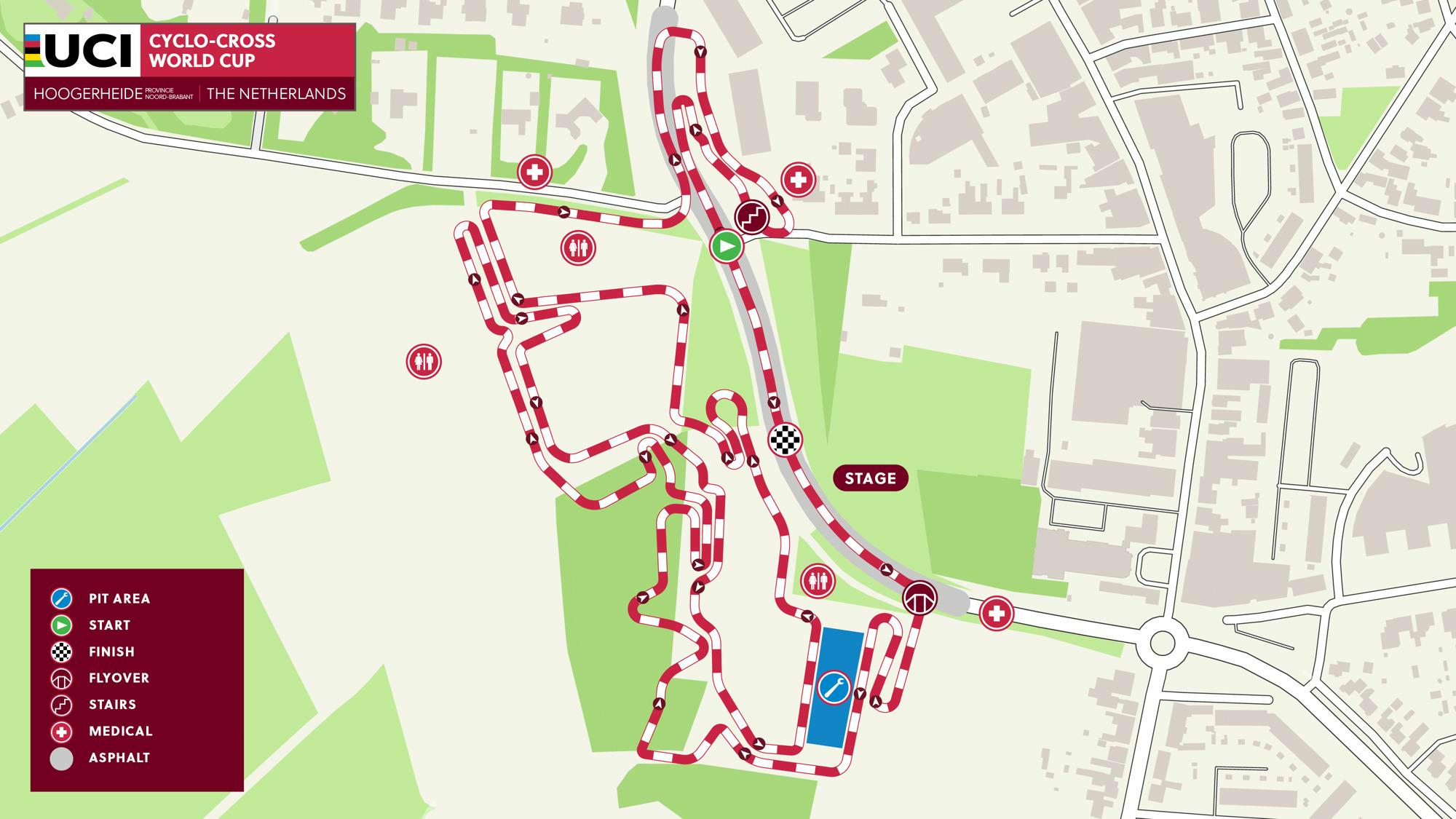 It is the final round of the World Cup. This season the finale takes place in Hoogerheide, where the land is flat and the winter is harsh, however the riders seem to be in luck avoiding the rain this weekend, although the forecast points to a slight possibility this night the track should nevertheless be dry and this will be a very fast race as always.
The route is fairly simple when it comes to how sharp a cyclocross race can get, with the weather collaborating we are expecting a fast race that is likely to be decided in the final laps as creating gaps won't be easy, the track isn't easy as it presents quite a lot of natural technical features and an incredibly winding route, which includes the ascent and descent of a few banks, a few tight corners which require a big acceleration out of and a big stair run, and into the finish there is a slight asphalted ascent that will make a possible sprint finale quite a grueling one, aswell as being a platform for attacking during the race. https://www.youtube.com/watch?v=Dz2csBLoCSU
There is no recon video but the circuit is the same as it's last edition, and you can see it in this video from 9:00-16:50.
The Startlist
1.MVDP – DNS 2.Lars van der Haar 3.Corne van Kessel 4.Ryan Kamp
5.Mees Hendrikx 6.Gosse van der Meer 7.Stan Godrie 8.Luke Verburg
9.Bailey Groenendaal 10.Hugo Kars 11.Danny van Lierop 12.Salvador Alvarado
13.Eli Iserbyt 14.Toon Aerts 15.Michael Vanthourenhout 16.Quinten Hermans
17.Laurens Sweeck 18.Vincent Baestaens 19.Daan Soete 20.Toon Vandenbosch
21.Niels Vandeputte 22.Jens Adams 23.Emil Vestrynge 24.Tom Meeusen
25.Jente Michels 26.Joran Wyseure 27.Gerben Kuypers 28.Yan Gras
29.David Menut 30.Theo Thomas 31.Valentin Guillaud 32.Joris Delbove
33.Steve Chainel 34.Antoine Huby 35.Rémi Lelandais 36.Clement Venturini
37.Mickael Crispin 38.Kevin Kuhn 39.Timon Ruegg 40.Loris Rouiller
41.Dario Lillo 42.Jakob Dorigoni 43.Gioele Bertolini 44.Davide Toneatti
45.Nicolas Samparisi 46.Lorenzo Masciarelli 47.Samuele Leone 48.Lorenzo Samparisi
49.Felipe Orts 50.Gonzalo Inguanzo 51.Miguel Rodriguez 52.Javier Zaera
53.Matej Ulik 54.Marek Konwa 55.Patryk Kostecki 56.Michael Boros
57.Matej Stransky 58.Matyas Fiala 59.Pavel Jindrich 60.Thomas Mein
61.Thomas Pidcock 62.Cameron Mason 63.Ben Turner 64.Jonathan Anderson
65.Marcel Meisen 66.Florian Hamm 67.Pascal Toemke 68.Luca Harter
69.Raphael Kocklemann 70.Cameron Jette 71.Filip Maard
This is according to the official startlist, it can at times not be completely accurate.
The Favourites
The final race before the world championships, tension will be high as everyone is making sure they are riding their best level, and there is a very even level at the top. Without van Aert and van der Poel the list of contenders opens up and there are many riders who are getting a very special special opportunity to put on the rainbow stripes.
The under-23 field will also be on the startline as in the Netherlands the U23 races aren't currently allowed, I wouldn't expect them to be in the fight for the win but the likes of Joran Wyseure, Ryan Kamp, Mees Hendrikx, Emil Vestrynge, Gerben Kuypers and Cameron Mason are definitely riders to take into consideration, the youngsters have got the explosive power needed for such a track and not having much competition with the Elites you never know if they can surprise into the Top5.
The battle for the win should be between the riders who had it today, Laurens Sweeck is coming into great form and got a brilliant win in front of Toon Aerts, I expect them again towards the front tomorrow with Eli Iserbyt who will be a fan of the explosive course, and Tom Pidcock will also be a big contender for this win obviously with his high level.
Lars van der Haar, Michael Vanthourenhout, Quinten Hermans and Kevin Kuhn will be the riders that are most likely to fill up the Top5 and perhaps more than that, it's a course where team strategy may play a role in the right circumstances.
Prediction Time
1st- Eli Iserbyt
2nd- Tom Pidcock
3rd- Laurens Sweeck
4th- Toon Aerts
5th- Kevin Kuhn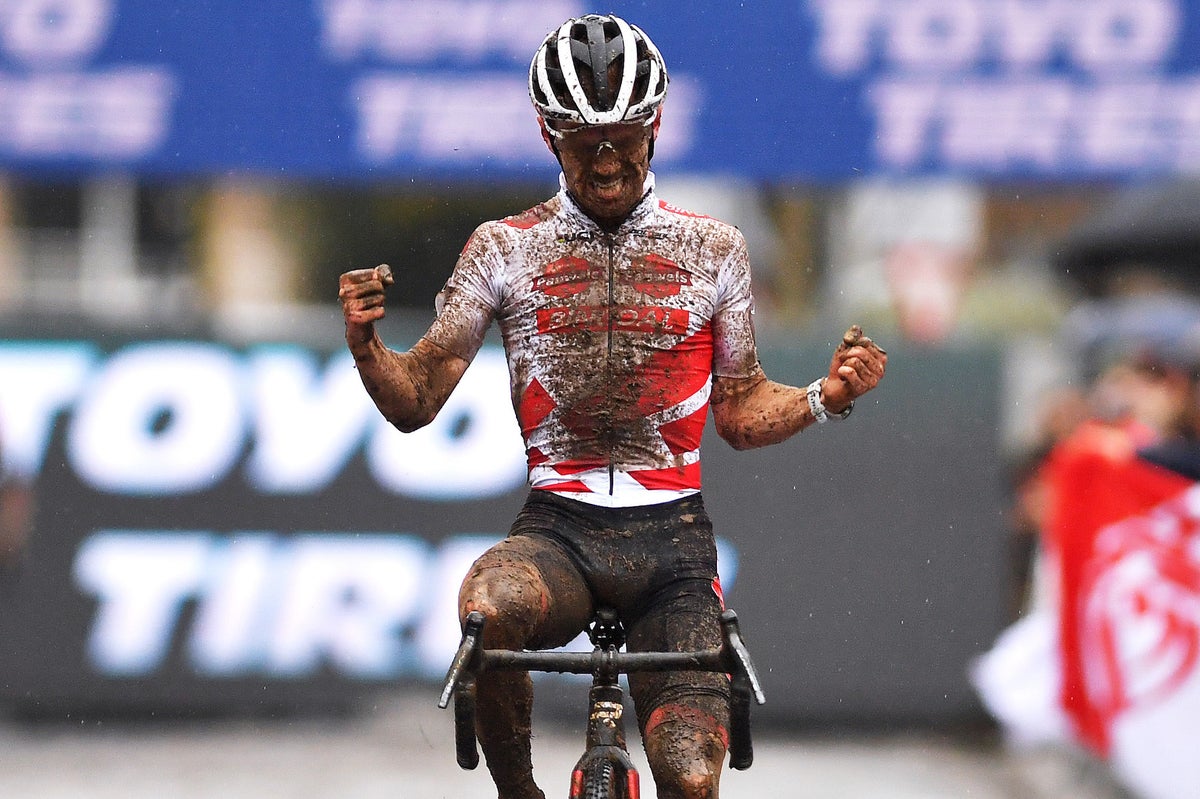 Zweeler is a fantasy sports game that includes many sports and cycling is no exception. I ask that you check it out, if you register with the link below you will not only be joining an exciting game but will also be personally supporting me and my work, and allow me to make more content for you!
Tomorrow's race has prizes of at least €300 and an entry fee of only €5. Make good use of your knowledge!
https://en.zweeler.com/game/cyclocross/FantasyWorldCupHoogerheideMen20212022/main.php?ref=790
Rúben Silva
Follow us on Twitter and Instagram
Join us on facebook: Ciclismo Internacional
Copyright © 2012-2021 Ciclismo Internacional. All Rights Reserved