Eneco Tour 2015 – Stage 2 Preview
By David Hunter
Breda – Breda 180.7km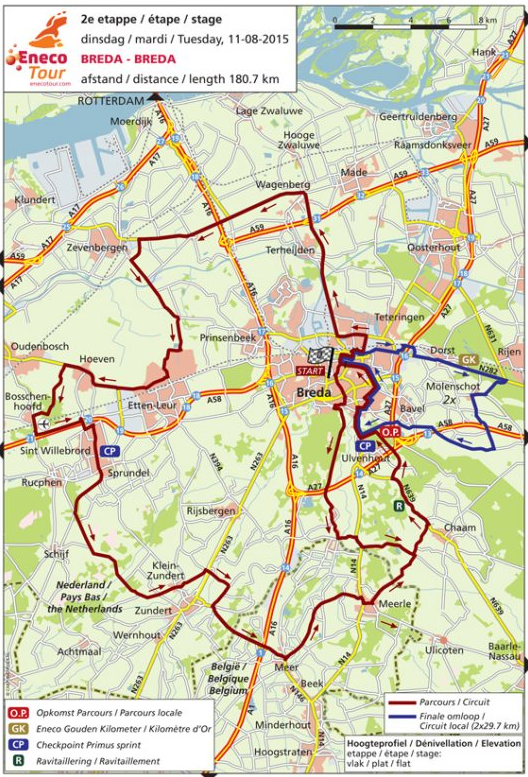 The second stage sees the riders travelling around the roads of Breda. They do step into Belgium, for a very short period, before returning to Holland. The race ends with two laps of 29.7km. Breda hosted the ITT in 2014, and it's a city that many riders are familiar with.
The Golden Kilometre is an addition I really like. It encourages attacking racing and positioned with just 20km remaining, gives a late breakaway extra motivation. Hopefully, the early break is caught before this point and the GC boys have some fun.
The wind is going to be stronger than we had today, which increases the chances of echelons. It's coming from the north-west, perfect for crosswinds. All the riders will be wary of this threat and will try to stay near the front of the race. That increases the chances of crashes, something we always get in the Eneco Tour.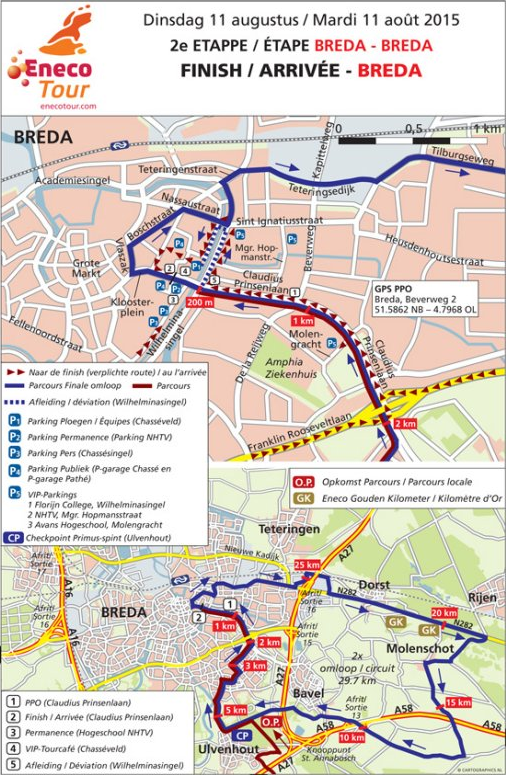 The finish is more complicated than on stage 1. Between 5km and 3km is the crucial point of the race, as it features 4 corners. Once the riders reach the 2km banner, the road becomes much easier and there is a chance to move up the bunch. To do that, you need some fast teammates as the peloton will be strung out. The road bends with 1km to go and we get a nice straight road for the final kilometre. This should be another fast sprint.
Today's sprint was a total mess. Lotto screwed it up, then it looked like Etixx got it right. All of a sudden, it was Orica in a great position, but Cort lacked the speed required. The chaos was perfect for a rider in a good position and Viviani was that rider. He followed the wheel of Greipel, similar to his Giro win, and when the Gorilla ran out of banana power, he powered by. Van Poppel, not Nizzolo, finished 2nd and Drucker was 3rd. So many sprinters were caught out of position, in a messy finish. There will be plenty of words spoken at the dinner table tonight.
If the wind blows, then anything could happen. The GC riders will seize any opportunity to gain time on each other. However, I'm not sure the wind is looking strong enough to create echelons. This stage looks like another bunch sprint. Some riders did not have the opportunity to sprint today: Modolo, Nizzolo and Porsev. The corners, inside the final 5km, should see a much more structured sprint. Today, there was too much space and that created the chaotic sprint.
To control this stage, you need to be leading with 4km to go. That represents a little problem, as most teams do not have enough men to control for that long. Some might take a little risk and look to take control from 3km. The problem is that you might be too far back, to regain control.
Lotto did not get it right today, tomorrow will be better. These boys hate losing and will be determined to put things right. Their lead out was quite good, but Greipel looked uncomfortable launching from that distance. After a day's racing, I wonder if Henderson will be ready to move back into number 2? It looks like Andre could do with it.
Vivani delivered a very impressive sprint. Despite being left alone, inside the final kilometre, he managed to retain a good position. What happened to his Italian rivals, Nizzolo and Modolo, I'm not really sure. They will be disappointed with their performance and with only 2 sprint stages left, will be determined to do better.
Van Poppel and Drucker were massive surprises, on the podium. I would be amazed if they can replicate that performance.
Prediction Time
An angry Gorilla is not a pleasant sight. Greipel to win.
David Hunter
Follow us on @CiclismoInter
Join us on facebook: Ciclismo Internacional
Copyright © 2015 Ciclismo Internacional. All Rights Reserved