Gent – Wevelgem 2016 Preview
By David Hunter
Deinze – Wevelgem 243km
It's always hard for a race, when it has to follow an epic edition. 2015 was easily the best race of the season, I wonder what 2016 will offer us?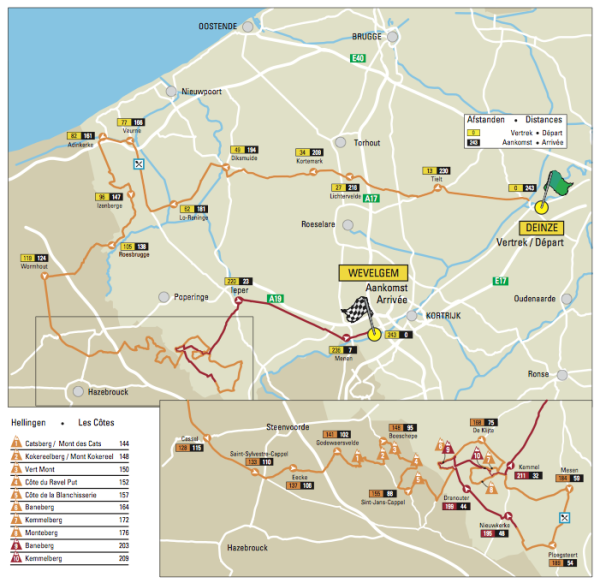 The organisers have taken the bold decision to change the route and climb the Kemmelberg from the hardest side, with 34km remaining. This will blow the race apart.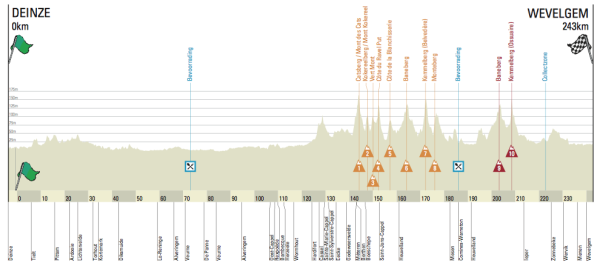 The riders still tackle the Kemmelberg twice, the first time is from the usual side. 37km later they return for the harder ascent. The climb did feature a few times in the 90s and also in the first edition of the race, 60 years ago. I'm delighted to see it back. Although short, the climb is steep. It comes in at 400m at 12%, with a maximum of 23%. Remember, it's also on cobbles. As we approach the climb, the concrete road is also uphill, at 4-5%. As it comes just 6km after the Baneberg, this part of the race will be crucial.
Weather
We have a good chance of some early rain and the wind is going to be strong, coming from the south-west. We are talking gusts up to 70km/h, last year we had 80km/h. I like the sound of that!
Sprinters
This race usually favours the quick men, but not so much this year. To reach the finish in the front group, you need to be explosive on the Kemmelberg. Riding the race are Gaviria, Greipel, Kristoff, Modolo, Wippert, Demare, Haussler, Viviani and Coquard. For a finish like this, you would normally look to Greipel and Kristoff, but things are changing. Kristoff is not looking in good form, he was terrible in E3. Greipel is still trying to get back from a rib injury, but remember how good he was in Flanders, last year. Not the best news for the big sprinters. Of the quicks, Gaviria looks the best prospect. He was outstanding in DDV, but faded in the sprint. Looking at the way he climbed the Taaienberg, he has ever chance of surviving the Kemmelberg. The new route and the weather forecast is not good news for the sprinters though, most don't like the wind.
Puncheurs
The poor weather forecast is wonderful news for these riders. Bad weather and the length of the race, usually means a lot of DNFs. It also happens that most of these riders like bad weather and are in great form:-
Peter Sagan – what the hell did he do on Friday? Looking very strong, he lost concentration for a crucial second and the race was over. That mistake was almost unforgivable. Putting that moment to the side, he rode an incredible race. He disappeared in the front group for most of the race and attacked at the correct point. So much to admire but I cannot ignore his disaster at the end.
Greg Van Avermaet – pulled out of E3 due to illness. Would take a miracle for him to have recovered fully for this race. Such a shame for GVA, as he is riding brilliantly just now. Although, he cannot be written off.
Fabian Cancellara – what a performance in E3. There is no mistaken who the best rider in the world is. As good as he was, he will still be frustrated at not winning. Will be hoping for no more bad luck.
Jens Debusschere – I don't include him as a sprinter as he really has developed into a different style of rider. Part of Lotto's double attack, he is fresh from winning DDV, especially as he didn't participate in E3. A very underrated rider.
Tiesj Benoot – continues to easily make the selections in the biggest of races, not bad for someone that has just turned 22! Still waiting for that first win, it can't be too far away. Is only riding this race because of the bad weather.
Zdenek Stybar – lost to Cancellara in Strade, won a good stage in Tirreno, hit a dog in MSR and couldn't follow Sagan in E3. It's been a mixed bag for Stybar in 2016. Etixx were not happy with the outcome of E3, they usually come back fighting.
Niki Terpstra – the bad weather expert. Whenever the wind picks up, Niki rises to the challenge. Positively loves horrible conditions, as he deals with them better than most.
Sep Vanmarcke – was quietly impressive in E3. One big problem for Sep is a lack of teammates. He has to sit in the group and hope that Etixx or Lotto do all the work. This significantly reduces his chances of winning any big race.
Edvald Boasson Hagen – very strong this season and a great option for Dimension Data. Still not sure why he skipped E3, if it was due to illness, he'll find this race hard.
Lars Boom – made the elite selection in E3, without ever showing any attacking intent. Loves a bit of bad weather.
Ian Stannard – was very impressive on Friday. Sky played the Kwiatkowski card and it worked. If it didn't work, Stannard looked in wonderful form. The short climb is perfect for a big powerful rider like him. I do like the way Sky have started to approach these races, at long last they seem to understand them.
Luke Rowe – Sky's second option. Very strong in Omloop, but didn't make the selection in E3. Got to imagine he'll be in full domestique mode.
Marco Marcato – another solid season for Marco. He finished 19th in Omloop, 21st in Samyn, 13th in DDV and 17th in E3. That is very consistent and he's usually the first pro-continental rider home. He struggles to challenge in the biggest races, but I hope to see him do well here.
Sylvain Chavanel – had been in great form but was withdrawn from the DDV and E3 squads.
Edward Theuns – led the peloton up the Taaienberg in DDV, for the 2nd year running. He went on to finish 3rd in the bunch sprint. You all know I'm a massive fan of Eddie and he'll love the conditions. Will hopefully benefit from riding with Cancellara.
Tactics
Etixx did step up to the plate in E3. They destroyed the peloton, placing many riders in the front group. The bad news was Stybar puncturing and falling out of the elite selection. He did make it back, thanks to the work of Cancellara, but he undoubtedly burned energy getting there. When Sagan attacked, he tried but couldn't follow. The current Etixx set-up is facing two massive problems, Sagan and Van Avermaet. Without the Tom Boonen of old, they don't have someone has powerful and as fast as these men. Even when they split the group and outnumber the others, they find it difficult to cope with Sagan and GVA. They need to try something else.
The bad weather presents a big opportunity, as Terpstra is better than most other riders. They need to get the group down to 10 riders and hope to have 5. In that scenario, they can fire multiple attacks and hope to break the elastic. Looking at their squad, they can count on Stybar, Terpstra, Trentin, Vandenbergh, Boonen and Gaviria to make any crucial selection. Having Gaviria is huge, they need to fast track his development into the next Tom Boonen.
Lotto have been excellent this season, but only had Benoot in the final group in E3. Importantly, Sieberg is almost back to full fitness. He told me that he was 95% on Friday. With Benoot, Debusschere and Roelandts they have the riders to challenge the dominance of Etixx. Especially as all these riders have a fast sprint.
Trek and Sky are the only other teams that are capable of hanging around. Sky have Stannard and Rowe, both love tough conditions. Sky were great in E3, taking a well deserved victory. Not having Kwiatkowski is a blow, but they still have two great options.
Trek have the ace card, Fabian Cancellara. In reserve, they also have Edward Theuns, fast becoming a new star. Both riders should be able to make any selection, having a teammate will be important for Spartacus. Boy Van Poppel is another rider who has been hugely important for Trek in 2016, a big surprise to most!
Prediction Time
The wind should tear the race apart. Similar to 2015, the front group will be small and the peloton miles back. Etixx should be able to put many riders in the front group, but they will then attack. Cancellara will still be the favourite but the horrible weather should make it a day for Niki Terpstra.
David Hunter
Follow us on @CiclismoInter
Join us on facebook: Ciclismo Internacional
Copyright © 2016 Ciclismo Internacional. All Rights Reserved