Gent-Wevelgem 2021 – Preview
By David Hunter
Ieper > Wevelgem 253.5km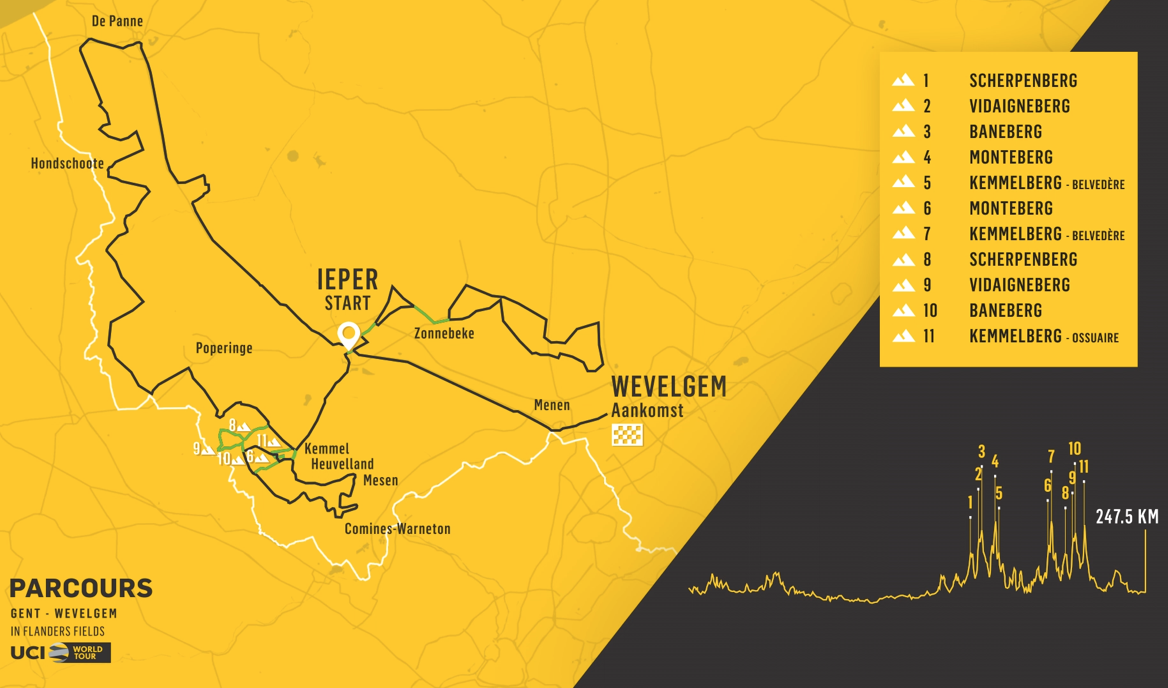 A big day out.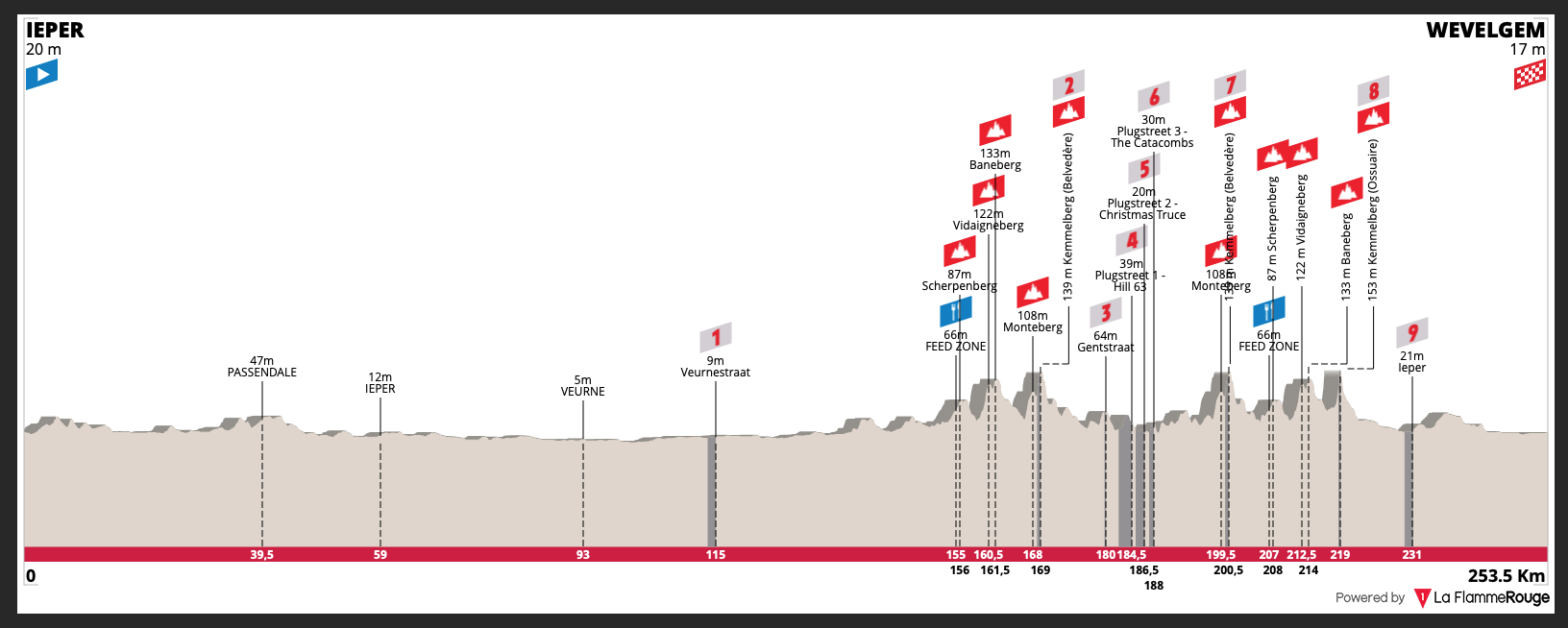 254km is a long time on the bike. The outcome of this race is heavily influenced by the weather.
Weather
Very windy. We're talking about a constant wind of 30km/h, but with gusts of 45km/h. Coming from the south-west means we have lots of crosswind throughout the day, and a favourable wind for the attackers as they head to the finishing line. This is bad news for those wanting a sprint finish.
Key Points
First up is the wide-open roads which dominate most of the day, there are too many to point out. The picture above is when the riders head north to Veurne, and the wind is a perfect cross/tail. The race will split early, I'm sure of that.
The slight issue is when the bunch then head south and go through De Moeren, as the wind is now cross/head. Will that put some off from creating echelons early in the race? I hope not.
The first of the three ascents of the Kemmelberg comes after 168km of the race. This is from the slightly easier side, but it's still brutal. We then have the usual passage through the plugstreets before the riders do this climb again, this time after 200km.
The final time up the Kemmel is from the harder side, 800m at 9.3%. This is when the strongest riders come out on top. From the crest we have 34km to go and crucially it will be a strong tailwind until Ieper with 22km to go.
The bunch then make a right turn and head for the finishing line. That means cross/tailwind until almost the very end. The wind conditions are not favourable for the race to come back together for a sprint.
Tactics
Who wants to split it early? Interestingly, Deceuninck – Quick Step arrive with a team to ride for a sprint. Sam Bennett is in tremendous form, but if the race is selective the sprinters don't really stand a chance of winning. Teams are selected for races well in advance, before you get a look at the weather forecast. I think they would like to have a few more of their big attackers at the start.
DQT dominated E3, but this team isn't strong enough to do something similar in this race. They still have lots of quality, but if the race is hard I can only see Lampaert and Štybar making the split, maybe Ballerini on a very good day. I doubt they'll have the numbers they enjoyed on Friday, which means they need to race differently.
Jumbo-Visma have the big favourite, Wout Van Aert. I think we were all surprised to see him dropped on Friday, I just didn't see that coming. It might have been due to an eating/drinking error from him, that would certainly explain the empty legs when we all expected him to respond quite easily. The Dutch team look strong to me, especially for windy conditions. They'll be able to support Van Aert until quite deep into the race, then it's over to him. He would prefer a tough day and a very small group after the final climb, that would make it easier for him to manage in the closing stages.
The other team who look capable of bossing the day are Trek-Segafredo. Riders like Pedersen, Stuyven, Theuns and Kirsch are very good in windy conditions, they'll try something early in the race. Throw in Quinn Simmons and you can see that they have multiple options. Pedersen didn't go well on Friday; I did mention in my preview that he wasn't climbing very well. He'll need to anticipate the moves on the final ascent of the Kemmelberg, similar to what he did last year. I think Stuyven could well be a better option. UPDATE: Trek-Segafredo men's team will not participate in Gent-Wevelgem due to positive tests for Coronavirus.
The rest of the teams will be looking to get pulled along by the bigger teams and see what happens.
Contenders
Wout Van Aert – he must have smiled when it was announced that van der Poel wasn't riding. If the rumours about Paris-Roubaix are true, this race takes on more significance this year. I thought Van Aert looked very strong on Friday, but clearly he wasn't strong enough to follow the big move by van der Poel. This race is very different to E3, I think it's very well suited to the Belgian. He is incredible on the Kemmelberg, by far the fastest in this race. The weather conditions are also great news for him, it significantly reduces the chances of a sprint finish, not that he'd mind a sprint considering his kick. Without van der Poel making life difficult for him, Van Aert is the massive favourite for this one.
Zdenek Štybar – I thought he looked amazing on Friday, the best I've seen him for quite some time. This race will be harder for his team to win, they aren't as strong as they were in E3. Given his form, he should be able to follow the big moves by Van Aert, but he won't beat him in a sprint. It would be ideal for Štybar if he had a teammate in a small front group, that would give him the upper hand over the faster finishers.
Yves Lampaert – man, he was gutted on Friday. Just like Štybar, he looked in great form. Unfortunately he was stuck behind Trentin on the Paterberg, and the Italian couldn't follow the big move. Lampy then managed to get across to the front group, but punctured and it was race over. His form is very good, but he sometimes struggles to follow the big moves on the cobbled climbs, I think he'll need to start the final climb of the Kemmelberg ahead of the Van Aert group.
Jasper Stuyven – was frustrated after E3, he said his legs were better than the result suggested. Trek-Segafredo have the team required to make this a tough race, and Stuyven clearly has good form. After winning Milan-Sanremo he'd love to add another big race to his growing palmarès.
Matteo Trentin – followed the big move on the Taaienberg on Friday, but punctured at a bad moment in the race. He did manage to get back in, but he couldn't respond on the Paterberg. This is a race the Italian usually goes well in, but his team don't look overly strong. He also has a good sprint; can he go better than his third-place last year?
Stefan Küng – another who impressed me on Friday, but he made a lot of tactical mistakes, he reminded me of a headless chicken. The legs are clearly good just now, but he needs to be calm throughout the race.
Sprinters – the likes of Bennett, Merlier, Pedersen, Ballerini and Kristoff could well be left disappointed thanks to a very tough day in the saddle.
Prediction Time
A relatively straightforward win for Wout Van Aert.
David Hunter
Follow us on Twitter and Instagram
Join us on facebook: Ciclismo Internacional
Copyright © 2012-2021 Ciclismo Internacional. All Rights Reserved