Giro d'Italia 2015 – Stage 11 Preview
By David Hunter
Forli – Imola 153km
Another short, but very demanding day for the riders. They had an official rest day on Monday and an unofficial one today, so time to get the legs going again. We have 5 climbs in the opening 70km of the stage, a very tough start.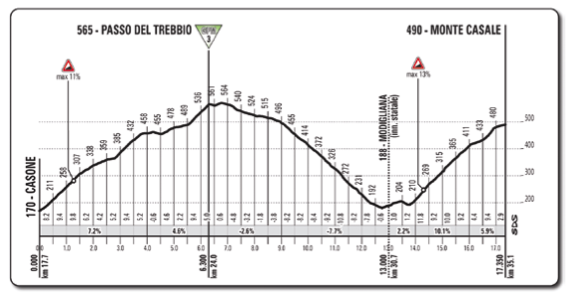 The Passo del Trebbio is 6.3km at 6.3%, and has 4km at 7.2%. This is not a nice way to start the day. After a steep descent we have the unclassified Monte Casale, 3.35km at 8%, with 2km at 10%. This is harder than the classified climb!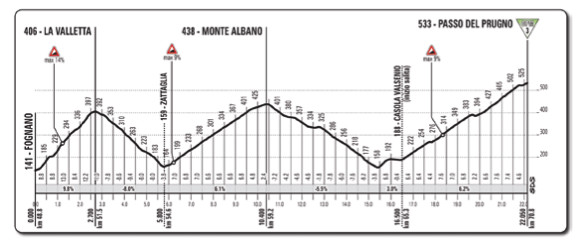 After 5km of flat, we had a challenging trio of climbs:-
La Valletta – 2.5km at 9.8%.
Monte Albano – 4.4km at 6.7%.
Passo del Prugno – 5km at 6.2%.
Despite the already demanding days, this is the most difficult start to a stage yet. Just imagine the fun, Astana could have!
There is a little bit of rest before the riders enter the Imola racing track, to complete 4 circuits. The entire circuit does not take place on the track, but goes out, so we can get another climb.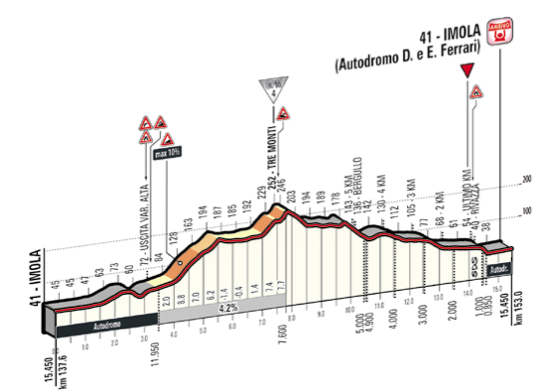 The climb is 4.4km at 4.2%, but that includes a flat middle section. The climb can really be split in two: 1.5km at 7.3% and 600m at 10%. After the crest of the climb, there is just under 8km of descending towards the finishing line. The climb isn't the hardest but does have to be completed 4 times and after a hugely challenging day. This is another day that looks too hard for most of the sprinters.
On the surface, it looks another day perfect for Michael Matthews, however, a break does stand a good chance. Orica will need help controlling the race, due to the number of climbs. They will most likely get it from BMC. Gilbert was very disappointed on stage 5, as his chain dropped in the sprint. He has come here for stages and this looks good for him.
Diego Ulissi already has a stage, but he likes the look of the second week. This stage is great for him, but in order to win a flat sprint, he needs to eliminate Matthews and Gerrans. This won't be too easy.
Trek have the option of Fabio Felline. He is fast on the flat and should have no trouble with the climbs. He stands a great chance of a podium but is another that will struggle to beat Matthews.
Quite a few teams have an interest in making this stage very hard. Movistar have Lobato and Visconti, both of whom could win this stage. Lobato would challenge Matthews in a sprint and Visconti would win against most of the climbers and GC riders. They also have options for a break with the consistent, Jesus Herrada. No matter how the race evolves, Movistar will have a part to play.
Luka Mezgec is the best option for the sprinters. He has the capability to climb well, but it's right on the limit of his capabilities, the same is true of Sacha Modolo.
IAM cycling have Heinrich Haussler. He enjoyed a great start to the season but nothing since. Theoretically, the stage is good for him, if he can find some of his earlier form but the problem is that he is sick. It's also a great stage for Sylvain Chavanel. The climb and descent would be ideal for a late attack and he is strong going up and down hills. Expect to see a Chava attack, at some time.
Bardiani are another team with plenty of options. They have Colbrelli and Battaglin for the sprint and Pirazzi for a late attack. They have struggled to reach the dizzy heights of 2014, but a single win would change all that. The Italians will be desperate to take a win.
The other riders who would hope to challenge in a sprint finish are: Grega Bole, Kevin Reza, Francesco Gavazzi, Mauro Finetto, Tom Slagter and Sergey Lagutin.
Gavazzi is the fastest of these riders. He's not had many opportunities yet in this race, but he did finish 7th in stage 3, despite being in the break. The former Lampre and Astana rider does know what it takes to win a grand tour stage, taking a win in the 2011 Vuelta. Southeast have been close in the Giro and still have hope of taking a win. They would benefit from a very hard race, as Finetto would be one of the fastest "non-sprinters."
Mick Rogers said that stage 9 was the hardest in the race, maybe he didn't get to this page of the road book. On the surface, this is the most difficult day for the teams to control. So many steep climbs, in the opening 70km will destroy the peloton. If Astana, or another team, want to ride hard, we'll get lots of splits in the bunch. However, if no team has the stomach to do this, a couple of teams could control a small break with ease. Yet again, it's a stage where a number of things could happen. To make matters even more exciting, the intermediate sprint is after 5km! Expect to see a morning sprint between Nizzolo and Viviani.
Team Sky have been rocked by the time lose and penalty handed out to Richie Porte. This leaves them miles behind the others and in desperate need of attacking. They might just start here but it's hard to see where Porte will distance the others, in this stage. It's more advisable to save some energy for the upcoming stages.
Prediction Time
Who makes the break is very important to it's chances of success. Orica will be determined to either make the break, or stop BMC getting into it. I can't see many teams willing to control the break with Matthews, Gilbert and Gerrans in the bunch. BMC could try to send Kung, Dillier or Zabel up the road. Orica could use Chaves, Clarke or Weening. The opening of the race is going to be fascinating.
I think that Astana will get involved again, hoping to catch Contador by surprise. If they do, we'll get a much reduced bunch entering the race track. That should make a late break have a great chance of success. The top GC riders won't be allowed to escape, but a "lesser" threat will. Looking at the riders outside the top 5, I think Andrey Amador, is the type of rider who has a great chance. He's riding for one of the strongest teams and he won't survive the big climbs, in the final week. He's had a very consistent race, so far, and won a stage in the 2012 Giro. I'll go for the Costa Rican to continue a good race for Movistar.
David Hunter
Follow us on @CiclismoInter
Join us on facebook: Ciclismo Internacional
Copyright © 2015 Ciclismo Internacional. All Rights Reserved