Giro d'Italia 2015 – Stage 2 Preview
By David Hunter
Albenga – Genova 177km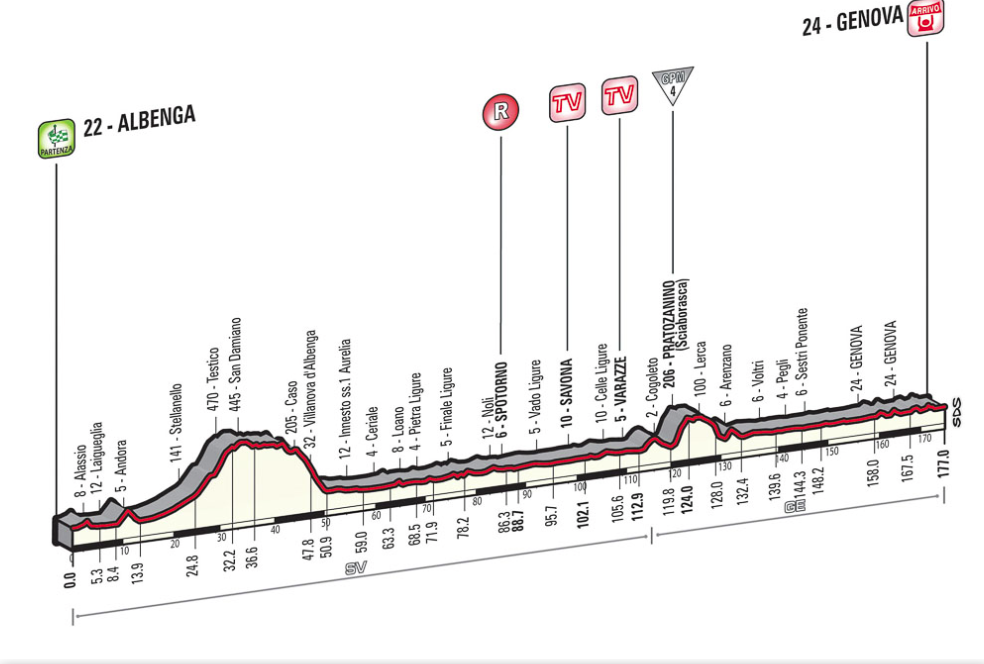 Ready, steady, go! The racing proper gets started with a nice and easy stage. We have a cat 4 climb, to reward the breakaway riders with the blue jersey. But make no mistakes, this stage is all about the sprinters. We don't have too many flat, easy days in this edition, so the sprinters will want to take full advantage of the ones we do have.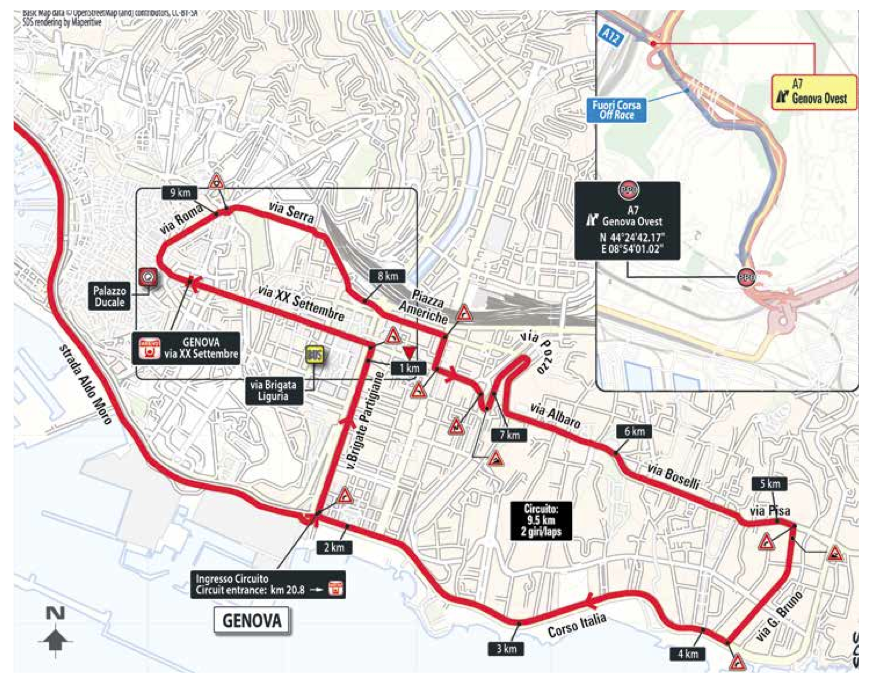 The finish isn't too technical, with two corners inside the final two kilometres. The final ninety degree turn, comes inside the last kilometre and the battle for position will be fierce. The team with the fastest lead-out, will be in prime position, so time to consider lead-outs.
Lotto Soudal – Greipel arrives with Henderson, Hansen and Bak. I would assume that Armee and Broeckx will be used to try and control the peloton throughout the stage. With Bak and Hansen they have two riders who can produce a lot of watts and most other riders will struggle to out pace them. This isn't their tried and tested lead-out, as Sieberg and Roelandts aren't here but it's still good. Henderson is pleased with his current form and he's the best lead-out man here, by a mile. Watch for him hitting the front with 500m to go and launching Greipel to victory.
Trek – The American squad arrive with four Italians and one goal, stages for Nizzolo. With a team focused on sprints, he stands a great chance of success. At this stage, I'm unsure who his last man will be, as it could be Alafaci or Van Poppel. They have plenty of speed for the closing kilometres, with Coledan, Felline and Silvestre all expected to help out. Coledan used to lead-out Modolo, back in their Bardiani days, and is a 4km pursuit champion. He is a great rider to have for a lead-out train. Trek are potentially faster than Lotto in the closing 5km and might just be the team to string things out.
Giant Alpecin – The German boys are one of the best sprint teams but they are lacking most of their usual train. They do have De Backer, Arndt and Stamsnijder but this is not up to their usual quality. Their tactic should be to wait until the final two kilometres and then try to join the front of the peloton. This is a risky strategy and takes brains and luck. Mezgec is one of the fastest riders here but can't start too far back, especially with Greipel around.
Lampre – If Giant want to arrive late and steal the show, they should watch Lampre. This is a skill that Mori, Richeze and Modolo have just about perfected. Inside the final 2km, Richeze has the speed to reach the very front of the bunch. Modolo then jumps on the wheel of the fastest rider and stays on, as if he's super-glued. The Italian is a fearsome rider, it's almost impossible to push him around. Once there, he is very quick, but coming from behind the fastest rider, is never a tactic that brings a huge amount of success. Modolo favours a messy sprint, or an uphill kick, where having the fastest speed doesn't always guarantee success.
Orica – Another team that like to arrive late and spoil the party. With big TT riders, they can swamp the front of the bunch and let Matthews fend for himself, but this year, he has a deluxe lead-out man in Simon Gerrans. He was looking back to form in Romandie and will play a big part in the train. Matthews lacks the top end speed of the others, so will struggle to make the top 3 on days like this, but he'll be put into a good position.
Etixx – They may not have Cavendish and Renshaw here, but they are still strong. For the sprint, they have Meersman, Boonen, Sabatini, Vakoc and Serry. This is a seriously strong team. Like Matthews, Gianni Meersman isn't as quick as the other "pure" sprinters but positioning is important, so he'll stand a fair chance of a good result. Acting as 3rd last man in Turkey, Boonen like very impressive. Will they promote him to last man, or even decide to let him sprint? We'll have to wait and see, but Etixx are one of the strongest sprint teams in the race.
In my opinion, these are the teams who will dominate the closing kilometres but there are plenty of other options. Riders who could challenge are Viviani, Pelucchi, Belletti, Hofland, Porsev, Colli, Lobato and Ruffoni.
Viviani arrives with a team focused on GC. He will have Puccio and Eisel to help, inside the closing kilometres. Having Eisel is massive and he'll help Viviani to position himself well, he needs as much help as he can get! Viviani is the second fastest sprinter here, but without a proper lead-out, it's a mammoth task to beat riders like Greipel and Nizzolo.
Pelucchi is struggling to find his early season form, but is fast. He's also lacking his usual sprint train, so I think he'll struggle to make an impact.
Hofland is fresh from a win in the Tour of Yorkshire, but might need to wait until a harder sprint stage. He too, is lacking a team to work for him.
Prediction Time
Lotto have the best lead-out man and the fastest sprinter. That means only one thing, an easy win for Greipel. If Michael Matthews finishes in front of Gerrans, he'll take over the pink jersey.
David Hunter
Follow us on @CiclismoInter
Join us on facebook: Ciclismo Internacional
Copyright © 2015 Ciclismo Internacional. All Rights Reserved