Giro d'Italia 2017 – Stage 11 Preview
By David Hunter
Firenze – Bagno Di Romagna 161km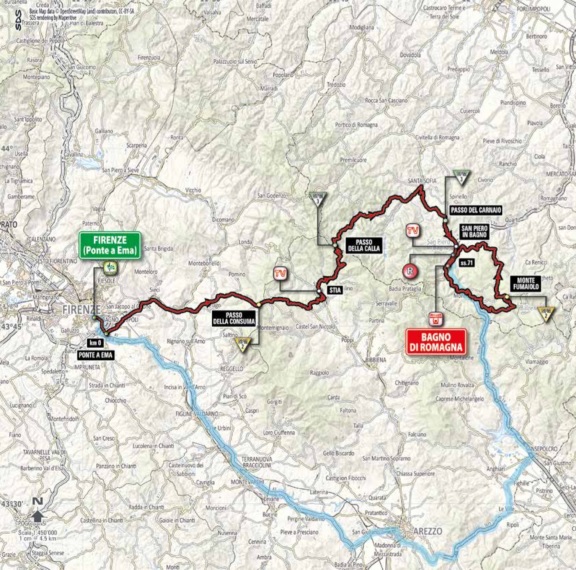 This could be very interesting.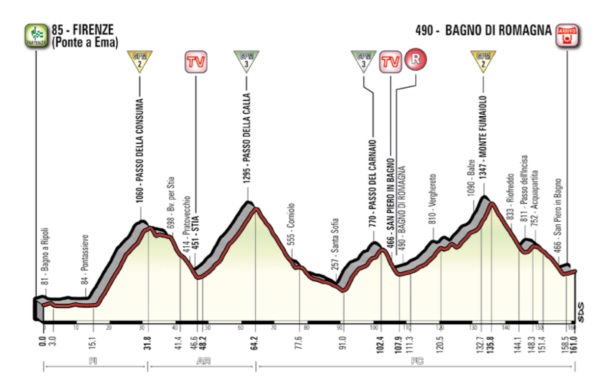 A short stage, but filled completely with climbs and descents, if you discount the opening 15km. This is a stage where we could see some GC fireworks, despite the lack of any cat 1 climbs.
The Climbs
The opening climb is the cat 2 ascent of Passo Della Consuma. It is 16.7km at 5.8%, I would say this is bordering on a cat 1 climb. It certainly ensures that this is a breakaway for climbers and a long day for the sprinters.
After a 16km descent we hit the cat 3 climb of Passo Della Calla. This climb is 17.6km at 5%, not much difference to the opening cat 2 climb. After a 27km descent we come to Passo del Carnaio.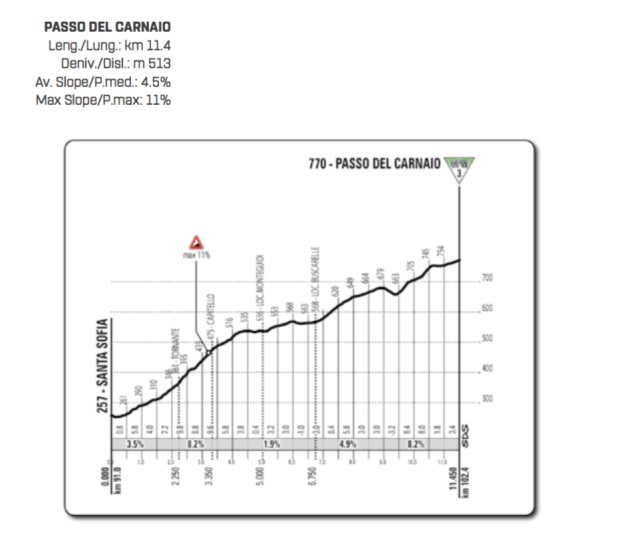 11.4km at 4.5% is easier than the opening to climbs, but it does have two sections at 8.2%. A short descent follows before the long climb up to Monte Fumaiolo.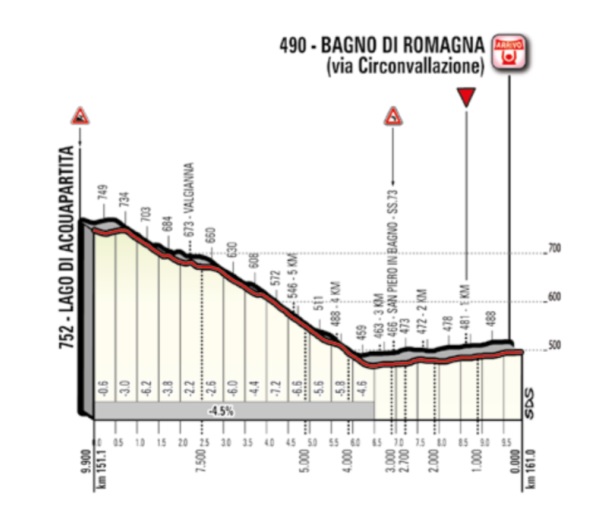 The descent is quite technical, with plenty of corners, it is one for the daredevils in the bunch. After they come off the downhill, there is 3.5km of false flat until the finish.
Weather
Another sunny day, with a light wind from the south.
Breakaway Hopes
Very good. This has breakaway written all over it. No team would want to try and control such a stage, that means we'll have a fierce fight to join the morning move. It will stay away unless it contains a rider perceived to be a GC threat, or if someone wants to be Astana! Behind, expect to see GC attacks near the top of the final climb, and on the descent.
Who Will Be Astana?
The only team that has the strength in depth is Movistar. Do they really want to commit to a crazy day, in order to put Dumoulin under pressure? Certainly, without Kelderman, the Sunweb team is looking a little weak. Although, I doubt we'll see any Astana style action.
Contenders
Valerio Conti – the new Ulissi! He was magnificent on Saturday, such a shame he crashed in one of the final corners. We shall never know if he would have won, but I think he would have. I've watched on with interest as he has progressed over the last few years, I remember interviewing him back in 2014. Last season was a big step up in his career, taking a brilliant win in the Vuelta. Given his current form, it would be a surprise if he didn't win a stage in this year's Giro. Strong on the climbs and fast on the descents, this is a great stage for Conti.
Omar Fralie – got in the big break on Sunday, shame it wasn't meant to be. He is currently enjoying a good run of form and we all know he is good at making breaks. The climbs are good for him, but he isn't as good going downhill compared to some of his rivals.
LL Sanchez – made the break on both Saturday and Sunday, it's safe to say that he is Astana's go to guy for the breakaway. The Spaniard was a little unlucky on Saturday, but he didn't have the legs to respond in the final kilometre. Despite thoughts of taking it easy, he posted a brilliant TT today, just missing out on the podium. I get the feeling, he'll keep trying until he wins!
Giovanni Visconti – the Italian was really unlucky on Saturday. He was at the back of the 4 man group, when Conti crashed, ending up a good few metres behind Sanchez and Izagirre. The gap was too big to close, a real shame as he was looking very strong. His chances all depend on his team role, he might be needed to stay with Nibali in this stage.
Matej Mohoric – one of the fastest descenders in this peloton. UAE have a number of options for the move, it would be good to see Mohoric given a chance.
Michael Woods – no longer a GC threat, Woods should have some freedom to chase some breaks. We already know that he is riding well and with the break sure to go on a climb, he has a solid chance of making the move. Not a known breakaway rider, but you just never know.
Diego Rosa – Team Sky suffered a disaster on Sunday, that could give Rosa some freedom. Thomas is still in contention for a good spot on GC, but Sky will surely now try and win a few stages. Looking at this stage, Rosa is their best hope. The Italian is an incredible talent, he flies uphill and downhill! Hopefully he gets released from his domestique role.
Rui Costa – another rider that is out of the GC picture. When this usually happens, he becomes a very successful stage hunter. The former world champion has three stage wins in the Tour, he would love a Giro win in his first appearance in this race.
Vincenzo Nibali – if the break doesn't make it, the descent looks good for the shark. He lost a significant amount of time on Blockhaus, he needs to take advantage of his descending ability. One of the best in the business, it makes sense for him to attack on the downhill and try to put the others under pressure. This will happen whether the stage is up for grabs, or not.
Prediction Time
The break wins and Diego Rosa takes some success for Team Sky.
David Hunter
Follow us on @CiclismoInter
Join us on facebook: Ciclismo Internacional
Copyright © 2012-2017 Ciclismo Internacional. All Rights Reserved