GP Miguel Indurain 2021 – Preview
By David Hunter
Estella > Estella 203.5km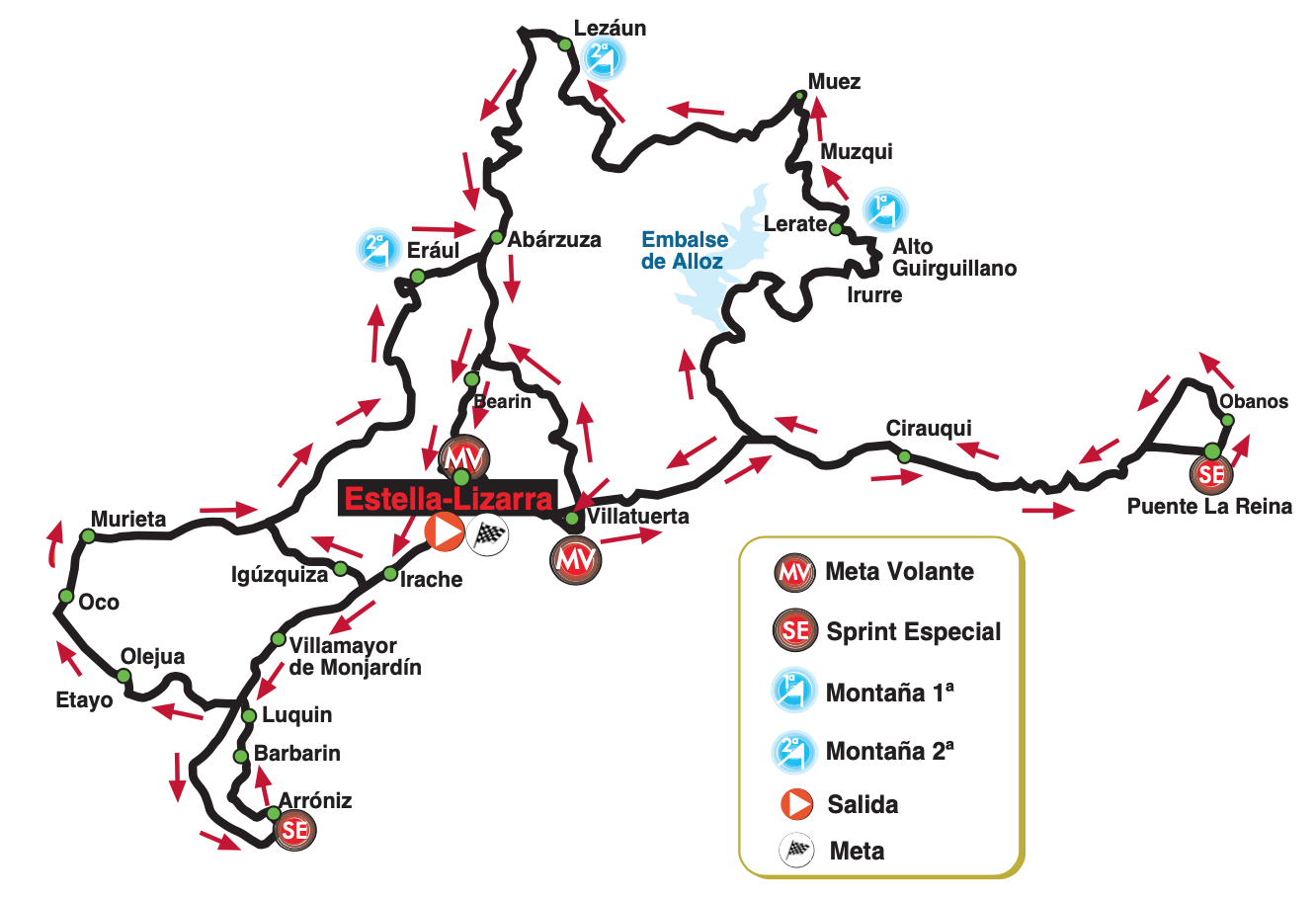 A tough old race.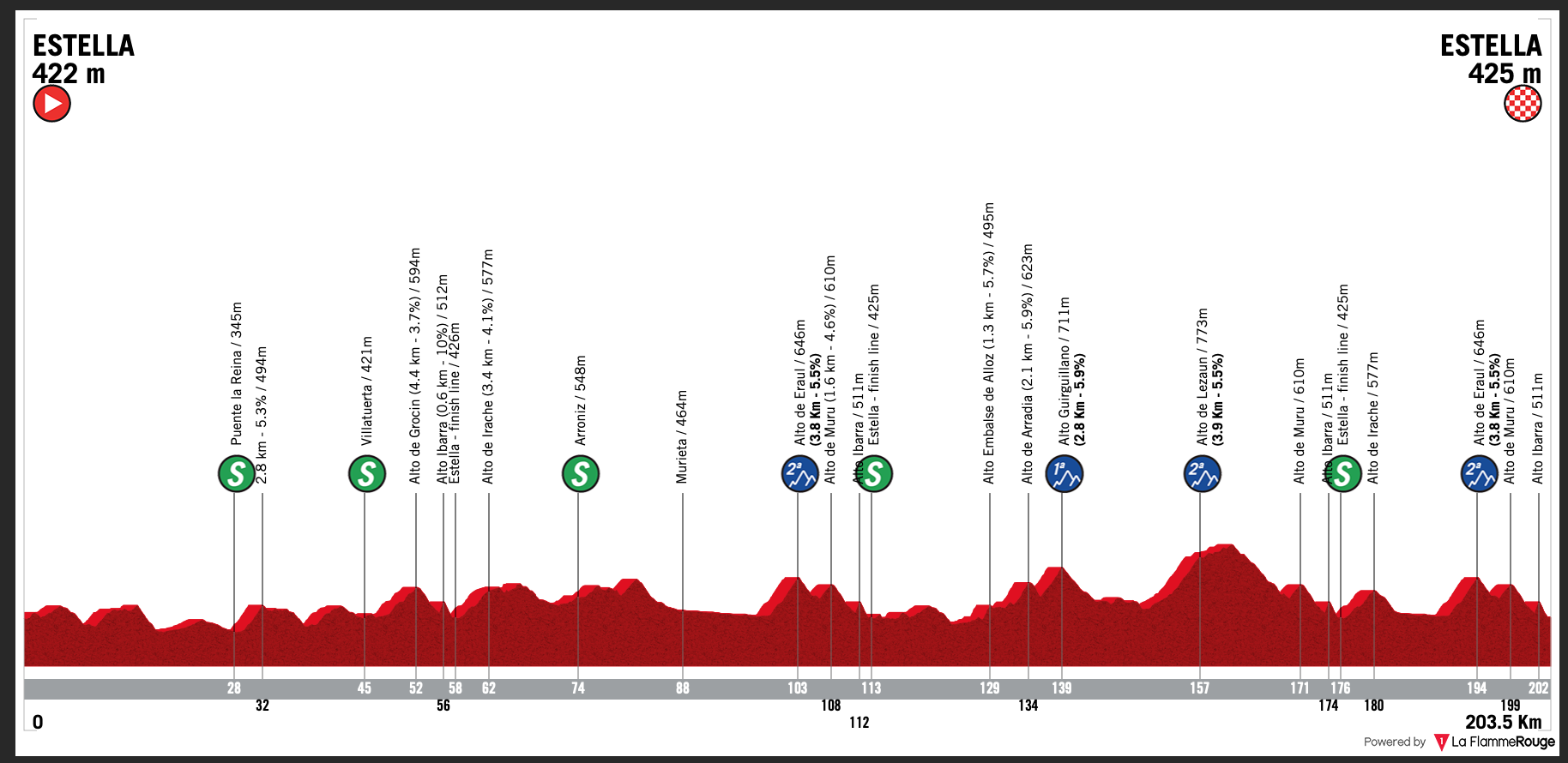 With 3883m of climbing, this is a very hard day in the saddle. Despite the amount of climbing, we don't have a "big" climb, instead the day is rammed full of relatively short hills.
This steep little kicker has to be climbed on four occasions, the final ascent crests with just 2km remaining. 600m at 12.1% is very hard, but it's short enough to mean that puncheurs have a great chance of disappointing the climbers.
Weather
Cloudy sunshine and nice temperatures. The wind is coming from the north-west and is around 15km/h, so shouldn't have an impact on the day.
Tactics
We have a number of strong teams and a route that isn't overly hard. This is the type of race where a big group can escape a long way from home, never to be seen again, as long as it includes riders from the big teams. I hope this doesn't happen; I'd rather see a big fight the last time up the little kicker.
Given the strength of the teams it should be Astana who dictate the type of race we get. They have the strongest team by a considerable distance, this should be their first win of the season.
Contenders
Ineos – not as strong as in previous races, but they do have a couple of options depending on how the race unfolds. Ben Swift should approach this race with confidence, he is good enough to survive the climbs and packs a fast sprint. De Plus provides another option if attacks fly on the earlier climbs, and we'll have to see if Dunbar has recovered from his recent crash in Italy.
Movistar – the Spanish team line up with Valverde as leader, but Verona, Samitier, Alba and Carretero offer other options. Valverde was very impressive in Catalunya; I didn't think we'd see him at that level again. The steep climb at the end of the stage is perfect for Valverde, especially as the final sprint is also flat, and he still has a very good kick. Holding the race together is going to be almost impossible for Movistar as despite having a good team, they don't have the riders to chase down all the potential moves. Will Valverde attack early? Probably not.
Astana – it's not been a great start for the team, which has come as a big surprise as they usually start the year in flying form. However, recent results have been better, and they come to this race with a squad full of hitters. They have Ion Izagirre, Aranburu, Fraile, Lutsenko, Rodríguez, Romo and LL Sanchez which is the strongest team in the race. I would imagine that riders like Aranburu and Fraile will be saved for near the end, as they have the best sprint, with the rest given chances earlier in the day. Given the strength of their squad I see this as a big chance to land their first win of 2021.
Bahrain – Pello Bilbao will lead the team close to home. He doesn't have any big results yet this year, but his big targets are the Basque Country and the Giro, which means he should be close to top form. Having a good sprint is important in this type of race, and he has a one. Their other option should be Gino Mäder, who came so close to winning a stage in Paris-Nice. The Swiss rider is quickly developing into one of the best breakaway riders, he'll be looking to attack early in the race and see if he can force an elite group of riders away from the peloton.
Guillaume Martin – 6th in Paris-Nice was a very good result for him. He doesn't strike me as a brilliant one-day racer, but the level in this race isn't super high. He would prefer a race with longer mountains, but if he has good legs he'll still be up there challenging for the win.
Bauke Mollema – after a stunning start to the season, he had a little break after GP Industria. Much of his success was based around having a strong team with multiple options, which isn't the case in this race. If Mollema is going to win he'll have to do it the hard way.
Prediction Time
Astana to eventually get their season off and running, I think the winner will be Luis León Sánchez.
David Hunter
Follow us on Twitter and Instagram
Join us on facebook: Ciclismo Internacional
Copyright © 2012-2021 Ciclismo Internacional. All Rights Reserved