IAM Cycling – Time to Join the Big Boys
By David Hunter
Thursday 4th December and the word starts to spread, IAM Cycling will join the World Tour. It has been a swift rise to the top as the team only started competing in 2013. They set out their ambitions and have achieved them, in quick time.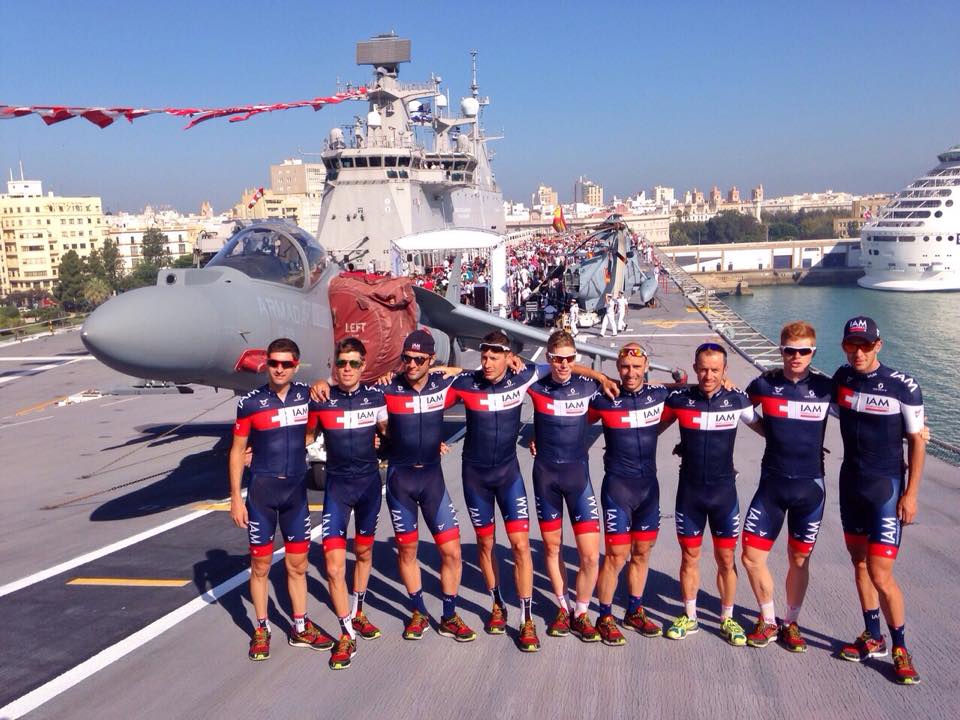 Joining the World Tour means they no longer have to hope for wildcard selections but will take part in all the big races, including the 3 Grand Tours. This can take it's toll on a young squad, so are they ready for the step up?
Before I answer the question, I want to take a closer look at their squad. Out of their 27 riders for 2015, 12 of them have been on the whole journey: Aregger, Brandle, Denifl, Elmiger, Fumeaux, Haussler, Hollenstein, Lang, Pelucchi, Reichenbach, Saramotins and Marcel Wyss. This is very impressive and ensures a close knit squad. Togetherness and unity are often underrated in the world of professional sport, but the people at IAM understand. The squad is also dominated by Swiss, French and Belgian riders. 15 of the riders originate from these countries and this again helps to maintain unity and comradeship.
Of these riders Denifl, Pelucchi and Reichenbach are the stars. Stefan Denifl had a tremendous early season, culminating with 7th place in Paris-Nice. He was dangerous and attacking throughout the race and really served notice that he is a man to watch, in week long stage races. His second half of the season was disappointing, but he's certainly a rider capable of much in 2015.
Matteo Pelucchi delivered IAM's first ever World Tour win, at the start of the year. It was stage 1 of Tirreno Adriatico and all eyes were on Greipel, Sagan, Demare and Modolo, but the fast man from IAM stole the show. This was a massive moment for him and the team, thanks to the level of competition in the race. Sadly for Pelucchi, he didn't win again until the Vuelta a Burgos, in August. Increasing his strike rate is certainly high on the agenda for the talented Italian sprinter.
Sebastien Reichenbach is the one they would love to do well. Importantly, he is Swiss. It means a huge amount to the team, to develop riders from their own country, and in Seb, they have a talent. 2013 was his breakthrough season, but he added an impressive level of consistency in 2014. He was 11th in Paris-Nice, 15th in the Criterium International, 15th in Romandie and 14th in the Dauphine. These results are very impressive for a 25 year old and having completed his first Grand Tour, the Tour de France, he will be even stronger in 2015. He also achieved top 30 results in Il Lombardia, Milano-Torino, LBL, Flèche and De Brabantse Pijl. The move to the World Tour will mean a lot to him as it looks like he'll have team leadership duties in quite a few big races, hopefully the Giro is one of these races! The Canadian one day races, also look ideal for his capabilities and we should get an idea of the type of rider Sebastien can become. It's going to be a very exciting year for him.
This year saw the arrival of two "big name" signings, in Mathias Frank and Sylvain Chavanel. They made a massive impact and are a huge factor in the granting of World Tour status. Frank achieved some brilliant results: 4th in Romandie, 2nd in Bayern Rundfahrt and 2nd in the Tour de Suisse. Romandie and Suisse are the two biggest races in the IAM cycling calendar and it must have been very pleasing to see their new signing delivering on his promise. Not just a talented rider, but Mathias is a great guy. He is very down to earth and a rider that others want to work for. After abandoning the Tour, he didn't enjoy a good end to his season, but is now returning to form with his eyes firmly set on the Swiss races.
The signing of Chavanel was a bit of a gamble. Being such an iconic figure, the pressure was on him to deliver. Chava did not let them down! He had a strong early season: 5th in Dwars door Vlaanderen, 2nd in Dunkirk & a stage win and 3rd in the Baloise Belgium Tour. But it was the end of the season that really impressed: 1st in Poitou-Charentes, 1st in Plouay and 1st in Chrono des Nations. A fantastic purple period for the 35 year old. His victory in Plouay was another landmark moment for the team and Chava's presence and performance was a big contributory factor in the WT licence.
Quality has been added for 2015: Clement Chevrier, Stef Clement, Jerome Coppel, Thomas Degand, Dries Devenyns, Sondre Holst Enger, Jarlinson Pantano, Jonas Van Genechten and Larry Warbasse.
This is a clearly though out and well executed signing policy. They have added quality one day riders in Clement and Devenyns. They will be of great support to Chavanel as he targets some of the big one day races in the calendar.
Coppel and Degand will provide excellent support in one week races and Grand Tours. They'll also be given their opportunity in some races, which will keep them focussed and motivated.
Enger and Van Genechten are talented sprinters, who will give Pelucchi the extra motivation required to win more races. Expect them to feature in smaller bunch sprints.
Despite having a big squad, the team have a clear hierarchy and all riders know their position within it. Chavanel is the man for one day races. All the others will be working for him but they now have different options, to put other teams under pressure. This will ensure an easier time for Chava, allowing him to focus on the end of the race.
Mathias Frank is the undoubted GC rider. He was well assisted by Marcel Wyss, particularly in the Tour de Suisse. He now has more help with Coppel and Degand in the team. This will be of great assistance in the difficult WT races, especially the Tour de France. If Frank wants to crack the top 10, he'll need all these riders on form to help. A win in a one week race is certainly on the cards for Mathias, in 2015. I'm sure the team would love it to be in Romandie or Suisse.
Reichenbach is the one who could grow the most, in 2015. He should follow a separate programme to Frank, allowing him to share leadership duties with Denifl. The Giro is a race well suited to him and riding it without pressure could see him squeezing into the top 10.
Pelucchi should deliver more wins, in 2015, especially if the team carefully selects his races. If the keep him away from Kittel, he'll have a great chance of success, hopefully starting in the Tour Down Under.
It wasn't all good news, this year. The team had to cope with the tragic death of Kristof Goddaert. The much loved Belgian rider, sadly passed away after a training crash. His death touched the whole peloton and brought great sadness to the team. Importantly, the riders continue to remember him. Whether it's pointing to the sky after a win, or tweeting about him on his birthday. The team ensure that he is not forgotten, but always remembered. It must have been very difficult for everyone to continue but the team and family handled his death with dignity and grace.
The squad also have the current hour record holder Matthias Brandle in their ranks. His achievement was excellent publicity for the team and a wonderful moment for him. His late season was very impressive, with back-to-back stage wins in the Tour of Britain. It will be interesting to see how he progresses, with less freedom from other riders.
Looking ahead to 2015, I asked whether or not IAM Cycling are ready for the step-up. I think they are. The excellent structure they have in place, combined with an unwavering sense of team unity, means the squad is very strong. With Mathias Frank and Sylvain Chavanel, they have two leaders capable of winning big races and a group of riders devoted to them. 2015 will not only give them more opportunities but will help to develop their young riders. They might only be about to start their 3rd season, but the future is very bright for IAM Cycling.