Lotto Soudal – In Search of Points/The Changing of the Guard
By David Hunter
2015 is a big year in the life of Lotto. They have ended their long running sponsorship with Belisol and have joined up with Soudal, a Belgian producer of silicon.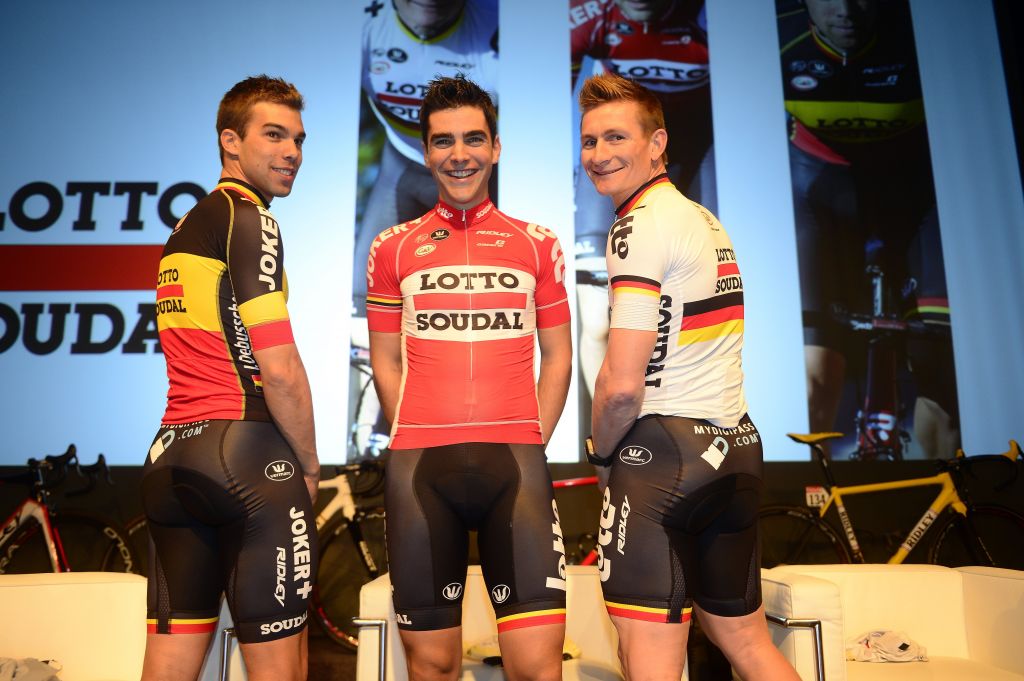 Almost immediately there were changes: Greipel will not ride the Tour Down Under(one of his favourite races with 16 stage wins) and Van Den Broeck will not ride the Tour de France. Why the changes?
It might surprise you to see that Lotto were 15th of 18 teams in World Tour points, in 2014. The only teams worse were FDJ, Cannondale and Europcar. This poor performance was actually an improvement on 2013, when they were 18th from 19 teams, a disaster! Back in the heady days of 2012, Lotto were 11th from 18 teams. Considering the quality of riders they have, this is not an impressive report card. In fact, it's the type of report you would throw at your parents and run upstairs!
The impending disaster is the reorganisation of the World Tour, by the UCI. It looks certain that they will go to a top division of 16 teams, with a second division of 8 teams. As it stands, Lotto are on the verge of being in the 2nd division. That would lead to them losing their star riders and struggling to attract sponsorship. This cannot be allowed to happen, hence the changes and the focus on points.
Andre Greipel
Despite winning 16 races, the Gorilla ended up with only 46 points. This placed him 88th in the UCI WT Ranking, behind Mezgec(58), Farrar(64), Matthews(72), Impey(73), Lobato(74), Demare(77), Swift(91), Cavendish(92), Nizzolo(108), Bouhanni(116), Kittel(136), Degenkolb(278) and Kristoff(321). How does the points system work?
A stage win in the Tour nets 20 points, with 16 for a win in the Giro and Vuelta. 100 points is awarded for a monument win in Milano-SanRemo, with 80 points for winning E3, GW and Vattenfall. A win in a stage race is only worth 6 points. This explains Greipel's high win ratio, but low points score. The message is clear, Greipel needs to gain more points. He is still the second fastest sprinter in the bunch, so he needs to focus on races with big points. It comes as no surprise to see him riding both the Giro and Tour, with less racing days and more focus on big events, like the Grand Tours and Gent-Wevelgem.
It's shocking to see Greipel as the 13th/14th best sprinter in the peloton, depending if you count Impey as a sprinter. This season, it's going to be different. He will no longer be challenging for small stage victories, he'll be focussed on Classics and the Giro/Tour double. Look at Bouhanni, he achieved 3 wins in the Giro and 2 in the Vuelta. This put him very close to Kittel, who won 2 stages in the Giro and 4 in the Tour.
Despite only winning 2 races all season, Ben Swift, ranks as the 7th best sprinter! Expect to see a motivated, hungry and determined Gorilla in 2015.
Jurgen Van Den Broeck
Once the darling of the Belgian media, it's a long time since he challenged in a Grand Tour. I remember how good he was in finishing 4th and 3rd in the 2010 and 2012 Tour de France. This year he claimed 96 points(56th place), mainly due to a strong showing in the Dauphine. Out of contract at the end of 2015, the message is clear: start to win or you're out. No Tour but he goes to the Giro. The pressure is on to reclaim some of his former glory but can he deliver?
These two riders have been the captains of the squad since it's incarnation in 2012, it used to be Omega Pharma Lotto before then. If they are no longer leading the team, who is?
Tim Wellens
He might still be 23, but Wellens was their top scorer in 2014, with 204 points. This put him 25th in the WT points list, quite an achievement. He was 2nd in 2 Giro stages, won a stage and the Eneco GC and was 4th in Il Lombardia. Wellens is their GC man. He will do the Tour de France, but without pressure. He still has time to develop into a Grand Tour contender, but it will happen soon. He managed to achieve these great results whilst riding for others and being a protected rider should see him do even better. A big 2015 is ahead for the Belgian, especially in the Ardennes.
Tony Gallopin
Not a bad first year for the Frenchman, wearing the yellow jersey in the Tour, 2nd in GP de Wallonie and 3rd in Montreal. This was a great return for the team after signing him from Radioshack. This earned him 140 points and 35th on the WT list. Gallopin is a rider that all teams would love to have. He is very consistent rider, climbs well and has a good finish. The team will be throwing a lot more resources behind him in 2015 and I expect him to win some big races.
Who's New?
The team have increased the number of Belgians in the squad and they now fill 20 of the 28 places. They are investing in some very talented young riders in Louis Vervaeke, Tiesj Benoot, Jasper De Buyst and Sean De Bie. These riders are the future of the team, with Vervaeke the long term GC rider and Benoot, the man for the Classics. Expect to see these boys rise quickly through the ranks. To let these riders gain experience, it's essential that the "big names" collect enough points to ensure that Lotto remain in the top division. This has been spelt out to Gripel and co… they need to deliver.
They have also taken the gamble of signing the enigma that is Thomas De Gendt. Can they help him return to his 2012 Giro form? It is a risk but probably worth the gamble. De Gendt is capable of big things but getting him into the right frame of mind is difficult, good luck to the DSs.
A Blast from the Past
One rider who did return to his form of old, in 2014, was Jelle Vanendert. 2nd in Amstel, 6th in Flèche, 11th in LBL, 6th in San Sebastian, 4th in GP de Wallonie and 12th in Il Lombardia. He likes the look of the early stages in the 2015 Tour de France, with the Mur de Huy & Mur de Bretagne. He is a rider capable of winning big in 2015. The last few years have been very frustrating for him, but he's back!
Lotto still have their group of experienced, talented riders: Henderson, Hansen and Roelandts. The management have given the all clear for Roelandts to chase his Classics dream. He has been given permission to step out of the sprint train and search for his own results, but expect him to be back on lead-out duties in the big races.
What to Expect
Greipel will continue to post a large number of victories, he has recorded over 10 wins in each of last 3 seasons. Expect to see him win Gent-Wevelgem, before heading off to the Giro. If the race lacks the big name sprinters, Greipel will hoover up lots of wins and points! The Tour will be a challenge, as Kittel is clearly the man to beat, but after a good Giro, the pressure will be off.
Gallopin will help out, taking a couple of wins in the semi-classics, before looking to win big in Canada.
If Wellens continues his progression, he will threaten the GC in a number of races and might just surprise a few in the Tour. This should see them safely finish in the top 16 World Tour teams.
Keep an eye out for the super talented Benoot and Vervaeke. They are the future of Lotto Soudal!