Nokere Koerse 2021 – Preview
By David Hunter
Deinze > Nokereberg 193.5km
Back to Belgium we go.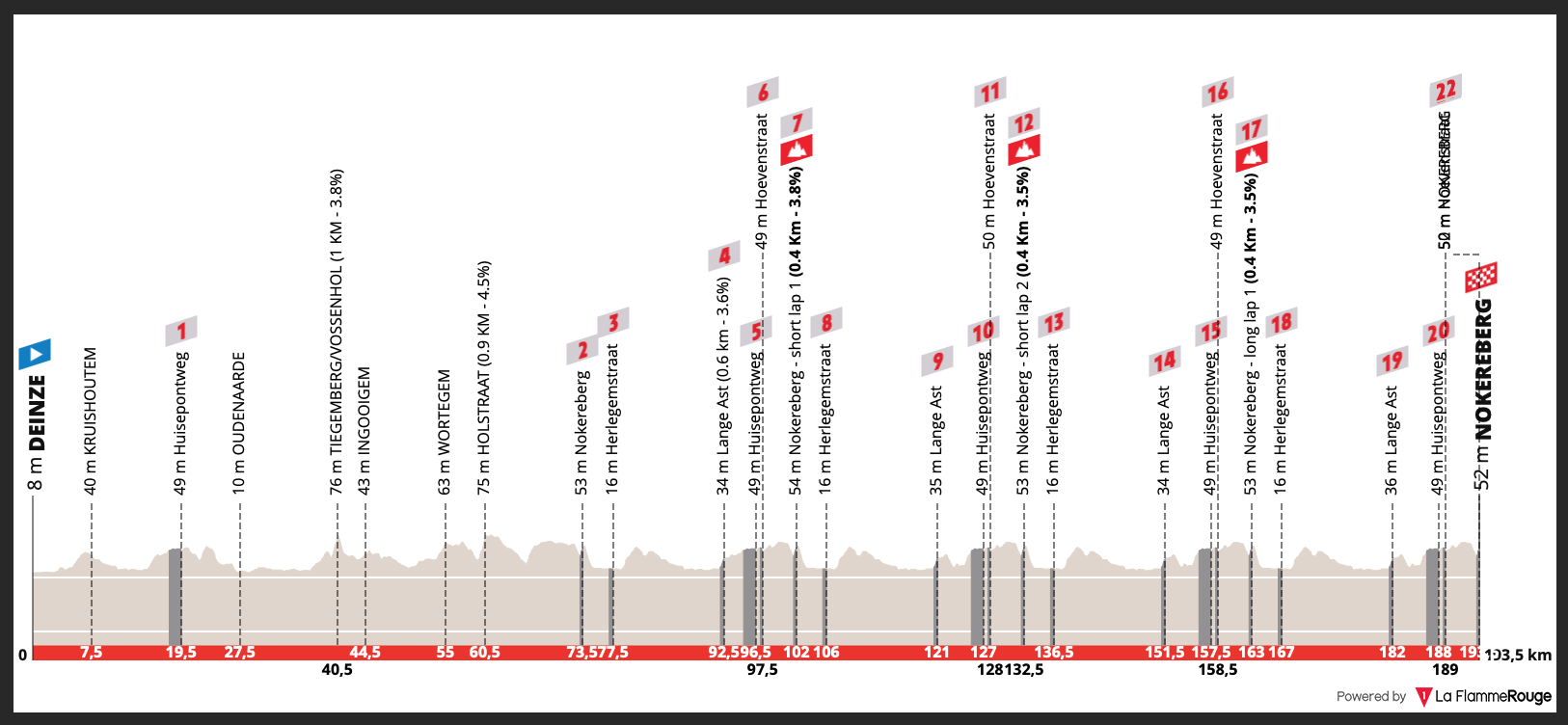 The Nokere Koerse is your classic Belgian one-day race. We have narrow roads, cobbles and crosswinds, just what the doctor ordered.
Weather
The worst of the wind comes in the first two hours of the day. At this point it will be around 25km/h, but with gusts of 36km/h. The wind is coming from the north and the route has lots of exposed sections perfect to split the race. The second half of the day will see a wind of around 23km/h, with gusts up to 30km/h.
Temperatures won't get above 8 degrees, and there is a risk of rain throughout most of the race. With the wind blowing from the north it will feel much colder than 8, expect to see lots of gloves.
The Route
The race begins with a large loop of 73km, before we take on the lap circuit on four occasions. In this circuit we have four cobbled sections, plus lots of narrow roads which are exposed to the elements.
The first cobbled sector is the Herlegemstraat, but it's only 500m in length, and shouldn't cause many problems. The chase to be at the front for this sector will be more important than the cobbles themselves.
The next issue for the riders is this exposed section of road, with a pure crosswind from the left.
Next up is the Lange Aststraat, which is also 500m long, but this one goes uphill. Not only that but the wind is coming from the right and this road is very exposed, this is an important point in the lap circuit.
The Huisepontweg is the longest sector in the race, it is almost 2km in length, but the cobbles are quite easy.
Finale
The race ends with the Nokereberg, 300m at 4.3%, and on cobbles. This is a great finish.
Tactics
Who wants to make it a hard race? The teams with multiple options are DQT, Trek-Segafredo and Ineos, they will want to make it tough for everyone else. DQT don't arrive with their A team, although they are still good enough to dictate the type of race we get. They have Cavendish for the sprint, but we could see rare opportunities for riders like Keisse, Steels and Steimle. These three boys can cope well with the conditions, they will look to push on and put others under pressure.
Ineos have Hayter, Narvaez and Doull as their chosen sons. These three are very strong, but two of them are relatively inexperienced in this type of race, but both looked good in the opening weekend. Ineos start the race with two fewer riders compared to the other teams, this is a disadvantage.
While Ineos are a little inexperienced, Trek-Segafredo are the opposite. Fresh from Paris-Nice, they have Theuns and Kirsch, two riders who love this type of race. These teams should dictate the type of race we get, how selective they'll try to make it?
The start of the race has the worst of the wind, and there are lots of opportunities to split things. It wouldn't surprise me to see things kick off quite early.
Contenders
DQT – they have Cavendish for the sprint, and he looked in good form in Le Samyn and GP Monseré. A rider like Steimle also provides a solid option if the race splits up, but his form hasn't been that great so far in 2021. They don't have a team who'll bully the rest, they will have to approach things in a slightly different way. I still think they'll look to make the race hard, a tough day out will increase their chances of taking the win. Just imagine if Cav wins? The scenes!
Trek-Segafredo – Theuns and Kirsch and brilliant options for this race. Both riders looked strong in Paris-Nice, they should benefit from having that in their legs, especially as a lot of this field have relatively little racing this year. They will pray that the wind does blow, both riders are strong in the crosswinds and slimming the peloton down will increase their chances of taking the win. Theuns is obviously a fast sprinter, but he also enjoys a tough day out. Kirsch also packs a good sprint, but not up against the purer sprinters. Chances in one day races are limited for both of them, I'm looking forward to seeing them ride with freedom. One issue for the team is that they only have 5 men at the start of the race, 2 less than most other teams. This isn't great news, but it doesn't mean they can't win.
Ineos – Hayter provides a strong sprint option, remember he was there at the end of Omloop, but crashed in the closing kilometres. Narváez has been one of the riders who has seriously impressed already this season, but his results don't tell the full story. He was very strong in Omloop, and he even managed to follow van der Poel in Kuurne. I did have doubts about his ability to cope with the cobbles, but he's answered my questions. He also packs a fast sprint, particularly uphill, which is ideal for this race. Ineos don't have the strongest team, but they have two of the favourites.
Jasper Philipsen – he's the fastest uphill sprinter in the race, but can his team ensure we get a sprint he's involved in? Alpecin-Fenix have surprised me this season, their domestiques have ridden very well in support of team leaders. With quite a few of their bigger riders over in Italy, I hope they have enough firepower to support Philipsen in this race. If we get a sprint, he'll be the favourite.
Jakey Stewart – one of the stars of the early months of the season. As one of my riders to watch in 2021 he started the season with huge pressure on his shoulders, but he's already delivered. He started the season by finishing 4th in Bessèges, where he won the white jersey, he then backed that up with a sensational 2nd in Omloop. Not a pure sprinter, he's a rider who loves a tough race, especially as his sprint is faster than most others. FDJ don't have a very strong team to support him, he'll need to ride a canny race to stay in contention for the win.
Sep Vanmarcke – he's looked in decent form this year, finishing 3rd in Omloop and 4th in Le Samyn. This is a race that suits him well, with his pedigree he should really be challenging for the win. He's another rider who'll hope for a tough day, as he won't win a sprint against some of these quick guys. His team don't look overly strong, that is a concern.
Timothy Dupont – a very fast sprinter, but he can also handle the cobbles. His team isn't very strong, which will make it hard for him. I wonder if he'll stay in the peloton and hope for a sprint.
Alberto Dainese – will be in contention if we get a bunch sprint. The Italian is very fast, but hasn't had a chance to show it yet this season.
Jordi Meeus – after riding as lead out man for Ackermann in Paris-Nice, the young Belgian will get a chance to chase some personal glory. He has a very good record in tough French and Belgian races from his under 23 days. He might only be 22, but Meeus has to be one of the main contenders for this race.
Prediction Time
I think the weather conditions will ensure we get a tough day, not a big sprint. After impressing in Paris-Nice, I'll take a win for Fast Eddie Theuns.
David Hunter
Follow us on Twitter and Instagram
Join us on facebook: Ciclismo Internacional
Copyright © 2012-2021 Ciclismo Internacional. All Rights Reserved