Omloop Het Nieuwsblad 2015 Preview
By David Hunter
Gent – Gent 200.2km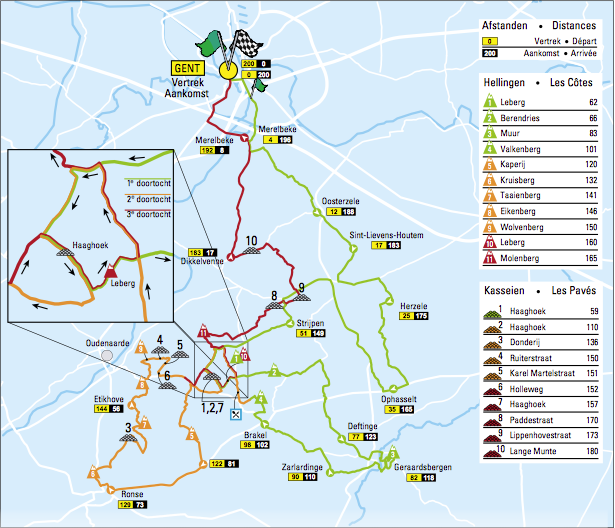 The route is much the same as last year, with only a couple of alterations. We do have 11 climbs but the last one is still 40km from the finish, so these don't decide the race. With 7 of these climbs coming in 45km of each other, they do help slim the peloton down, before the final act is played out. The same can be said of the pave. We have 7 sections, within 50km of each other and they happen around the same time as the climbs. From 120km to 180km the route is very demanding, with 7climbs and 7 sections of pave. Although, the race isn't always won here, the big move often happens on the open roads, near the end.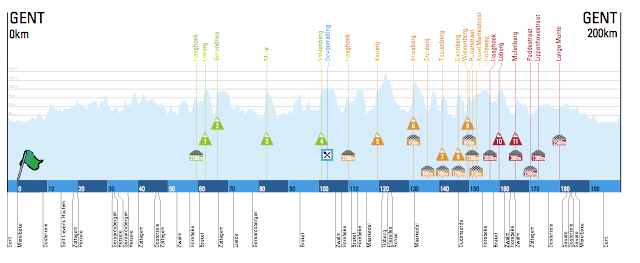 Last year, we had some terrible weather conditions and it was a battle of the fittest. With attacks aplenty, a strong break with Terpstra, Boasson-Hagen and Boom formed with 42km remaining. Eventually, just these three remained before Boom punctured with 22km to go. This took some spark from the break and they were caught. As soon as they were, Stannard attacked with Van Avermaet in his wheel. Vanmarcke and Le Bon tried to join them but they couldn't. Terpstra, Vanmarcke and EBH formed a chase group. They got close, just 8 seconds behind, but just couldn't catch the lead duo. EBH did a great job of anchoring this pair and he destroyed their chances, having a teammate behind really helped Stannard. The lead two approached the final kilometre with Stannard stuck on the front. GVA made a massive mistake and decided to lead-out the sprint. The Englishman took everyone by surprise by winning the sprint. As often happens in these races, the crucial move goes on the flat road, not the pave or the climbs.
Back in 2013, Sylvain Chavanel made a move with 50km to go, meeting up with the leading group, with 47km remaining. With the peloton 30 seconds behind, Luca Paolini made a move on the Leburg, catching the bunch by surprise.
This caused a big split and a chase group formed, including Vandenbergh, Roelandts, Thomas, GVA, Paolini, Wynants, Vandousselaere and Bandiera.
It was a shame for Chavanel as he was left all alone, with a strong group behind. He had no chance of hanging on.
GVA launched a savage attack on the Molenberg, but couldn't escape. He did help to catch Chavanel. This group had the right number of teams and strong riders and they fought out the title.
With 26km to go Vandenbergh attacked, with Paolini in his wheel. The group hesitated and nobody really wanted to work, so this move was the decisive one. In the two up sprint, Paolini took an easy win.
In 2012, Westra got himself in the morning break. This break went down to three riders: Boucher, Westra and Vandousselaere. With 60km to go, they still had over 2 minutes of a gap. With all the big teams in the peloton, these boys didn't sand a chance.
As the peloton hit the Taaienberg, Boonen hit the front. Lars Boom tried his best to follow but he hit the deck. It was a tremendous effort from Boonen. Going with him was Vanmarcke, Hayman, Devenyns, Breschel, Hushovd, Vachon and Flecha.
On the Molenberg it was Sep Vanmarcke who put the pressure on. The attacked lined the bunch out, but it didn't break many.
On the cobbles, with 30km to go, the break did split, with Breschel and Hushovd going pop! Sky were left with two in Hayman and Flecha. Omega Pharma had Boonen and Devenyns, with Vanmarcke looking isolated.
With 20km to go, on another pave section, Vanmarcke went crazy and brought the group down to three, crucially eliminating the teammates of Boonen and Flecha. In the three up sprint, Vanmarcke took a massive win.
In this race, as in all big races, having a strong team with multiple options is very important. Ideally, a team would like to have 3 riders present with 30km to go. Not only can they attack, but it gives their other riders an armchair ride. This leaves them fresh to attack later in the race, if necessary.
It is possible to win from a weaker team, but you require a large amount of luck to get in the right break, with the right riders, from the right teams.
Time to look at the teams and their options:-
Sky – Stannard, Rowe, Wiggins.
BMC – Van Avermaet, Gilbert, Drucker.
Etixx Quick Step – Boonen, Stybar, Terpstra, Vandenbergh.
FDJ – Demare, Ladagnous, Le Bon.
IAM – Chavanel, Devenyns.
Giant – Arndt, Timmers, Waeytens.
Katusha – Kristoff.
Lotto Jumbo – Vanmarcke, Wynants.
Cofidis – Senechal.
Cult Energy – Downing.
MTN Qhubeka – EBH.
Southeast – Finetto.
Topsport Vlaanderen – Wallays.
Wanty – Leukemans, Marcato.
As usual Etixx – Quick Step lead the way in terms of strength in depth. They made a bit of a mess of the race, in 2014, but made up for it in KBK, the next day. This year, all four of the riders mentioned are in form. Vandenbergh is a local boy and always goes well here, he won the under 23 version in 2004. Stybar has impressed me with a fast start to the year, the opposite of 2014, where he rode into form much later in the season. He benefits from a fast sprint, which is often crucial here. Terpstra has already won in Qatar and Boonen is looking dangerous. In case you need reminding, Boonen has never won Omloop. Etixx will have a massive say in the outcome of the race.
The defending champion is Ian Stannard and he also went well in Qatar. I've identified Luke Rowe as an option for Team Sky, probably to your surprise. The Welsman finished 7th in Qatar and 4th in the Cadel Evans race. He made the front group in 2014, before sitting up when Standard escaped. He also packs a good sprint, from a small bunch.
A rider who is always strong here is Sep Vanmarcke. Sometimes his decisions leave a lot to be desired and I'm told he's a bit of a delicate soul. Winner in 2012 and 4th last here, he's a massive danger to Etixx and Sky. He's capable of shelling the peloton on the climbs and the cobbles, he's the one they're all worried about.
BMC also look very strong. They have two time winner Philippe Gilbert, the ever consistent GVA and Jempy Drucker, another strong rider. Van Avermaet is certainly a man in form and I've been told by a few riders that he is "flying". He'll be extra motivated after throwing away the title in 2014.
IAM Cycling are looking better this year. They have Chavanel, fresh from a 3rd place in the final stage of Ruta Del Sol and 9th overall. New signing, Dries Devenyns, has been targeting this race. He rode into form in Oman, finishing a very impressive 13th. He said that the effort on Green Mountain might stop him from performing well here, but I think he was trying to take pressure off himself.
Jelle Wallays took a big step forward in 2014, winning Paris-Tours. He's been very active in races this season, joining a few breaks, which is always a good sign. He has all the attributes to be successful here.
Mauro Finetto has opted to race here, instead of trying to retain his GP Lugano title. Last week he had the cold and a bad cough, but he was still good enough to set up Gavazzi for 2nd place in Laigueglia. He was feeling much better by Monday of this week and is looking for a big result. He loves racing in Belgium, he was 7th in 3 Days of De Panne in 2014. Southeast can't compare with the biggest teams, so Finetto will have to choose his moment wisely and hope for a large slice of luck.
Boasson-Hagen was strong in 2014 and can post big results in these races. Moving down to MTN, he'll find it difficult to compete against the biggest teams. He couldn't win this race with Team Sky, I can't see him winning it with a smaller team.
Johan Le Bon made the front selection, in 2014. Another who loves a breakaway, he was active in Haut Var, last weekend. His team leader is Arnaud Demare but the youngster looks devoid of form, fitness and confidence.
Giant – Alpecin have a team of solid riders but lack an exceptional one. I can't see them winning the race.
Alexander Kristoff is carrying some great form, but he's more suited to the parcours of KBK than here. That being said, if he really wants it, he could go close.
What normally happens, is a selection is made with around 50km to go. The Taainberg normally is the first big sort out, before an elite selection is made on the Wolvenberg or on the pave just afterwards. The decisive move will take place on the normal road. Whether we get a solo win or a small bunch sprint, no one knows!
Prediction Time
The strongest team will win, so an Etixx rider will be my pick. I get the impression that Boonen is aiming to peak in a month, so won't pick him. Instead, I'll go for Stybar. He's looked impressive so far this season and wants to make up for missing the end of last season. He's excellent on cobbles and hills, plus, has a fast sprint. He ticks all the boxes for me!
Video preview:
David Hunter
Follow us in facebook https://www.facebook.com/CiclismoInternacionalLatinoamerica?fref=ts … or Twitter @CiclismoInter
Copyright © 2015 Ciclismo Internacional. All Rights Reserved