Paris-Nice 2018 – Stage 6 Preview
By David Hunter
Sisteron – Vence 198km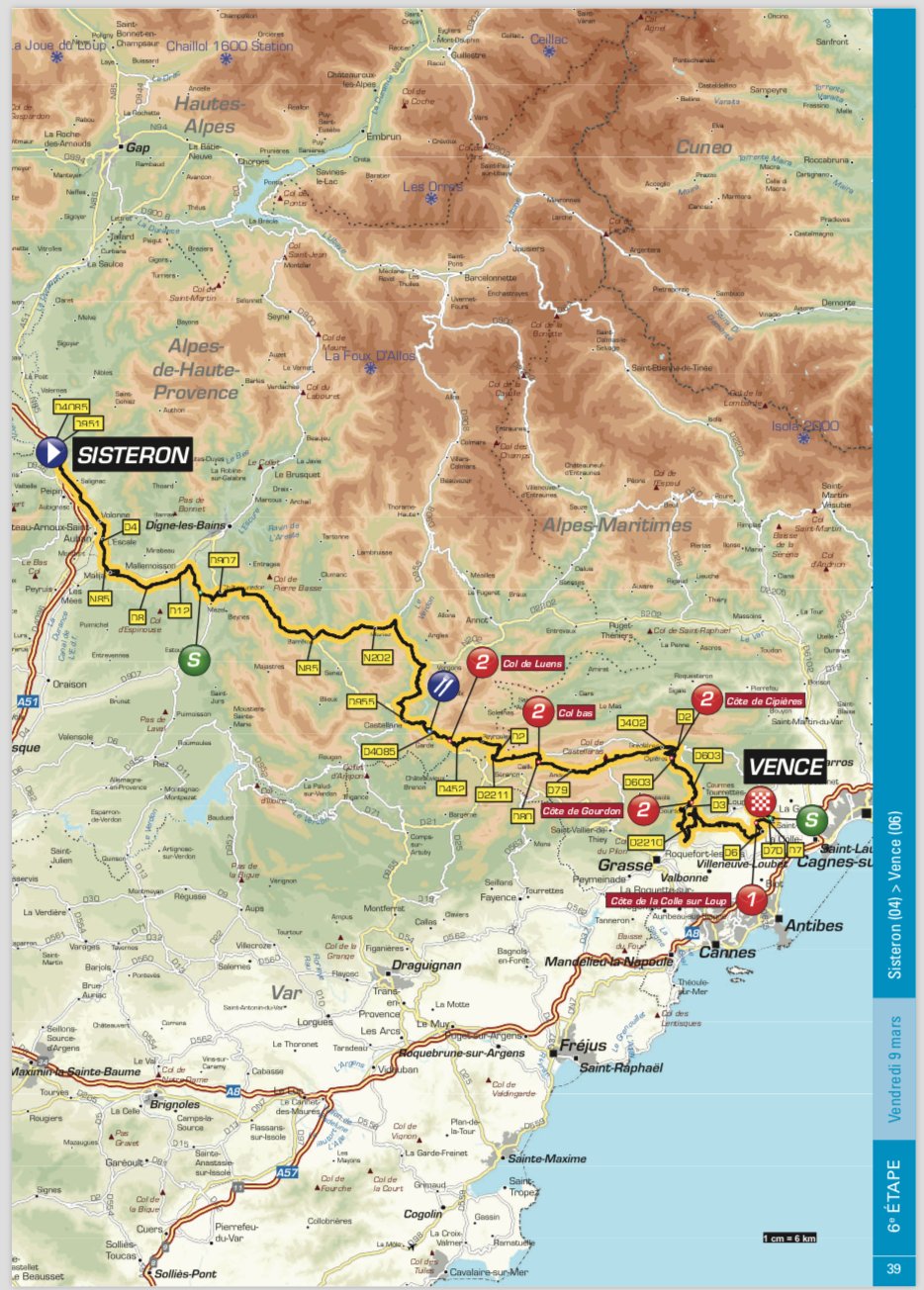 The first of the big mountain stages.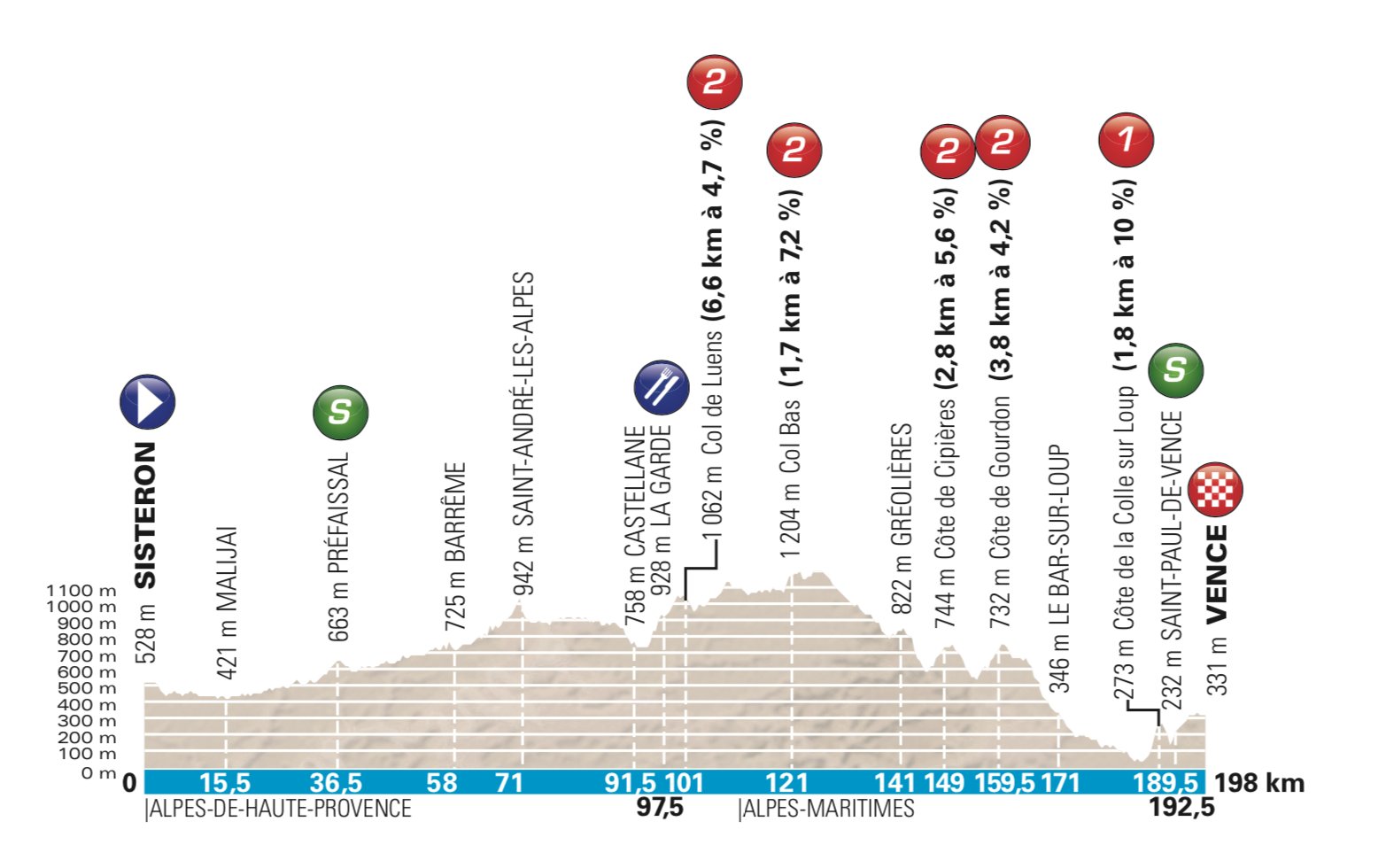 We have five categories climbs, but the organisers seem to have been confused when categorising them! All the cat 2 climbs, should really be cat 3 and the cat 1 climb is more like cat 2! Okay, I'll stop moaning.
After the final cat 2 climb, the riders have a long descent into the cat 1 climb. The lump is 1.8km at 10%, which will make it a real challenge for a number of the bunch. If it wasn't interesting enough, the intermediate sprint is at the top of the climb. After a short descent, we have another rise, before a final 3km on flat roads.
Finale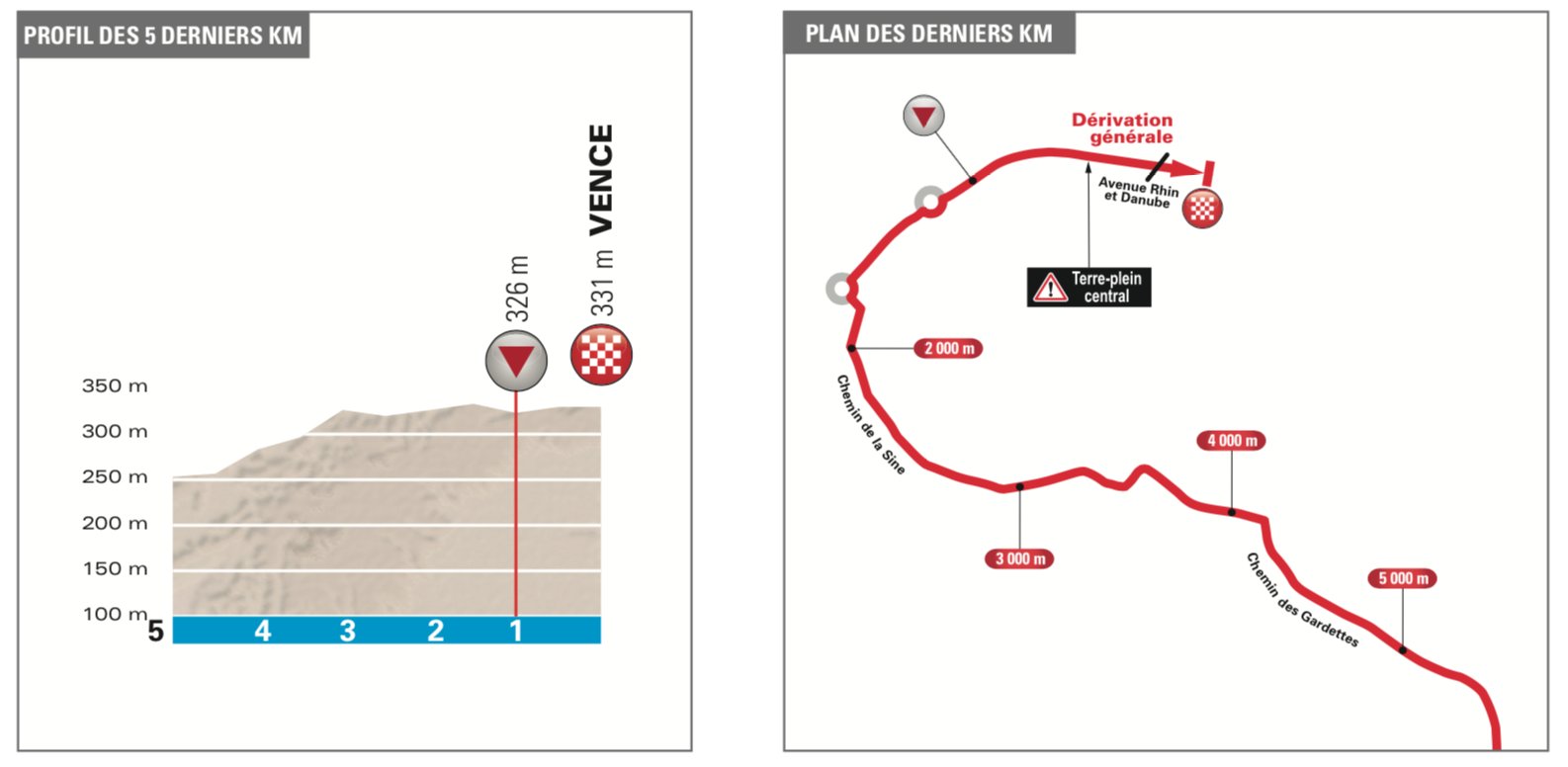 The final ascent is around 1.5km at 5%. Coming after the steep climb, this will be another big effort for the front group. I do like the end to this stage.
Weather
Another nice day for the bunch, with some sunshine.
Tactics
This finish is very interesting. The last 10km includes 1.8km at 10% and 1.5km at 5%. It sounds like their won't be many domestiques to chase in the run for home. It seems more than likely that a small group will attack on the cat 1 climb and they'll stay away. If a team has more than one rider, they stand a great chance of taking the win. Tactics are not going to play a big part in this, the legs will do the talking.
Contenders
Julian Alaphilippe – has to start the stage as the big favourite, given his love of steep climbs and a fast sprint. Going against him will be a lack of teammates. His approach to the finish will be interesting. Alaphilippe is a rider that does not lack confidence, quite the opposite. I think he'll attack on the cat 1 climb and hope to drop everyone else. This is a mistake! Given his sprint, Alaphilippe should simply follow wheels. If someone seems to be getting away, then he should make a move. If no one gets away, he simply waits until the sprint. No way he is this patient!
Sergio Henao – he'll enjoy the climbs and could benefit from being Sky's 2nd rider. The Colombian champion has already shown good form in 2018 and is the current Paris-Nice defending champion. If the front group is small and Sky have two riders, there is every chance of him getting away and taking the stage. This is a good finish for Henao.
Lilian Calmejane – after a strong TT, Calmejane is in a good position. He's a rider that is destined for greatness and already enjoyed success this season. My only doubt is that he's up against the best riders in the world, he's not earned a seat at this table yet.
Wout Poels – not always associated with short climbs, but he did say that he wanted to challenge in Flèche Wallonne. After a stunning TT, he sits in a great overall position, with a big mountain stage to come on Saturday. His main focus will be to cover moves and not drop any time, particularly to Alaphilippe. If we get a small sprint, he does possess a fast kick, it always seems to surprise people.
Simon Yates – he's in good form and likes a steep climb, this is a good finish for Yates. This is not a rider that follows wheels, he will attack on the cat 1 climb and take his chances. Yates is a rider that can beat the very best in the world, this stage is a big chance for him.
Tim Wellens – already taken some brilliant wins this season, I can't wait to see what he does in this stage. The Belgian is a huge talent and 2018 seems a year where we will see him continue to grow. I think his best tactic would be to attack on the 1.5km climb at 5%. He is good on the steep slopes, but I like the power he can generate on the "easier" climbs.
LL Sanchez – another rider that has enjoyed a brilliant start to 2018. I think he'll struggle to cope with the steep climb, others are more explosive than him. Astana will have a hard job controlling this climb, a lot of the work will be shouldered by Fuglsang. Astana have nailed tactics in 2018, expect to see Fuglsang attacking and forcing others into working. If it comes back together, Sanchez will have a good chance of taking a stage win.
Tony Gallopin – his TT was a big disappointment, ruling him out of the GC battle. This means we should see him turn his focus to stage wins. He is strong on steep slopes and packs a fast sprint, but there are quicker than him. Gallopin will have to have a good think about how he approaches the final 10km.
An Izagirre brother – the Basque boys are enjoying a fine start to the season. If they manage to get both riders in the front selection, they have a great chance of success. Not only can both climb, they both sprint well. This could be a good day for the house of Izagirre!
Prediction Time
I'm expecting a very tactical final 10km. The cat 1 climb is just a little far out for a solo rider to stay away, I think the winning move will happen in the final 3km. Teams with two riders have a great advantage and I think Sergio Henao will take the stage win.
David Hunter
Follow us on @CiclismoInter
Join us on facebook: Ciclismo Internacional
Copyright © 2012-2018 Ciclismo Internacional. All Rights Reserved