Paris Nice 2021 – Stage 2 Preview
By David Hunter
Oinville-sur-Montcient›Amilly(188km)
A stage the organisers created with the hope of seeing some echelons.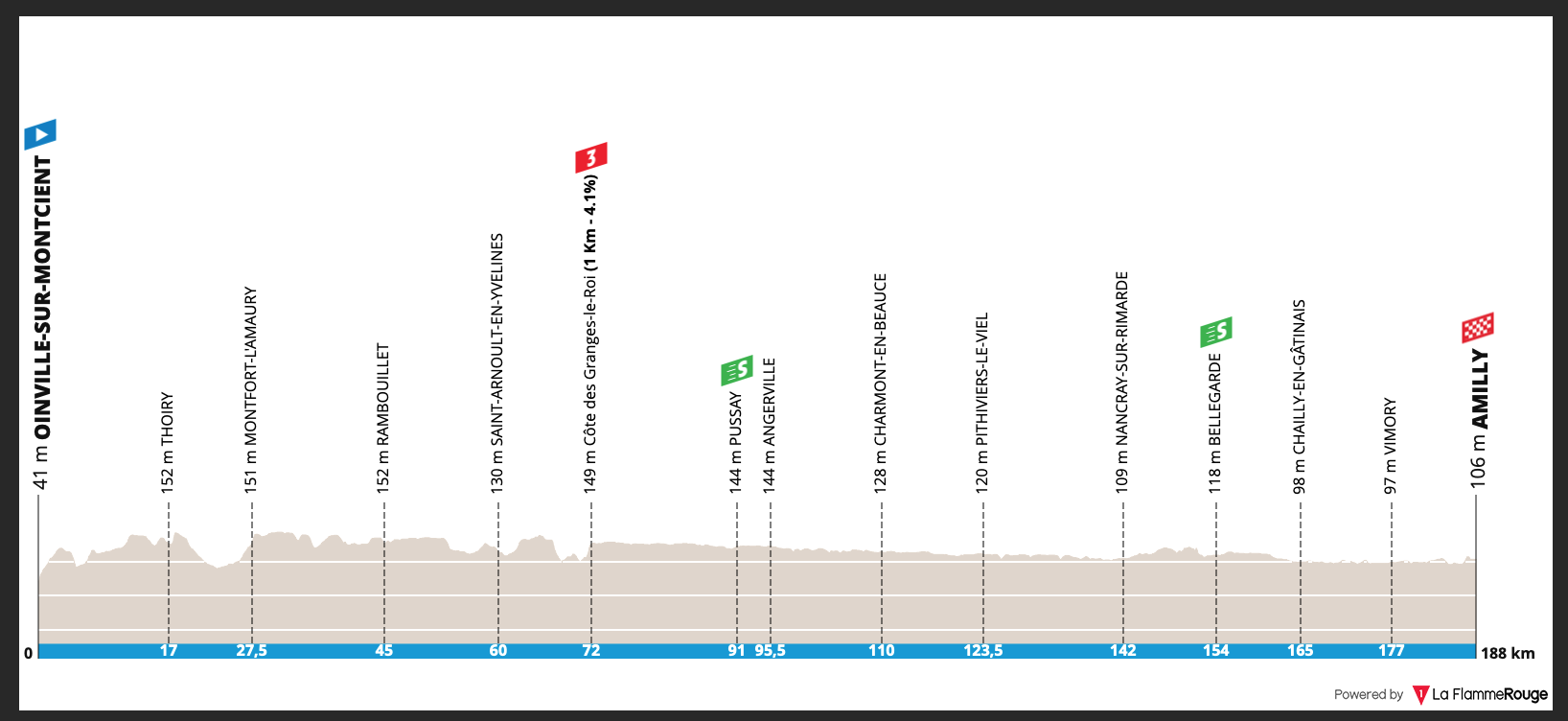 The bunch head south towards the town of Amilly, the roads in this area are very exposed to the elements, basically the bunch spend a lot of time on farm tracks. Will we see some echelons?
Weather
The wind is coming from the north-east, which gives lots of crosswind throughout the day, but the wind doesn't seem strong enough to me. At 12km/h, it would take some effort to split the bunch, but you just never know. The sun will again be out, but temperatures will struggle to reach 7 degrees.
Finale
As you can see the final 5km does include a little climb, but that shouldn't be a big issue.
The first pinch point comes with 4km to go, when the bunch go through this roundabout, and both sides will be open. As you can see, the shorter side is going left.
Just before 3km to go, the road narrows for this bridge, positioning is important.
With 1.6km remaining the bunch take this right turn, which leads onto the short climb.
400m at 4% isn't hard, but it does make life a little harder for the sprinters.
The final part of the climb is on these cobbles, it tops out with the flamme rouge in sight.
This is the final turn; it comes with just 500m to go. The bunch approach at speed, and have to turn right. If you want to win you must be near the front at this point.
Late Attack
The corner that leads into the climb means that the bunch will have to slow down before starting the kicker. If a strong rider gets a good position, it is possible for them to get a gap with a sudden acceleration. The top comes with 1km to go, will someone be able to upset the sprinters?
DS Cycling Mole
After a terrible performance today my skills are needed at Team DSM.
Lads that was a fucking shambles today. Some of you have to take a long hard look at yourself, it just wasn't good enough. We have one of the fastest sprinters in the world, but he can't do anything because the rest of you can't get him into a good position. For this stage we'll try something different, how about being at the front of the race with 5km to go! Søren, stop mucking about with silly attacks, the train needs you. Sütterlin, no more of these half pulls, you need to get us to the front with 5 to go. The rest of you, keep the big man at the front of the race for the sprint. If we perform like we did today, I'm cancelling dinner.
Contenders
Sam Bennett – that was a great win today, even though he "only" had Mørkøv to help in the closing 1.5km. Bennett then jumped on Pedersen's wheel, but he saw a gap when Bora accelerated and was straight on it. At this stage it seems that Bennett is seeing everything in slow motion, his decision making is amazingly good. This is another finish which is good for him and he starts as the massive favourite.
Arnaud Démare – FDJ did a good job today, but they hit the front just a little too early. This meant Démare couldn't launch his sprint and had to slightly delay, and it's then very hard to get back up to full speed. FDJ will have been encouraged by this performance, Démare was much better than in previous races, but he looks much slower than Bennett.
Cees Bol – I'm hoping an angry DS Cycling Mole can kick the team into action.
Pascal Ackermann – was put into an ideal position today, but didn't have the legs to finish it off. I was impressed by the lead out by Meeus, but worried that Ackermann went backwords when the sprint started.
Mads Pedersen – my Trek boys did a great job today; it was such a shame to see Mads getting blocked behind Démare. The team have a wonderful sprint train, they all know their jobs and rarely disappoint. I'm interested to see what happens if Pedersen can launch his sprint first, will Bennett be able to pass him?
Philippe Gilbert – my late attack option.
Prediction Time
Another boring pick, I just can't see anyone beating Sam Bennett.
David Hunter
Follow us on Twitter and Instagram
Join us on facebook: Ciclismo Internacional
Copyright © 2012-2021 Ciclismo Internacional. All Rights Reserved