Riders to Watch in 2020 – Simon Pellaud
By David Hunter
You could call it character building, others would say dream crushing, whichever way you look at it Simon Pellaud has been through the ringer. Back in 2015, he was a fresh faced 22-year-old, living the dream riding in the World Tour for IAM Cycling. That dream was only to last for two years as IAM Cycling ceased to be, and Simon was left looking for a team to continue his hopes of being a professional cyclist.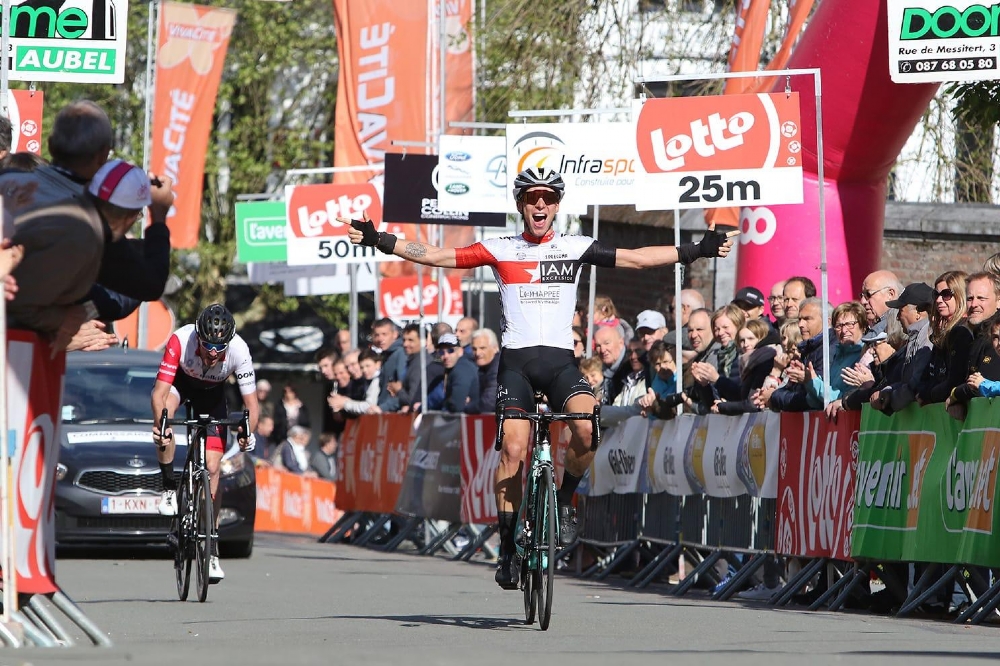 "The situation was not the easiest for me. I was the last rider to be signed, the youngest, and at this point the 'smallest engine'. I had to fight hard every day to show that I could improve and be useful for the team. Working for my leader, wearing the IAM jersey, was a great experience, but after finishing my second Vuelta I was really worried, and I even thought to get back to my studies. I finally signed with Team Illuminate really late… middle of November, after a couple of nights sleeping pretty bad, as you can imagine."
One minute you're riding the Vuelta, just a matter of months later it's the Tour de Taiwan, quite a comedown, but that's cycling.
"Signing for Illuminate was like being reborn… a new chance. Even more, it was not all about cycling but also about travelling around the world and meeting new people. I enjoyed these two years so much. I grow up so much as a person, but also as a cyclist. Every race was about trying to get used to a new racing modus, new roads, and other riders. Cycling can be really different from country to country, from culture to culture. I had so much fun!"
So, for two years Simon became a cycling nomad, riding in Taiwan, Azerbaijan, Korea, Romania and Rwanda. He might not have been riding at the highest level of cycling, but he was learning the ropes of the sport, and more importantly, he was learning about himself as a person. 2019 saw him return home to IAM Excelsior, who are now a continental team.
"I always need to have some precise goals to move forward and keep improving. I was riding at home, IAM Excelsior is my hometown club. My first goal was to get used again to Europeans roads, not an easy thing after two years riding on the Asian highways. We had the chance to have a great race program, my dreams were to ride the Tour de Romandie and the Tour de Suisse, with the national team. To get that selection I had to perform with IAM, so I had some big goals with my team as well (Tour de Normandie, Loire et Cher,…).
Result after result I got more confidence in myself. This season I performed every single weekend of the season, for sure it could have been better or worse… but I never raced to get a contract or hoping to be back at the top level. I was just enjoying being able to race so close to the best riders. I had so much fun this season, and mentally I re-opened the door to the professional world."
2019 was a huge year for Simon, easily his best on a bike. His race program could only be described as eclectic, with iconic 2.2 races like Tour de Normandie and Tour de Loir et Cher E Provost, the tough 1.2 races Flèche Ardennaise and Popolarissima, but he also raced in Tour de l'Ain, Burgos and his home World Tour races, Tour de Romandie and Tour de Suisse. No other rider in the whole professional peloton had this unique mix in their schedule. It allowed Simon some freedom, targeting wins in the "smaller" races, and then going for breakaways and KOM titles in the larger events.
"Jumping from favourite to unknown rider was nice. You just have to be clever and adapt your racing style."
The results speak for themselves: stage win in Loir et Cher, GC win in Tour de la Mirabelle, win in Flèche Ardennaise, KOM jersey in Romandie, second in the KOM jersey in Burgos and second in the Swiss national road race.
"I'm very proud of these results. Winning the Flèche truly was the best feeling, beating the Belgians on home roads isn't easy. All the team did a great race that day, I took some risks and it paid off. In La Mirabelle it was a little different as the organiser was waiting for me! They put me under pressure, telling everyone I was the favourite. It was the first time for me winning a GC… and you know it's impossible alone, I was lucky to have some really strong teammates.
To be honest, the KOM jersey in Romandie wasn't a big target. We planned this the day before, in the room with the national coach, then the plan worked perfectly. I had some amazing legs all week long. Once the KOM jersey was on my shoulders, I only had this in my mind.
Yep, I almost got the KOM jersey in Burgos too, even if I knew it would be hard to fight against Sosa! But you know… I'm no sprinter, no climber neither. I had a lot of freedom this year, I just tried to get something back from Burgos.

To jump in the breakaways you have to be strong and clever. It's a lot about feeling and the mental game, it's not easy, and you also need to be a little crazy! All day breakaway is a big effort for the body, never easy to recover from, so you better be in shape."
After such an impressive run of results, it was no surprise to see Simon's name getting mentioned by a number of teams, it was a no brainer. Step forward the legend that is Gianni Savio.
"Gianni Savio called my manager after the Tour de la Mirabelle, where I had raced against Androni. They had an eye on me for a while, but first contact was made then. Things went fast after this!
I never sent my CV to Savio, I never even thought about riding for them, but when Savio called me things changed. I had contacts with some other teams, even in the World Tour, but I truly loved the fact Androni sign me for who I am, as a cyclist and as a person. Everybody knows Savio, he barely makes mistakes, and has found so many some big talents. They have a great program, mentality, and give me the chance to keep my actual balance. My choice was easy to make… even if some people still didn't understand it. The language won't be a problem, I learnt Italian at school and speak Spanish as well."
After three years away, Simon is back in the big time, and quite rightly so. No longer a raw talent, he is a man who understands his ability and how to get the best out of himself, but most will be surprised at where this discover happened.
"I came for the first time to Colombia in December 2016, close to Bogota with Edwin Avila, my ex-teammate. It's in Antioquia that I stayed and really fell in love with this country. I'm even building a small house here in the mountains close to Medellin. Life is great here! It's summer all year long, roads are good, a lot of people training around, life is cheap, …
I think that all the time spent at altitude has helped. I live here for half the year, at about 2500m altitude. Life is hard, but my body changed a bit, I got leaner and found some legs I couldn't even dream about."
Bet you didn't expect that!
"I'm a very involved rider. Cycling is my passion; I enjoy it so much. It gives me a really good balance (mentally and physically) and I'm constant all season long. In the future, I would like to improve holding my position in the bunch, I'm sure racing for a bigger team will help. Another point I would like to improve is my sprint, I would like to find more of a jump. Let's see what 2020 will bring, but I'm really hungry!"
Simon has learned a lot about himself over the last few years, he's grown as a person and as a cyclist. He now returns to racing at a higher level, under the expert tutorship of Gianni Savio, a partnership made in heaven.
Ladies and gentlemen, I give you my next rider to watch in 2020, Simon Pellaud.
David Hunter
Follow us on Twitter and Instagram
Join us on facebook: Ciclismo Internacional
Copyright © 2012-2019 Ciclismo Internacional. All Rights Reserved