Sep Vanmarcke, the beast of the Cobblestones
By @pmpalermo
Fully immersed in the Northern Classics season , it is appropriate to focus on a group of riders who stands out above the rest and usually seems to be in contention for a type of races so special and hard that may intimidate the majority, as such they are the ones that at the end define the race .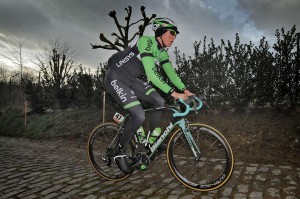 Within that tiny number the chosen one is Sep Vanmarcke , a skilled 25 years old Belgian cyclist, who in just a few seasons in the category has already hinted his talent and determination to be the successor of the two big monsters that dominated the specialty the last decade : Fabian Cancellara and Tom Boonen .
Our protagonist was born in Kortrijk , has an imposing physique (1.89 m 76 kg) and how could it be otherwise coming from Topsport Vlaanderen , Flemish breeding ground where he spent two years and where his greatest achievement was nothing less than the 2nd place Gent Wevelgem 2010 's being only 21 years old.
His performances and potential did not go unnoticed and in 2011 he took the leap , enrolling with Garmin, which rounded off a good season as a rookie in which he excelled with a 4th place in Harelbeke and shined working for Hushovd and Vansummeren, who at the end won in the Hell North
The following year he kept the line and not soon rewarded Vaughters' trust with a historic victory in Omloop Het Nieuwsblad against Boonen and Flecha , beating them after making a race decision, displaying his qualities first as peloton rider and speed to define in small groups.
Little was done in this campaign where he was afflicted by illness, but nonetheless ranked 5th in E3 Harelbeke and 7th in Dwars door Vlaanderen, 4th in a partial Paris Nice , 2nd in another Tour of Britain and 3rd in the Rogaland GP; with his strength on the stones which showed a huge future for him, to the point that he had the luxury of choosing his next team while many riders were quitting due to the difficulties of finding accommodation in a team.
In this context and since the end of 2012 he left Garmin , who wanted to hold him , and ditched RadioShack, team which he had an agreement with, to sign with Belkin, where he made ​​his final explosion and aware of the talent at hand few days ago the team extended his contract until late 2016.
With the Dutch he got the GP Impanis -Van Petegem in 2013, but much earlier in the year he suffered a fall in Tirreno have left touched and out of several classics, but ultimately headed to De Ronde and a week later brushed glory in Paris Roubaix, where only the extra-terrestrial Cancellara beat him, before the cameras he showed heartbroken after being so closer than anyone to beat Spartacus .
The Belkin rider is a real beast of the stones and , as we said, he was 2nd in Roubaix with all that it implies , but it is best that this course follows the same path and already ranked 3rd in De Ronde and Kuurne – Brussells – Kuurne 4th in Omloop Het Nieuwsblad and Gent Wevelgem and 5th in E3 Harelbeke, always leading the actions in the key and defining moments of the race.
With Cancellara at stake it's difficult for the others to shine, but Vanmarcke is the future of the cobblestones races and he will always be in the definition, but he needs a stronger team around to not be forced to launch remote attacks wearing off and allowing his rivals to recovery.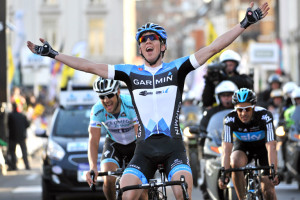 The truth is that we are , without exaggeration , in front of a new star of the cobblestones Classics , a strong athlete with an iron mentality postulated by the facts as the one taking over from today's great specialists and with a track record ahead could reign such events over a long period .
Of course, he must first win a Monument and start transforming his performances into wins , but the important thing is that he has to make that transition and it's matter of time before Vanmarcke controls the cobblestones at his will.
Related: Tour of Flanders conclusions https://bicis.frangandara.net/tour-of-flanders-conclusions/
Pablo Martín Palermo