The Classics – Unclassicsfied
By David Hunter
Before I start, I need to keep all you geeks right. For the purpose of this article, I have decided what makes a classic! I will try to break each race down, with some expert help from my friends. I'm stopping at Flanders, with the possibility of doing more, at a later date.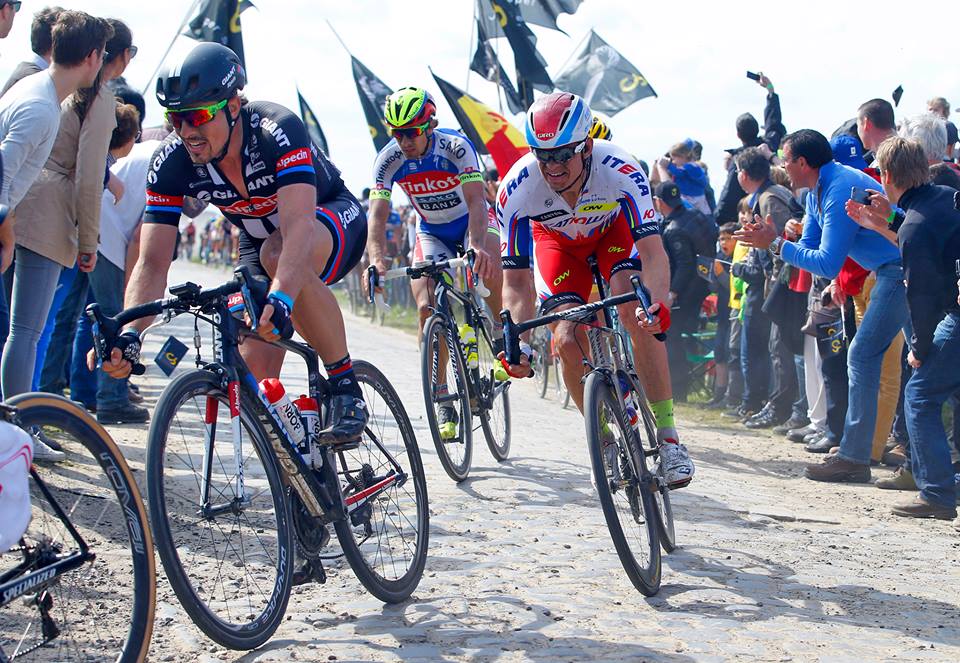 Omloop Het Nieuwsblad
The racing season properly starts with Omloop. Most of the peloton have been away racing in sunny conditions in Australia, Argentina, Oman, Qatar, Andalucia and Algarve. They return to the cold of Belgium for the season to properly begin. Around 200km in distance, it isn't too long, but it is a very demanding race.
We have a mix of climbs, cobbles and cobbled climbs to challenge the riders, before a flat run for home. Famous climbs like the Kruisberg, Taaienberg, Eikenberg, Wolvenberg, Leberg and Molenberg are tackled, with the cobbles of Haaghoek, Paddestraat and Lippenhovestraat providing a cobbled challenge.
Being so early in the season, form is variable. Teams go into the race with multiple plans, but need to keep riders back for the final 60km. It's a gradual elimination race that really begins on the Taaienberg. It is tackled with around 60km still remaining, so too far out to define the race, but it starts the finale of the race. More climbs and cobbles follow in quick succession and a small group eventually gets away.
The Haaghoek(1:03:12) is a very important section of the race. Poor old Sep Vanmarcke!
A surprise result is almost the norm for Omloop. Despite trying to dominate the race, Etixx haven't won it since 2005 and it remains the only race missing from Boonen's palmares. He'll keep trying till he wins it!
I really wanted to involve some Belgian riders, these races belong to them! First up is Edward Theuns, soon of Trek Factory Racing. He finished 21st in 2014 and 14th in 2015.
"For Omloop it's not hard to prepare for me, I think most riders look forward to get started with the Flemish races and see how the form and preparations are. The temperature is not a big problem, as long as it is dry, you just dress warmer :-)
I rode 2 times and on both occasions we came with a group of about 30 riders to the Molenberg, so that is a big important one. From there you have to stay in front, because Paddestraat and Lippenhovestraat, is the last hard cobblesection. The race is decided there. Early tactics: save energy and get in front on Molenberg."
The weather can play havoc with the race, as it usually takes place at the end of February/beginning of March. With most riders spending the previous few weeks in warm conditions, I always think that it must be difficult to handle the cold. Eddie doesn't have any problems, but he's Belgian!
"I'm not a guy who likes the cold weather, but you have to handle it." These are the words of Marcel Sieberg of Lotto Soudal. Most of you will know him from his brilliant work in sprint finishes, but he's a handy man to have in the Classics. More from him later.
Race Type – Elimination.
Weather – Cold, wrap up!
Critical Point – The 9km stretch with the Molenberg, Paddestratt and Lippenhovestraat.
Who wins – A strong, hardman.
2015 – Vanmarcke went for it on the Haaghoek. Just as he's about to cause a significant split, he punctures. Just as well for Ian Stannard, who was about to be distanced. Etixx take advantage and get Boonen, Terpstra and Vandenbergh away with Stannard. The make a royal mess of the final 20km, forgetting to attack until it was too late. Stannard stole a most unlikely victory.
Surprise Package – Stig Broeckx.
Kuurne-Brussels-Kuurne
This takes place the day after Omloop. That means 200km on Saturday and 200km on Sunday, for a lot of riders. That brings advantages and disadvantages.
"When you finish Omloop, for sure the next day, you are not as fresh as the day before. The problem is also that the smaller teams are different. Some ride Saturday, some Sunday. So they are fresh and you not. Everyone knows that, that's why the first 2h in Kuurne is the most painful;-)
But I also had some years where I had shit legs Saturday and on Sunday my legs where good! Omloop is really hard and Sunday it's normally a bigger bunch, so not as hard Saturday."A very interesting perspective from Marcel Sieberg. With tired riders, some teams like to bring in a few fresher riders for KBK, a tactic employed by Etixx in 2015. The race can be unpredictable, but a sprint usually has a good chance.
The route has climbs and cobbles, but not as difficult as Omloop. The hardest point of the race is Oude Kwaremont, but it is around 70km from the finish.
"To be honest, the Kwaremont is too far from the finish. So yes, it can split and if it's windy the peloton can be greatly reduced until the finish, as we have seen on numerous occasions. However, if it's to be a sprint the Kwaremont is too far out and it will regroup eventually before the final." Wise words from the oracle, Greg Henderson.
The Oude Kwaremont is one of the hardest hills in cycling. 2.5km at 4% doesn't sound like much, but it's cobbled and a real killer. It is the defining point of some big races, but Greg is right, it's too far out in KBK. It does give the non-sprinters hope, but this year, Cavendish, Kristoff and Viviani all made the move! To give you an idea of the effort required, Edward Theuns covered it in 3:53 during KBK, riding in the peloton. His record is 3:35 during DDV. We are looking at a gap of around 15-20 seconds between the leaders and bunch. It's certainly enough to snap the elastic but with plenty time remaining, the break usually gets caught. The last four editions have seen 3 big sprints, so the finish is vital.
"I really like the final 3km. That long straight before the final left, it's always a bit crosswind there, so strong teams can always take control. Turn that last corner and you only need Sibi and I, with either Jens or Greipel on the wheel, and we can make it. Having said that…..we haven't managed to quite win it yet, hahahahah." Classic Greg!
The long road into the final corner is great news for a team like Lotto. The road is narrow and those with a strong train can take control, but spare a thought for the other teams and sprinters.
"Indeed, it's a hard sprint and you need a long lead-out. If there is a train keeping a high pace, it's hard to win some places." Theuns and Topsport are no slouches, but this is a finish for the sprint teams. Watch as Lotto take control from 2km out(9:05), but they didn't quite get the result they deserved.

Race Type – Sprinter friendly.
Weather – Cold and windy.
Critical Point – The final 3km.
Who Wins – A sprinter with a good lead-out, but the opportunist is never far away!
2015 – A big break escaped on the Kwaremont, including most of the top sprinters. They never got a big lead and the peloton managed to bring them back, thanks to the work of MTN, Sky, Wanty, IAM, Cofidis and Topsport. In the sprint, Lotto did a great lead out, but Debusschere didn't have the same kick as Greipel. Kristoff launched a long one, it was too long, and Cavendish took a comprehensive win.
Surprise Package – Sam Bennett.
Strade Bianche
Only a young race, but fast emerging as a favourite. The race features many sections of white roads, or dirt tracks to you and me. The roads are a nightmare, with huge clouds of white smoke being thrown up by the motorbikes.
Of all the sectors, Sante Marie, is where we start to see the selection. It's 11.5km of rolling terrain, making it a vital part of the race, even though it starts around 50km from the finish. Going uphill is a huge challenge, where you should remain in the saddle. Going downhill is just as hard, as your rear wheel can slide out at any moment. This is a race for the brave, but being an excellent bike handler sure helps.
I decided to go Italian and get some expert help from Manuel Bongiorno of Bardiani.
"The hardest and decisive point in Strade Bianche is Sante Marie: very difficult road and very hard climb (18%). Descending is the most difficult, you must have the max concentration and think always where you go. You stay, all the time, at the limit.
A lot of riders love this race, because the route is amazing with very beautiful places. The race is similar to a classic from the north."
Once the selection has been made, the race usually sees a small group approach the finale together. The race finishes with a 1km climb at around 7%. This means you need to save a lot of energy, making race management hugely important.
To be successful here you must be a punchy climber, but also have superb skill. That really does narrow the list of potential winners and it's no surprise that Cancellara has won it twice.
The final hill(1:24:45) really is a great way to end the race. It's not really about who is leading out, but who is the strongest. This year it was Stybar and given his cyclocross background, this race is made for him.
Race Type – Brutal test of climbing, descending and bike handling.
Weather – The weather is usually quite nice. Rain would be a disaster.
Critical Point – Sector 7: Sante Marie.
Who Wins – Puncheur.
2015 – The selection was made on Sante Marie, before eventually coming down to 3: Valverde, GVA and Stybar. It was GVA who put the dig in, on the final climb, distancing Valverde. However, Stybar had enough to beat him with ease.
Surprise Package – Sep Vanmarcke.
Milano-SanRemo
The first monument of the year. It's the longest race of the year, over 300km, once you include the neutral zone. Arguably, it's also the most boring race of the year too. That might horrify some of you purists out there, but the truth often hurts. Such a long race, it really doesn't start to get interesting until the Cipressa(25km to go), before fully coming to life on the Poggio. This climb used to be feared but it seems well within the capabilities of most modern sprinters. The climbing ability of Sagan, Degenkolb and Matthews means that the Poggio is nullified and this is just a long, sprint stage. The Poggio is 3.7km at 3.7%, so not a difficult climb. Coming after 290km of racing is what makes it tough, but not tough enough to drop Sagan and co. These boys are serious climbers and know that they just need to stay close to the front and they'll get a sprint finish.
A lot of people are pleased with the current state of affairs. I suppose it is only fair that sprinters have a chance of winning a monument and if the route is made more difficult, it will be another race for puncheurs. I suppose it comes down to personal preference, but I would like to see the route changed, with more climbing introduced.
The one thing that can change things, is the weather. We all remember some horrible days, with snow, ice and heavy rain. In these conditions, the race becomes incredibly difficult. It helped us get a huge shock in 2013, when Gerald Ciolek took a brilliant win.
Andre Greipel has never been successful here, despite many attempts. I turned to Marcel Sieberg to get some advice about the race.
"It depends on the weather

;-)

When its cold and rainy the 300km is just too crazy. When it is normal weather, it's ok. Normally the race goes fast, you have some long stages in a grand tour that take longer.