Tirreno Adriatico 2021 – Stage 4 Preview
By David Hunter
Terni > Prati Di Tivo 148.2km
The race returns to Prati di Tivo.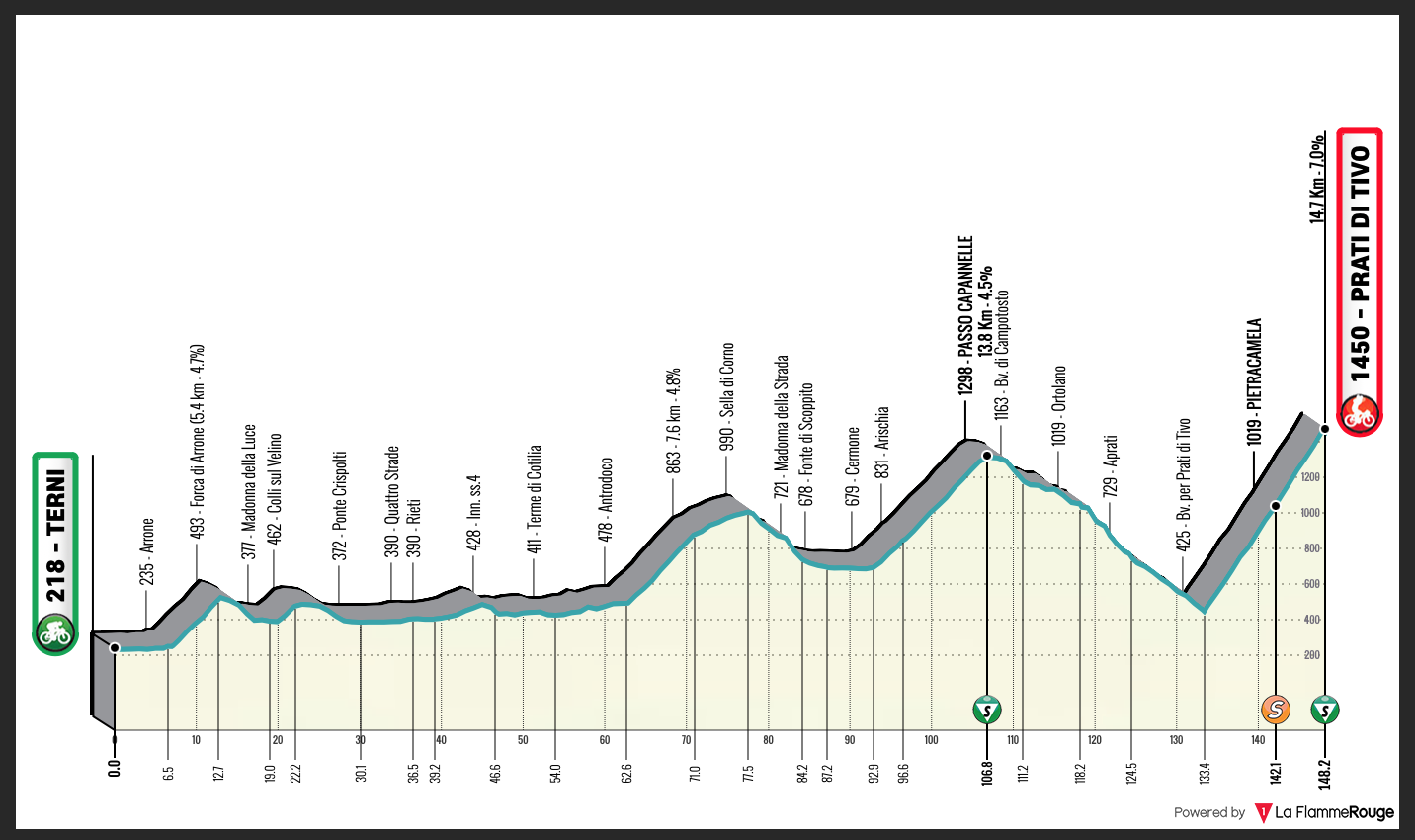 This is the day that will shape the GC battle, but it won't necessarily decide it. Nothing much will happen before the big climb; the rest of the stage is instantly unforgettable.
14.4km at 6.9% is a tough climb. The early slopes are steep, already we'll see lots of riders getting dropped. The mountain is perfect for a team with a strong mountain train to set a fierce pace which will blow out all the domestiques, before the team leaders start to launch attacks. You all know who I'm talking about, it's those Ineos boys. Last time we were here it was 2013 and a certain Chris Froome beat the likes of Nibali, Contador and a doped to the eyeballs Santambrogio. It is a great climb for a strong team to dictate, I don't even think another team will try to challenge Ineos.
Weather
Quite a nice day for the bunch with sun, but it won't be very warm at the top of the mountain. There will be a headwind on the climb, but only about 5km/h, nothing that the riders will actually feel.
Breakaway Hopes
With Ineos on the hunt for a stage win I don't think the morning break has a hope in hell.
Tactics
Ineos have a ridiculously strong team for this race. They have Ganna and Puccio to ride on the front all day ensuring the break doesn't get a big lead, then they have Castroviejo and Kwiatkowski for the opening half of the climb, which still leaves them Sivakov, Thomas and Bernal. The first objective will be to make the climb very hard for Van Aert and Alaphilippe, and that's before the attacks start to fly. Not only do they have to put time into those two, but they also have a certain Tadej Pogačar to worry about. When the group is significantly reduced in number I think we'll see Ineos start to attack, forcing team leaders into covering moves. Once this has happened it will be over to Egan Bernal to go thermo nuclear. He needs time on most leaders before the TT, this is his big chance to stake his claim for the trident trophy. We'll have to see if anyone can follow him.
Contenders
Egan Bernal – he started 2021 with many questions surrounding his fitness and form, which led to people like me wondering if we'd ever see him back to his brilliant best. We didn't need to worry, his start to the year has been sensational. He was very impressive in Provence; he could have won that race if he wanted to. He then headed to Italy where he looked great in Laigueglia on his way to second place, before he surprised everyone with a sensational ride in Strade Bianche. Bernal has his mojo back; everyone should be worried. Remember, we're talking about a rider who has the potential to be one of the best climbers this sport has ever seen. What I've noticed is that he seems to be enjoying himself, not simply riding to try and win races. This new approach is getting the best out of him and I think he starts this stage as the favourite, despite the presence of the Tour de France winner. He'll also be a little annoyed after losing 18 seconds today due to a crash just outside the 3km to go.
Geraint Thomas – as he's no longer a spring chicken, he has to carefully manage his peaks throughout the year. Others can ride at a ridiculously high level for months on end, but Thomas now has to use races as preparation for his main goals. The way he chased down Almeida on Thursday was an indication that his current form is good, he certainly looks nice and lean. This type of mountain is very good for him, he is excellent at these long, steady efforts. We'll have to see what role he fulfils in the team; I would expect to see him used as an attacking option to force Pogačar into chasing.
Tadej Pogačar – was flying in the UAE Tour, but that was straight after a long altitude camp. Last year he started the season in similar fashion, but his performance then tailed off a little as his body got used to being back at sea level. Remember, he was flying in Valenciana, but Adam Yates put him to the sword in the UAE Tour. His performance in Strade Bianche was very good, but Bernal surprisingly outperformed him. I'll make a bold statement that could come back to haunt me, I don't think he's at the same level as he was in the UAE Tour, it's just a hunch.
Wout Van Aert – can he? This is the first time he'll be riding a mountain stage as a leader, not a domestique. This shift isn't one that most can normally pull off with ease, it takes time to develop into a mountain leader. With Ineos likely to set a crazy pace on the climb, I think he'll struggle to follow the moves in the final 3km.
Julian Alaphilippe – an easy day with one big climb, perfect for the world champion. He showed in Provence that he can cope with the Ineos train, although he didn't manage to follow the move by Sosa. This is my worry for this stage, I just don't think he'll be able to follow the big moves from Ineos, especially as the climb is very long. Almeida provides the team with a second option, but I don't think he's stronger than Julian.
Mikel Landa – I've been impressed by his early season form; it's been very positive. He's spoken about this race being a little early for him, as he looks to build to later goals. I'm not sure I buy that, I expect Landa to be up there with the very best.
Nairo Quintana – another rider who started the season with lots of questions surrounding his fitness, mainly due to double knee surgery during the winter. Most have been surprised with his high level in the recent one-day races in Italy, especially as he's not just been sitting in the bunch, he's been on the attack. Despite his good performances he's not yet in top form, but I would still expect to see him challenging for the top 5.
Sergio Higuita – another Colombian looking for a big result. I'm a big fan of Higuita, but I don't think he's particularly well suited to this type of effort. This is a long climb, and with Ineos likely to make it hard for the start, I think he'll fade towards the peak.
Prediction Time
Ineos will win this one, but will it be Bernal, Sivakov or Thomas? It's got be a day for Egan Bernal.
David Hunter
Follow us on Twitter and Instagram
Join us on facebook: Ciclismo Internacional
Copyright © 2012-2021 Ciclismo Internacional. All Rights Reserved