Tour de France 2015 – Stage 2 Preview
By David Hunter
Utrecht – Zelande 166km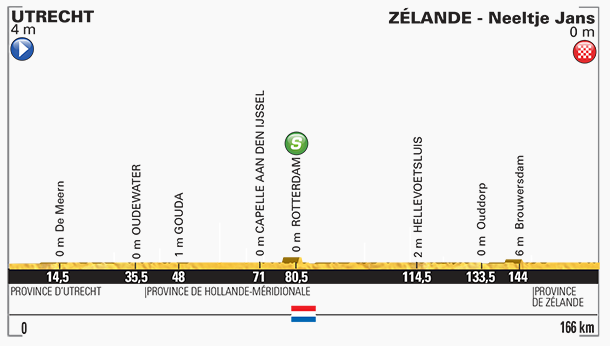 We are in Holland and that means flat roads, no hills! We don't even have a token cat 4 climb, to give the jersey to someone. The map of the stage, is more important than the profile.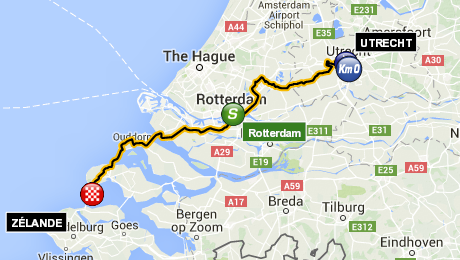 In Holland, we get a lot of wind. The end of the stage, is perfect for some echelons. It's also the first road stage and there will be plenty of nerves and crashes. If we get a full bunch sprint, we'll be in for a treat. Time to talk sprint trains.
Lotto:- Hansen, Sieberg, Debusschere, Henderson and Greipel.
Giant:- Geschke, Veelers, Sinkeldam, De Kort and Degenkolb.
Etixx:- Tony Martin, Stybar, Trentin, Renshaw, Cavendish.
It's been a while, but we have 3 trains, and they are all full of quality riders.
Sieberg is the best at number 4. His timing is outstanding and he will know when to go make his move. In an ideal world you would want him to launch, as you approach the flame rouge. He's had a great season and a massive part of any Greipel win.
Number 3 is the battle of the newbies! None are regulars, in this slot, and are here for a variety of reasons. All are seriously quick, with Trentin already winning two stages in the Tour. The other two are also very quick and have a better tactical brain. They would like to go at 700m and finish at 450m. At that point, they hand over to the pilot fish!
The battle to be the best, number 2, is fierce. In fact, quite a lot of people think the Secret Pro, is one of these riders! Crazy stat time….. De Kort hasn't participated in a stage win yet this season. Not the type of form, you would expect from him. His last great lead-out, was in the Peoples' Classic, way back in January. Compare that to Renshaw and Henderson and it's embarrassing. These two are the best in the business, by a country mile!
Renshaw has helped Cavendish to wins in Dubai, Almeria, Turkey and California. However, he's not been up against another strong train. In fact, he lost out to Sky and Viviani, back in Dubai. However, they are brilliant and one of the best partnerships of all time.
Henderson has been stunning in 2015. He's over his injury problems, and his form has just about got him another contract with Lotto. He has helped Greipel to wins in Paris-Nice, Giro, Luxembourg and Ster. The wins in France and Italy, were against quality opposition, especially France. There, they had to compete against Katusha and Orica and came out on top. Henderson has delivered the best two lead outs of the year, they were in PN and the Giro. On both occasions, he did an enormous pull, from around 650m to 200m. Simply outstanding! I still think he is the best lead out man, in the world. Yes, he might be 38 years old, but he's wise and understands what his body can do and is a master tactician.
Greipel and Cavendish are faster than Degenkolb. It would take a special ride for Degs to win and I don't see it happening.
What about the rest?
Katusha also has a good sprint train: Kozontchuk, Haller, Paolini, Guarnieri, Kristoff. Guarnieri is not a rider who usually hits the front, like Henderson. He prefers to place Kristoff around wheel three, with 350m to go. The problem for Kristoff is the power and speed of Greipel and Cav. I think both riders can come round him, but he is fast. He is a master of the wet conditions and loves a technical finish.
The same can be said about Peter Sagan. He has Bennati and the Italian is a fan of hitting the front. Watching these two riders, in the closing kilometres, gives you an appreciation of their skill level. Both are incredible cyclists. They know the wheels to follow and can time their charge to perfection. Sagan knows that he can't match Cav, Greipel and Kristoff, but with careful positioning, he'll finish in the top 5 and could even make the podium. Amazing that he was having a bad season, just a month ago! How fickle cycling can be.
The French Guard will hope to compete: Bouhanni, Demare and Coquard. Looking at the quality of the other teams and I start to feel sorry for these boys. Their teammates are not good enough. Such a shame when they are all quality riders, capable of big performances.
Sam Bennett will hope to get in the mix, but similar to the French riders, he'll struggle to get in the first 10 wheels, inside the closing kilometre.
That's what the battle inside the final 5km is all about, getting in the first ten wheels. Some teams will get a bit excited and hit the front, too soon. The best teams will wait until the final 3km, before getting seriously involved. That is when the peloton starts to get scary! The front of the race is the safest place to be, that's why the GC riders all try to be there. That only adds to the congestion and can often chaos. Once inside 2km to go, if you are not near the front, your race is over. That is why having a fast train is very important. They put you in the right position and then it's up to you! Be in the first 5 positions and you have a chance of winning. At that point, timing your sprint is crucial and a bit of luck also helps.
Crosswinds
There is a chance of some echelons. As the riders head along the coastline, any type of wind could cause chaos. This is the Tour and riders will seek to exploit every situation, to their advantage. Etixx and Tinkoff are teams that usually benefit, in these situations. It's very hard to imagine the front group not containing Peter Sagan. He is brilliant in difficult conditions and his team will be working hard to ensure Contador stays at the front, thus helping Sagan. If it's windy, Sagan has a great chance. Although, the same can be said of Cavendish!
Prediction Time
Experience is vital. Cavendish and Greipel will be all over this finish, as will their teams. The last time they sprinted against each other, in a grand tour, was the 2013 Tour. The final stage saw Greipel finish 2nd and Cavendish 3rd. No Kittel means party time! I think Lotto have the edge in terms of the lead out and that should be crucial. Andre "The Gorilla" Greipel to take the win.
David Hunter
Follow us on @CiclismoInter
Join us on facebook: Ciclismo Internacional
Copyright © 2015 Ciclismo Internacional. All Rights Reserved