Tour de la Provence 2021 – Stage 4 Preview
By David Hunter
Avignon > Salon-De-Provence 163km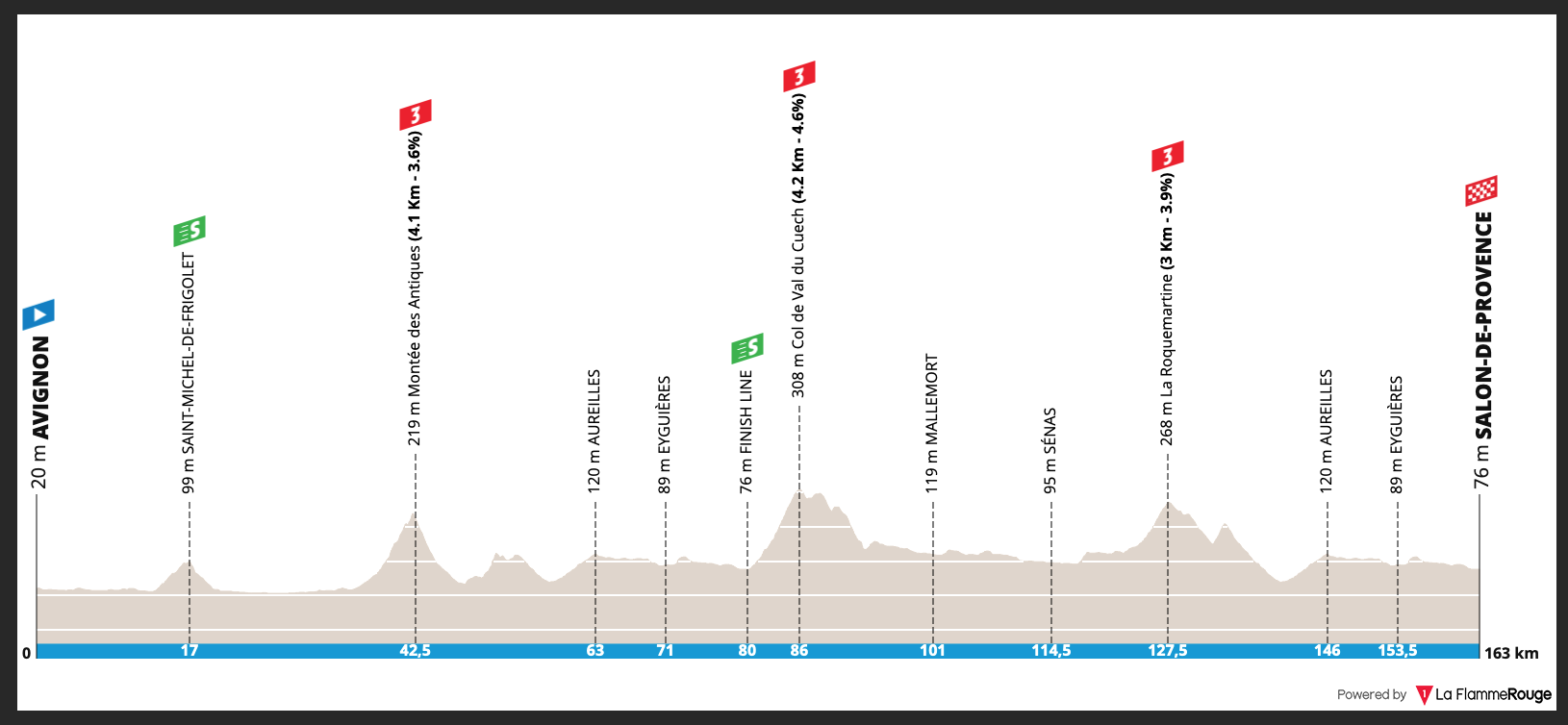 The final stage.
On paper, this is a nailed-on sprint, but will it be? For many riders this is the last race before Omloop Het Nieuwsblad, they will want a big hit out, not an easy day waiting around for a sprint.
The problem for the attackers is FDJ, who will be riding for a sprint finish. If DQS also decide to go for the sprint, then that is what we'll get. Ineos have promised to ride in a more positive way, but they will want to simply ride to protect the race lead. In normal times Sosa would be untouchable, he has 21 seconds of an advantage to Alaphilippe, but this isn't normal times. Sosa isn't very good on the flat, I wonder if DQS will go full gas and see if there is a weakness they can exploit. It's a risky tactic, and they probably won't do it, but you just never know. Bernal is 2 seconds ahead of Alaphilippe, but the first sprint comes after 17km and is at the top of a little kicker, which is perfect for Alaphilippe to move ahead of Bernal. Will they roll the dice? I hope so.
Weather
Another cold day, but it should stay dry.
Finale
The run for home is on a long straight road, at points it does get narrow, but the approach is a good one.
The first corner comes with just over one kilometre to go, you can see it is rather tight.
With 700m to go the riders take another tight looking corner.
The last corner comes with around 450m left, this one is a little wider and can be taken at speed.
The three corners come very close together, the battle to control the peloton for the first of these will be fierce. If you control the first bend, it's likely you'll be in a great position for the sprint.
DS Cycling Mole
For this stage I'm taking over the reins at Arkéa Samsic.
Lads, this is our stage. Don't bother going for the break, we'll sit back and save some energy for the finish. During the stage we'll let FDJ work on the front, those lazy bastards need to do some work for a change. Into the closing stages, I want Swifty to lead the boys to near the front for the flamme rouge. Then, it's over to the Bud, I need you to keep Boubou near the front. Remember, get in the way of FDJ, I want you to annoy them. Boubou if you need to dive bomb a corner or two, then go for it. When the road opens up I want you on Démare's wheel when he launches the sprint. Nacer, I know you hate him. Use that. I want you angry and when you cross the line first maybe a finger up to your mouth as the celebration. Let's ram it down the throats of FDJ. Allez!
Contenders
Davide Ballerini – what a race he's had. Stage 1 was a good win; stage 2 was remarkable. It's no doubt that Ballerini leaves this race with a bigger reputation than when he started it. If we get a sprint, he has to start as the favourite, but I do wonder how DQS will approach the stage. As the Italian already has two wins, I'm sure he won't be bothered if the team look to give freedom to his teammates.
Arnaud Démare – he's not looked at his best, but he still sprinted well on Thursday. FDJ have the best sprint train in the race, but they'll need to be very careful at the start of the stage as they won't want a big break escaping up the road. The corners in the final kilometre are very good for FDJ, it's their type of finish. A confidence boosting win would be good for Démare.
Nacer Bouhanni – his sprint train maybe isn't as long as his rivals, but it's still a good one. He's been close to a win already this season, but it's managed to elude him. It would be very good for his confidence to take an early win, and he doesn't mind a corner or two in the finale.
Julian Alaphilippe – cause you just never know with him.
Yves Lampaert – breakaway option number 1.
Kasper Asgreen – breakaway option number 2.
Gianni Moscon – breakaway option number 3.
Philippe Gilbert – breakaway option number 4.
Prediction Time
I think Alaphilippe will go for the first sprint and see if he can move into 2nd place on GC, after that I have no idea how the race will unfold! It would be great to see DQS go full gas and try to drop Sosa on the flat, but this scenario is very unlikely. When the dust settles I think Kasper Asgreen will win with a late move, with Sosa more than likely hanging on for the overall win.
David Hunter
Follow us on Twitter and Instagram
Join us on facebook: Ciclismo Internacional
Copyright © 2012-2021 Ciclismo Internacional. All Rights Reserved