Tour de Suisse 2015 – Stage 2 Preview
By David Hunter
Quinto – Olivone 117.3km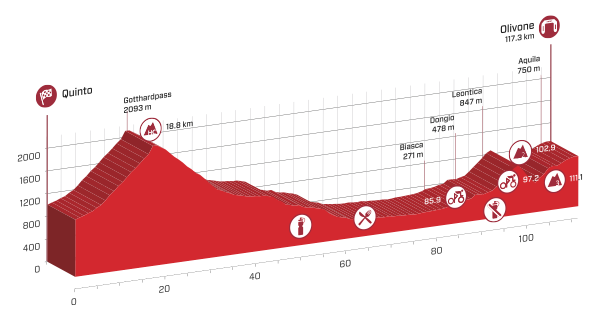 At just 117.3km, this is one of the shortest stages in a World Tour race, but it's hard. The race begins with the GC climb of Gotthardpass. It's 18.8km at 5.8%. The length is a difficulty, but so is the altitude. At over 2000m, some riders will have great difficulty with this climb. At that altitude, you can find it very hard to breathe. A long descent follows, before a challenging end to the stage.
With 20km remaining, we have a cat 2 climb, 5km at 7%. This is another difficult climb, just steep enough to put riders into difficulty. It's quickly followed by a cat 3 climb, 3.2km at 6.9%. This climb crests with 6.2km remaining, but the climbing doesn't stop. The road rises all the way to the finishing line.
With 4.1km remaining, the riders begin a long, false flat section. It continues on for 3.3km at 3.4%, before levelling out for an almost flat, final kilometre. This is a real leg breaker of a finish.
A wet day is forecast, meaning some particularly challenging descents. Coming off the cat 2 climb, there are many switchbacks and we could see some crashes. It's also where an adventurous rider, could gain some time on the peloton.
The HC climb does come at the start of the race. Usually this stops them from being important, but this climb is just too long for the peloton to make it over together. On this stage we will see two groups established, early on, and I don't think they'll come back together. It is possible that we have a front group of around 100 riders, for most of the stage.
Due to high chance of a split peloton, it would be a good day to make the break. The climb, the descent and the wet roads, could give the break a sizeable advantage and most teams will be keen to be in it. Being in the break, also means you don't have to work in the peloton. Team meetings will be full of DSs telling their riders to make the break, or else!
The weather conditions will also play it's part. The temperature is only to reach 15 degrees and it will be considerably lower, at 2000m. It's a day that suits the hard men of the peloton. We have plenty of Northen Europeans, in the race, and they love these conditions. The Danes and Norwegians can perform well in poor conditions and will certainly have a nicer day, than the Spaniards!
Today was a very revealing day. For a start off, the organisers have decided to make their own rules. If you start with a prologue, the next stage, is stage 1. They have decided to have a prologue and call it stage 1. I will favour tradition and stick to the rules! This is stage 2.
On the cycling front, most sprinters couldn't cope with the climb. Peter Sagan was the closest, just getting gapped near the top. Albasini and Rojas weren't too far behind, but the pace set by Fuglsang, was too much. Matthews and Kwiatkowski are nowhere near form and don't look a threat.
It was Fuglsang who destroyed the hopes of many today. He looks in good condition. The same can be said of Geraint Thomas and Simon Spilak. It was funny to see Spilak ride with his top open, it was hardly a hot day. He really does prefer cold conditions and will look forward to this stage.
Just like today, this is a very hard stage to predict. Quite a few of the sprinters will survive the HC climb. I'm thinking of Sagan, Rojas, Albasini and maybe even Cavendish! The problem is going to be the cat 2 climb. 5km at 7%, is hard enough for the GC riders to set a pace, that some riders won't cope with. Especially as the cat 3 climb, follows up with another 3km at 7%. I think we'll get a group of around 30 riders, approaching the closing kilometres.
I expect both Albasini and Sagan to be present. Both should have some teammates to help contain, a very difficult final 5km. The uphill drag, is perfect for late attacks and there will be plenty! This finish isn't just good for Sagan and Albasini, as Dani Moreno, will fancy his own chances. He was robbed of a win today, as Spilak should have closed down the Durasek attack. Katusha got their tactics wrong, it won't happen again. If Fuglsang raises the pace, on the climbs, it will play into the hands of Katusha.
What about Tom Dumoulin? He was brilliant today and should make the finish, to hold onto his yellow jersey. He also has a fast sprint, but had to do too much work today, which used all his energy. If he can be better supported, by his team, he should be able to sprint for the stage win.
If Sagan and Albasini don't make the finish, watch out for Lutsenko, Conti, Elmiger, Gasparotto and Van Avermaet. All of these riders pack a good finish, especially on a 3% rise.
Prediction Time
Orica and Albasini won't miss out on this chance. Sagan had to go deep today and might be a little tired. I think Orica will control the race, for their Swiss star.
David Hunter
Follow us on @CiclismoInter
Join us on facebook: Ciclismo Internacional
Copyright © 2015 Ciclismo Internacional. All Rights Reserved