Tour des Alpes Maritimes et du Var 2021 – Stage 1 Preview
By David Hunter
Biot > Gourdon 187.5km
The opening stage is a funny one. At the end of the stage the riders go climb, descend, climb, descend and finally climb. I can't remember a time when this has happened before, although I'm sure somebody out there will point it out to me.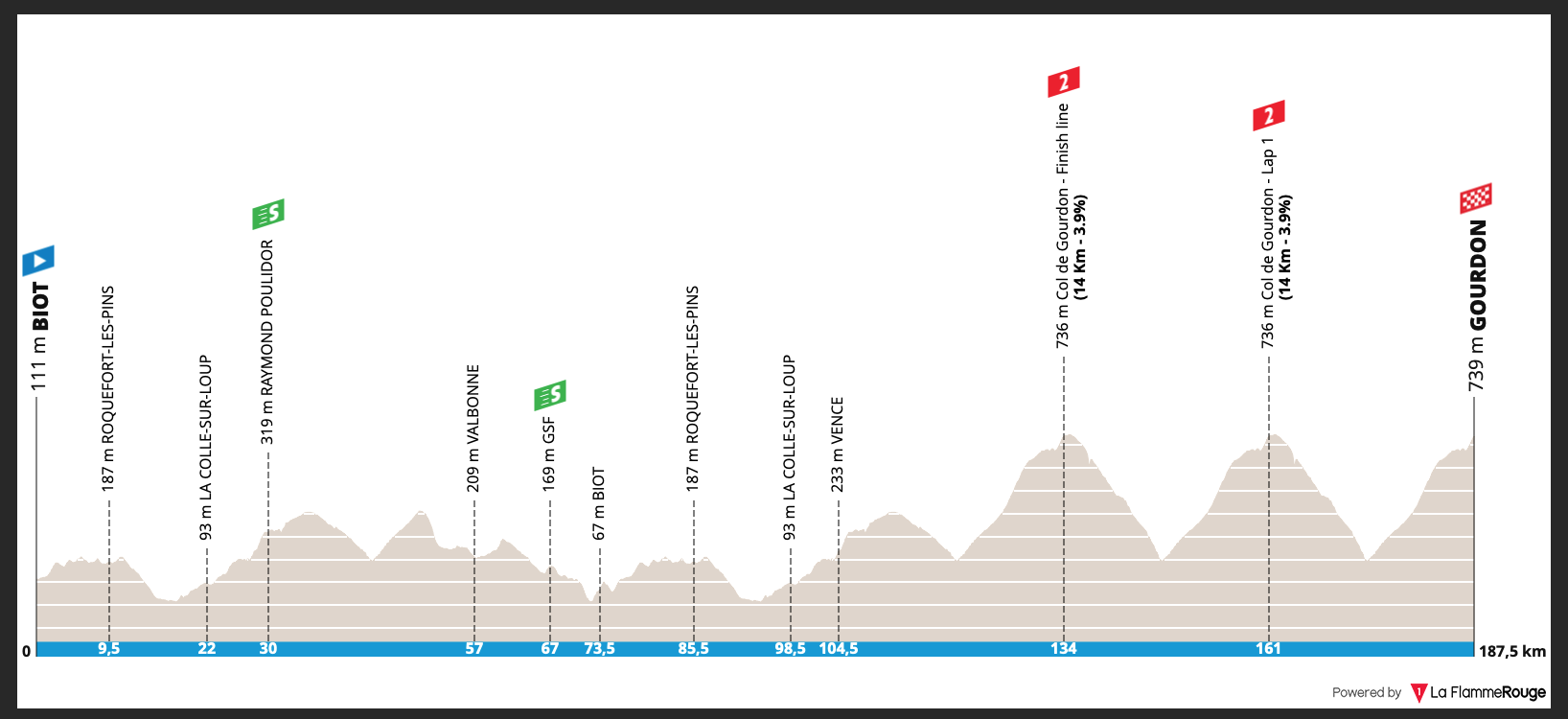 The opening of the stage is relatively lumpy, but nothing too hard. Then we get to Col de Gourdon, and we start the interval training.
The climb can be split into parts. The opening section is around 5.9km at 3.6%, this is the easy bit. Then it's the hardest bit, 2.7km at 7%, which leads into a false flat and a short descent before the kick up to the line. The final 760m averages 7%, and it does get harder all the way to the line. The riders will carry a little pace into the foot, so the opening metres will pass quickly.
The descent has some technical moments, but I've seen worse. Someone will no doubt try something, but the roads look quite good, and they'll be dry
Weather
Cloudy sunshine, little wind and rather pleasant temperatures.
Tactics
Ineos are the strongest team by a country mile, they will dictate the type of finish we get. There is a small chance a group disappears on the second or third ascent of the climb, but only if it contains a couple of their riders. In all likelihood, the climbs will be controlled, and we'll get a sprint with around 30 riders in the front group.
DS Cycling Mole
After my recent stunning success, I've been asked back into the Ineos team bus.
Arses on seats. You've seen the profile, I've taken you through the whole stage on Veloviewer, time for the tactics. Dylan and Rohan I want you to control the stage. Make it a small break from those little French teams that we don't even know exist. Once onto the Gourdon, I want a fast pace to burn away the quick finishers. If you fancy going for a long one, then Tao and Pav you have a free pass, apart from that we work for a sprint. Pisscock, if you're done pretending you can run faster than the speed of sound, this a good one for you. The problem is your love of running around the muddy fields of Belgium with your bike on your back. You'll have plenty of chances in the future, but today isn't one. Your job is to put Jonny into position, then the Ecuadorian bullet with finish the job off.
Contenders
Ineos – their fastest finishers are Pidcock and Narváez, but will they wait for the sprint? Given the embarrassment of riches they have, they might just attack and see what happens. If we do get a sprint, we'll have to see which card they'll play. Pidcock comes from the CX season, so he'll already have good legs. The problem is he's recently been used to short bursts of intensity, how long will it take him to adjust to this type of stage? For that reason, there is a small question mark against his name. Narváez is a wonderful cyclist, someone who doesn't get the respect he deserves. His stage win at the Giro was a big moment in his career, I expect to see him starting the season with some swag. His name isn't normally associated with big mountains, but Col de Gourdon isn't a big mountain.
FDJ – it should be Madouas or Gaudu as both pack a fine sprint. The team have recently returned from Tenerife, they should hit the ground running. This type of finish might suit Madouas a little bit more, he packs a fine punch, but having a few options is good for the team.
Greg Van Avermaet – given he already has a stage race in the legs, he might just fancy this one, but I think it'll be too tough for him.
Giulio Ciccone – given the way he sprinted in Provence; Ciccone starts the stage as one of the big favourites. He'll be happy to see the bunch race the climbs, the harder it is, the better his chances. The Italian has long been a breakaway expert, but he's now looking to turn into a true GC rider. His current form shouldn't be underestimated.
Jesús Herrada – he's unlikely to win, but he does have a good kick in an uphill sprint. I think the Spaniard should be looking to get onto the podium, especially after looking good in Provence. He did "win" the sprint for 5th after the climb to Chalet Reynard, beating Ciccone in the process.
Omar Fraile – I do wonder who Astana will ride for. Fraile is their fastest finisher, but it all depends on team orders. A firm fan favourite, Fraile has gone two whole seasons without taking a win, he needs to sort that out soon. This type of punchy finish is very good for him, as long as his legs are good after Provence. I don't see Fuglsang winning this type of stage, but Gorka Izagirre is another good option for the team.
Rui Costa – a few years ago he'd have been one of the big favourites, but his days of winning this type of stage seem over.
Michael Woods – he would like a harder finish; his chances of success depend on how difficult the peloton make the climbs. If the group is reduced to around 20 riders, Woods will have a big chance.
Cort, Gibbons & Impey – with 3312m of climbing, it will only take a couple of teams to make the pace hard on the climbs and they won't have anything left for the sprint. If the climbs are all done at tempo, they do have a chance of success.
Prediction Time
I have a feeling the climb is going to be harder than it looks. We're talking about 1600m of climbing in 67km. Pidcock is a phenomenon, but is he really going to win his very first professional race? That would be some achievement, especially considering the riders he's up against. Instead, I'll go for his Ineos teammate Jhonatan Narváez, he's bloody quick up a hill.
David Hunter
Follow us on Twitter and Instagram
Join us on facebook: Ciclismo Internacional
Copyright © 2012-2021 Ciclismo Internacional. All Rights Reserved