Tour Down Under 2016 – Stage 1 Preview
By David Hunter
Prospect – Lyndoch 130.8km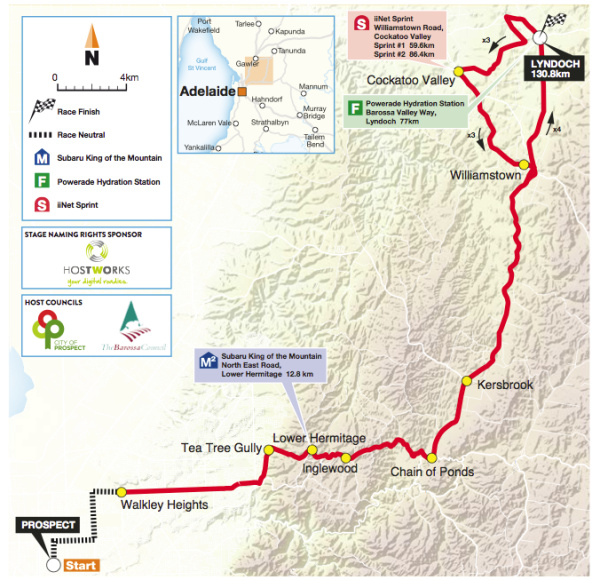 The race starts with a sprint stage through the Barossa Valley. The riders are used to riding here but the finish is new. The KOM point comes after just 12.8km, so getting in the early move will ensure a visit to the podium. Most teams would welcome this, so we could see something of a fight between the teams to be first over the climb. It would make me smile to see Chris Hamilton of UniSA take the jersey. The young mountain biker has a big future on the road.
Once past Willamstown, the riders complete a lap circuit, so plenty of chances for the sprinters to see the finishing line. The roads in this area are rarely flat and we could see some teams setting a fast pace, to try and eliminate some of the European riders who aren't quite on form yet.

The sprint points might be of interest to Orica GreenEdge. It's never easy to bring the break back early but a sprint after 60km is a tease! With the big engines of Durbridge and Hepburn, they might try to hold the break and let Gerrans take 3 bonus seconds. It's a risky strategy as it blows your riders out, so it would be slightly surprising to see Orica do this.
The lap circuit does contain a short climb but also features a 6km descent to the finishing line. This is going to be one fast finish. The finishing straight is enormous, almost 5km long! During such finishes, it can get very messy. With teams of 7, it will be hard to have a huge lead-out train dominating proceedings. We will likely see team after team move to the front, only to get swamped. It really does open the door to opportunists. Patience is certainly the key.
Last year, Jack Bobridge won from the break. As Orica, Trek and IAM will be very keen on a sprint, I doubt the break will survive this year. The People's Choice Classic was a big success for Orica but it did offer encouragement for Trek and IAM. Trek seem to be going with a reduced train, just Van Poppel, Reijnen and Nizzolo. IAM, in contrast, have 5 riders working for Pelucchi. This is even more men than Caleb Ewan will have working for him, as Orica have riders here dedicated to protecting Gerrans.
This really should put IAM at an advantage in the sprint. One of my concerns, is the speed of Leigh Howard, the final man for Matteo Pelucchi. I've never been a huge fan of Howard and think that he could get swamped by other riders, in particular, Daryl Impey. The good news for Pelucchi is that he does have the speed to come round Ewan, but only when on form. I'll be honest, his sprint in the Classic was horrible. He was in a great position but could not match the sprinting speed of all the other riders. He would hope to come back fighting and it is possible.
Adam Blythe was the surprise of the People's Classic. Finishing 3rd was certainly higher than I thought he would achieve. This was wrong of me as he has shown good early form in previous years. He is assisted by Rovny, Valgren and Gatto. This is a decent looking sprint train, something that Tinkoff are usually good at, but don't get much credit for. Blythe will be eyeing another visit to the podium.
Cannondale looked like they have a bit of potential, but failed to deliver. With Bettiol and Bevin in front of him, Wouter Wippert will be put in the right places but he needs to deliver. He made a mistake in the Classic, choosing to try and sit on Ewan, instead of following Bevin. He needs to have more faith in his lead-out man. The same can be said of Brenton Jones of Drapac. He needs to glue himself to the wheel of Graeme Brown.
Team Sky were dominant, up to the final 3km! I don't expect anymore from them, they aren't really here for the sprint finishes.
The rest of the sprinters either have poor trains or are flying solo. It was great to see Greg Henderson looked great, sitting on the back of the Sky train. Riding for himself, Greg needs to pick a train to follow and hope he gets lucky. It really does suck being a solo sprinter, that's why having teammates is so important.
Prediction Time
We'll get a sprint, but this long finishing straight does concern me! IAM have the longest and strongest looking train. The bad news for Pelucchi is that it's forecast to be a very hot day. Any rider that is out of form or slightly overweight will be dropped before the finish. There is no guarantee that Pelucchi will be present in the finale. If dropped, IAM will turn to Leigh Howard. If I discount Pelucchi, it leaves Ewan and Nizzolo, as the top line sprinters. At this point in the season, Ewan is looking sharper than the rest. I think we'll see him continuing his winning streak. Keep an eye out for riders who can cope with the heat. I expect Wippert and Jones to do better than before.
David Hunter
Follow us on @CiclismoInter
Join us on facebook: Ciclismo Internacional
Copyright © 2016 Ciclismo Internacional. All Rights Reserved