Tour Down Under 2016 – Stage 2 Preview
By David Hunter Unley – Stirling 132km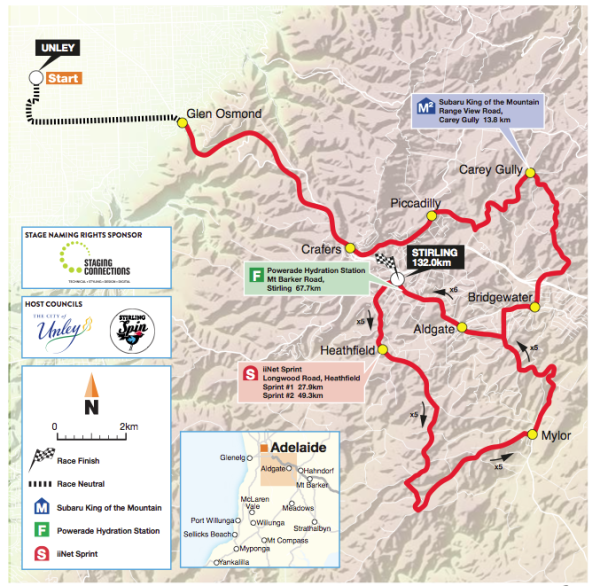 Stage 2 and we are back in Stirling. This stage is as much of a favourite as Willunga Hill. Each year the organisers decide how many laps we'll get of the circuit. Sometimes they keep it low, last year we only had two laps. In other years, they make it very difficult by making the riders complete 5 laps. 2016 is a hard year! 5 laps, but 6 ascents of the finishing climb.

The climbing begins from the gun, with 7km at 6%. This is not the type of start riders like. To get in the morning break, you must be a good climber. Take a look at the profile picture, there is hardly a flat bit of road in the whole stage. The riders will be horrified to hear that they will climb around 3000m in this stage. Considering it's just the 2nd stage of the season, most will be wondering how they will survive the day. At least the temperature will only be 32 degrees!
You cannot underestimate how hard this stage is. The climb up to Stirling isn't the hardest in the world, around 4km at 4%, but it will be taken at pace. One thing is clear, the sprinters are going to have their work cut out for them, if they intend of competing for the win. This really should be a day for the puncheurs.
Last time we completed the same number of laps was back in 2013, when Tom-Jelte Slagter won from Matt Goss. By the time of the sprint, the peloton was tiny! It can be very difficult to control the last lap with such a small bunch, but a few teams will have a huge interest in making this a sprint. Time bonuses will be a massive help to any GC rider.

After climbing for 4km, the road levels out with 3km remaining. The riders then get a short downhill section, leading them into the roundabout with 2.2km left. There is no slowing down for this, the riders will bunny-hop, straight across the middle of it. The road then kicks up for the final 1.3km, setting up a great uphill sprint.
JJ Lobato won this stage in 2015, with only 3 ascents of the climb. With so much climbing, this stage is right on his limit. If he makes the end, he does possess an uphill sprint that few riders can match. Another former winner is Diego Ulissi. He won in 2014, again with 3 ascents of the climb. That day, the Italian benefited from Gerrans hesitating for a brief moment. Ulissi will fancy his chances of a repeat performance.
Simon Gerrans is the obvious favourite for the stage. He knows that taking 10 seconds here is very important for his overall chances. He has a very experienced team here, capable of surviving all the way up the climb. In the closing kilometres, he should be able to count on Matt Hayman, Michael Albasini and Daryl Impey, to deliver him into ideal position. Impey, has started the race in fantastic form. It would be a massive surpise not to see him hitting the front with 500m to go. Strangely, Gerro has never won here. Given his uphill speed, that is something of a big surprise. In previous years, Orica had riders like Matt Goss targeting this stage. Orica will want a high pace throughout the stage, they know that JJ Lobato is capable of beating Gerrans. They need to make it hard enough to drop the Spaniard, or tire his legs out.
Another rider who will expect to challenge is Nathan Haas. In 2015, Cannondale looked to have done a great job. Unfortunately, their last man hit the front too early, forcing Haas to launch his sprint from 325m. That is suicide in a flat sprint, let alone an uphill sprint! Haas will have learned from this and his new team, Dimension Data, will be well aware of the support required. With Cam Meyer at his side, they should be able to time their effort to perfection. Remember that Haas beat Gerrans in the sprint for 4th in the Aussie RR. Haas is quick, very quick! He wants to challenge for the overall here and to do so, he must podium in this stage. The pressure is on!
Ben Swift does count as a sprinter, but he is good enough on the hills to hold on. Team Sky will certainly hope he does manage to make the sprint, as he could stop Gerrans from picking up the 10 seconds. On his day, Swift would be able to match the efforts of the climbers but so early in the season, he will find it difficult if the pace is really high. If he fails to make the end, Sergio Henao packs a punch, but it's unlikely that he'll be able to defeat Gerrans and co in a sprint.
Patrick Bevin is one of those annoying riders, the type that can do everything! Bevin can sprint, climb and TT. No wonder Cannondale choose to sign him. In the opening stages he has been leading out Wippert, but the Dutch has no chance of making the finale. Instead, they turn to the Kiwi. Bevin is fresh from winning his national TT championship and put in a strong performance in the RR. It might be too much to expect him to win, so early in his WT career, but he has a good chance of surprising a few people.
Other riders who would hope to be mixing it in a sprint are:-
Floris Gerts – BMC
Moreno Moser – Cannondale
Kiel Reijnan – Trek
Luis Leon Sanchez – Astana
Sergey Lagutin – Katusha
Enrico Battaglin – Lotto Jumbo
Jarlinson Pantano – IAM
Another rider to watch out for is Jay McCarthy of Tinkoff. He won a local criterium on New Years's Day and sprinted to 5th in the Aussie RR, finishing in front of Gerrans. He might be a bit on the young side to challenge here, but it wouldn't surprise me. He is a huge talent and I think a big 2016 is in front of him.
Prediction Time
Too hard for all the sprinters, that includes Lobato and Swift. This is a battle between Gerrans and Haas. You might instinctively go for Gerrans, but Haas is quick. The fact that he already out-sprinted Gerrans in the RR is significant. I'm going with Nathan Haas!
David Hunter
Follow us on @CiclismoInter
Join us on facebook: Ciclismo Internacional
Copyright © 2016 Ciclismo Internacional. All Rights Reserved