Tour of Britain 2021 – Stage 3 Preview
By David Hunter
Llandeilo > National Botantic Garden of Wales 18.3km TTT
The organisers of the Tour of Britain love a TTT!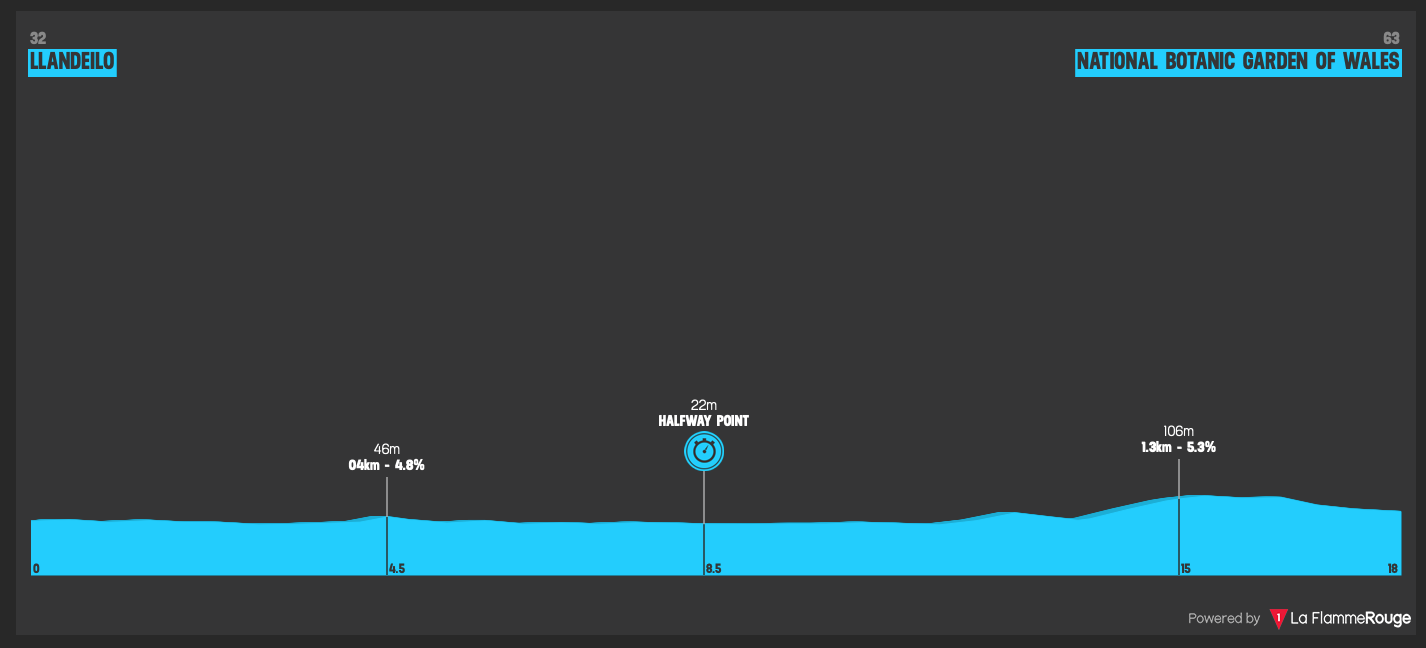 Thankfully they changed their mind and cut the route down to 18.3km and removed the hardest climb, but this stage is still going to have a big say on the outcome of the race. We have six men teams, the time taken on the line is the fourth man home, teams will need to be very careful about how they use their resources. Remember back to the good old days when we had a TTT in Tirreno. That was 3km longer than this, and flat, and we saw gaps of over 20 seconds between first and third. This is a big day in the GC fight.
Weather
A beautiful day down in south Wales, and the wind should be constant for all.
Contenders
Deceuninck – Quick Step – the Belgians will love this stage; they have lots and lots of power. They might not have a classical looking TTT squad, but Cavendish, Declercq, Ballerini, Lampaert, Honoré and Alaphilippe are mighty strong. The climb of 1.75km at 5% shouldn't cause them any problems, I would expect the team to use up Cavendish and Declercq in the earlier part, letting the four remaining riders focus on the climb and the rest of the route. This might be a risky strategy, but it looks their best option considering the strengths of their riders.
Ineos – in my opinion they have the best squad for this TTT. They have Dennis, Kwiatkowski, Hayter, Doull, Rodriguez and Porte. Make no mistake, that is a brilliant TTT unit, especially considering the hill near the end. While some teams will have to slow slightly, to keep their fourth man in contact, Ineos will be able to go full as all but Doull will be able to fly up the little hill. This is a big chance for Ineos to put Hayter into the race lead, it will be important to get as big a gap as possible with the hilltop finish coming on Wednesday.
Jumbo-Visma – Chris Harper crashed out the race today, leaving them with just five men. Okay, Van Aert counts as two, but it's still going to make it harder for them to win the stage. Harper was one of the better TT riders, now we'll see Van Aert, Martin, Bennett and Eenkhoorn taking longer turns on the front. 18km isn't a huge distance, so it's still possible for Jumbo-Visma to challenge for the win, do not underestimate the power of Wout Van Aert.
Prediction Time
Despite the power of Van Aert, having one less man will make it hard for Jumbo-Visma to take the win. Looking at the strengths of each rider I'll take a win for Ineos. They start a long time after Jumbo and Deceuninck finish, they'll now exactly what they need to do to win.
David Hunter
Follow us on Twitter and Instagram
Join us on facebook: Ciclismo Internacional
Copyright © 2012-2021 Ciclismo Internacional. All Rights Reserved