Tour of Qatar 2016 – Overall + Stage 1 Preview
By David Hunter
Desert racing is back, but sadly a lot of teams didn't get the memo! There will be no Etixx, Sky, Trek, Lotto and Tinkoff. Such a shame that the teams that love echelon riding have decided to skip the race. It certainly won't be as good as in previous years.
The race has belonged to Etixx for a number of years, their absence does open the door and we might get an unlikely winner. It's always good for some of the smaller teams to get a chance.
Stage 1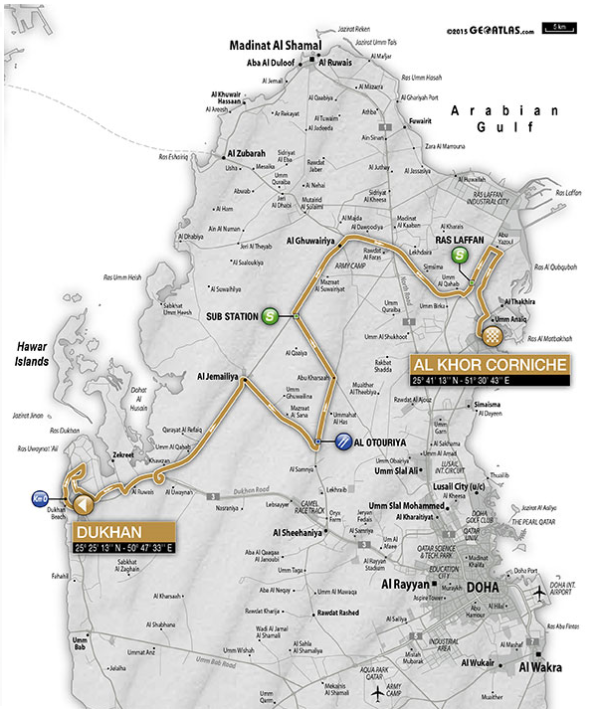 The opening stage is a harsh introduction to the race, as the riders head straight across the desert. If the wind blows, and it always does, the race will be in pieces. Alexander Kristoff won here in 2015.
Stage 2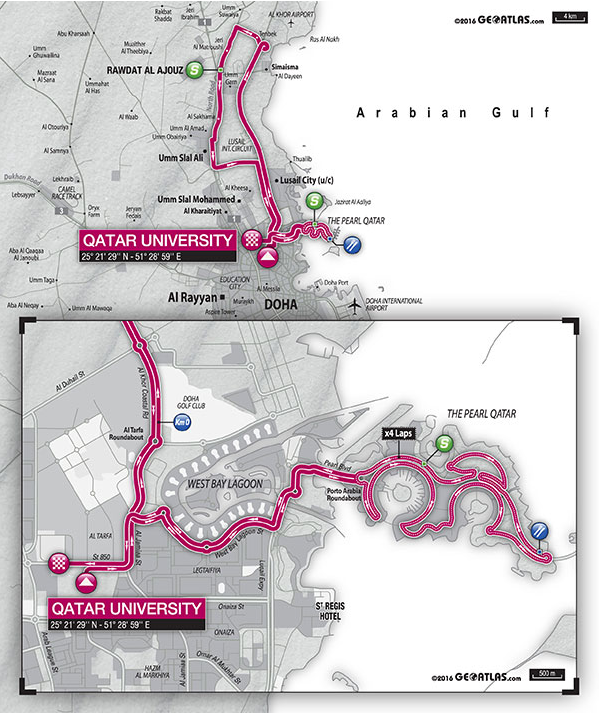 The second stage should be an easier affair for the peloton, as it's a lap circuit. The only issue is the technicality of the circuit. I don't remember ever seeing a more challenging route. So many corners and roundabouts, this is not what the sprinters want to see.
Stage 3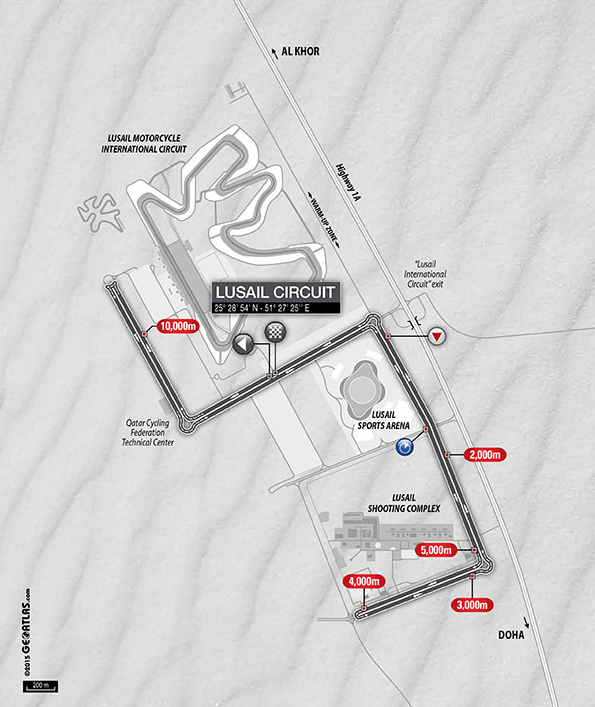 The third stage is the standard ITT on the Lusail Circuit. This should help shape the GC.
Stage 4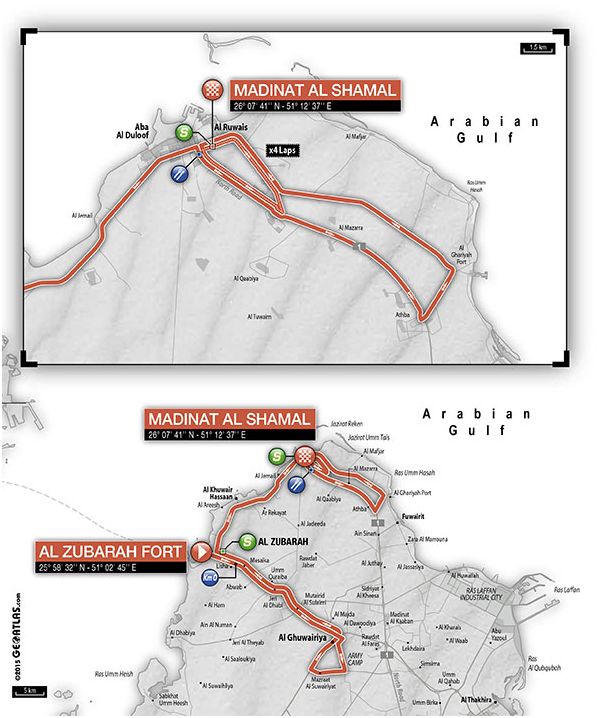 More desert fun in stage 4 as we are in the north of the country. Should really be a sprint. Greipel won here in 2014.
Stage 5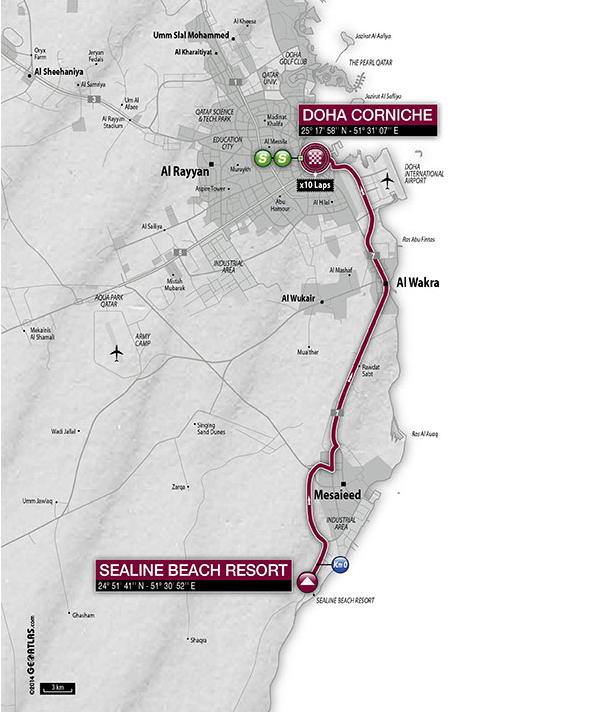 The final stage should be a big sprint in Doha. It was Sam Bennett who surprised many people with a win here in 2015. Demare took the spoils in 2014.
Contenders
As usual, you need to be able to time trial, if you want to win the title. That and be good in the wind. Oh yeah, having a strong team also helps!
Alexander Kristoff – the big Norwegian opens his season. He can win sprint stages and take bonus seconds and can also TT well, over short distances. He finished 3rd in 2015 and has to start the race as a big favourite.
Mark Cavendish – very similar to Kristoff, except his TT is not as good. It will be harder for him to take the title, but he could finish in the top 5. Arrives with good racing in his legs and should be a massive threat in the sprints. Crucially, his lead-out train looks much longer than in Dubai.
Greg Van Avermaet – After a great 2015, I expect more in 2016. BMC will be one of the dominant teams, but he will hope that Kristoff doesn't take too many bonus seconds. His TT is strong, helping him to finish 5th here last year.
Lars Boom – has a similar chance to GVA. Has a very strong TT in him, but needs the racing to be very hard and very windy.
Edvald Boasson Hagen – Returned to form in 2015, after moving away from Team Sky. He will be called upon to help Cavendish in the sprints, but that could gain him some bonus seconds. If it gets really windy, he will do well. The TT is also very good for him. Should really be targeting a top 5 result on GC.
Daniel Oss – The 2nd captain for BMC. Should get to sprint and might take some bonus seconds. He really is an impressive classics rider, but often overlooked and underrated. My big concern is the wind and how his hair will cope;)
Nikias Arndt – Sprinters can do well in Qatar, thanks to the bonus seconds. Arndt will be the Giant sprinter and can also do a decent TT. Without Kittel, he will get plenty of opportunities in 2016.
Mike Teunissen – Enjoyed a good first season with Jumbo and will be asked for more in 2016. Has a chance of becoming a big player in the classics, but is still just 23 years old. Can do a good TT, he won the prologue in the Tour de l'Ain. Jumbo are good in the wind.
Weather Forecast
They are predicting that Tuesday and Wednesday will be the windiest days of the week. That is good news for the sprinters and bad news for the others. Monday is the big day in the desert, where teams will try and split it up. If we don't get wind, these stages are incredibly dull. We just roll along and wait for the sprint. A lack of wind, increases the chances of a sprinter taking the title.
The type of race we get depends on the big teams: Katusha, Dimension Data, BMC and Astana. The presence of Kristoff and Cavendish means that Katusha and DD will be keen on a sprint. Astana have Guardini, so they'll also be pleased. It looks like BMC will be the team tasked with the job of splitting the race. They have the men to do it, but need the wind too.
Prediction Time
The wind conditions makes me lean towards a sprinter, due to the bonus seconds. Thanks to his power and TT ability, I will go for Alexander Kristoff. Katusha could do with some good news.
Stage 1 Preview
Dukhan – Al Khor Corniche 176km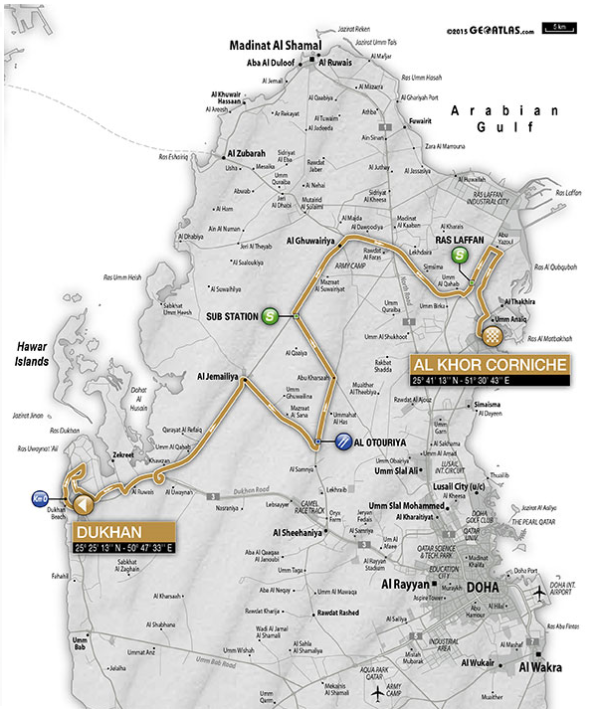 Straight to the weather forecast! The wind is coming from the north-west and is 17km/h, with gusts of 24km/h. Looking at the map, we have definite areas of crosswinds, but I'm not sure it's strong enough to create echelons. A large section of the stage heads in a north-east direction, cutting through the desert. At these points, the wind will come straight across the left shoulder. It really depends on how strong the wind blows, if it does gust to 24km/h, the race could explode.
One of the issues is the number of sprinters here. Most teams arrive with a quick man and would be put on the front of the bunch, if they missed a split. Even if we get echelons, it looks like the race would come back together anyway.
Something that does interest me is the second sprint point. Coming quite close to the end, it's the perfect chance to launch a bid for the seconds, but also a late attack. A rider like Greg Van Avermaet will do anything to take seconds on the sprinters. The sprint point also lies in a crosswind section, so it should certainly be a worrying moment for the bunch.
Remember that the strength of the wind isn't the be all and end all, the direction is crucial. The stretches of north-east road will create great opportunities to split the bunch. If a break is to succeed, it really needs to contain riders from the big teams: Katusha, Dimension Data, BMC, Astana and Bora. All of these, except BMC, will want a sprint. BMC don't have a recognised sprinter, so they will try to organise some chaos! If the sprinter teams aren't involved, they have the men to bring it back together. It really is one of those situations where it's impossible to predict. The best races often are.
If we get a sprint, some teams really stand out above the rest.
Katusha – Kuznetsov, Kozonchuk, Haller, Morkov, Guarnieri, Kristoff.
This is a serious looking sprint train for the Norwegian star. It was very successful in 2015, particularly in races like this. They have added Michael Morkov, who is only going to make them faster. Kristoff loves racing in hard conditions, he is a beast of a man. I know he didn't have the best of Tours, but the rest of his season was outstanding. He will relish the chance to compete against Cavendish.
Dimension Data – Brammeier, Reguigui, Farrar, Boasson Hagen, Renshaw, Cavendish.
They might have looked weak in Dubai, but this is much better. Such a long sprint train is music to the ears of Cav. He had a rough old time in Dubai, but this looks much better. He did hit some big numbers in the final sprint, but his positioning was poor. With no Etixx here, his team will find it easier to get position and set him up for the last 200m.
Bora Argon – Thwaites, Schillinger, Dempster, Selig, Archbold, Bennett.
At last, Bora commit to Sam Bennett. The addition of Selig is great, giving them real presence at number 3 and an alternative to have at 2, incase things go a little wrong. Having won the final stage here in 2015, he will feel confident. Sprinters always like returning to races they have won. He and Archbold will continue their brilliant partnership. If case you missed it, they used to ride together at An-Post, before Bennett moved on in 2014. Last year, Archbold joined him and continued their success. Sprinters need a lead-out man they trust, Bennett has one in Archbold!
We do have lots of other sprinters here, but they lack the same quality of lead-out train as the three already mentioned. That means starting your sprint from further back, making it very difficult to win. In fact, against Kristoff, Cavendish and Bennett, it's impossible to beat them from deep. Hoping to cause an upset will be Modolo, Palini, Guardini and Hofland.
With so many sprinters, I'll break them into divisions for you:-
Kristoff, Cavendish, Bennett
Guardini, Modolo, Palini, Hofland
Drucker, Jans, Hutarovich
Jones, Capiot, Carbel, Markus
If the race does get blown to pieces, riders like Boasson Hagen, Van Avermaet and Oss will all be searching for stage wins and bonus seconds.
Prediction Time
With so many sprinters, I think we'll get one, a big one! Should be a fight between the big three and I'll go with a rider that loves this race. Has to be Alexander Kristoff to continue his love affair with Qatar!
David Hunter
Follow us on @CiclismoInter
Join us on facebook: Ciclismo Internacional
Copyright © 2016 Ciclismo Internacional. All Rights Reserved