Tour of Qatar 2016 – Stage 3 Preview
By David Hunter
Lusail – Lusail 11km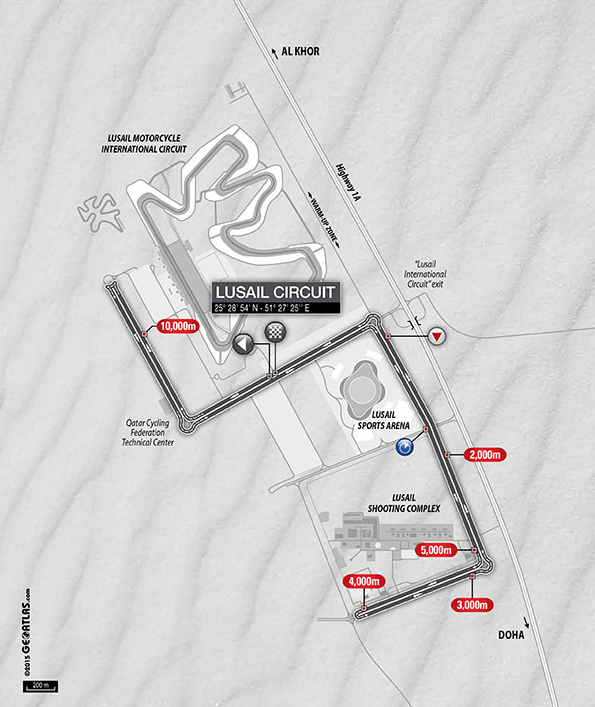 For the 3rd consecutive year, the riders tackle the 11km ITT around the Lusail Circuit. If you've seen it before, you'll know exactly what we are getting. This year is slightly different to previous years, but it's hardly noticeable!
Essentially, it's an out and back course. It lacks corners and really is one for the strongest riders. You don't have to worry about slowing down, just turning the biggest gear, for as long as possible.
The wind is always a problem in Qatar and this stage is no different. It really is a fight for the riders, trying to maintain a high speed. The wind is coming from the north-west, making quite a few sections of the route difficult. The riders starting early will get the most difficult conditions, with the wind to ease as they day goes on. The early starters benefit from a tailwind for some of the course, but the headwind sections will more than make up for that.
Without TT bikes, having a natural aero position is important. Getting your front section as small as possible will be a massive help as you battle against the wind. The use of road bikes does swing the balance of power away from the TT specialists.
In 2014 the stage was won by Michael Hepburn, beating Lars Boom by 1 second. Cancellara was 6 seconds down, Terpstra was at 8 seconds and Van Emden, 18 seconds.
In 2015, Niki Terpstra took the glory. He was 8 seconds faster than Cancellara, 9 clear of Wiggins, 21 ahead of EBH and 24 of GVA. Boasson Hagen and Van Avermaet finished in 8th and 9th positions, a good indication of what they might be able to achieve again.
Contenders
Jos Van Emden – 2015 was a big year for the Dutchman. He took massive strides forward in his TT ability, winning the TT in the Eneco Tour. He was 2nd to Sagan in California and 5th in the Tour de France TT. It certainly was a great year. He knows this course, finishing 12th here in 2014. Will start the stage as the favourite.
Lars Boom – 2nd here in 2014, losing by just 1 second. Is a short TT specialist but has not looked his normal self, in this race. In fact, 2015 wasn't a great year, in terms of his TT results. I wouldn't count on him turning that around here.
Edvald Boasson Hagen – Found himself in 2015, amazing what a change of team can do. One of the big favourites for the GC, so he needs a performance here. He has started 2016 in good form, with 4 stages all 11th or better. He needs to put time into the sprinters, but will also be concerned about Van Avermaet.
Greg Van Avermaet – All areas of his improved in 2015. In terms of TTs, he was 9th in Qatar, 11th in Tirreno and 6th in Eneco. Short TTs are his thing, as he is bloody fast! Being a great rider in windy conditions, also plays in his favour. Like EBH he will be looking to take time on Kristoff and Cavendish. With two potential sprint stages, he'll be hoping for a sizeable time gap.
There are a few other who could potentially challenge: Quinziato, Sergent, Westra and Oss. I don't see Kristoff up there as he really struggled here in 2015, finishing down in 26th position.
Prediction Time
The only thing that will stop Van Emden is the wind. He sits 43rd overall, so starts a long time before the lead riders. If conditions get easier, there is no way he challenges for the stage. I don't see Boom challenging, his form just doesn't seem to be there. That would leave it between GVA and EBH. Their 2015 TT performances are very close:-
Qatar – EBH won by 3 seconds.
Tirreno – EBH won by 1 second.
Tour de France – GVA won by 9 seconds.
Very hard to call this one, but I think that GVA looks a little better. If we have equal conditions for all, Van Emden will win. If it favours the later starters, it's Van Avermaet for me.
David Hunter
Follow us on @CiclismoInter
Join us on facebook: Ciclismo Internacional
Copyright © 2016 Ciclismo Internacional. All Rights Reserved