Volta a Catalunya 2021 – Stage 1 Preview
By David Hunter
Calella > Calella 179.5km
The normal opening stage which starts and finishes in Calella.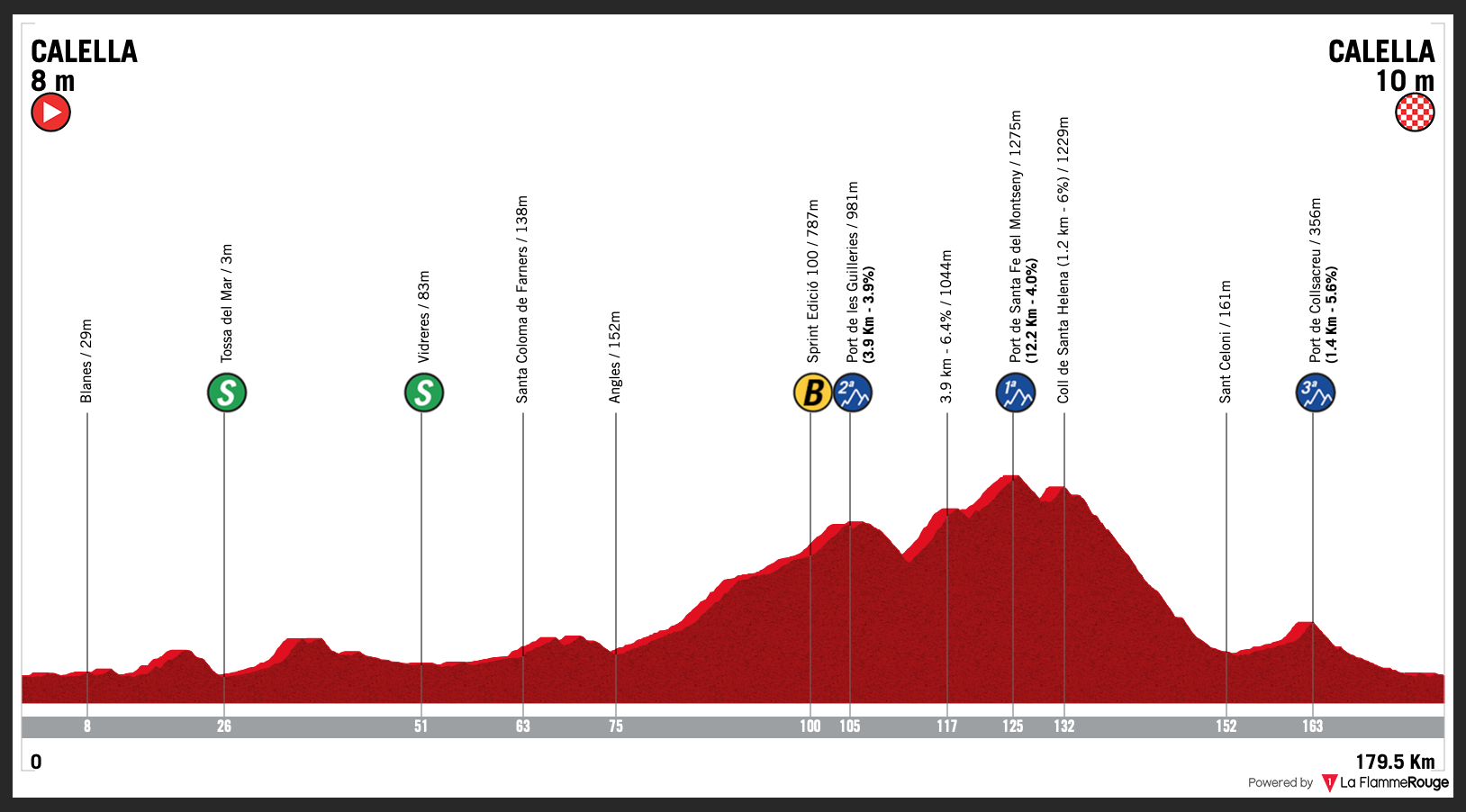 The organisers love to tinker with the route this stage follows, it seems to change every time the race comes to town. This year offers hope to the morning breakaway, but also fast men who are climbing well.
Weather
A lovely day with sun and not much wind.
Key Points
Port de les Guilleries is a cat 2 climb and officially classified as 3.7km at 4.5%, but it's much longer than that. The road actually rises for almost 30km at 3%, with 5.6km at 5% starting around 10km into the climb. A short descent follows before going straight into the next climb.
Port de Sante Fe del Montseny is officially classified as 12.2km at 4%, and is a cat 1 climb. The opening 6km averages almost 6%, this is the hardest part of the climb. Then there is a short descent before the final 4km which averages 5%. The crest of the climb comes with 54km to go.
This descent is tough in wet conditions, but the roads should be nice and dry, but I'd still be keeping an eye on Movistar.
Finale
The finishing line isn't in the same position as previous years, they've chopped 1.5km off. The approach is nice and easy, it is fast and on a wide road. The profile says it's flat, but there are a couple of little rises in the last 5km.
This is what the bunch will be racing for. They come flying down a two-lane road and get squeezed into this roundabout with just 500m to go. Usually only the right-hand side is open, but the roadbook doesn't mention it. If both sides are open, you must go right. Those at the very head of the bunch will be able to go through the roundabout at a high speed, but those further back will likely have to brake. Sometimes I even bore myself talking about positioning, but I must. To win this stage you must be in the top 10 riders at this point, those further back will have to start their sprint far too early.
Tactics
The last five winners of this stage are Gendt (break), Hodeg, Cimolai, Bouhanni and Paterski (break). Different editions have contained varying amounts of climbing, this year it is a challenging stage. We don't have many pure sprinters at the race, thanks to the mountainous route. The ones who are here will hope that the bunch ride a steady tempo over the climbs allowing them to make the finish.
Jordi Meeus is the fastest rider in this race, but Sagan is the big dog in his team. The amount of climbing in this stage is probably beyond Meeus at this stage of his career, I don't think the team will have to think twice about which rider they'll back. The presence of Sagan means that all eyes will be on Bora, but will they chase all day? This is a difficult break to manage, the gap cannot be allowed to go out early in the stage. The long descent off the cat 1 climb makes it difficult for the bunch to gain time on the front group, the break will need to be kept at around 2-3 minutes for most of the stage.
DS Cycling Mole
I've been drafted in by Bora – hansgrohe for this stage.
Boys, round you come. Look at the profile, this is perfect for Peto. We will go nice and early for the sign on, making sure the whole team is on the front for kilometre zero. The break cannot contain Remi or Thomas. Once a shit break goes away, we close it off and get to work. We want a nice steady tempo on the climb and a sprint finish. In the closing stages I want Ide to be lead out, just get Peter to the front for that roundabout with 500 to go, he'll do the rest. Go Peto!!
Contenders
Jordi Meeus – the fastest sprinter in the race, but can he win a stage with 2835m of climbing in just his second month as a professional? I don't think so.
Clément Venturini – one of those riders who always seems to be up challenging, but without taking wins. He is 27 and has three sprint wins in his career, none of which have been at this level. I'm fairly confident he'll be able to survive the climbs, which should make him one of the favourites for the stage, but positioning will be his problem. Will AG2R be able to take control of the bunch in the closing kilometres and put him at the head of the race for the roundabout? That will depend on Bob Jungels, he does have the speed to do this, just like he did for Hodeg back in 2018.
Juan Molano – a fast man who normally copes well with climbs. He doesn't have much racing in his legs yet this season, so it's hard to tell what his current form is like. If this stage was in the Tour of Colombia, he would be one of the big favourites, as he usually saves his best performances for his home race. If he does survive, I wonder how much help he'll get in the closing stages. He certainly has the speed to challenge for the win, but he needs a good position.
Peter Sagan – guess who's back? It was great to see him in the mix for the win in Sanremo, I get quite sad when I see him languishing at the back of the peloton. With that performance in his legs, he'll start this stage as the favourite. You might think he'll be tired, but when Bouhanni won this stage in 2016 he raced Sanremo too. Bora have a good team at the race, they are strong enough to take control early in the day and set up a sprint finish.
Dion Smith – the Kiwi will love the look of this stage. 2020 was a very good year for him, his best as a pro. He will be hoping to kick on this year and regularly compete for wins. The team are here with lots of climbers, he might need to surf a few wheels in the closing kilometres, which could stop him from winning.
Matej Mohorič – after a poor start to his season, he did look good in Sanremo. I think we'll now see him kick on and produce the performances we are used to. Mohorič is a rider with a very fast sprint, but can he beat Sagan? Will he take his chances in the morning break or back his sprint?
Daryl Impey – 7th, 13th, 7th and 3rd are his results in the stage since 2016. He knows this stage very well, which should help him, but like a lot of his rivals he won't have much help in the closing stages. He won the sprint for 2nd in the recent Drome Classic, so his form is clearly good. There are faster finishers than him, winning is going to be hard.
Luis León Sánchez – a prime candidate for a late attack.
Remi Cavagna – breakaway hopeful number 1.
Thomas De Gendt – breakaway hopeful number 2.
Prediction Time
The start of the stage is nice and easy, which should mean that Bora can ensure a weak break gets up the road. If that happens we'll get a sprint finish, something that quite a few teams will be happy about. Teams looking to control the stage need to make sure riders like Cavagna and De Gendt don't make the move. If we do get a sprint, I don't see many sprint trains, the end of the stage could be very messy. Given the way he finished in Sanremo, I've got to go for Peter Sagan.
David Hunter
Follow us on Twitter and Instagram
Join us on facebook: Ciclismo Internacional
Copyright © 2012-2021 Ciclismo Internacional. All Rights Reserved