Vuelta a Andalucía 2018 – Stage 5 Preview
By David Hunter
Barbate – Barbate 14km ITT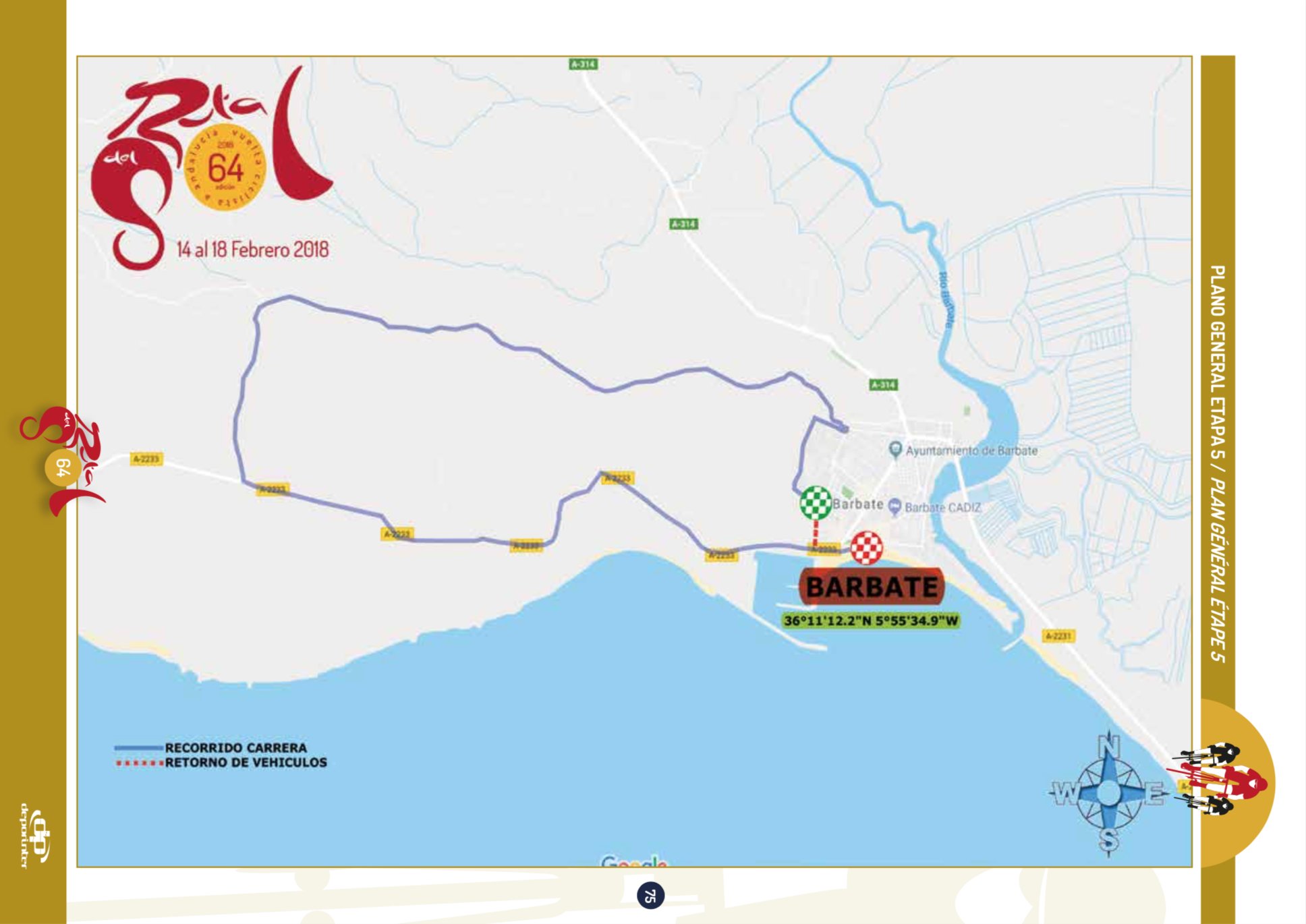 The race ends with a chrono around the streets of Barbate.

The 14km can be split into two halves. Firstly, we have a gradual uphill section, but this is on dirt roads. This is a first for me and I can't wait to see the difficulty the riders will face on their TT bikes. After the intermediate checkpoint, the riders are faced with a mostly downhill run for the line.
As you can see from the map, there are very few corners for the riders to deal with. This is great for those that possess big power. The main problem will be the dirt roads.
Weather
Another sunny day, with just a little wind. Although not strong, the wind is coming from the west, meaning a headwind for opening half and a tailwind as the riders head back to home.
Contenders
Luis Leon Sanchez – will have been very disappointed with his performance today. He now sits 20 seconds behind Wellens, a gap that will be hard to make up. He is a strong rider against the clock, but usually over a longer distance. He was 2nd behind Poels in the 2016 Valenciana TT, giving up 15 seconds to him on that occasion. I wonder if he'll be able to recover from today's disappointment?
Andrey Amador – he's never won an ITT, but he is usually a consistent top 10 finisher. Amador is a strong rider and I think given the level of TT riders in this field, has to start as one of the favourites. He should be capable of a strong ride and a place in the top 5, even after his breakaway exploits today.
Wout Poels – another rider that suffered today. He starts the stage 11 seconds behind Wellens, a gap he'll be confident of making up. Poels is very strong against the clock, as I mentioned, he won the Valenciana TT back in 2016. Interestingly, he only beat Wellens by 4 seconds in the Andalucía TT in 2017. Going in his favour is a massive advantage in terms of equipment. Given the dirt roads, that could be crucial.
Tim Wellens – after a stunning win today, the Belgian starts the race with a lead of 7 seconds over Landa. Over a short distance, he can hold his own against the clock, with numerous top 10 rides over the last few years. Given his current form, he'll start the race full of confidence and expecting to win the overall. It certainly won't be easy, but he has every chance of winning the stage and GC.
Chris Froome – I doubt it, but you just never know! He will certainly go full gas, but it would be a surprise to see him winning the stage. His times will be used a reference for Poels.
Jakob Fuglsang – as a former mountain biker, he'll be happy to race on dirt roads. Going against him is the fact that he's not the best on a TT bike. I can't see him winning the stage.
Mikel Landa – has improved in this discipline, but not by enough to compete over 14km. He'll hope to hold onto a podium spot. but this looks in serious jeopardy.
Senne Leysen – not really a contender for this race, but I wanted to mention the young Belgian. He is a neo-pro with Vérandas Willems-Crelan and finished 6th in the ITT at the under 23 world championships. He is a rider that has a lot of potential and will certainly have many good results in his career. This is the first chance for him to match up against the best in an ITT and I would love to see him take a good result. For a 21 year old, in their first big race, anything in the top 20 would be significant.
Prediction Time
This is going to be close, but I think Wout Poels will break the heart of Tim Wellens. I think the Dutchman will win the stage and just take the overall too, but this is going to be very tight.
David Hunter
Follow us on @CiclismoInter
Join us on facebook: Ciclismo Internacional
Copyright © 2012-2018 Ciclismo Internacional. All Rights Reserved