Vuelta a España 2017 – Stage 17 Preview
By David Hunter
Villadiego – Los Machucos 180.5km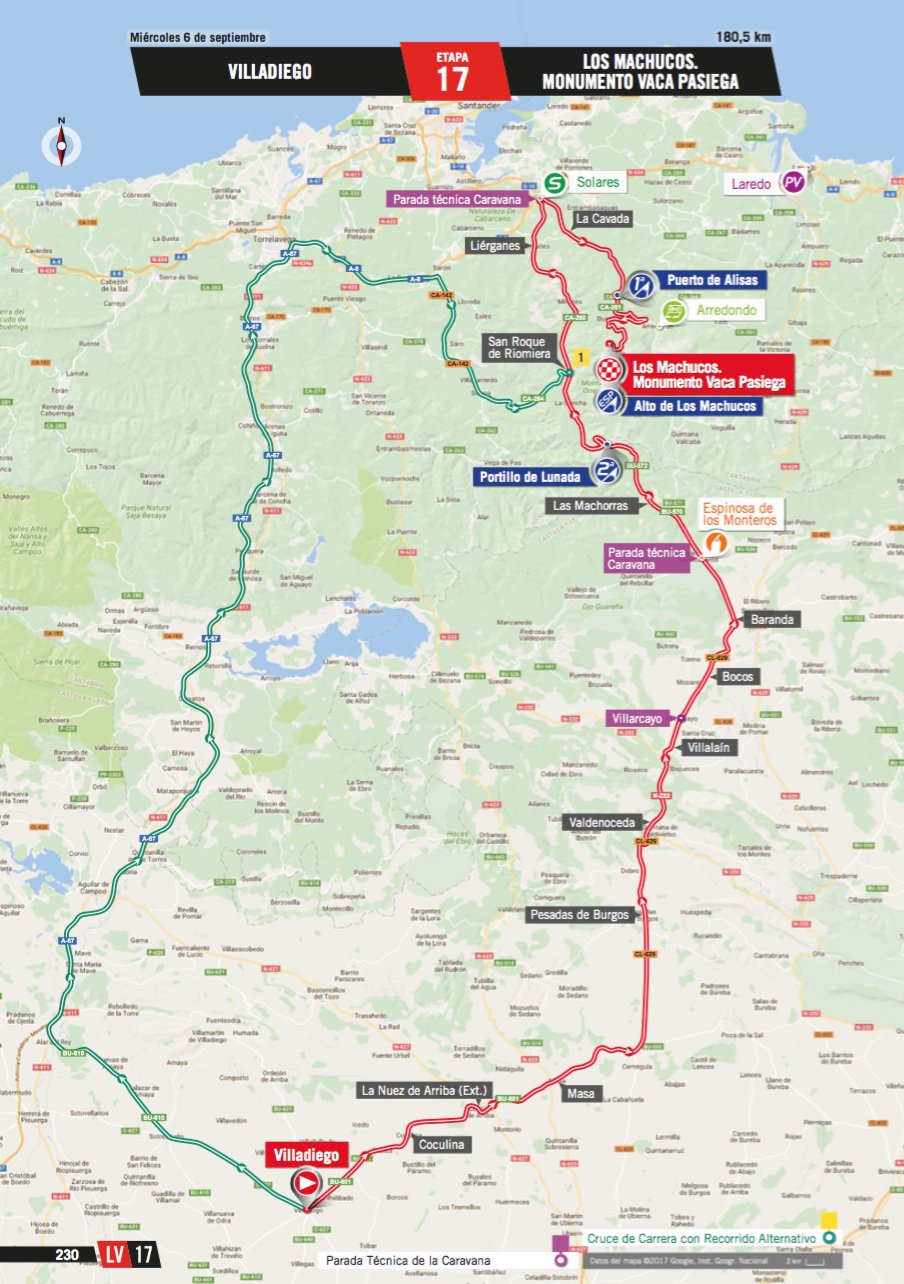 Another big day in the GC battle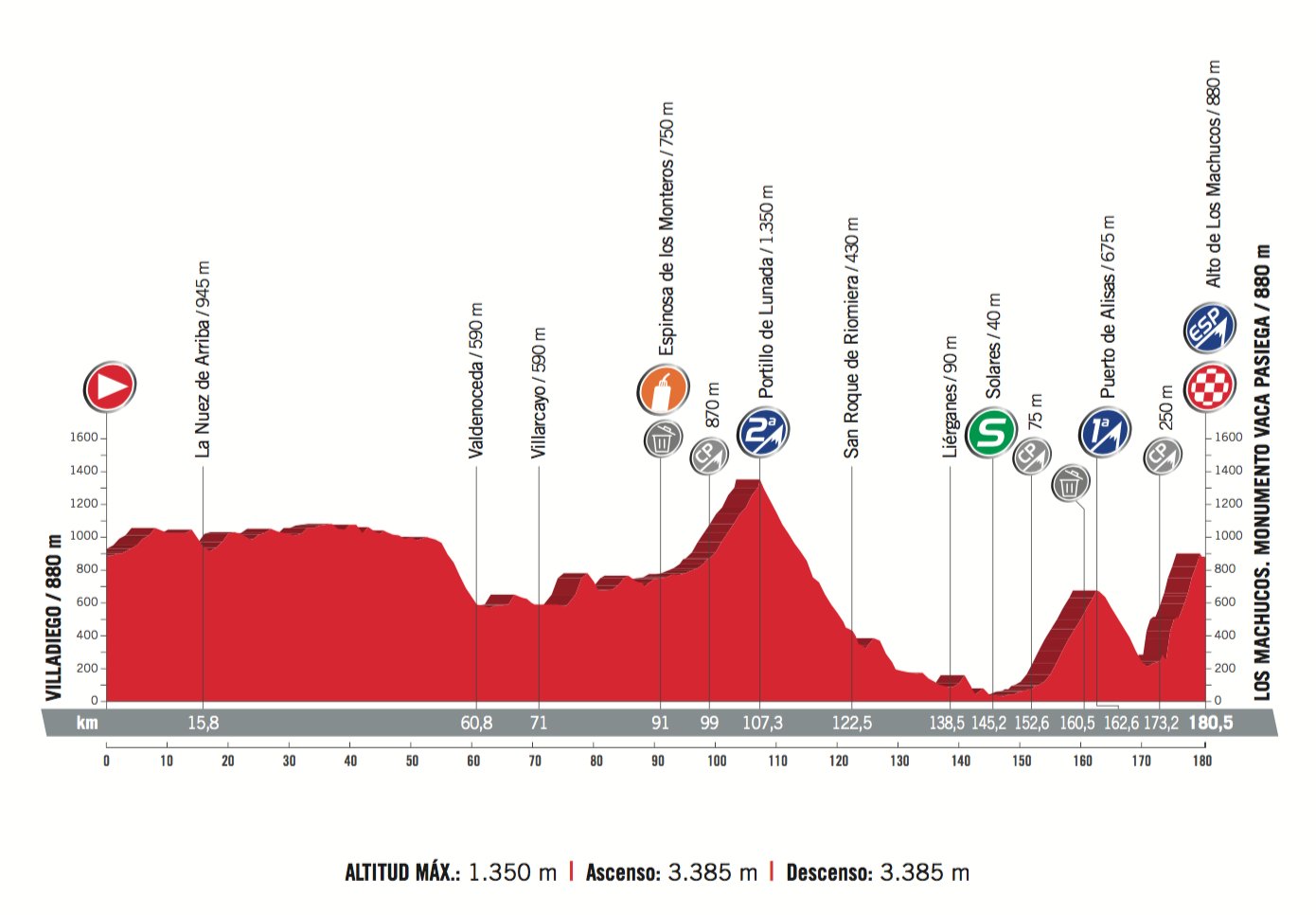 The stage begins with flat roads, we don't see any real climbing until 75km. Normally I would now write about climbers finding it hard to make the break, but we are now in the final week of the Vuelta, that means the rule book goes in the bin! With tired legs, it is possible for climbers to be in the morning move.
The opening climb is 8.3km at 5.8%, this will simply warm the legs, before the huge finish.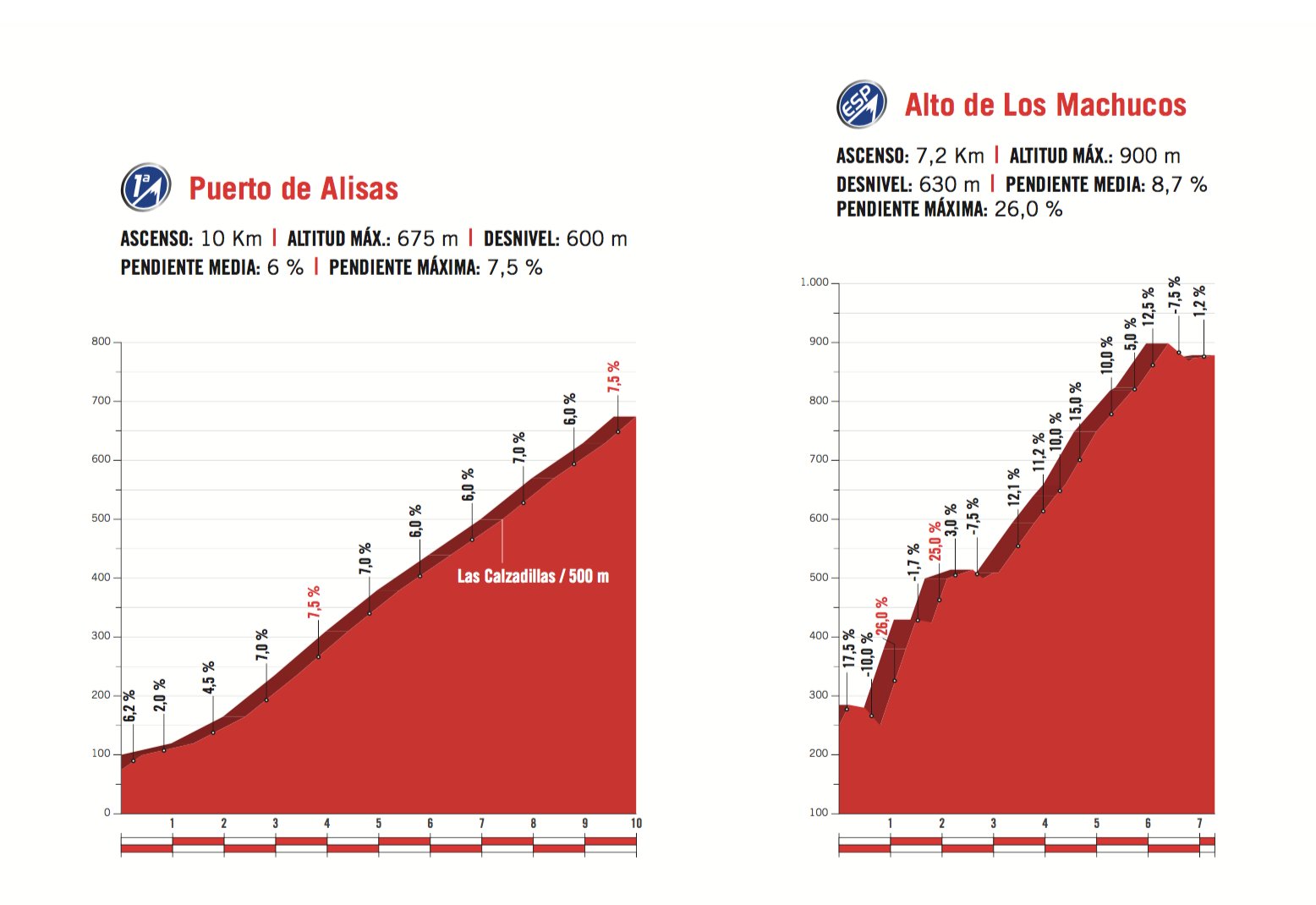 Puerto de Alisas isn't the hardest climb in the world. It begins with gentle slopes, but the final 7km is always between 6 and 7.5%. Once the peloton reach the top, the riders descend for 10km, before we reach the final climb of the stage.
Alto de Los Machucos is a stunning climb. Officially it is 7.2km at 8.7%, but it does go up in steps. The first step has a ramp of 26%, the second step has a 25% ramp. The first two kilometres of this climb are horrible. After a short, flat section, the riders then face 3km that is nearly all above 10%.
The final kilometre dips downhill, before a flat finish. This kilometre is included in the overall climb, that brings the average gradient down to 8.7%, making the climb sound easier than it really is. Narrow roads, horrible road surface and double digit gradients. I'm in heaven!
Weather
Cloudy, with a little bit of rain. We are along way from the sunny South!
Breakaway Hopes
A solid chance for the break. I think that Astana are the only team with the will to chase and they need to save riders for the double climb at the end of the stage. Trek and Bahrain could lend a hand, but I don't think Astana will get much help anymore. Do they need any help?
Contenders
Rafal Majka – one stage win and he's not finished yet. Majka is at his dangerous when chasing stages, he is a brilliant stage hunter. One of the best climbers in the world, his legs are clearly in great shape. Bora will throw all their resources behind him, as he looks to take his second win. That would also put him into a strong position in the KOM battle.
Romain Bardet – you might think he is the same as Majka, but he isn't. After finish 3rd in the Tour, where he pushed himself to the limit, you can see that Bardet is missing a little of his top end ability. He is still good enough to contend for stages, but that extra 5% is no longer there. To make matters worse, Bardet crashed today. We will have to see how is body reacts.
Movistar – still looking for that elusive stage win. They have Moreno, Oliveira, Carapaz, Soler, Pedrero and Rojas as their options. Looking at the stage, it really should be a day for Carapaz, Soler or Pedrero. They will be very active at the start of the stage as they look to join the morning move. This has to be their best chance of taking the stage, it will be very difficult to win from the GC group.
Miguel Angel Lopez – he has been incredible in the last week. In the last three mountain stages, he has won twice and also has a second place. The Colombian is enjoying a brilliant run of form and Astana might just want to chase and set up another victory. Looking at the final climb, he has the explosive kick required on the ridiculously steep slopes.
Chris Froome – after a stunning TT, Froome is on defensive mode. He leads Nibali by 1:58 and Kelderman by 2:40. There is no need for Froome to waste energy, he just needs to follow the moves of these two riders. The steepness of the final climb isn't great news for Sky, drafting doesn't matter a huge deal, it's just about your legs on the climb. Sky will not be able to get their mountain train riding tempo, Froome will have to do a lot of work for himself.
Vincenzo Nibali – the Shark will try and hurt Froome. With the Sky train being made redundant, the Italian will sense this is a battle of strength between the top riders. He needs a big performance, as taking a handful of seconds won't be good enough. If Nibali can take 30 seconds on Froome, the race suddenly opens up and Sky start to get nervous. I hope he does, it will make the last stages incredibly entertaining.
Wilco Kelderman – what a TT! Now sitting in 3rd place, he'll be very keen to hold onto his podium spot. I never thought he would have been capable of this, but he has shown that his level is extremely high. I doubt he can win the stage, especially as Froome will mark his moves.
Prediction Time
With Astana and Trek still looking for stages and time, I think we'll see them controlling the morning break. That will set us up for a battle royale on the last two climbs. Contador will attack, so will Lopez. I don't think we'll see Froome covering these moves, he'll simply apply pressure to Zakarin and Kelderman. It will be tense and very tactical and I think we'll see Miguel Ángel López take another stage win. Behind him, I really hope Nibali puts Froome into trouble, there is a chance!
David Hunter
Follow us on @CiclismoInter
Join us on facebook: Ciclismo Internacional
Copyright © 2012-2017 Ciclismo Internacional. All Rights Reserved