Vuelta España 2020 – Stage 17 Preview
By David Hunter
Sequeros > Alto de la Covatilla 178.2km
The last mountain stage.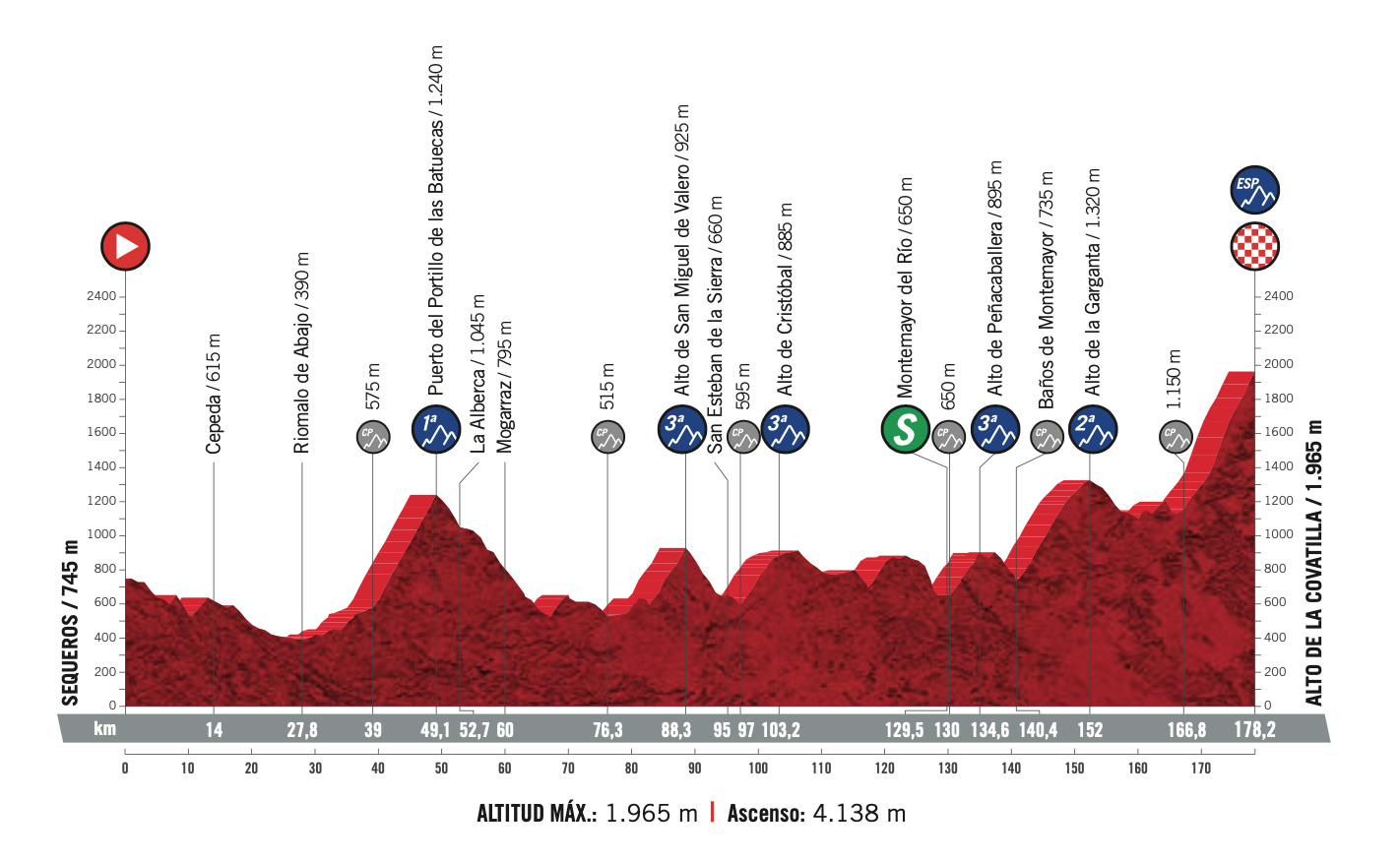 This is a tough day in the saddle, with over 4100m of climbing. The riders have to deal with a cat 1 climb, three cat 3s, a cat 2 and then an especial. This is a big day in the mountains.
The Climbs
The Portillo climb kicks it off after around 40km. It is almost 10km at 6.6%, which isn't the hardest climb in the world, but it's hard enough to hurt, especially all those hairpin bends. We'll have to see if a team wants to take up the pace so early in the stage, it would be a shame to see them simply ride tempo.
This is my favourite part of the day. Not long before the bunch get to Covatilla, they come through the little village of Candelario where they are met with 600m at 11.6%, on cobbles. A little bit of Flanders in a mountain stage!
Covatilla is 9km at 7.3%, but the organisers have said it's 11.4km at 7.1%. If you remove the easy start and finish, the central section is very challenging with lots of steep sections for riders to attack on. The mountain is also very exposed to the elements, more of that later.
History
The race has visited twice in the 2010s, with Dan Martin winning from the GC group back in 2011 and Ben King taking a surprise win from the break in 2018. We don't usually see big gaps between the top riders, but now that this is late in the race, I expect something different this year.
Weather
Sunny, but cold up the top of the mountain. The wind isn't as strong as today, but we're still talking about 30km/h. The bad news is we'll have a headwind on Covatilla, which is a disaster for everyone who wanted to see lots of attacks.
Breakaway Hopes
Who wants to chase the break? Ineos, EF or ISUN are the teams with the most to gain. The issue with chasing all day is that you burn your domestiques, which leaves you isolated on the final climb. Jumbo-Visma will still have six helpers left when we hit the final climb, that could well put some teams off from chasing the break. However, this is the final mountain stage, surely we'll see someone wanting to chase and set up a potential stage win.
Tactics
Roglič has a 45 second lead to Carapaz, and 53 to Hugh Carthy. If they are to make that time up they need the Slovenian to seriously crack on the final climb. To do this, the stage needs to be made as hard as possible, but neither Ineos nor EF really have the climbing domestiques to do so. Once we reach Covatilla, teams will try and raise the pace in the hope of putting Roglič under pressure. The big issue for everyone is the presence of Gesink, Hofstede, Vingegaard, Bennett and Kuss. Jumbo-Visma do not need to set pace on the climb, they can sit in the wheels and wait for the attacks from Carapaz and Carthy. Having so many riders at his disposal, I just can't see how Roglič loses the red jersey. The others will try, but deep down they know that Roglič will have to blow spectacularly for them to claim the red jersey.
This means the battle for the stage will be interesting. Outside of the Carapaz and Carthy, there really isn't any need for Jumbo-Visma to chase moves. This opens the door for those between fourth and tenth on GC to claim a stage win, and make their race.
Contenders
Primož Roglič – the stage isn't a priority, but he'll take it if the opportunity arises. With his full train to help guide him up the climb, he won't have to do any work until the final kilometre. Jumbo-Visma have a decision to make about which moves they cover; do they really want another stage? If so, they come to the front in the final 3km to put off attacks and set up a sprint.
Richard Carapaz – he's enjoyed a very good race, but is still without a stage win. If he goes all in to try and take red, he's in danger of blowing his stage chances, but that's a risk he has to take. He'll like the steep sections of this climb; he needs to attack and forget about the Jumbo-Visma domestiques. Winning the stage, and red jersey, will be very difficult considering he'll be marked by Kuss and Roglič.
Hugh Carthy – he has a nice lead over Dan Martin, which means he can ride with a certain degree of freedom, without having to worry about defending his podium position. I've been hugely impressed by how Hugh's gone in this race; he has stepped up to the very highest level. Given how he rides, I expect him to attack and see what happens. I'll be cheering him on from my couch, in the hope he can win the stage and take the red jersey. This has nothing to do with him promising me his first interview after the race!
Dan Martin – won here back in 2011, he'll be looking for a repeat. He sits 1:48 behind Roglič and 55 seconds off the podium. Unless something strange happens, he doesn't have a chance of moving up in the standings, but the stage is certainly there for the taking. After a few hard years, it's been great seeing him back to his very best.
Enric Mas – another who'll hope for a little freedom in the closing stages. He was brilliant on the Angliru and Movistar have the team to help him deep into the stage. With the white jersey all but secured, he's another who can ride with freedom. After performing very well in the Tour and Vuelta, a stage win would be well deserved.
Aleksandr Vlasov – he's tried with late attacks before, but has always been caught. The Russian has enjoyed a wonderful season, this is a great chance to take his first grand tour win. For him, it's all about timing his attack to perfection, as it won't be handed to him on a plate.
Guillaume Martin – breakaway hopeful number 1.
Mattia Cattaneo – breakaway hopeful number 2.
Marc Soler – breakaway hopeful number 3.
Esteban Chaves – breakaway hopeful number 4.
Prediction Time
They've got to chase the break down, haven't they? Michael Woods will make the final kilometres very hard, dropping many riders, then Hugh Carthy will strike. Behind him, Primož Roglič will successfully hold onto the red jersey.
David Hunter
Follow us on Twitter and Instagram
Join us on facebook: Ciclismo Internacional
Copyright © 2012-2020 Ciclismo Internacional. All Rights Reserved