2022 Tour de Suisse – Stage 4 Preview
By @EchelonsHub
A day where the breakaway was very dangerous, however the peloton could organize itself well enough to bring in the riders who were in front. A bunch sprint surprisingly came to be, with Peter Sagan taking a very important win ahead of the Tour de France. The former World champion took the first win of his season, beating Bryan Coquard and Alexander Kristoff at the line.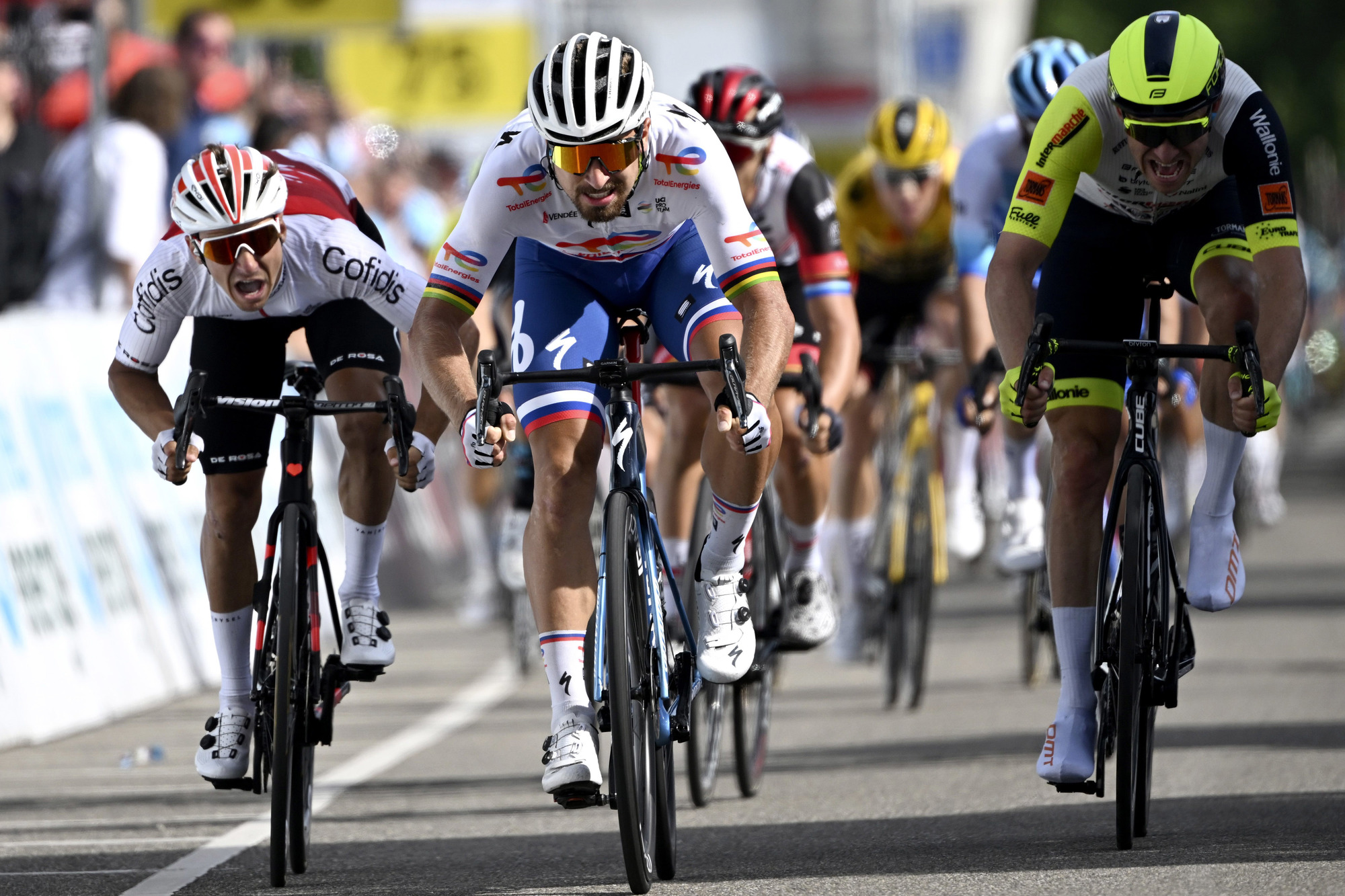 Positive: Sagan with a very important and surprising win.
Negative: Max Schachmann and Domenico Pozzovivo shed some time after being involved in a late crash. Ilan van Wilder and Kasper Asgreen dropped out of GC contention for the same reason.
The Route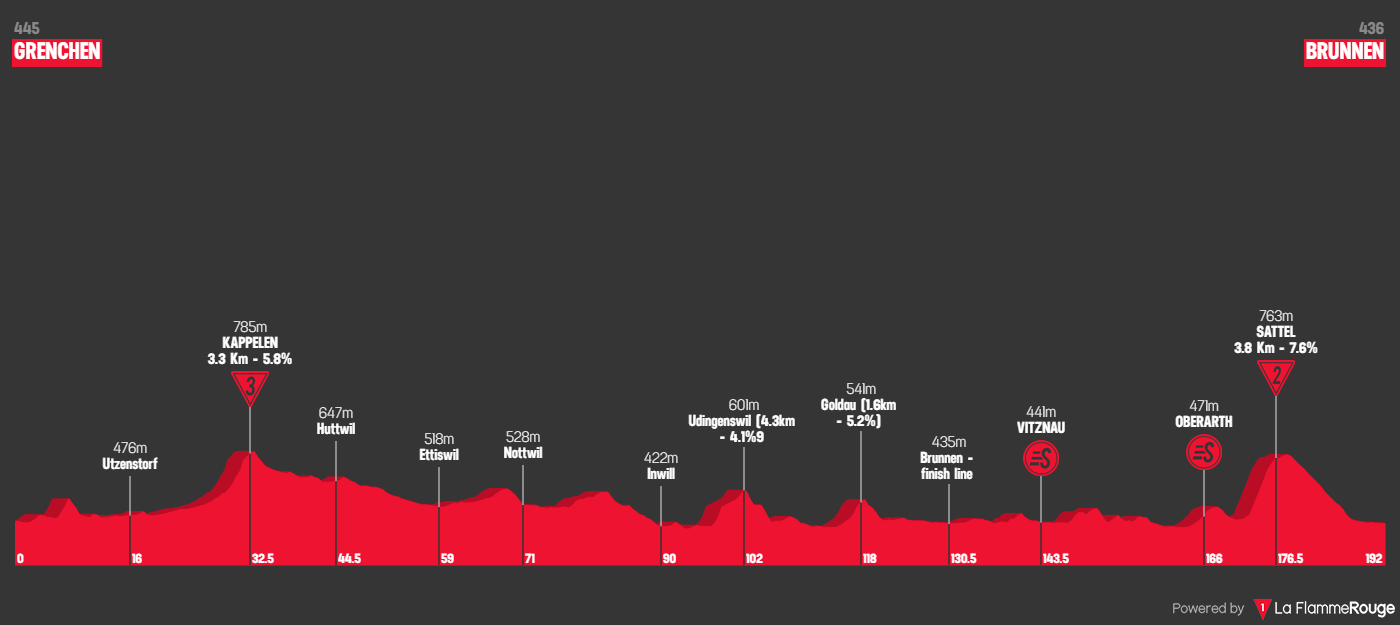 Stage four will be an easier day, however one that is likely to suit the same type of riders that have been in the battle in the last few days. There will be 191 kilometers on the menu, with only a hilltop at the start that can see a strong group go up the road. Most of the stage is flat, until the riders arrive at Sattel.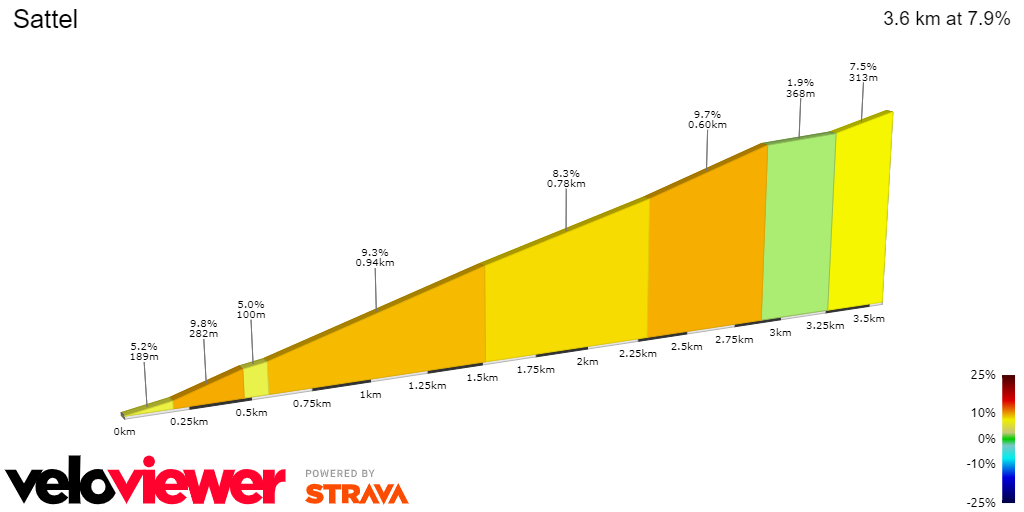 The ascent features 3.6 kilometers at 7.9% average gradient, with an easier finale and rougher gradients throughout most of it. There will be a furious leadout into the ascent, and it's likely to be an explosive ascent.
The climb summits with 15.5 kilometers to go, which sees a small plateau and then a very fast descent will lead the riders into the final 5 kilometers, where the streets won't be technical, into a lakeside finale.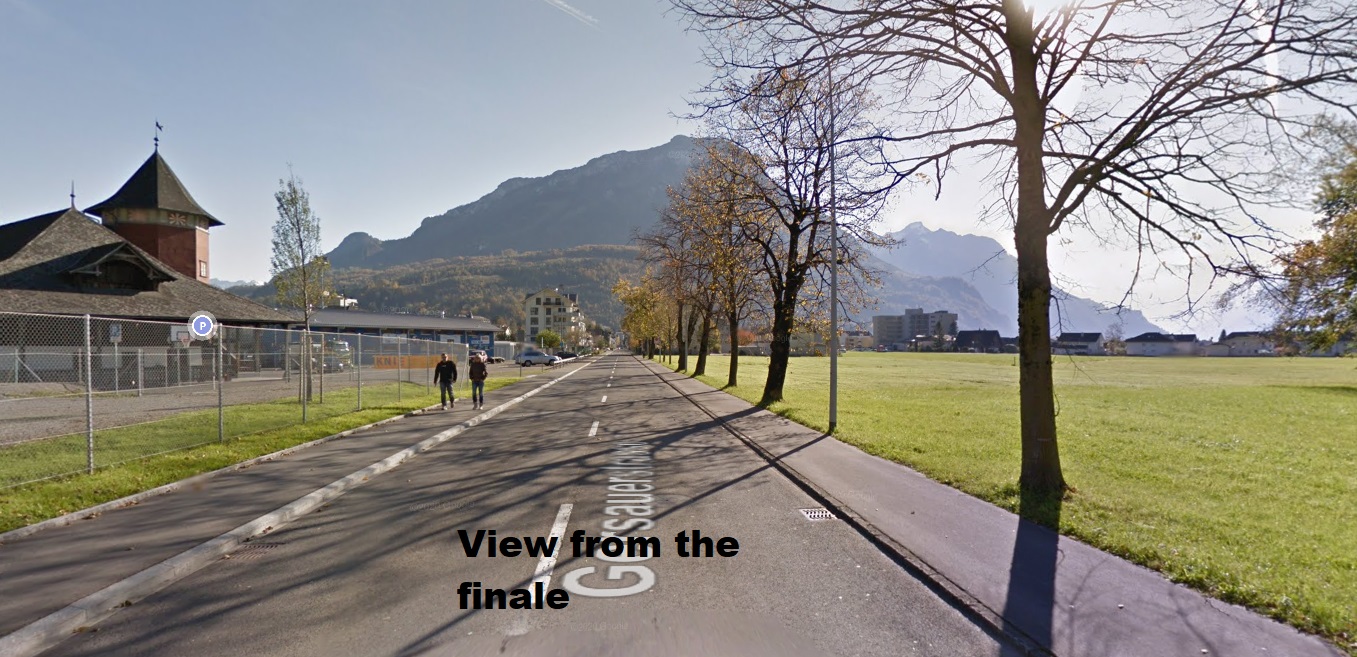 The Weather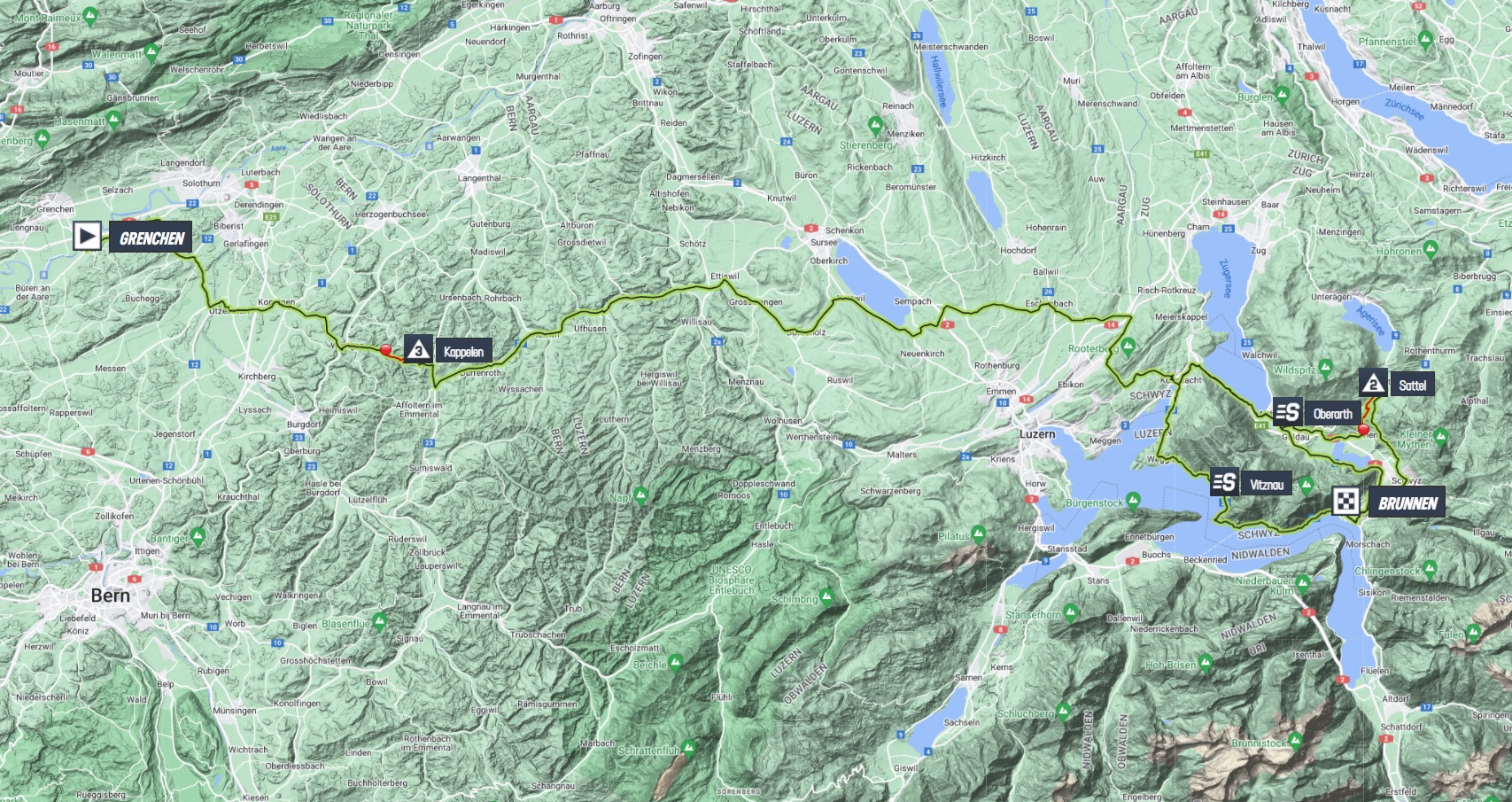 The heat, which has been harming some riders, will be felt once again. There will also be a breeze from the west throughout the day, favourable for the breakaway who can have a tailwind throughout a big portion of the day.
Breakaway chances: 60%
Will anyone chase down a strong break that goes up the road? Unlikely, but there can be an alliance, or Bahrain may devote their energy to try and have a shot at keeping the lead. Nevertheless it's another day that's favourable for a breakaway win as it is a stage without a man to beat or anyone who can promise a likely win.
The Favourites
Will a sprint be possible? I think not, however I also thought the same today and despite the big amount of climbing, with some organization and conservative racing you can see a reduced bunch heading to the line with riders coming back after the summit. Although they have not shown their best legs yet, on their best day the likes of Michael Matthews, Patrick Bevin, Alex Aranburu and Matteo Trentin are all cards to play in a day like this.
Sure enough though the climb will indeed be attacked. On the opening day the puncheurs saw things unravel perfectly for them and the same can happen here, with a short but explosive effort present, however the flat finale having a lot of influence over how the stage will be raced. Max Schachmann suffered a crash today and will be a wildcard, as will Kasper Asgreen, both are uncertain. UAE have two cards, one in Marc Hirschi who is on strong form, but Alessandro Covi can also play a role in the finale. Alberto Bettiol and Andreas Kron are also names who have been looking good so far and will be looking to improve on their second and third places respectively. Stefan Kung will be a dangerous rider for late attacks if it comes down to such situation.
Attacks will come on the climb though surely, and it is evident that the climbers will be the ones doing so as the climb stretches out further than the opening day – where the climbers were already the instigators. Jakob Fuglsang is on great form and this is the kind of climb that he'll surely attack if he has the legs to try and benefit for the overall classification. Remco Evenepoel and Aleksandr Vlasov are likely to cover each other, whilst Adam Yates and Geraint Thomas can also do something big if they can benefit from each others' presence. Sergio Higuita seems to have the legs and is also a dangerous rider for a sprint, whilst Alexey Lutsenko is rather similar but under the radar he can sneak away with a late attack.
Inside The Bus
This morning I talk to…
#96 Sebastién Reichenbach – The mountains will be where you show yourself, for today the goal is to stay in the GC group. I'm sure you can do it, let's keep the GC as it is and possibly go up a little so that we fight for GC.
#37 Filip Maciejuk – Let's stay attempt. It won't be a brutal day so you can be in the peloton until the final climb. The duty will be to protect him, and to work in the head of the peloton if needed in order to have a shot at staying in the yellow jersey.
#102 Andrea Pasqualon – So Andrea, we will protect you today. On paper it's a day too hard for you, but the form is great and we know you can climb a bit. In the slim chance you can be in a group that comes back towards the finale you're a card for us.
Prediction Time
⭐⭐⭐Hirschi, Evenepoel
⭐⭐Bettiol, Kron, Kung, Vlasov, Higuita
⭐Matthews, Aranburu, Bevin, Fuglsang, A.Yates, Asgreen, Covi, Lutsenko, Schachmann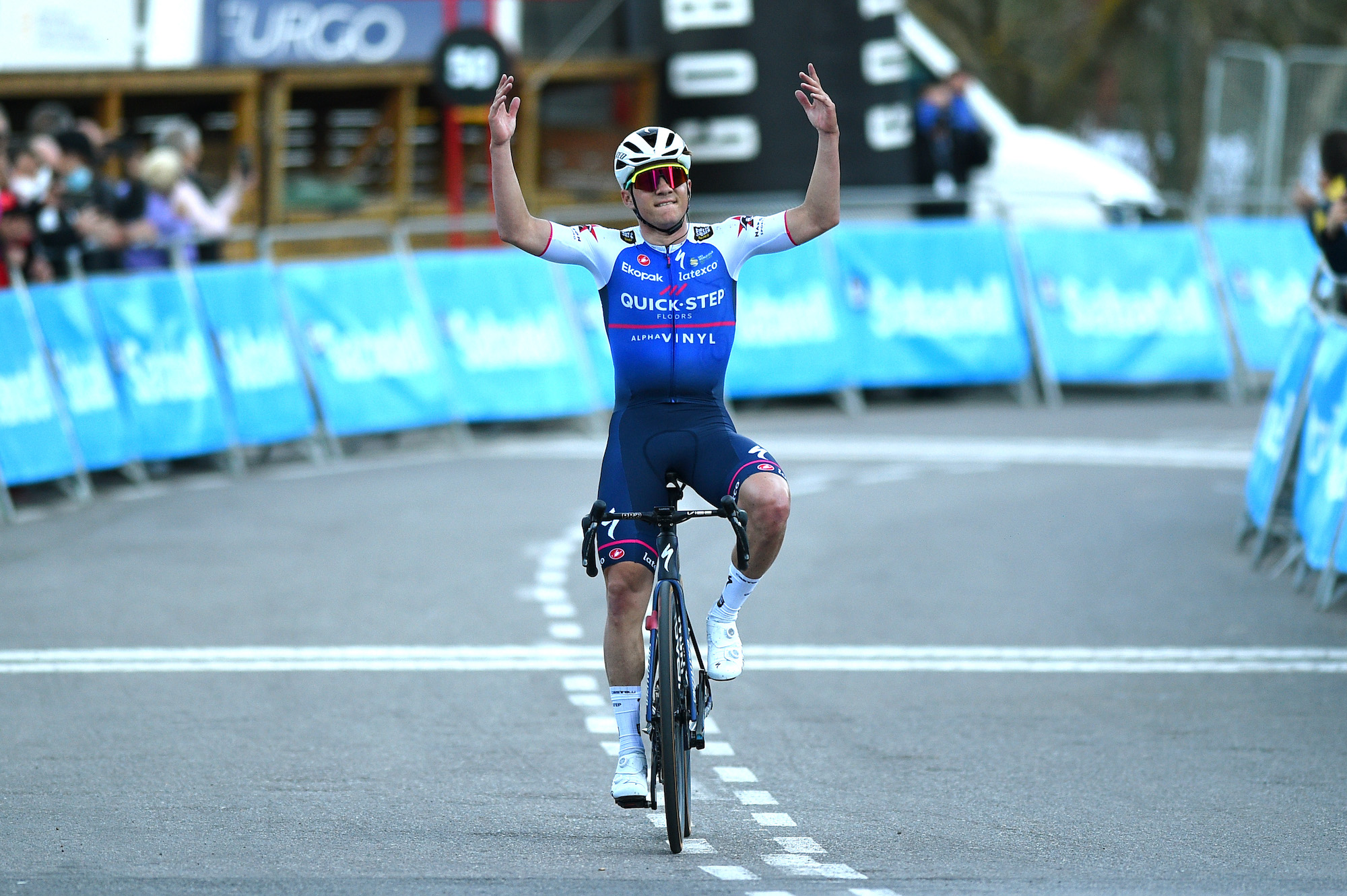 My call will be for a win for Remco Evenepoel, who should enjoy the profile and likely be an aggressive figure in the finale. A late attack is surely his best shot, but in a small group sprint he's also gained the ability to take a win.
Zweeler is a fantasy sports game that includes many sports and cycling is no exception. I ask that you check it out, if you register with the link below you will not only be joining an exciting game but will also be personally supporting me and my work, and allow me to make more content for you!
Tomorrow's race has prizes of at least €200 and an entry fee of only €5. Make good use of your knowledge!
https://zweeler.com/game/cycling/FantasyTourdeSuisse2022stage4/main.php?ref=790
Rúben Silva
Follow us on Twitter and Instagram
Join us on facebook: Ciclismo Internacional
Copyright © 2012-2022 Ciclismo Internacional. All Rights Reserved