2022 Vuelta a España – Stage 8 Preview
By @EchelonsHub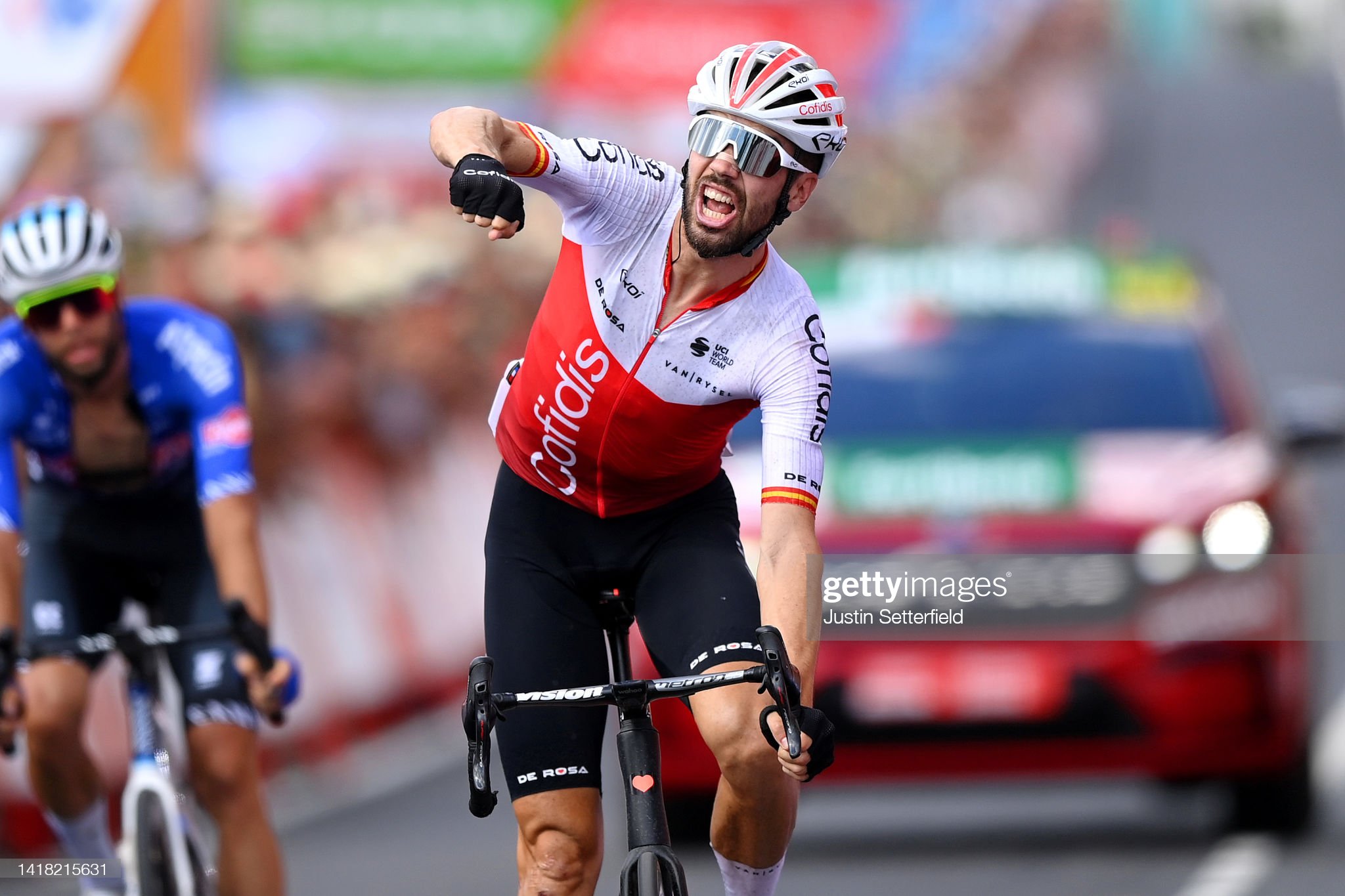 The seventh day of the Vuelta promised spectacle and it delivered, as the breakaway and the peloton went into a tightly-balanced fight for the win, with the breakaway coming out on top. Five riders had the chance to fight for the win, but it was Jesús Herrada who took gold as he timed his sprint to perfection, beating Samuele Battistella and Fred Wright in the final sprint.
Positive: Herrada taking a very important win for himself and Cofidis.
Negative: Nothing to note.
---
The Route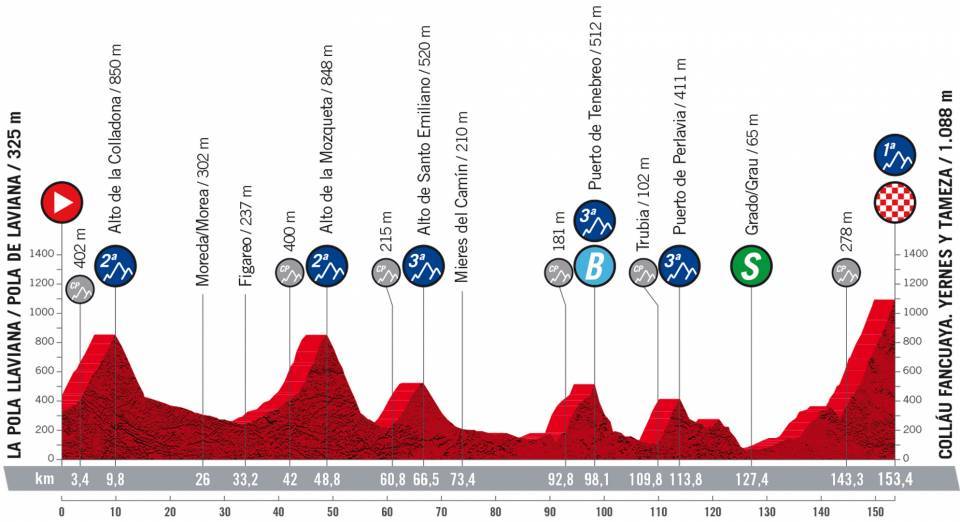 The peloton will head into the Asturias with a very complicated day. Until now it will be the most difficult of stages, with a total accumulate of 3700 meters of climbing in only 155 kilometers, with six categorized climbs to tackle.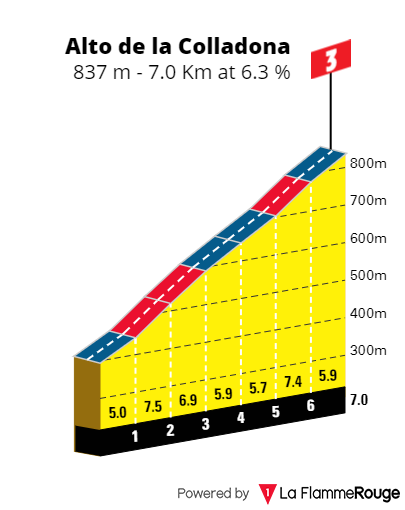 The day starts off with a difficult climb, the Alto de la Colladona which features 7 kilometers at 6.3% and will give the opportunity for a strong breakaway to form right in the opening kilometers.
Then with 106 (7.2Km, 6%), 88 (5.8Km, 5.3%). 56 (5.9Km, 5.5%) and 40 (3.8Km, 7.9%) there will be the summit of several ascents which will futher cause some damage in the peloton, however likely to not see any serious moves.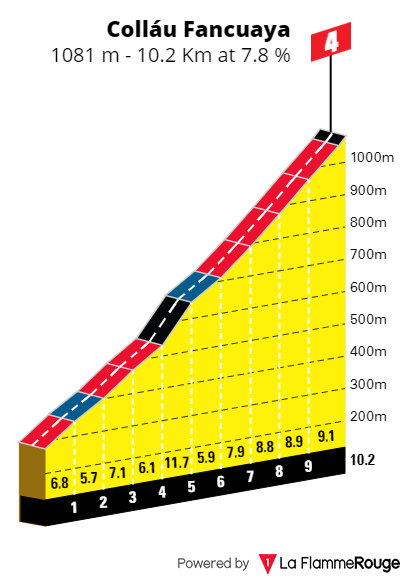 The final ascent to Colláu Fancuaya will be where the day's decisions are to be made. The run-up to it will once again not be simple, with a false-flat section and a very fast descent before the base. 10.2Km at 7.8%, a tough ascent, with a particularly steep section between 6 and 5 kilometers to go where the gradients go above the double digits. In the final kilometers it doesn't get any easier however, with a very complicated finale which will be important for the GC.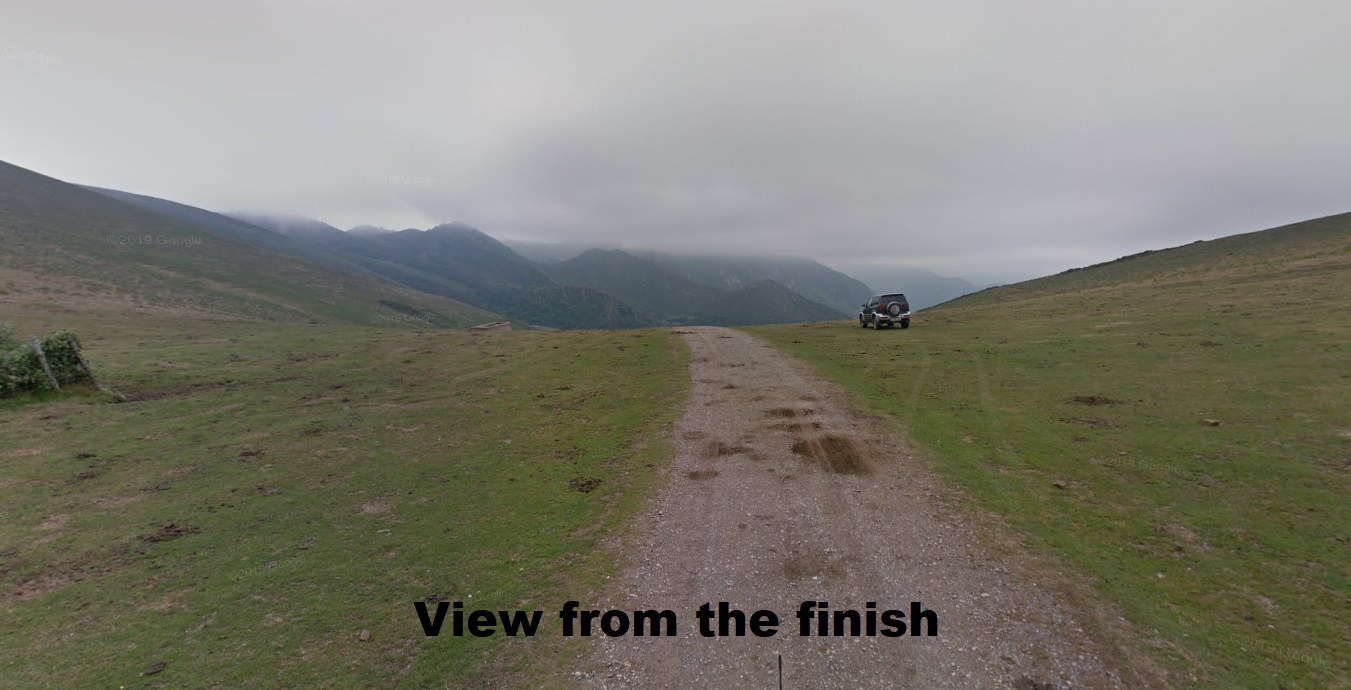 The Weather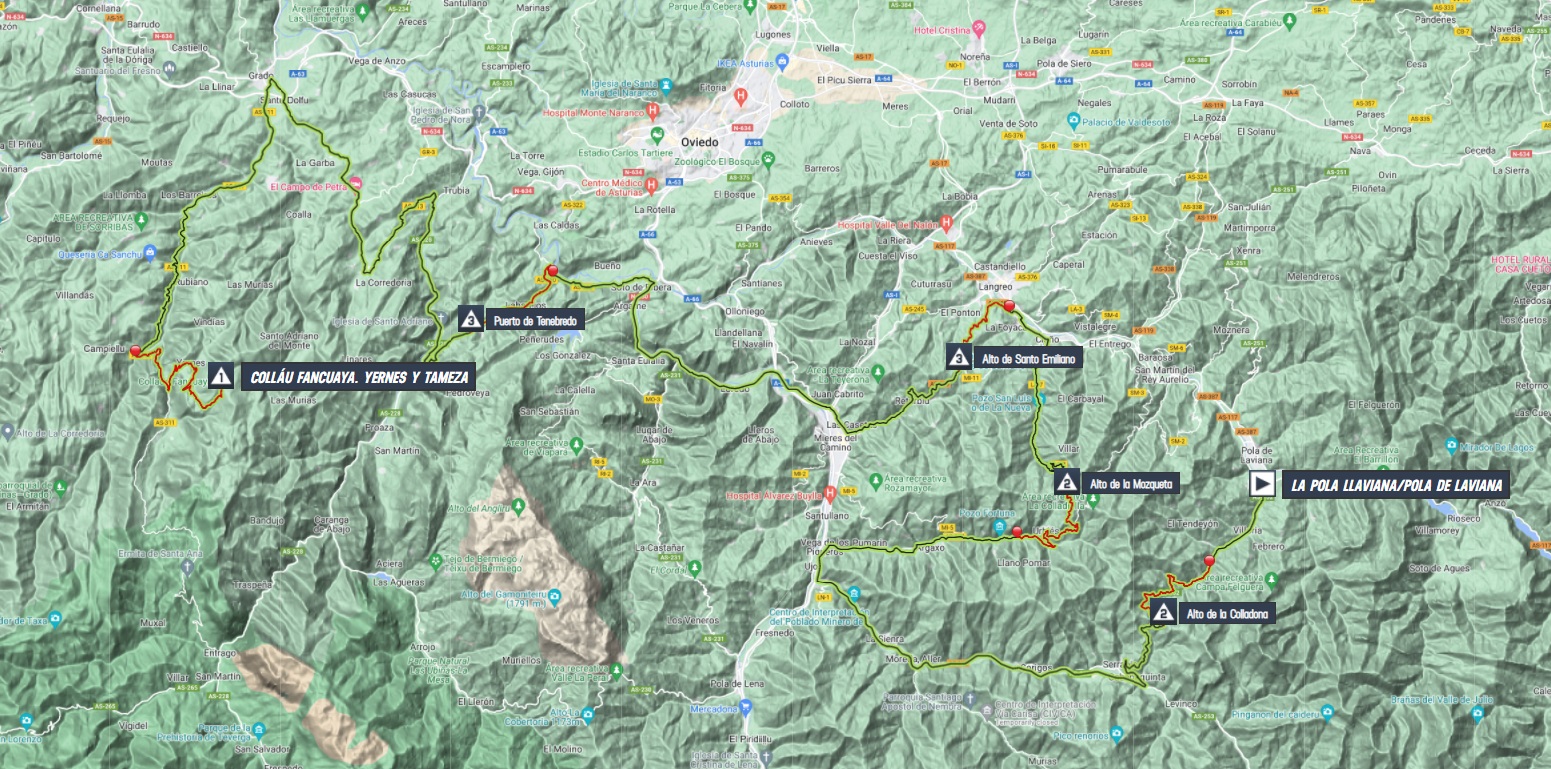 Normal temperatures and a small northeastern breeze. I doubt it'll influence the day much, and as for the final climb it could lead to some unfavourable wind but I also don't believe it will change anyone's tactics.
Breakaway chances: 50%
There have been enough climbers loosing time to have freedom to join breakaway, and there is a hard start to the day which should allow a very strong group to go up the road. Quick-Step will surely want to take it easy throughout the day, but the GC battle seems open and I believe there will be someone wanting to pick up the race.
The final climb will be hard and attacked, so whoever is in front will also need at least a couple minutes surely to survive the GC fight.
The Favourites
Remco Evenepoel – The new race leader, what will he do? I believe Quick-Step will want a conservative race until the final climb as they're looking to take things easy. However if Evenepoel feels as strong as in stage 6 there is no reason for him not to attack again and try to make further gains on the competition.
Primoz Roglic – I would not call his performance yesterday as weakness. He simply rode a high level, but with incredible performances ahead. I think his chances stand the same here, the shorter climbs will suit him better, but I think he should be able to keep his flow better against Evenepoel in comparison to their last battle.
Enric Mas – It's hard for me to picture Mas taking the win, but he's an incredibly consistent climber and this one should suit him too. He's in the perfect GC spot right now with Movistar not having to work but having only Evenepoel – as a GC rider – in front of him, I think he'll want to keep things as they are right now.
BORA – Jai Hindley will be a fan of this climb, but I think he'll be better off on the second week, and will be trying to not loose any more time to the other leaders. Wilco Kelderman is looking sharp and Sergio Higuita is on the rise, they will have numbers to have a strong presence in the race.
INEOS – Interesting tactics is what I expect from INEOS. Carapaz is not yet on his best form, so he'll be racing on the defensive. The team did not protect him however yesterday, with the trio of Sivakov, Hart and Rodriguez all looking strong. Will they look to attack with numbers? Try to keep the GC as it is and try to attack later in the race? I'd go for the second if I was their DS, but they nevertheless are showing good form.
UAE – Juan Ayuso looked very strong on the first summit finish, and relatively under the radar. I wouldn't consider him a true GC candidate, for that reason he has more freedom than those who finished close to him yesterday. As for Almeida I expect him to stay in the wheels and try to remain close to the best, he should feel stronger towards the end of the race I believe.
Ben O'Connor, Miguel Ángel López, Gino Mäder and Thymen Arensman will be riders to consider aswell, having until now shown good form. It will be a complicated summit finish but with the hard gradients more towards the end, I believe the attacks will come later, but the riders will come home in smaller groups. Mostly though, still within the first week, I'm sure several will still be trying to keep the GC as it is, but as seen in stage 6 those who are feeling good will look to attack again.
The likes of Jay Vine and Mark Padun have also impressed, but I reckon they'd have their best shot within a breakaway. If Vine has the same legs as yesterday however he will without a doubt be a contender to take the win, as it won't be one too different in terms of details.
If a breakaway is to succeed there will be some riders that have to be marked. Thibaut Pinot, Esteban Chaves, Santiago Buitrago, Brandon McNulty, Alexey Lutsenko, Vincenzo Nibali and Bob Jungels are all wildcards for the day.
Inside The Bus
This morning I talk to…
#215 Carlos Canal – You've been riding well Carlos, hold back and keep your best legs to the sprints, just roll along in the grupetto.
#202 Urko Berrade – The ambitions won't be high but let's try and get in the breakaway. You, Carretero and Parra are our weapons for the mountains and judging by how you rode in Burgos you have a shot at doing something here. Race without pressure, a win is the only result that matters at the end of the day tomorrow, tactic is to attack early and join the break early on, give some stints at the front but avoid doing much in the flat parts, and just keep your legs as best as possible for the climbs where the race will be decided.
#72 Bruno Armirail – Tomorrow is a good day for the breakaway but it will be Thibaut who we'll look out for. You'll have better days to attack, stay in the peloton and keep Rudy protected until the finish, we don't know how far he'll be able to go in a possible GC stint, but we want to give him the chance to try it at least.
Prediction Time
⭐⭐⭐ Evenepoel, Roglic, Mas
⭐⭐Ayuso, Sivakov, Hindley, MA.Lopez
⭐O'Connor, Almeida, Hart, Ca.Rodriguez, Kelderman, Higuita, Vine, Padun, Pinot, Buitrago, Lutsenko, McNulty
I actually have a hard time figuring which scenario is more likely between a breakaway or GC fight for the stage win. I'd say it's a complete 50/50, but I'll go with a peloton fight, and Juan Ayuso to take a surprising win in the final climb.
Zweeler is a fantasy sports game that includes many sports and cycling is no exception. I ask that you check it out, if you register with the link below you will not only be joining an exciting game but will also be personally supporting me and my work, and allow me to make more content for you!
Tomorrow's race has prizes of at least €500 and an entry fee of only €5. Make good use of your knowledge! https://zweeler.com/game/cycling/FantasyVueltaaEspana2022stage8/main.php?ref=790
Rúben Silva
Follow us on Twitter and Instagram
Join us on facebook: Ciclismo Internacional
Copyright © 2012-2022 Ciclismo Internacional. All Rights Reserved