Belgian National Cyclocross Championships (Men Elite)
By @EchelonsHub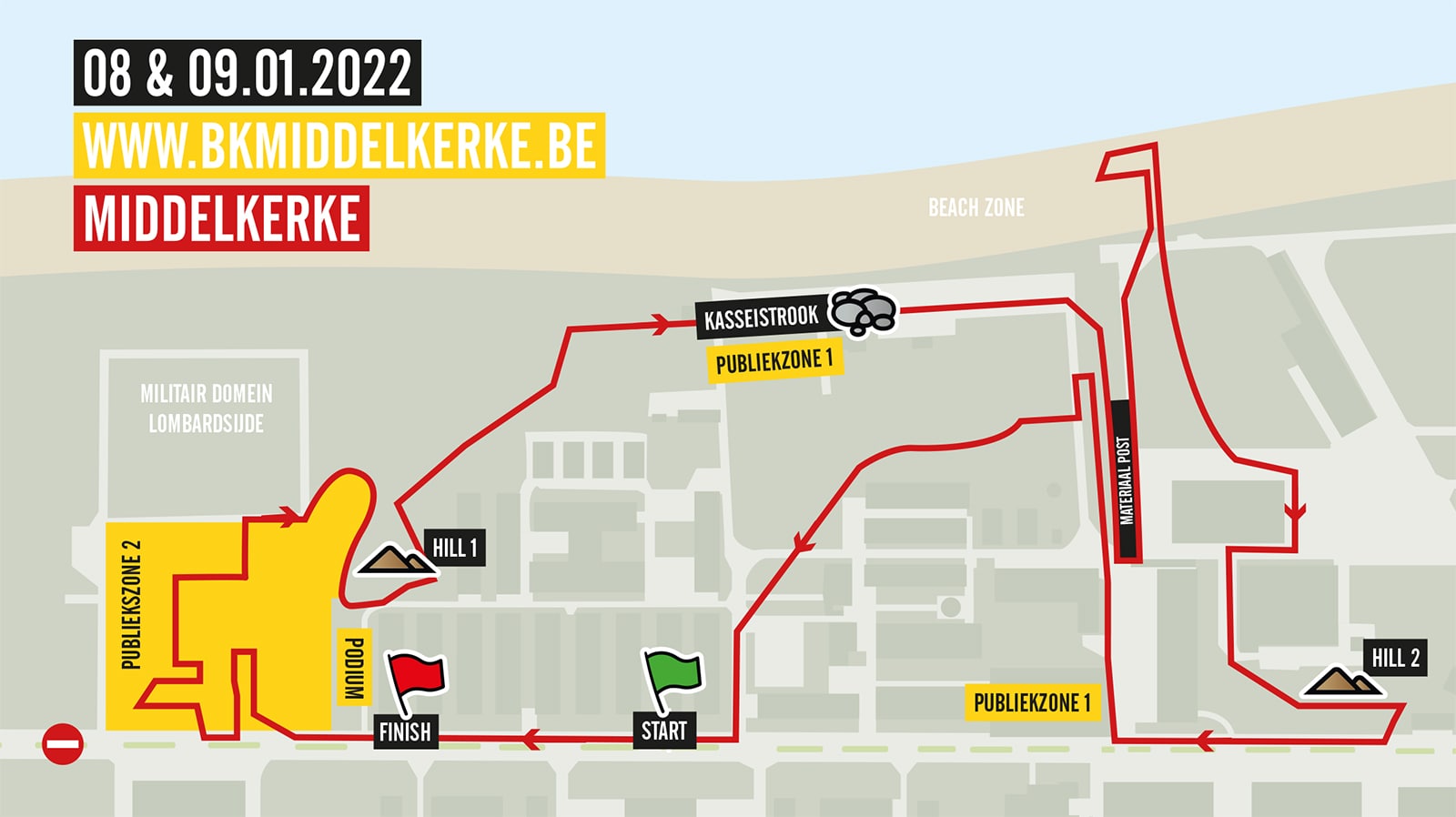 The Course
It is national championships weekend and on the men's side we have as the main highlight the battle for the Belgian title which will this year be held in the streets – and surroundings – of Middelkerke.
Although it is likely that it won't rain during the race today, and the last few days aswell have seen some significant precipitation, however this is one of the courses where that should be less impactful as it features the sand dunes by the sea and long stretches of tarmac/cobbled taking up large chunks of the course.
The beginning of the track is quite explosive with a treble of short but steep ascents follow in quick succession, which will lead to a duo of similarly pitched climbs but this time on sand which is set to make the task of climbing it in the saddle harder. However even if so they will be short runs and will have a long straight section follow that will allow for some recovery, after the riders will hit the beach where the sand should be packed nicely and allow some time on the bike, a run is expected leaving the beach through it's dunes though, although it is possible that the combination of the rain and past races creates some meaningful ruts that can be used.
After leaving the beach it won't be a hard technical task, as the riders will face a succession of small sand pitches, flat roads and bits of plain fields that don't present any chance to make a gap, it is to note aswell that there are good chances of a very strong headwind/cross-headwind in the finishing straight (aswell as the one after Hill 2) where riders sitting in the wheel will have a clear drafting advantage, which may lead to a start-stop type of racing until real gaps are made.
---
You can watch: Recon video of the course
---
The Startlist
| | | | |
| --- | --- | --- | --- |
| 1.Wout van Aert | 2.Jens Adams | 3.Thijs Aerts | 4.Toon Aerts |
| 5.Vincent Baestaens | 6.Yentl Bekaert | 7.Quinten Hermans | 8.Eli Iserbyt |
| 9.Lander Loockx | 10.Tim Merlier | 11.Diether Sweeck | 12.Laurens Sweeck |
| 13.Tom Meeusen | 14.Daan Soete | 15.Toon Vandebosch | 16.Niels Vandeputte |
| 17.Michael Vanthourenhout | 18.Gianni Vermeersch | Elite – Elite Club | 31.Robin Alderweireld |
| 32.Grégory Careme | 33.Jochem Danckaers | 34.Senne De Meyer | 35.Tim De Schuyter |
| 36. ? – DNS | 37.Jonas Degroote | 38.Wouter Goosen | 39.Jens Gys |
| 40.Julien Kaise | 41.Niels Koyen | 42.Yelle Leaerts | 43.Pieter Meelberghs |
| 44.Nick Peers | 45.Kenny Roelandt | 46.Seppe Rombouts | 47.Andy Ruts |
| 48.Julian Siemons | 49.Siebe Tormans | 50.Ingmar Uytdewilligen | 51.Kenneth van Compernolle |
| 52.Maarten Van Staeyen | 53.Maxime Van Wynsberghe | 54.Glenn Verbeeck | 55.Lenn Verdijck |
| 56.Thomas Verheyen | 57.Arne Vrachten | 58.Mathijs Wuyts | |
This is according to the official startlist, it can at times not be completely accurate. There is a gap between numbers 18-31 with no rider inbetween.
The Favourites
Last year in Middelkerke, not in an NC context, the Pauwels Sauzen riders rounded up the podium with style and ease however this year we've got an event of greater importance that includes the current rider in form.
Pauwels have Laurens Sweeck who is the winner of the last two editions however I'd argue if he's got the legs to win yet again, although not to discount as it is very clear the cross suits him, I would neither discount Michael Vanthourenhout and Eli Iserbyt naturally as it is surely a race where teamwork can be of some advantage and they have to be smart about it.
Wout van Aert is the man to beat obviously, although it is not the best suited race for him the decisive sections should be the ones where running on the dunes is necessary and he will be a fan of that, if he doesn't suffer a mechanical or similar bad luck he is going to be hard to defeat, but everyone will know that if they stick to his wheel they have the chance to recover in the road sections. Toon Aerts will be wary of this, being a race outside of any cup he should have only one goal and matching all moves from van Aert is a necessity if he has any chance of putting on an attack later in the race.
In the last few weeks Tim Merlier has came into good form, presented with a mostly flat and fast course he will definitely be a dangerous rider, Gianni Vermeersch and Niels Vandeputte also come after a good string of recent results for Alpecin, you have Jens Adams and Tom Meeusen who both had a strong performance in Herentals however face the complete opposite here, and Quinten Hermans who will be leading Tormans however will need a very special ride to make it onto the podium.
Prediction Time
1st– Wout van Aert
2nd– Toon Aerts
3rd– Eli Iserbyt
4th– Laurens Sweeck
5th– Tim Merlier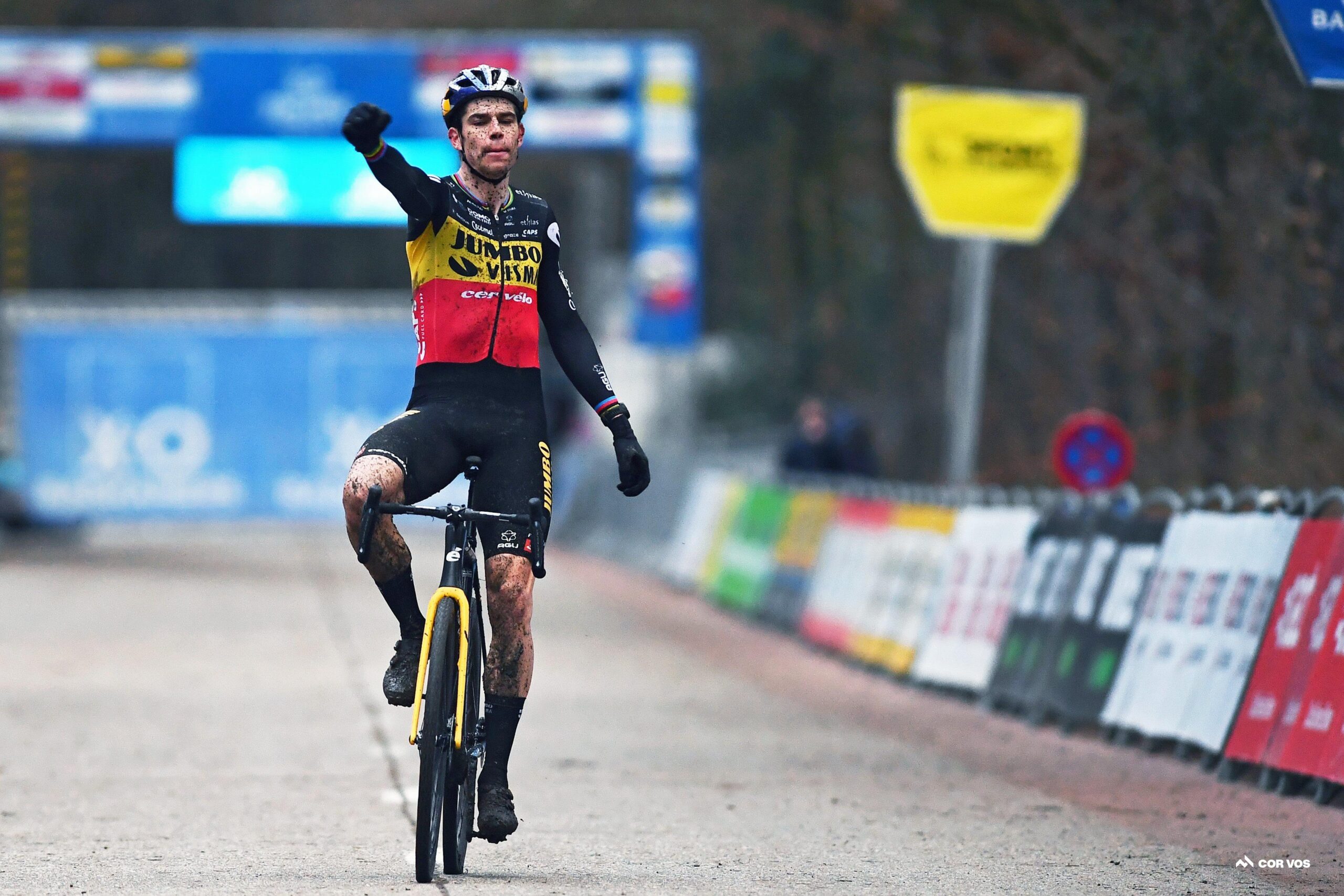 Zweeler is a fantasy sports game that includes many sports and cycling is no exception. I ask that you check it out, if you register with the link below you will not only be joining an exciting game but will also be personally supporting me and my work, and allow me to make more content for you!
Tomorrow's race has prizes of at least €300 and an entry fee of only €5. Make good use of your knowledge!
Link: https://en.zweeler.com/game/cyclocross/FantasyBKCyclocrossMiddelkerkeMen20212022/main.php?ref=790
Rúben Silva
Follow us on Twitter and Instagram
Join us on facebook: Ciclismo Internacional
Copyright © 2012-2021 Ciclismo Internacional. All Rights Reserved