Binche-Chimay-Binche 2014 preview
By David Hunter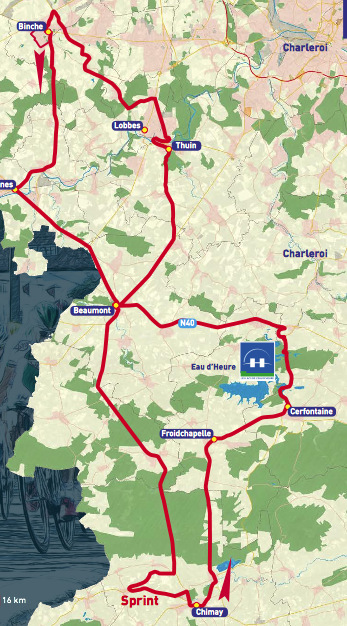 The peloton are in Belgium, for one of the last races in 2014. They face a challenging 194.5km route, familiar to most.

The circuit is not overly hilly, but after a long season, some will find it too hard. After the 123km mark, they face a circuit in Binche.
The circuit isn't overly demanding, here it is in more detail.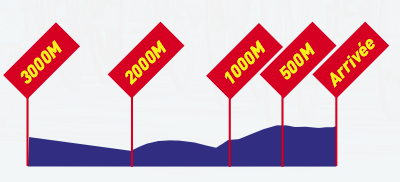 The end of the race is cobbled, adding an extra degree of difficulty. In 2013, a small group got clear in the final kilometre. The race was won by, Reinardt Janse Van Rensburg, with Leukemans in second and Van Avermaet in third. It's rare for this race not to be very close and I expect another close affair. It's not guaranteed to end in a sprint, like last year. It is possible for a strong group of tough riders to breakaway, on the cobbles.
Despite being late in the season, we do have some strong riders here. The defending champion is back, but it will be difficult for him to repeat his win. OPQS arrive with a strong team, they always do! They have Fenn, Pauwels, Stybar, Terpstra, Van Keirsbulck, Vandenbergh, Velits and De Gendt. With this squad they have all bases covered. I would expect to see them dominate the race and, fit again, Zdenek Stybar will look to take advantage of the cobbles. The Czech star, is cramming in as much riding as possible, since recovering from his horrible crash. He looked back to fitness in Tour de l'Eurometropole and will look to take a win here. If he doesn't succeed, they have plenty of other options, with Fenn held back for the sprint.
Belkin also look strong: Bol, Boom, Van Emden, Hivert, Flens, Vanmarcke, Wagner and Tjallingii. Boom has been struggling of late, but likes this race. Vanmarcke, looked good in the World Championships and is another who loves the cobbles. He will attack, but when?
Jens Debusschere has become the nearly man. 3 second places and second on GC, in Tour de l'Eurometropole. He really should have won the final stage, but will be encouraged by his consistency. If we get a sprint, he should be taking an overdue win.
Another returning rider is Greg Van Avermaet. The Belgium is in fine form and motivated by riding on home roads. With two recent wins, in Wallonie and Van Petegem, he backed it up with fifth place in the Worlds. He's had a couple of days off and will look to breakaway and take the race. It should be interesting to see how he works with Stybar and co.
BMC also have the super talent of Dylan Teuns. A brilliant Tour of Britain, was followed by sixth in Wallonie and second in Piccolo Giro di Lombardia. This kid is very exciting to watch. Ben Hermans is also here, fresh from a great ride in Lombardia.
Adrien Petit likes this time of year and this race, in particular. He's been on the podium on two occasions and never outside the top 25, in 4 years. Still only 24, he needs to start delivering. He needs to turn podium places, into wins, if he wants to remain at this level.
Wanty-Groupe Gobert arrive with their talented squad of riders. For one reason or another, it hasn't quite clicked this year, but they are capable. They have Baugnies, De Vreese, Drucker, Jans, Degand and Leukemans. With these riders, they really should be winning more races. They've won ten times, in 2014, but only one win in a 1.1 race. It's time to step up boys!
Topsport Vlannderen have a few options: Van Staeyen, Vanbilsen and Van Asbroeck, they love a van or two! Like Wanty, despite having good riders, they lack big wins. They are brilliant at getting in breaks!
I do like Kevin Reza of Europcar. A willing worker, who regularly gives up his own chance to help others. This work has seen him get a two year contract, with FDJ. I hope he's ready to sign off with a big win.
Other potential winners are: Hutarovich, Lander, Arndt, Vachon, Senechal and Bille.
Prediction time…
When OPQS arrive with a strong team, they usually win. That means Stybar should be the man to beat. The horrendous crash in the Eneco Tour, robbed him of a few wins and it would be great to see him back on the top step, of the podium. Winning from the break won't be easy, as he'll likely have Vanmarcke and Van Avermaet, on his wheel. Due to the cobbled finish, they can wait until the final kilometre, before attacking.
If we get a sprint, Dubusschere will win.
David Hunter
Follow us in facebook https://www.facebook.com/CiclismoInternacionalLatinoamerica?fref=ts … or Twitter @CiclismoInter