Il Lombardia 2014 preview
By David Hunter
Get ready for the final monument of 2014!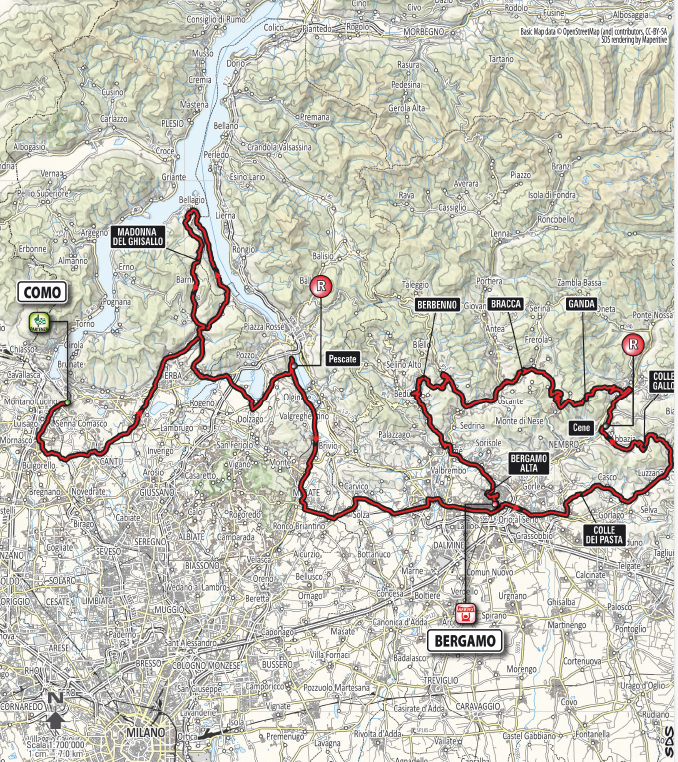 As they like to do, the organisers have changed the route for 2014. We head from Como to Bergamo, travelling 256km. The race finished in Bergamo from 1995 to 2003. The winners were:-
1995 – Faresin
1996 – Tafi
1997 – Jalabert
1998 – Camenzind
1999 – Celestino
2000 – Rumsas
2001 – Di Luca
2002 – Bartoli
2003 – Bartoli
Bartoli's double, started a quite amazing series of results, where the winner won the race 2 years running, apart from Cunego(2004) and Zaugg(2011).
We've had doubles from Bartoli, Bettini, Cunego, Gilbert and Rodriguez, between 2002 and 2013.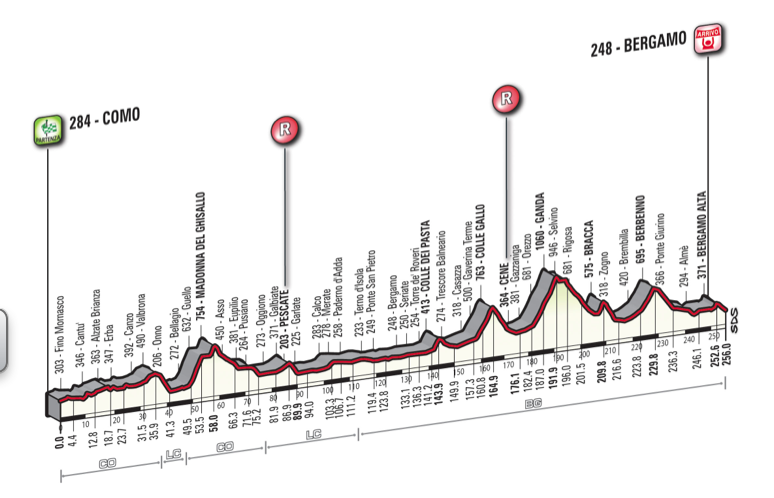 Some fans might be disappointed, that we won't get the showdown on Villa Vergano. Don't worry fans, this route is probably more challenging.
The race is populated with 4 major climbs.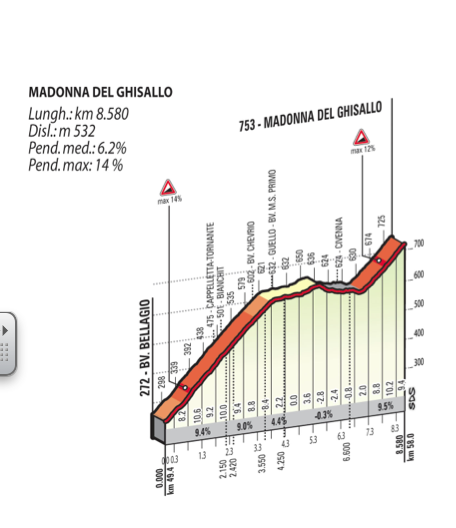 It is a shame that Madonna del Ghisallo, is very early in the race. What an amazing climb, listen out for the bells ringing as the riders pass. Voeckler was first over, in 2013, will he go in the break this year?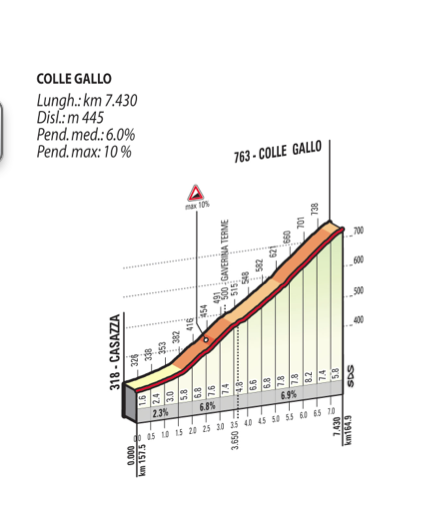 Colle Gallo is a proper climb! Plenty of hairpin bends and we'll see many riders getting dropped. A select group of riders could easily form on the slopes, if a team decides to put the hammer down. Back in 1997, Jalabert, slimmed down the field with a series of attacks.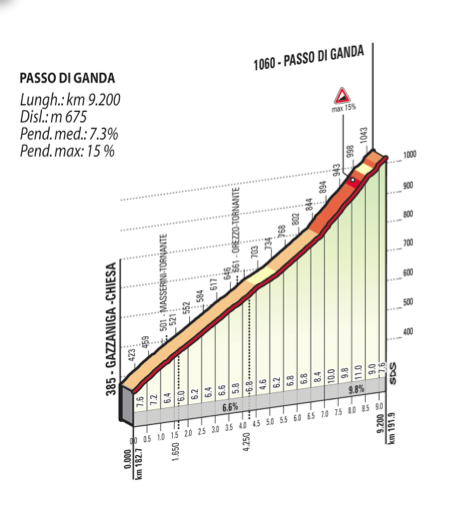 This is where we'll see the main action, 9.2km at an average of 7.3%. The final 3km, is over 8% and this will destroy the field. The riders crest with 60km to go, but the difficulty of the climb, means the peloton will be around 40 riders. After this, the race will be wide open.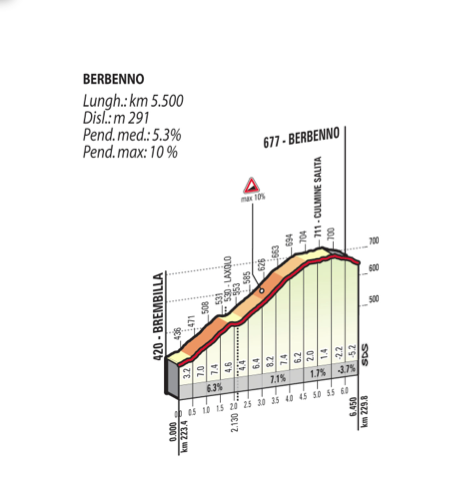 After the short climb to Bracca, we have 5.5km at 5.3%, to Berbenno. This is a fairly steady climb, where the riders will still be trying to recover and save some energy for the finale.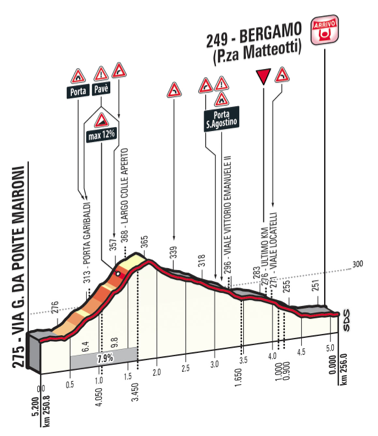 The final climb is very interesting. Around 8% for 1km, it isn't very long or steep but it does have cobbles. These cobbles are old and big, meaning the riders will head for the gutter. They also have to pass under an arch, to enter the climb, so they will be in single file. It will be important to be at the head of the race, at this point. It is possible to get a gap, but with over 3km to go, you'll need 10 seconds.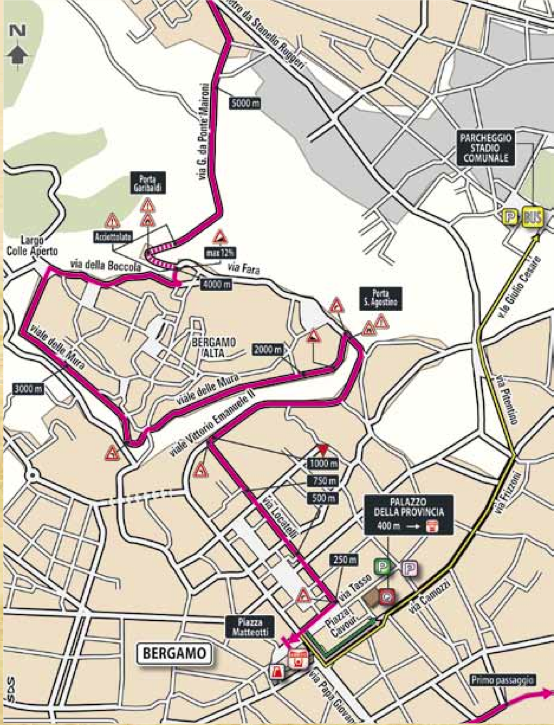 The riders have a big, wide final corner at 250 metres remaining. This is taken at pace and then sprint! What type of race will we get?
The route looks amazing and I love the changes. Yes, it's disappointing that the Madonna del Ghisallo climb, will not have an impact on the race, but I love Colle Gallo and Passo di Ganda. These climbs are going to destroy the field, as the climber teams will go very fast, to remove riders like Gilbert and Van Avermaet. They're both in tremendous form, but the climbs are too hard for them.
Colle Galllo will see the first selection, with a group of 60-80 riders making it over. Passo di Ganda, is 9.2km at 7.3%, this is HC stuff. Expect a very small group of riders to still be in the peloton, after this climb. The size of the peloton will determine the race we have, from this point. A small group of 20, will see plenty of attacks, but if we get 40 riders, a team will hold it together until the finale.
The Berbenno isn't hard enough to trouble any of the riders that remain, but the paved climb, in Bergamo, will end the hopes of many. 1.2km at 8%, on very rough cobbles, will see a very attacking end to the race. If the group is down to under 10, the rider over the top first, will hold onto win.
The new World Champion, Michal Kwiatkowski, will be showing off his rainbow jersey. The history books are not kind to him, with only 5 current World Champs winning this race, since 1970. The last was Bettini, back in 2006. He's the only rider to do so, in the last 16 years. Not a good sign for the Pole. He's also had to take part in plenty of media events, so doesn't arrive very fresh. I can't see him winning this race.
The approach of Alberto Contador and his Tinkoff-Saxo team, will go a long way to determine the shape of the race. He arrives with Kreuziger, Hernandez, Paulinho, Poljanski, Zaugg and both Sorensens. This is a strong team and I think we'll see Kreuziger try to demolish the peloton on Passo di Ganda. With a final 2km at 10%, this is where the race could be won, or certainly lost. Although we have over 60km to go, losing 1 minute will end your day. Quite a few riders will see their chances disappear, at this point.
Standing in the way of Tinkoff, is a very strong Katusha squad: Rodriguez, Moreno, Caruso, Brutt, Kolobnev, Losada, Silin and Vorganov. The leading 3 are in good form and will play a big part in the end of the race. This gives the team a number of options, which they exploited in Milano-Torino, with Caruso taking a win. They can let their riders attack and watch the others chase.
AG2R are another team with a strong squad: Bardet, Betancur, Cherel, Pozzovivo, Montaguti, Nocentini, Peraud and Vuillermoz. You could argue, they have the strongest team. Nocentini was second in Milano-Torino, but he won't be leader, that honour will fall to Bardet. He would have taken a big result in GP de Wallonie, but crashed. Pozzovivo raced on Wednesday and should be a little closer to fitness, but this race comes too soon for him. The enigma that is, Carlos Betancur, will probably deliver another sub-standard performance. The climbers in this team will ensure a difficult day for the peloton. Bardet also has a quick sprint, so he'll big a major threat.
Fabio Aru has had a wonderful season. Stage wins in the Giro and Vuelta, plus top 5 GC finishes. He was 4th on Wednesday and still looks in great form. The Italians would go crazy for a home win and this young man has all the credentials to make the home fans very happy. His explosive kick, will be a great advantage as we hit the cobbled climb. Italy used to dominate this race, but haven't won it since 2008, can Aru start a new period of dominance?
Speaking of the Italians, they have another few riders who could challenge: Pellizotti, Zardini, Bongiorno, Formolo and Finetto. I have spoken to Mauro Finetto a lot this season and this race has been his major focus. He loves this race and was 6th, way back in 2008. He was devastated when the team withdrew from the race, last year, due to Di Luca and Santambrogio. Finetto has a very fast sprint, and if we get a small select group, he'll have the fastest kick. He does like to attack, so watch for him trying to engineer a break.
The youngsters Zardini, Bongiorno and Formolo have all had great seasons. Winning this race will probably be beyond them, but a place in the top 5 could be within reach.
The other riders who I expect to challenge are: Kelderman, Sanchez, Pinot, Martin, Hesjedal, Frank, Rui Costa, Vanendert, Niemiec, Uran and Barguil.
I've saved Alejandro Valverde for last. Easily, the most consistent rider, he has a great chance of winning. This year, he won Flèche and San Sebastian. Often accused of being a defensive rider, I'll be interested to see what he does on the final climb. Like San Sebastian, he'll probably try to match the attacks of Rodriguez, and Contador here, before trying to distance them on the descent or wait till the sprint. If we only have a handful of riders, he might even go on the attack. It will be impossible for him to close all the attacks, so we might get treated to a rare aggressive move. Valverde is certainly the man to beat.
Prediction time…
The Colle Gallo will be selective and the hair-pin bends will hurt. Movistar, Katusha and AG2R will ensure a fast pace to eliminate Van Avermaet and Gilbert. Passo di Ganda will blew the race apart and I expect to see Contador attacking, near the top. I think Alberto has to go for a long one. The race will come back together, but I doubt the peloton will be bigger than 20. Movistar and Katusha will have to do a lot of work as others will try to stop a showdown, on the cobbles. I hope we do get a battle, at this point. Contador has to attack again, so does Rodriguez. Valverde will look to cover the attacks and go near the top of the climb. Will Contador or Rodriguez be able to distance each other, or the rest of the field? Aru looks like he'll also be there and he could benefit from a little space, much like in the Vuelta. After a brilliant season, I'm going for Fabio Aru to end it with a monument! Although I would really like to see Mauro Finetto get the win and secure a contract with a World Tour team.
David Hunter
Follow us in facebook https://www.facebook.com/CiclismoInternacionalLatinoamerica?fref=ts … or Twitter @CiclismoInter