Brugge-De Panne 2021 – Preview
By David Hunter
Brugge > De Panne 202.5km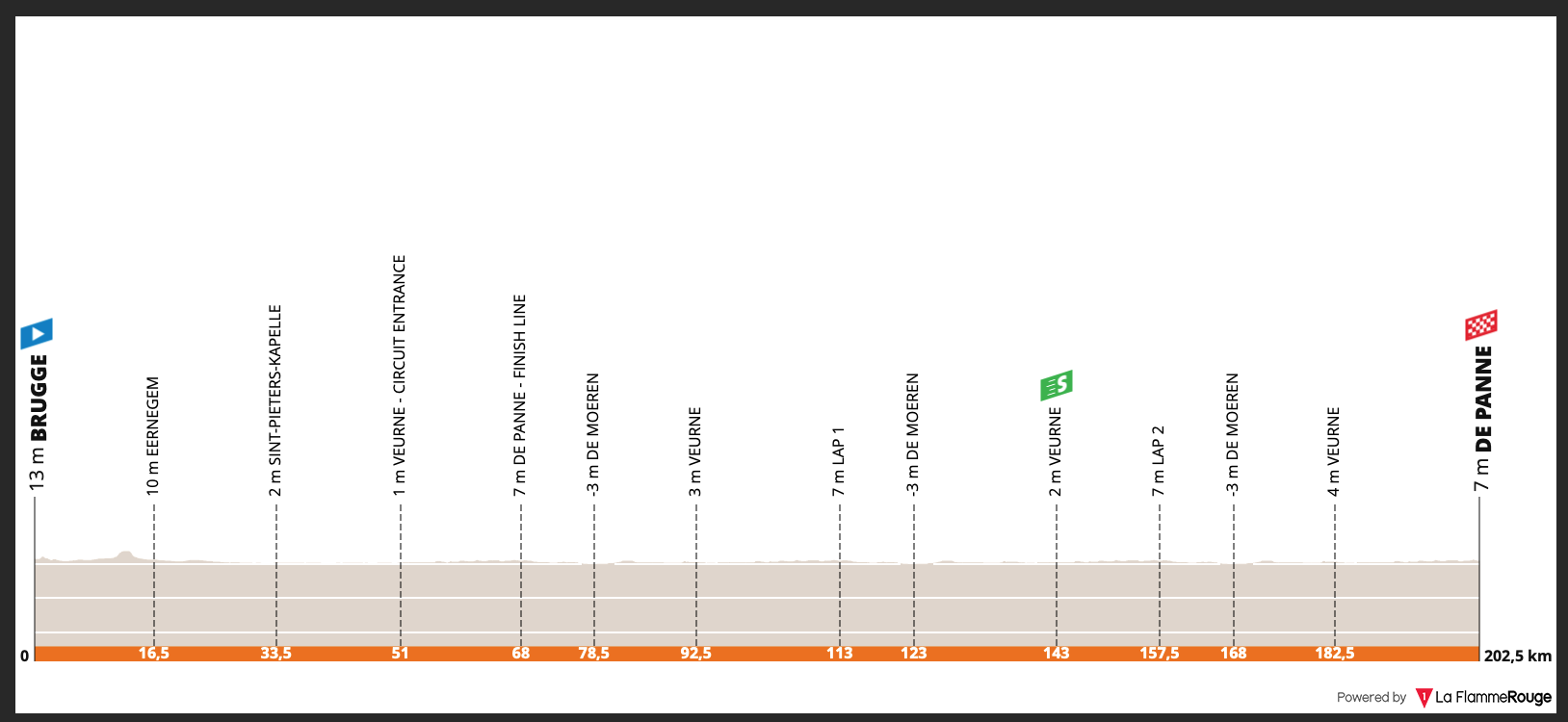 Brugge to De Panne is the race we got to replace the 3 Days of De Panne, it's such a shame that race is no more. We start out in Brugge and after 54km before we hit the lap circuit in De Panne, which has three full laps of 45km.
Echelons
Welcome to De Moeren. If the race splits, it splits here. Thankfully the riders head down this road on three occasions, but what's the wind like?
Weather
Disappointing! The wind will come from the south-west, but only around 15km/h. The last time through De Moeren it should be more from the west, which means perfect crosswind, but that speed doesn't look strong enough to me.
Finale
This is where it gets technical. We have the same lap circuit as last year, but that day the front group was tiny and most didn't notice just how tricky it was.
The bunch turn left with 5km to go, this is the beginning of the finale.
Once the turn has been made the bunch have to ride beside the train lines for 3km. This stretch is narrow, although it is possible to jump up on the left-hand side, but that's not ideal. This means the fight to control the bunch will start long before the turn with 5km to go, we're talking about the sprint trains having to be switched on from 10km out.
The left turn off the main road comes with just over 2km left. The corner is tight, and it then leads onto a narrow road.
The next left turn comes quickly after.
Just inside the final 2km comes another left turn, this one can be taken at pace.
The next turn is with around 1.4 to go, this one is a tight right hander.
Next up the riders head onto the cobbles (don't worry they are easy) and cut across the town square.
This is the final corner which comes with around 700m to go.
It leads onto this nice finishing straight.
This is a very technical finish. With so many teams looking to control the head of the bunch it could be very chaotic.
Tactics
Some teams will hope the wind blows a little stronger than predicted, they would love to split the race and make it more selective. If the wind is only 15km/h, I don't see the race splitting, most teams will be happy to simply wait for the sprint.
The finale makes me nervous. Sprint teams will need to be very careful, this is a day to hit the front as early as you can, even if that means burning through your riders. It is much easier to hold position at the front compared to fighting your way through a bunch which is tightly packed on the narrow streets. Once a team is at the front, it is possible to knock off the pace and simply hold everyone back until the final 5km. I'm looking forward to seeing how the big teams approach the finish.
Contenders
Sam Bennett – the Irishman arrives with the disappointment of what happened to him on Saturday fresh in his mind. He has his normal lead out man, Mørkøv, and can also call on the help of Hodeg, Sénéchal, Van Lerberghe and Keisse. As usual, this is a strong lead out and Bennett will expect to have a great position to launch his sprint. His form is brilliant, and he starts as the man to beat.
Arnaud Démare – the Frenchman was simply stunning in 2020, but this season he's struggled to hit top form. FDJ arrive with a strong team to support him, but there is no Miles Scotson in number 4, which is quite a big loss for me. Saying that, the train looks fast and FDJ are a team that usually get things right in the closing stages. Démare could really do with a good result.
Pascal Ackermann – don't worry folks, Rudi is back! After struggling without his best mate, it's great to see the two of them reunited, it should mean we start to see the real Ackermann. Now, this is just Selig's second race day of the season, which means he won't be at his brilliant best, but just his presence will help Ackermann. Can he take his first win of 2021?
Jasper Philipsen – I find it interesting that Alpecin-Fenix arrive with Philipsen and not Merlier, this looks like a mistake to me. Philipsen is fast, but I doubt he's fast enough to win this race.
Giacomo Nizzolo – I'm still not a big fan of his sprint train, winning is going to be very hard.
Fernando Gaviria – the Colombian really hasn't got going yet this season, but one of the main reasons isn't his fault. With UAE focussed on Pogačar, Gaviria has found himself with very little help in the closing stages of races. Thankfully for him he arrives in Belgium with a proper sprint train to support him. There are no more excuses, it's time for Nando to deliver.
Cees Bol – you all know by now that I'm a massive fan of the big Dutch sprinter, he's one of the best in the world. The problem for this race is his sprint train, it is inexperienced and not used to riding together. Winning is going to be very hard.
David Dekker – his performance in the UAE Tour was fantastic. Considering it was his first race with the team, to walk away with two 2nd places and the points jersey was some achievement. Jumbo-Visma arrive at the race fully committed to backing their young sprinter, and I like the look of their sprint train. The likes of Van Emden, Van Hooydonck, Kooij, Eenkhoorn and Pfingsten will help to get Dekker into a good position for the finale, I think this sprint train is only second to DQT. Dekker should be aiming for the podium, he might just surprise and take his first win.
Trek-Segafredo – at this point it's unsure if they'll go for Theuns or Moschetti in the sprint. The lead out train looks okay, but not as good as usual, which will make life very difficult for them.
Prediction Time
Looking at the sprint trains I see DQT and Jumbo-Visma controlling the finale of the race. This one looks like another win for Sam Bennett.
David Hunter
Follow us on Twitter and Instagram
Join us on facebook: Ciclismo Internacional
Copyright © 2012-2021 Ciclismo Internacional. All Rights Reserved