Volta a Catalunya 2021 – Stage 3 preview
By David Hunter
Canal Olímpic De Catalunya > Vallter 2000 204km
The first of the big mountain stages.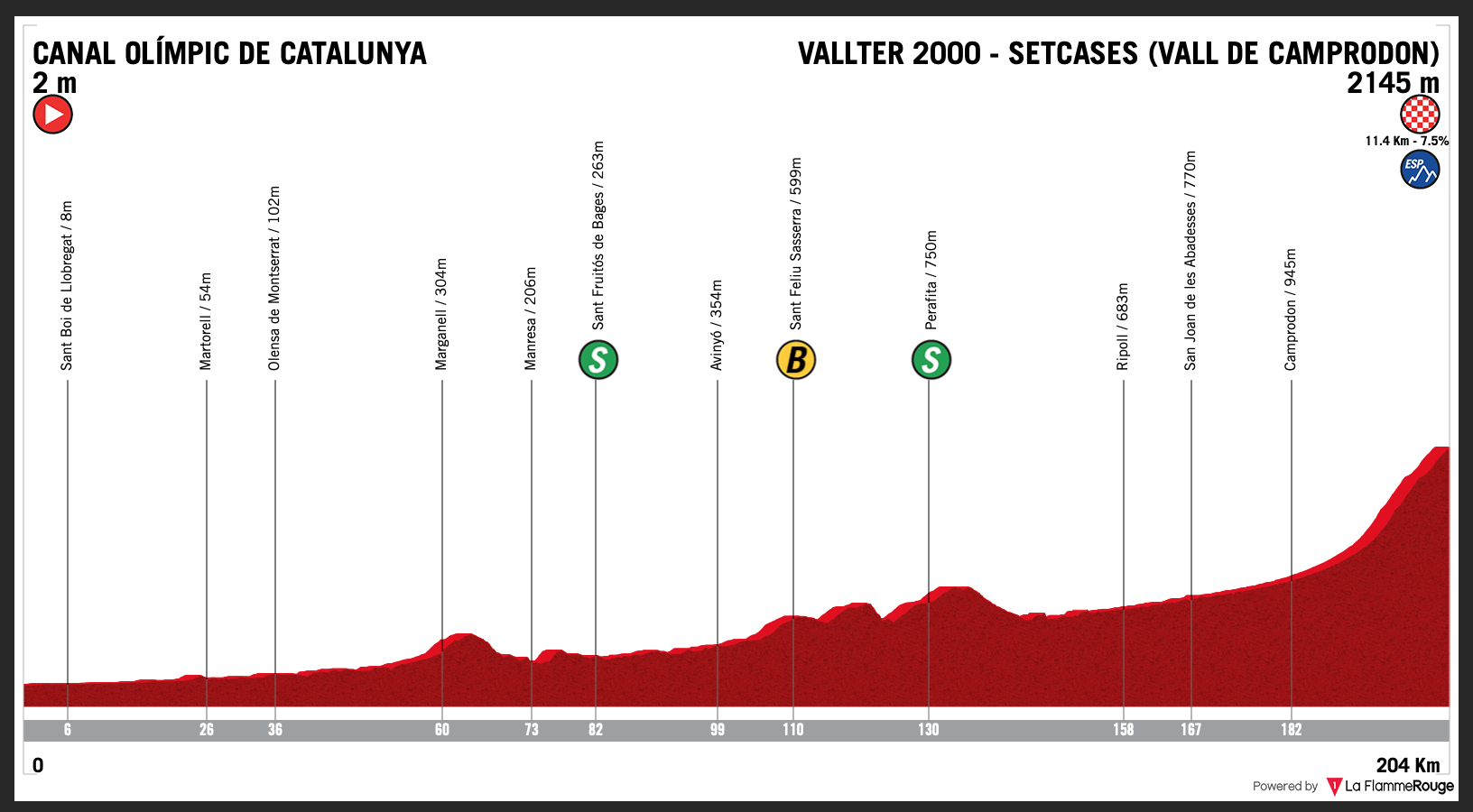 Vallter 2000 is a tough climb, this will be a proper test. The rest of the day is almost pan flat; this stage is all about the mountaintop finish.
11km at 7.6%, but the opening 7km averages 8%. This is a climb where teams can blow things apart early on. The final 4km of the climb is easier, but still not easy. It also contains a beautiful section of hairpins inside the last 2km. The climb goes all the way to 2125m above sea level, which makes it even harder than the numbers suggest.
Weather
Another cracking day. The wind isn't very strong, and it'll be a tailwind on the climb.
Tactics
Let an easy break up the road, then prepare for the final climb. Once there smash the lower slopes to blow away as many domestiques as possible, then let the team leaders blow each other to pieces. Cycling can sometimes be very straightforward.
Breakaway Hopes
I can't see the attackers winning this. The start is flat, and the break will likely be weak. DQT might not be interested in chasing, but Movistar will.
DS Cycling Mole
I've been called in by Deceuninck – Quick Step.
Put down your Game Boys and gather round. First up I want to discuss today's TT. João, that was a brilliant TT, but why the fuck did you have to take the race lead? You've just set us up to get our heads kicked in. Remi and big Cerny you get to control the break, the rest of you relax and remember to eat and drink. Once on the climb we step back and let Ineos take control. I think they'll try and attack early. I want Fozzie Bear Masnada to cover Thomas, Foxy Knoxy you cover Porte and João your punishment is to cover Yates. If Carapaz attacks, let another team chase. The mountain will decide what happens, whoever has the best legs go and take your chance. Oh, I nearly forgot about Devo Devenyns. You can do what you want, you've earned it.
Contenders
Ineos – where are the domestiques? We would normally see Ineos approach a stage like this in a traditional fashion. They would get on the front with the mountain train and gradually increase the pace, burning out the other domestiques. As they neared the top, the front group would be tiny, and their leader would attack and take the stage win. This was textbook Sky. In their team I see just three domestiques: Rowe, Castroviejo and Dennis. What will they do when these guys are gone? I have no idea, but I hope it's good. Carapaz is furthest down on GC, he should really now be working for the others, but that seems a waste of such a good climber. Then we have Thomas, Porte and Adam Yates, it is a ridiculously strong team and I have no idea how they'll use them, but they are the big favourites to take the win.
Jumbo-Visma – they should have a clearer hierarchy within their team, I expect Kuss and Bennett to ride in support of Kruijswijk, unless attacks fly very early. The problem is I don't think Kruijswijk will be able to win this stage, he'll be riding for a top 5 spot and to maintain a high place on GC. If they really want to go for the stage they let Kuss ride.
DQT – Almeida is in the race lead, but he looks vulnerable. His climbing performances in the UAE Tour and Tirreno have been good, but he cannot follow the big moves. The team also have Knox and Masnada high on GC, I hope they are allowed to ride with freedom, instead of simply trying to protect Almeida.
Simon Yates – his performance in Tirreno was very impressive, not many people can give Pogačar a head start and nearly catch him. This climb is one that should suit him well, like most people I'm looking forward to seeing him go up against Adam for the first time. BikeExchange don't have the strongest squad at the race but Chaves and Hamilton should be able to support Yates quite far up the final climb. If he has the same legs as in Tirreno he should be challenging for the win.
Hugh Carthy – as I said in my overall preview I feel that Hugh is on the verge of something special. His TT was okay today, but overshadowed by the Ineos boys. With so many big riders at this race, Hugh will have to think carefully about his tactics, he's in a good position where he doesn't really need to work at the head of any group. If he plays his cards right, he could win this stage.
Nairo Quintana – this is a mountain he likes, he won here in 2013, 5th in 2014 and 4th in 2019. Finishing over 2000m above sea level is ideal for the Colombian, he really does excel up in the clouds. This season has been about building form after double knee surgery in the winter, 5th place on Prati di Tivo was big step in the right direction. He might not be 100%, but he'll still be up there.
Enric Mas – given this is a big target for Movistar I expect Mas to be in good form for this race, but will that be good enough? Mas is a funny one to work out, he's undoubtedly extremely talented, you don't finish in the top 5 of the Tour and Vuelta without being one of the best cyclists in the world. However, I can't recall ever watching him dictate a climb, something seems to be lacking. Maybe 2021 will be the year he makes that final step up to the top level.
Jai Hindley – I'm eager to see what he'll achieve this season, his brilliant performance in the Giro has certainly raised expectations. I was impressed by his work in Paris-Nice, it seems to me that his legs are good. Despite his Giro result, I still think he'll fly under the radar a bit, which he could use to his advantage. A top 10 is a realistic ambition, top 5 would be brilliant.
Dan Martin – another rider who likes this mountain, he was 3rd here in 2019. With just Haut Var in his legs this season it's hard to predict how he'll go in this stage, but it wouldn't be a surprise to see him up in the top 5-10.
Brandon McNulty – what a TT, now we'll see how much he's improved his climbing over the winter. Last year's Giro showed that he wasn't quite at the highest level, but this is a young rider who is still growing and learning. I expect him to be better than last year, but still not at the level required to challenge for the win.
Prediction Time
It could get a bit tactical nearer the top of the mountain, but I think the strongest riders will be Adam & Simon Yates and Hugh Carthy, looks like we're in for a north-west of England party in Catalunya, maybe James Knox can also get involved! Given his team strength I'll take Adam Yates for the win.
David Hunter
Follow us on Twitter and Instagram
Join us on facebook: Ciclismo Internacional
Copyright © 2012-2021 Ciclismo Internacional. All Rights Reserved