GP Bruno Beghelli 2014 preview
By David Hunter
The last race of the Italian season.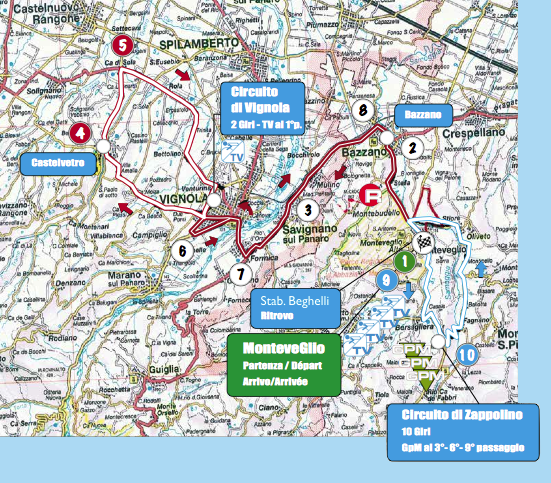 We have 196.3km of a lap circuit.

10 times over the climb, but the profile makes it look harder than it really is, 5km at 4%. It's a big ring climb and the riders take it at a fierce pace. It does wear down the legs and hurt towards the end of the race.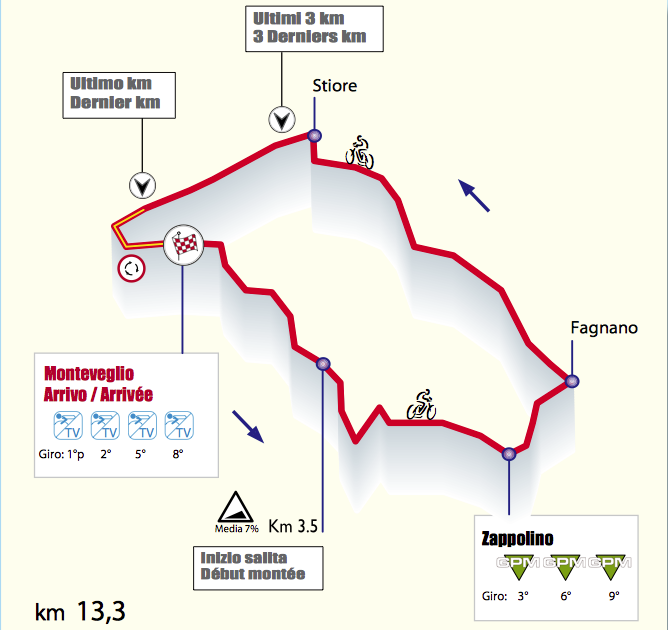 After today's action, in Emilia, Neri Sottoli still lead Bardiani, in the battle for the Italian Cup. Their lead is now a precarious, 3 points. A win for Bardiani will win the cup and seal their wildcard for the 2015 Giro.
Last year we almost got a sprint, but Duque nipped away in the final kilometre. In recent years, the race hasn't favoured the sprinters. The climb does hurt and this is the main issue for the quick men. Nicki Sorensen, Pozzato and Cataldo were the 3 winners, before Duque. That tells you about the style of course and winner.
This year could be slightly different, with Bardiani looking to ensure a sprint battle for Colbrelli. He's in magnificent form, considering he only got his first pro win on the 20th June. He has 3 wins in the last month and it's looking like he'll be off to Team Sky. If this is his last race for the team, he'll want to end on a high. The team arrive with a strange mix: 4 sprinters and 4 climbers. They've got Colbrelli, Ruffoni, Battaglin, Piechele, Pirazzi, Pagani, Zardini and Bongiorno. After such a big effort today, I would be very surprised to see Bongiorno and Zardini contest the win.
Team Colombia arrive without the defending champion, always a shame when that happens. They'll look to Robinson Chalapud and Rubiano, but need a bunch sprint not to happen.
In fact, most teams arrive without a sprinter and this could be crucial in shaping the race. With so many teams, attacking on the climbs, it'll be very hard for Bardiani to control. Neri Sottoli are their big rivals and they have Finetto, Ponzi, Andriato and Monsalve. Young Monsalve has been in impressive form and he could be a dangerous man in a break. A lot of pressure will fall onto the shoulders of Finetto. After such a great season, it would be wonderful to see him seal the Giro wildcard, for the team. He has beaten Colbrelli in a sprint this season(GP Lugano), but will look to attack in the last couple of laps.
Lampre have been very disappointing, recently. They have brought Roberto Ferrari and Niccolo Bonifazio. Both have the capabilities of making the end of the race, but the climbing could hurt their legs. Ferrari is the quickest sprinter here, so Lampre will be happy for a bunch sprint. They also have a few riders capable of attacking: Durasek, Favilli, Conti and Mori.
Caja Rural might be a Spanish team, but they arrive with 2 Italian sprinters: Davide Vigano and Francesco Lasca. They will be working for Vigano and he has a good chance of success.
Keep an eye out for Andrea Pasqualon from the Area Zero Pro Team. He was with Bardiani, in 2013, winning stage in Tour du Limousin. This season he took an excellent 3rd place in Trofeo Laigueglia and still has a point to prove. If around at the end, he has the speed to trouble Colbrelli.
Androni have Manuel Belletti. He was 2nd in 2011 and 4th last year. A sprinter who climbs well and clearly likes this race, he shouldn't be discounted from people's thoughts.
Prediction time…
This is very difficult to control. All the pressure will be on Bardiani, can they deliver the sprint? If they do, Colbrelli is in great form and should win. I have my doubts about their ability to control the finale. With so many teams, hoping to get a breakaway, I think they'll succeed and I'll go for a fast finisher from a small group. It's Manuele Mori for me. Bringing a smile to the faces of Lampre fans!
David Hunter
Follow us in facebook https://www.facebook.com/CiclismoInternacionalLatinoamerica?fref=ts … or Twitter @CiclismoInter